A trio of new mobile bars are letting the good times roll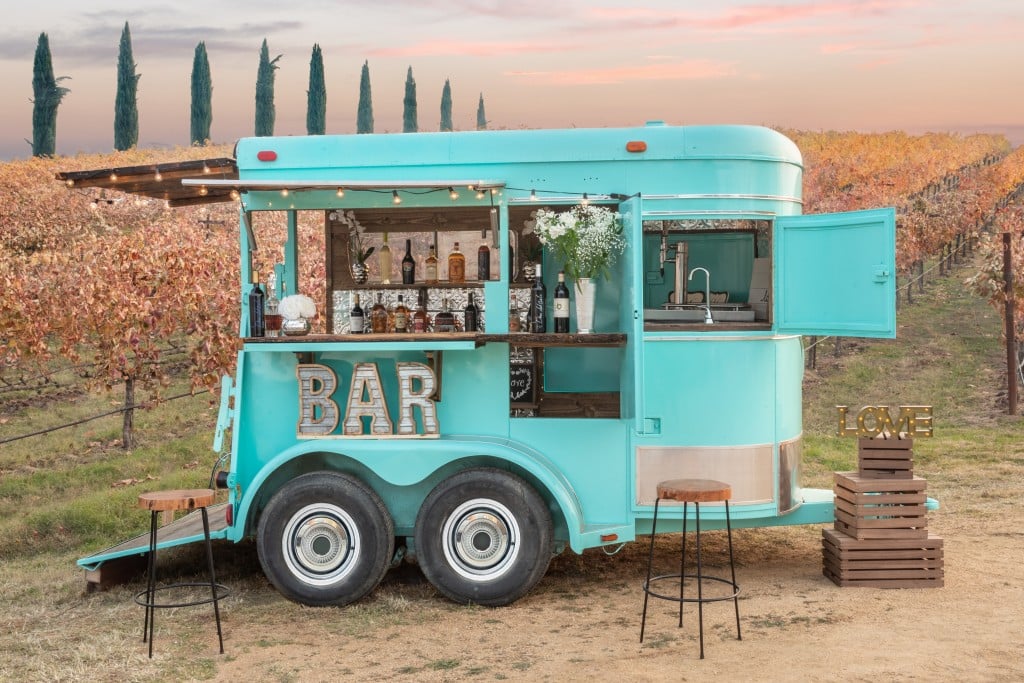 A new trend has rolled into the Sacramento region—mobile bars that bring their mixological expertise and eye-catching trailers to events around town. Whether you've seen them slinging custom cocktails at a Gather Festival in Old Sacramento or pouring wine at the Auburn Co-op, these portable potable purveyors are bringing the beverages to you.
Husband-and-wife team Jean and Alyson Pace launched their Rocklin-based Belle Aventure (belleaventureevents.com) last December. The name, which translates to "beautiful adventure" in French, honors Jean's French heritage. Housed inside two '70s Miley horse trailers, one painted black and copper and another a bright Tiffany blue, the bars offer everything from beer and wine to handcrafted tipples—like a recent Kentucky Bramble made of bourbon, freshly muddled blackberries, lemon juice, simple syrup and club soda—and nonalcoholic options (think mocktails and nitro coffee on draft). Want to catch the trailer? Head to the Auburn Co-op, the town's monthly blowout (the next one takes place on Aug. 15), or follow Belle Aventure on Instagram to find out about other stops.
In February, Chase Daley and his fiancée, Abbie Crowther, took their Elk Grove-based jasper green horse-trailer-turned-cocktail-bar on its maiden voyage under the moniker Bar Baby Co. (barbabyco.com). "It's bold and it's like a blank slate," says Daley, a former chef and graphic designer. "It gives people a chance to do what they want with it."
The pair have over 60 cocktail creations in their arsenal (though at most events, the bar pours beer, wine and two mixed drinks), including their signature beer-cocktail concoctions, like the "Pineapple Express," a tropical medley of pineapple juice, lemon juice, Aleppo ginger simple syrup and white rum, topped with Drake's IPA.
Daley and Crowther plan to eventually open a brick-and-mortar wine bar in Sacramento, but until then you can stay up to date on Bar Baby Co's public appearances via Instagram.
Married couple Justin and Kristen Jerome wheeled out The Blinker Bar (blinkerbar.com), a Prohibition-era-themed bar for private parties, in mid-March. The pair made over a 1968 Shasta Airflyte trailer—it now features a white exterior, walnut-stained wood bar top, textured faux white-brick backsplash and whitewall tires.
While the Jeromes hope to one day make a public debut with their rolling speakeasy, you can currently book them for private events, where they will dream up custom cocktails and mocktails (such as smoked rosemary gin and tonics and ginger beer margaritas) using ingredients typically culled from local farmers' markets.
You Might Also Like
Shake Shack to open its first Sacramento location
A sneak peek at Shangri-La, the retro Palm Springs resort-inspired restaurant
Here's when downtown hot spots like Solomon's Delicatessen, Kodaiko, KoJa Kitchen and more will open