Q&A: Actor Chris Sullivan
After "How did Jack die?" the most burning question during the first season of This Is Us might've been, "Will Toby live?" Happily, the answer to the latter was yes, and Chris Sullivan will resume his role as Toby Damon, Kate Pearson's big-hearted boyfriend turned fiancé, when NBC's breakout hit returns in September. The Gold River-raised actor talks about being part of a TV phenomenon, how he got the theater bug at Jesuit High School, and what it took to look Marvel-ous for his scene-stealing turn as Taserface in Guardians of the Galaxy Vol. 2.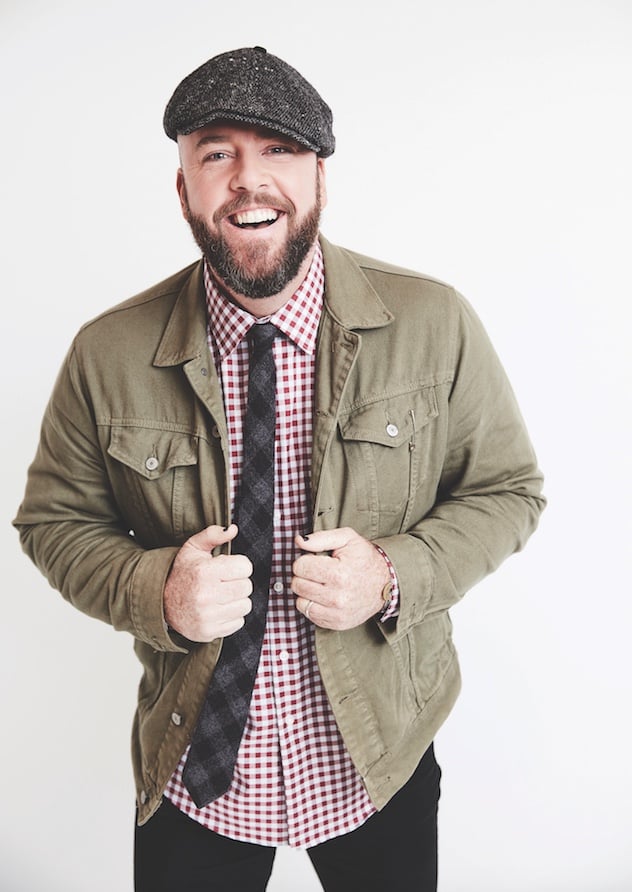 What a year it's been for you, with the immediate success of This Is Us. What do you think it is about the show that has resonated so much with so many people?
Seriously, yeah, it's been a good year. It's been amazing.
[I think] the language of vulnerability is what everyone is craving, the language of honesty and connecting with the people you love. There's a lot of divisive language in the culture right now.
Do you mean in terms of politics?
I just mean everywhere. It's become almost a way of life and I think that people are tired of it. I think the show that [creator] Dan Fogelman has put together is a bit of an antidote for all of that.
He has also said that the series is an antidote to the darker themes in many of the other shows that are out there.
Yeah. Some of the greatest shows that we've had over the last few years [spotlight] the antihero, whether it's Breaking Bad or any of the other shows that are on the darker side.  It's nice to see "good" characters struggling, even though their lives appear to be in pretty good order. [This Is Us chronicles the ups and downs of the Pearson family—Jack and Rebecca and their three children, Kevin, Kate and Randall. Sullivan plays Kate's fiancé, Toby.]
Right. The characters are very relatable.
I think one of the interesting parts about it is that every person can relate to feeling shame about something and to having some area of their life that they wish was different and was improved. [For example], you've got Randall, who is dealing with his anxiety and his need to be perfect and his need to be successful—a lot of people put this kind of false idea of success or wealth ahead of enjoying their lives. Toby is the Shakespearean clown who focuses all of his energy into building armor out of humor—[he feels] the shame of being divorced, the shame of being overweight and [having] depression, all those things.
What is it like playing Toby? He's known for his grand romantic gestures, like when he flew across the country in a middle seat to surprise Kate at Christmas.
I think that he [represents] a romantic idea that people have after seeing enough movies and television shows. But I think that the value of a partner, as we're learning with Kate and Toby, is there's no inherent long-term value in grand romantic gestures if you're not being vulnerable to your partner, if you're not sharing your truths. If you're not sharing your pain, then nothing can progress. A strong relationship isn't about sharing joy and romance all the time.
That said, I'm sure that after the Christmas episode, when it looked like Toby suffered a potentially fatal heart attack [he was eventually diagnosed with cardiac arrhythmia], you probably found out how popular your character is.
Yeah, that was actually kind of the first time that I had been witness to people's reaction to the character. It was really nice to see. You can look at the ratings and you can look at all the numbers, but there's something more direct about a response like that, that really lets you know that people are watching, that people care. There was one woman who came up [to me] at the farmers' market and made a comment that hadn't really occurred to me. She said, "You know, it's crazy. When I watch the show, I sit there with my family and we just keep saying, 'I can't believe it—this is our family. This is us.' " It never occurred to me that it wasn't just the title of the show, it was the essence of the show. These stories belong to all of us.
The show often flashes back to when Kevin, Kate and Randall were growing up. Flashing back to your own childhood, you were born in Palm Springs. When did you move to Sacramento?
Like 1985, 1986—I was 5 or 6 years old. [We lived in] Gold River. Back when we first moved in, that area was still a little bit of the Wild West. It wasn't fully developed. So kids had a lot of room to roam. We could ride our bikes all the way down to the river and there was all this wildlife—wild turkeys, jackrabbits and deer and snakes. It was a pretty great place to grow up. I was a Boy Scout and continued to Eagle Scouts, making friends that I still have to this day.
What schools did you attend?
I went to Fair Oaks Elementary, then [Winston] Churchill Middle School, and then Jesuit High School.
Jesuit is where you first discovered acting, right?
Yes. My mom dropped me off at my first audition [when I was a freshman]. She had faith in my abilities or recognized them before I did. On my report cards, it was always, "Chris does well in class, but doesn't sit still," or "We can't keep him quiet," so this type of performative outlet seemed appropriate.
One of the great educators of our time, Ed Trafton, runs the theater program there. I can't imagine many high school programs being better than the program that he runs. He was my mentor and my director for the four years I was there. He was the first person to treat me like an adult and to place the responsibility of telling a story to an audience firmly on my shoulders.
He gave us some pretty adult content to talk about. We did a play [based on a true story] called God's Country by Steven Dietz that was about a white supremacist group that was going on trial [for the murder of a Jewish radio host]. We ended the first act with a Ku Klux Klan rally. It was like 30 or 40 students all in Ku Klux Klan robes. So needless to say it was an intense show. But every show we did was like that. The responsibility was entrusted to us.
Looking back, developmentally, that was pretty important. By the time I got to the end of high school I wanted to be an actor. And the second great gift I was given was that my parents never let on that that wasn't a possibility. They never put the seed of doubt in my mind.
Does your family still live in Sacramento?
Yeah, my folks still live up there.
In the same house where you grew up?
Uh-huh. [My bedroom] has been updated, but it's still a bedroom, thank goodness. I still have a place to [stay] when I visit [from L.A.]. I was just home recently. We went back to Jesuit and saw a musical. They did Spamalot. It was great.
Any "must" stops when you're here?
No. Every time I come back, things change so much, so we try to go somewhere new. There's a little cafe [near] Fair Oaks Boulevard, Love at First Bite [that I like]. It has amazing breakfast—home cooking, biscuits and gravy, all the good foods.
I do like Old Town. We visit Old Town quite a bit. Rio City Cafe—the monkey bread. They make this loaf of sourdough bread that they [stuff with] cheese and then sit in a pool of balsamic vinegar. I could live off that for the rest of my life.
Now traveling forward in time, This Is Us returns on Sept. 26. What can we expect in the second season?
I hope we see a little more backstory with Toby. I'd love to see more of his history. I'd like to see Toby and Kate continue to open up. And God, we all want to know how Jack dies.
I thought the cast already knew that.
We might know it. We're still not quite sure if we have the actual story, if it's a red herring or if that's actually how it will play out. The interesting part about this show is the way that the storylines are broken up. When I watch the show, I get to watch it as a fan because I don't see the other work going on. I'll be watching the show, and it'll be a master class in acting from everybody involved, and then I'll pop up [on the screen] and I'll be like, "Oh right, I'm in this show."
Another hot-button topic last season, besides Jack's death, was the fact that you wear a fat suit to play Toby. What did you make of the controversy?
I think people aren't tying together the fact that this show jumps back and forth through time. Kate has always had a problem with her weight. But there was a time when Toby was thinner. The weight gain was due to depression and divorce, so as we jump back and forth through time, in order to tell that story, Toby needs to be able to shift between two different weights. So that's just a logistical thing that people don't [realize], and there's no reason that they would realize that. People are starving all over the world. People are dying all over the world. I don't think it's a giant issue that Chris Sullivan from Sacramento wears a costume to do a television show.
Well, wearing a fat suit is one thing, but spending hours in the makeup chair to play Taserface in Guardians of the Galaxy Vol. 2 is quite another.
Yeah, it started out as three and a half [hours], but the more we did it, the better we got at it as a team—Brian Sipe was the [head special effects makeup artist]—so we whittled down the time to two and a half. But it was pretty enjoyable. You arrive early in the morning, you catch up with the makeup designers, you have a little breakfast, you have your coffee and you sit next to [co-star] Michael Rooker. It's a great way to start the day. [Michael Rooker] is a national treasure. He's like the Merle Haggard of the acting community. He's just a down-home, punk rock, old-fashioned badass.
It was a dream come true to get to play a space alien in a Marvel film. [Taserface] was a good character because he was also a big dummy and I had some chances to play comedy. I was ecstatic about the whole thing. I was pinching myself all the time [on set] and trying to control my excitement so I could do my job. When you're a space bad guy in a sequel to one of the biggest Marvel movies of all time and you know from the beginning that this movie's going to make $400 million in its first week, that's a hard thing to get out of your head. The scope of it is just crazy.
When will we see you next on the big screen? You're going to be in Walden, based on the Henry David Thoreau book, right?
Yeah, it's kind of a modern adaptation. It's an amazing feature that my best friend, Alex Harvey, directed. It's got Demián Bichir, who is an incredible Mexican actor, Erik Hellman, who is one of my good friends from the Chicago theater scene, and T.J. Miller—it's just an amazing group of people. They've wrapped up post-production and are submitting [the movie] to festivals and shopping it around for distribution.
And also somewhere down the road, maybe we'll see you on stage in Sacramento performing as a musician. People might not know that you have a band.
Yeah, I have a band called Sully and the Benevolent Folk. We released our first album a few years ago called The Odd Sea, and actually, a lot is just happening with [the band]. We should be in the studio soon. Two or three months ago, I started writing songs for another project, and I got an email out of the blue from a record label that would like to make a record, so we'll see. Ben Kaplan, my producing and songwriting partner, and I were in a band at LMU called Fat Toby—I know, can you believe that? I'm not joking. Then Ben and I went like 10 years without seeing each other, but we reconnected a couple years ago, so I'm sure we'll get up and down the coast [performing].
You sing and play guitar. You also play the ukulele—that might come as a surprise to folks too.
I recently started taking a master class online with Steve Martin. One of the things he says, which I [first] learned from him in his memoir, Born Standing Up, is that a big part of an artist's job is continuing education and learning new things. And so things like, "Oh, ukulele, that'd be interesting" or "I'll play a guitar or sing" or juggling or whatever it is, it's the actor's job to learn about that stuff and then let the purpose for that education unfold. You never know when someone's going to ask you to juggle, but when they ask, you'd better know how.
There's no artist alive today, maybe ever, who I respect more and who is a more versatile artist [than Steve Martin]. He's written novels, he's written a memoir, he's written sketch comedy, he's got stand-up, he's an art collector, he's written a musical, he's written plays, he's directed, he's an actor. He not only plays the banjo, but is one of the preeminent five-string banjo players in the world. There's nobody who does as much as he does. He's my hero.