After the Fall
Tresa Honaker started 2012 on a high note. The local aerial artist and the troupe she founded were performing to sold-out audiences, creating mesmerizing vignettes with bodies wrapped in billowing ribbon up to 60 feet in the air. Then a terrible accident during practice left her paralyzed below her mid-spine, suddenly grounding the life-long dancer. But Honaker refused to stay down, and eight years later, her troupe is still going strong and so is she, having forged a new identity as a competitive athlete. This is the story of one woman's life-changing fall and her life-affirming rise.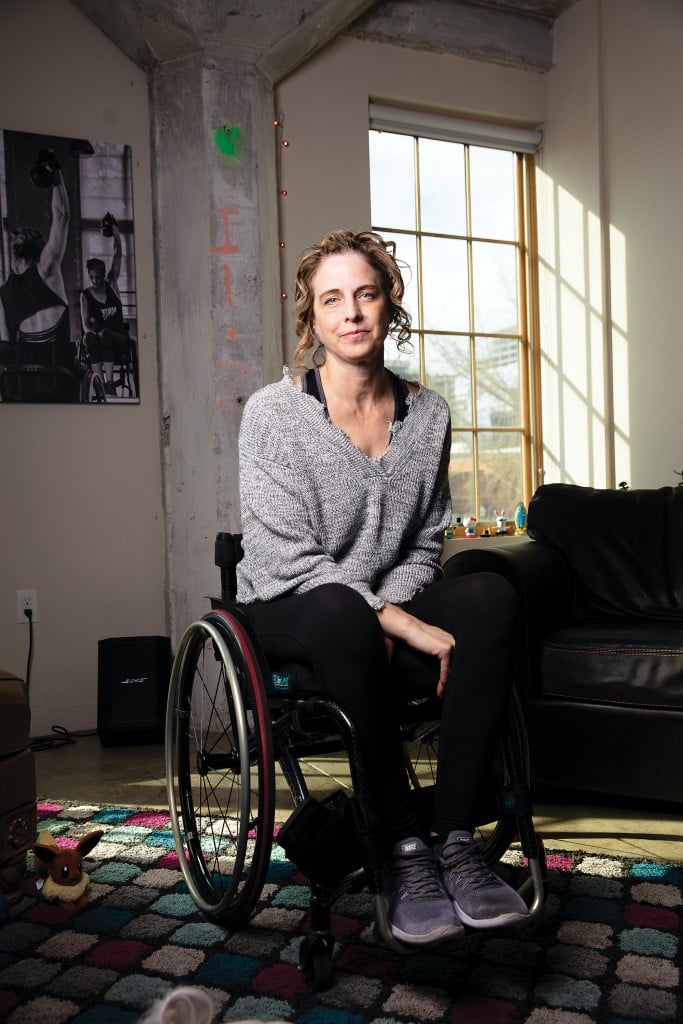 Right, left, right, left. That was the fateful order in which two streams of aerial silk were crossed on January 11, 2012, the day Tresa Honaker became a paraplegic. The aerial artist had been attempting a complicated new skill called the kamikaze, which involves a "slack drop," or a fast fall and sudden catch by correctly intertwined fabric. The proper crossing sequence for the kamikaze is right, left, left, right, a subtlety that was the critical difference between leaving rehearsal at Grass Valley's Center for the Arts that day as the able-bodied athlete she had always been—a lifelong gymnast and ballet dancer who had discovered the aerial arts in her 30s—and being airlifted to a hospital in Roseville with no feeling below the waist.
Performing the kamikaze's dramatic climax, Honaker—who had founded the local aerial performance troupe AirAligned 10 years prior—expected her fall to be seized by the fabric, but she had unknowingly failed to secure the catch. The base of her neck forcefully hit the 8-inch-thick crash mat below and her legs swung over her head in a yogic plow position with such velocity that her spine dislocated at the T9 vertebra. The newly unhinged bone sliced her spinal cord and sharp fragments fell into the column.
"There was a quick bzzzzt, like I had stuck a fork in an electric socket. And then nothing," says Honaker, 55. "I couldn't feel my legs." She could, however, feel her three broken ribs. Panicking, Honaker began to hyperventilate. She tried to move her legs, tried to stand up even, but only her neck and head thrashed about. "Stop, Tresa. Stop moving," said her friend and then-AirAligned company member Julie Lang, who was so devastated by what had transpired before her eyes that she got sick in the bathroom at the arts center as soon as the blaring ambulance sped Honaker away.
Before the neurosurgeon at the Sutter Roseville Medical Center reset Honaker's spine so that she would heal without a hunch, he minced no words about her prognosis. "He said to me, 'Here's the deal. You've damaged your spine. You may not walk again,' " she recalls.
Lang, who had sped to Roseville, an hour away, to meet Honaker at the hospital, pleaded with the doctor to find a way to alter her friend's bleak outcome. "I'm sure there's something you can do," she had said. "Can't you just clean out the fragments?" Understandably, Honaker was deeply entrenched in her own state of denial. "This is not going to work for me," she thought, visions of her life as a dancer flashing before her eyes.
That rigid mindset may have been reactionary to start—a coping mechanism, if you will—but it quickly evolved into a gut-level survival tactic that would propel Honaker through the wake of the accident and into her new life. Since she refused to wallow in her circumstances, allowing only a brief grieving period for the "death" of her formerly strong and agile existence—"It was a good one," she says, with barely-there nostalgia—Honaker began a practical-training program at California Pacific Medical Center in San Francisco two weeks after the spinal surgery, in which she learned how to navigate public transit, open doors and queue up at Starbucks in her wheelchair.
Shortly thereafter, Honaker embarked on a road trip with Lang to a neurological retraining center in Carlsbad called Project Walk to test out innovative therapies that were helping people with spinal cord injuries regain their mobility. She also refused to cancel a previously booked aerial dance workshop, her second one at the Kalani Oceanside Retreat Center on the Big Island of Hawaii, which took place just three months after the accident. The 5-foot-10 longtime athlete admits that the trip magnified the limits of her physicality in ways she had yet to confront.
"I felt trapped in my body," she says, referring not just to the awkward position she was in, being among an enthusiastic bunch of uprightly mobile dancers who were executing aerial elements in a lush paradise of ocean breezes and swaying palm trees, but also to the gravel paths and grassy lawns, and the difficulty of maneuvering her wheelchair through them. "It was so hard going back to a place where I had done a lot of physical activity," recalls Honaker. Still, she says that the ability to muster the willpower required just to be there was her biggest takeaway from the experience.
Performing the kamikaze's dramatic climax, Tresa Honaker expected her fall to be seized by the fabric, but she had unknowingly failed to secure the catch. The base of her neck forcefully hit the 8-inch-thick crash mat below and her legs swung over her head with such velocity that her spine dislocated at the T9 vertebra. "There was a quick bzzzzt. And then nothing," she says. "I couldn't feel my legs."
"She doesn't get stuck in her head about anything. She's not super emotional like that," says London Honaker-Thomas, 31, who is currently undergoing a gender transition with the help of testosterone HRT (hormone replacement therapy) and uses the pronoun "they." Admiring their mother's pragmatism, London remembers hiking together through evergreen Nevada County forests, which was meant to counteract their PlayStation-induced sluggishness, with just as much fondness as Honaker's self-professed Type A-style cleaning sprees through the then-twentysomething's first apartment. From that housekeeping compulsion emerged a small, but special memory.
Not long after the accident, London remembers lying in bed looking up at a box their mother had stood with arms overhead to wedge high on a shelf. It was labeled in her handwriting. "I would lie there and stare at that box," they recall, "and just think about how things were never going to be the same again."
*****
Watching Cirque du Soleil's Quidam show on TV in 1999, Honaker first witnessed the miracle of an aerial routine, and its beautiful, gravity-defying blend of ballet and gymnastics resonated deep within the 34-year-old. "It was like taking the movements I've always known and giving them life in another dimension," she says. Growing up in the Midwest, Honaker was a ballet, tap and jazz dancer as well as a gymnast, but her tall, strong frame also proved ideal for things like volleyball spikes and basketball layups. At school, she was always picked first when teams were chosen during P.E. class, an enviable position for any youth.
Honaker attended the Central Visual and Performing Arts High School in St. Louis, where she had the unique experience of living a real-life version of Fame as the television show was peaking on the airwaves in the early '80s. The commute to CVPA, which at the time was located next to the original Budweiser brewery, was 45 minutes away by cab from the Honaker family home, a special circumstance that her parents—Dad owned a printing company, Mom was a homemaker—were willing to oblige so that their daughter, the third of four children and the only one who had displayed an unwavering interest and genuine talent in dance and athletics from a young age, could explore her affinity for movement more seriously.
After graduating high school, Honaker was unsure of how to turn her passion for dance into a career. "I didn't know what that would look like because I hadn't been to bigger cities that had a lot of art going on, like New York," says Honaker. "But I knew I needed to start earning money." So she signed up for a course at the Horst Education Center (now the Aveda Institute Minneapolis), and in 1991, her calling in cosmetology took her to Los Angeles. At the time, she was also a young wife and mother of one who needed an efficient way to work out, and she began to channel her willowy grace and natural athleticism into step aerobics and the Nautilus machines that were so popular in health clubs. But eventually she found herself in search of a different physical outlet. "My body was in great shape, but I just got so tired of that whole scene," says Honaker.
In 1995, she took a class in ballet basics, cracking a door that had been closed for at least a decade. She was 29 years old (considered ancient in what she deems as the "judgmental world of dance"), but not too far removed to recognize the joy that dance had once brought to her life. "I came home and started sobbing in the shower," says Honaker. "There was this piece of me that wasn't part of my life anymore and I really missed it. I decided then and there that I was going to start dancing again."
In Grass Valley, where her family—then-husband Craig Thomas, a musician, and their child, London—settled for a quieter life later that year, Honaker began teaching dance to young gymnasts to pay the bills. She also continued dancing, and in 1999 founded a troupe called Movement Alliance with three friends who were contemporary dancers. "I embraced contemporary but it really wasn't my thing. I was more of a ballet and jazz dancer and my style was more like what you'd see in Vegas shows," says Honaker. "But contemporary led me to explore more styles, which is when aerial came into the picture."
Eager to see shades of that impactful Cirque du Soleil show in her own skill set, Honaker formed AirAligned in 2002 as an offshoot of Movement Alliance. In conducting auditions for the satellite troupe, Honaker went looking for dancers with "an interest in acrobatics and doing something way more athletic." The starting equipment—secondhand rigging and "silks," which are not actually silk, but rather a polyester blend—came from an old circus in Ohio.
The group's formal aerial training took place in Los Angeles in 2004 with expert aerialist Ingrid Hoffman, who would not even entertain interest from the aspiring students until they could do a series of pull-ups with ease—women were tasked with crushing five in a row; men needed to grind out 10. After all, aerial was much more difficult than it looked. "You could see in the air what you wanted to do, but there is a steep learning curve—your body has to catch up to your mind," says Honaker, whose first successful move was called the "hip key," a fundamental skill involving three leg motions—scissor, straddle, scissor—that wrap the fabric high on the upper thigh, over the hips and around the lower back to secure an upside-down, no-hands hang. "Once the hip key locked in, there was a light-bulb moment. I was like, 'OK, this is attainable. I can do this.'"
*****
Over the dining room table in her apartment at the Warehouse Artist Lofts (WAL) hangs Honaker's old surfboard, which she learned to maneuver in the cold and choppy waters off the coast of Santa Cruz in the late 1990s. With its reef-inflicted nicks and dings and bumpy topography of surf wax remnants, the deck is a symbol of Honaker's high level of able-bodied athleticism. Also hanging on walls around her downtown Sacramento home—long divorced, Honaker lives solo in an ADA-compliant unit in WAL's rehabbed 1915 warehouse—are posters of past AirAligned performances, which include a full-length production of Bram Stoker's Dracula and a Michael Jackson tribute. For the latter, company members memorably performed iron crosses, thread-the-needles and angel poses, among many other breathtaking manipulations of body and fabric, to an extended play of "Man in the Mirror." In the early to mid-aughts, such exciting, body-conscious Cirque-esque shows still felt exotic in the tucked-away foothills town of Grass Valley, so tickets for the AirAligned performances always sold out.
The role of artistic director is one that Honaker never seriously considered giving up after her accident, a testament to her natural grit. But sticking it out is a kind of bittersweet agony. "I'm really good at choreography, but I never felt drawn to dancing in my chair," she says. "That thought was almost too painful." Since 2015, shortly after she moved into WAL, Honaker has been holding AirAligned rehearsals from the complex's second-floor dance studio. As her dancers perform ethereal feats in mid-air, she guides them from the ground with cues like, "Now go into the inverted splits," "Wrap for a two-and-a-half star drop," "Military climb while swinging," and "Wait for eight counts!"— the anchoring force in their free-spirited movement.
The 10-person troupe, which performs a gamut of shows, from solo numbers to full-scale productions, at venues across the region like downtown's Community Center Theater and the Center for the Arts in Grass Valley, found its widest audience and loudest standing ovation yet at the TEDxSacramento talk Honaker gave in 2015.
"[My accident] definitely was a life-changer. What I kept thinking was that I sustained an injury and there's got to be a way I can regain more than what I have right now," she told a rapt audience. Company members Joe Simms and Marni Marshall performed an aerial routine before Honaker took the stage, perhaps to provide a sense of what was at stake, and what had been lost. For the finale, they loaded her into an aerial net for a solo performance in which the troupe leader proved that you can take flight again, no matter how long you've been grounded. "I was very moved by the energy of the audience during my routine," says Honaker, who performs rarely, about once a year. "I think it helped them take a look at their own lives, have patience with themselves, and on some level I feel drawn to continue that work."
*****
Each winter, a muscular legion descends upon the sherbet-dipped shores of Miami for Wodapalooza, an international CrossFit competition for devotees of the cult training program, famous for its ever-changing Workout of the Day (WOD) model in which a different high-intensity fitness regimen is beamed from the CrossFit headquarters in Washington, D.C., to more than 15,000 affiliate gyms around the world daily. Honaker has been among these athletes for the last four years, and among one of CrossFit's elite competitors for the last two contests.
In 2019, her debut at Wodapalooza, Honaker far surpassed any rookie-level expectations, coming in second place overall in the Adaptive Seated division for competitors in wheelchairs. This past February, Miami's trademark winter warmth turned cold and stormy, and the athletes—who compete in different events simultaneously at Bayfront Park, kitted out with all the trappings of a CrossFit gym, from power racks to kettlebells to air bikes—were forced to make quite a literal splash in their rain-soaked WODs.
Still, Honaker, who is easily chilled, came in third overall in a field of approximately 30 adapted seateds, placing near the top of the leaderboard in several events. But midway through the three-day competition, Honaker damaged her left middle finger during a medicine ball exercise. Tasked with moving the 20-pound weight from one side of her wheelchair to the other—a challenge for paraplegics like Honaker whose mid-spine injuries prevent them from engaging their core muscles—she threaded the doomed digit through a loop in the ball's stitching to aid her grip, but the heft combined with quick motion caused her finger to bend unnaturally. The injury, however, failed to deter Honaker's third-place performance in the event. The next day, she slapped some painkilling gel on the finger, secured it with tape and continued in the competition, the yet-to-be-diagnosed fracture be damned.
"She's gotten grittier, which I'm very impressed with," says kinesiologist and trainer Devin Newsome, who started training Honaker in CrossFit four years ago, a year after her TEDx appearance. As his client at SCI-FIT, a physical therapy center in Natomas, he helps her regain mobility with state-of-the-art technologies such as electrical stimulation and exoskeleton robotics.
"What I kept thinking was that I sustained an injury and there's got to be a way I can regain more than what I have right now," Honaker told a rapt audience at the TEDxSacramento event. For the finale, AirAligned dancers loaded her into an aerial net for a solo performance in which the troupe leader proved that you can take flight again, no matter how long you've been grounded.
"I was super athletic before I got hurt and I was looking for another outlet that could take the place of dance and aerial," says Honaker, a member of Iron Mile Fitness in Natomas. "When I started going regularly to the gym, I felt more physical and alive than I had in a very long time. It felt so good."
Newsome advises Honaker on WOD adaptations for the wheelchair and accompanies her to Wodapalooza as a safety spotter and mini cheering squad. Pre-pandemic, Honaker participated in near-daily WODs at Iron Mile, supplemented with private training sessions with Newsome on Sundays. During the quarantine, she has exercised at home using online workouts and equipment she already had on hand, like weights, a rowing machine, a pull-up bar, a battle rope and gymnastics rings. "If I'm going to try to do something, I don't schlep through it. I am actually very functional in that way and I don't think that piece of me is gone," says Honaker. "This year at Wodapalooza, the competition was tougher—tougher events, tougher athletes—and I felt like I really fought for every bit of that third-place finish."
In this way, CrossFit seems to be a fitting metaphorical pursuit, given the fortitude required to dive into its diverse daily challenges. For Honaker, each day is different, mostly depending on how much discomfort she's in. Paraplegics commonly suffer from neuropathic pain, which is another type of bittersweet agony— the burning pins-and-needles sensation that Honaker experiences in her lower back and hips is due to abnormal signals from nerves damaged in the injury. Stem cell research is gunning to replace such faulty wiring in the future. "A lot of people think the burning is good because it's a sign that the nerves are trying to figure things out. But for me, I don't know," says Honaker, whose pain threshold is better on the days she exercises.
*****
Once upon a time, in the early days of the injury, walking again was Honaker's indisputable goal, as she tried to come to terms with the sudden vanishing of the "huge chunks of things that I had built." When dance companies around the country asked her to go on tour with them within months of her accident, Honaker swiftly declined. "I knew that if I committed that kind of time and training to dance, I'd have nothing left for the therapies that could potentially help me walk again," she says. But as time has worn on, Honaker's practical nature has taken the shine off that once-glittering objective. "I don't know if I believe stem cell science will be the be-all and end-all on its own," she says. "If it is, I honestly don't think it will happen in my lifetime."
Sometimes, the pain is so intense that her natural enthusiasm for life is eclipsed by an honest desire to die. "Am I really living anymore when I'm just struggling to get out of bed? Is this much pain a good quality of life?" ruminates Honaker, who has contemplated Death with Dignity scenarios, in which chronically or terminally ill patients can request medications from their doctor to end their lives peacefully under California's End of Life Option Act. "I don't think death should be a negative thing. It's a closure of life as beautiful as birth," she says. "But I definitely want to be here for the people who need me. And I want to be around for the possibility that this injury won't be so severe in the coming years."
Cautious optimism also prevails in her circle. "Looking at the research, there's a bright future ahead, but how far away it is, we don't know," says Newsome, who has seen SCI-FIT clients regain walking. "In these cases, you have to change your definition of 'walking.' Maybe it's not what you pictured, but they're upright and taking steps with the help of one or two canes." For Honaker, who was once able to hold an inverted arabesque in midair and carve a wave on a shortboard, crawling very slowly, but without assistance, is considered amazing progress. "It takes many, many, many, many hours of therapy just to get a tiny bit stronger," she says. "It took two and a half years' worth of hard work for me to crawl by myself. Knowing that if I needed to get from Point A to Point B without my wheelchair, I could do it, was empowering. I felt less vulnerable."
Sometimes, the pain is so intense that her natural enthusiasm for life is eclipsed by an honest desire to die. "Is this much pain a good quality of life?" Honaker wonders. "But I definitely want to be here for the people who need me."
While waiting for the science to kick in, London is afraid they'll forget their mother's gait. At the top of their memory is an instance from childhood, when Honaker picked them up from a friend's house, striding in with confidence but exuding plenty of warmth. "Her walk is something I always thought of as one of her defining features," London says. It was an ordinary day, indistinguishable from any other except that this casual, quiet observation was unknowingly socked away in their memory banks for safekeeping until it was needed as a touchstone. For now, they are able to recall Honaker's unique carriage and stride in their mind's eye, and sometimes catch glimpses of it—or rather a version of it—in real life. In WAL's courtyard, London has helped their mother take steps with the aid of a walker, a slow and deliberate process in which Honaker lifts each leg and pushes her hips through, an ambulatory sequence she likens to a "marionette walk."
Among the technologies that Honaker has been working with at SCI-FIT is the Lokomat, an intensive gait-training system that uses a treadmill and robotics attached to the patient's legs to simulate a normal walk. Strip away all of the machinery, and Honaker looks like she's going on an ordinary neighborhood stroll. For her, watching this action in the mirror is mesmerizing—at once foreign and familiar. "It feels powerful!" she says, even as she quibbles about the discomfort of its harness. As a gift, Julie Lang purchased 10 Lokomat sessions at SCI-FIT for Honaker. The sight of her friend walking again is so profound, it even pervades Lang's sleeping hours. "In my dreams, Tresa walks. She runs. She's got these steampunk-style leather braces on her legs, but she's on her feet and doing things," says Lang. "I tell her, 'Whoa, Tresa, slow down!' But she's always ahead." S