All Americans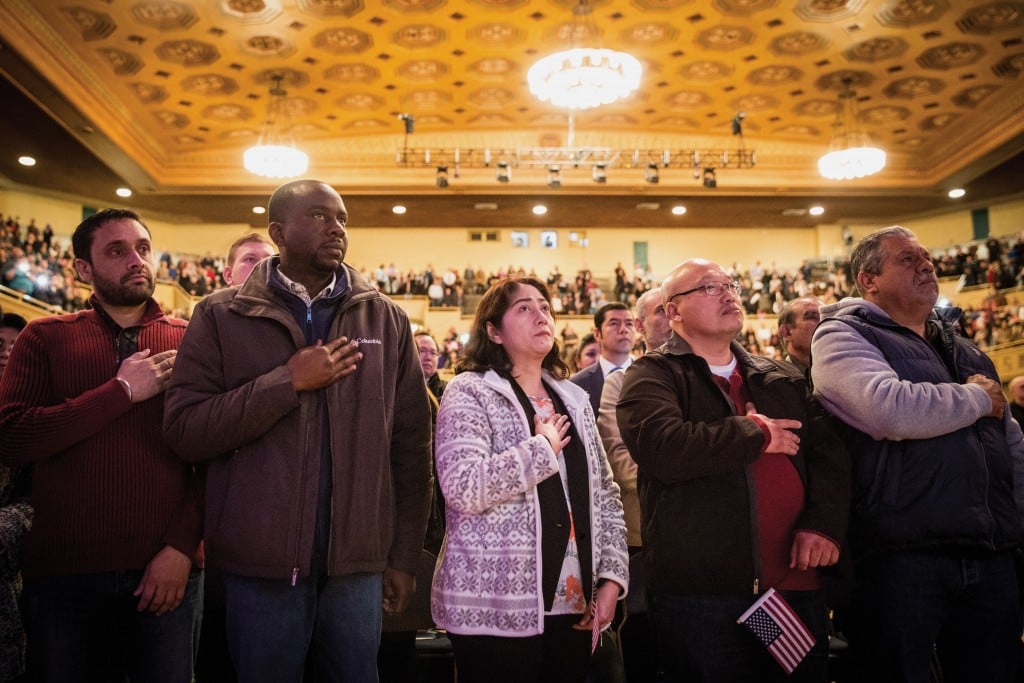 On Feb. 22, just over 1,000 immigrants from 81 different countries gathered at Memorial Auditorium to take the oath of allegiance to become our country's newest citizens. It was, ironically, the same day that the United States Citizenship and Immigration Services agency removed the description of the U.S. as "a nation of immigrants" from its mission statement. We spoke with 15 of the proud new Americans who were sworn in about this milestone moment in their lives and what it meant to them. "I was born today—reborn, actually," said Tunisian native Gaith Ben Younes after the ceremony. "It's something I've been dreaming of for a long time."
Photographs by max whittaker; interviews by tori masucci cummins and jessica rine
Peter Kungu, 39
Country of Origin: Kenya
Place of Residence: Woodland
"This country is the greatest country in the world, there is no doubt about that. I wanted my kids to be [at the ceremony] because not a lot of people get to experience that. They can see this guy who came from Africa and loved this country so much that he wanted to be a part of it. I wanted them to have pride in where they were born. This is the one country where you go to sleep and have a dream about something and in a few years you can be that. I'm a nurse. Nineteen years ago, I started thinking about what would provide the best life for my family and my kids, and I happened across nursing. This is a country of second chances. At my age, [the opportunity to] go back to school, become a nurse and have a successful career doesn't happen in too many countries. A lot of people don't see it that way unless they've lived in a different country. It sounds cliché, but the American dream for me was the little house with the white picket fence and the kids running around, and I think I'm there."
Katrina Kuzmina, 40
Country of Origin: Russia
Place of Residence: Carmichael
"I'm really happy and really proud that I'm a citizen here. Unfortunately, in November I was diagnosed with breast cancer. So today for me is a very important event, because waiting to do this was hard. I'm not sure how much [longer] I will live. I hope I can raise my kids and be with them a long time, but I don't know. My parents are still in Russia and I would like them to come here. Because of my disease I cannot fly or travel to meet them this year. It's always been my dream to create my own art studios for kids—in [Russia] I was a puppet theater actress. So maybe I can do it [here]. I would like to do good things for this country. I've met very good people in America. It's my home. I always feel that God is very near the people in the United States."
Klaus and Pia Van Benthem, 43 and 40
Country of Origin: Germany
Place of Residence: Davis
Pia: "I'm super excited. it's always been my dream to become a U.S. citizen. I'm stoked to be living in a country where there is so much freedom and people are different, and they are OK to be different."
Klaus: "Growing up in Germany, everybody was looking toward America to see what's happening here. I think the [term] 'Promised Land' is overused, but it's almost like that a little bit. To go live in the U.S., it was sort of a dream. It is a huge step in our life, for sure. One of the things Pia said when we first came to this country [15 years ago] was, 'Oh, these pickup trucks, they are awesome. I want one!' And I said, 'What do you need one for? They use too much gas.' We argued about it for years. [After the naturalization ceremony], I gave her a little model of a pickup truck—I had glued a key onto that model—and gave it to her, and the first thing she said was, 'You did not give me a pickup truck.' And I said, 'Yeah, I did.' It's a 2003 black Ford Ranger. She was pretty overwhelmed. Now she drives around in this pickup truck, and she's like, 'Now I'm an American and I have a pickup truck.' "
Jose "Danny" Gomez, 22
Country of Origin: Mexico
Place of Residence: Redding
"I just can't believe that it's finally happening. I was born in Mexico and came here when I was 2. So my first memories are here in the United States. I think of the United States as my homeland. It's like being adopted, because it's all you know. This is the place I have pride for. And I want to be a patriot here. I'll finally get to vote and be more active politically, and hopefully one day run for office. There are just a lot of things in the country that are going in the wrong direction. I would [normally] probably be pursuing a job in entertainment like being an actor or director, but to actually make an impact in my community and on other people, I'm going to have to run for office and hopefully get elected. I want to do what I can to make changes that will actually benefit people. I would like to get universal healthcare [passed], the minimum wage up to a livable wage and get money out of politics. I've been volunteering with Western Service Workers Association. They go down to the Capitol and voice their opinions on bills and fight for people's rights. I'm hopefully going to get more involved. It's a big deal to be a citizen. I feel like it's definitely possible this will change my life."
Leigh Cobb, 46
Country of Origin: South Africa
Place of Residence: Elk Grove
"I'm a mess. I'm going to start crying again. It's emotional for me. I've been waiting 16 years to become a citizen, so it means a lot. Being an immigrant, I'm thinking back to all the immigrants who have come through Ellis Island and everything that they went through. That quote, 'Give me your tired, your poor, your huddled masses'—I can really identify with that. I just love America. My son is extremely patriotic. He wants to go into the Air Force, but because he has Crohn's disease, he can't do that. My husband served in the Navy for eight years. I'm proud of him for his service to this country. Right now I'm a stay-at-home mom, but hopefully that's about to change. I'd like to go back to college and get involved in social work for pediatric patients or something along those lines. [Becoming a citizen] makes me feel part of this country. I don't feel like an outsider anymore. I feel like I belong now."
Rajinder Singh Bhele, 38
Country of Origin: India
Place of Residence: Yuba City
"I feel proud to be American. I came [from India] in 2008. I have two kids. One is 4 and one is 2. They were born citizens. I want to give them the [best] education, as high as they want to go, so they can live happily and become good citizens in America. I feel that the American constitution is good. The whole world is coming over here. It's the dream for everyone to become a citizen of America. There's a lot of freedom here. [In India] there is a lot of corruption in politics. I can now vote and participate in a democracy. I want to vote in every election."
​
Allan Legarta, 44
Country of Origin: Philippines
Place of Residence: Lathrop
"Finally my dream of becoming a U.S. citizen was realized. It was emotional, you know, and overwhelming. I've been here for 10 years. I grew up in the Philippines, where my wife was working as a teacher and me as a police [officer] and a nurse, but we could not afford even to buy a car. Over here, as long as you work, you can send your children to school, you can help other people and you have benefits. I have a son in high school who is 17. I told him to make the most of the opportunities here in America. He is studying now. He wants to be a pharmacist. It was hard to give up citizenship [in our native country], but we finally decided we want to be here forever."
Modupe Oso, 65
Country of Origin: Nigeria
Place of Residence: Yuba City
"I want to travel all around the world. I like traveling since I retired [from being a pharmacist]. I hated going through the process of getting the visa. Submitting the documents, paying such a high fee—as a citizen I don't have to do any of those. I have relatives in England, and because I'm a Christian, I want to go visit Israel, where the whole story [of Jesus] started. I'm going to go on a Christian pilgrimage. I'm going to meet some friends who are coming from Nigeria and they have it all planned out. I'm glad to be an American citizen. It was like taking a wedding vow, like, 'Finally, I'm getting married and I'm happy.' "
Daron Spence, 27
Country of Origin: Jamaica
Place of Residence: Sacramento
"I am the first person in my immediate family to become a citizen. In Jamaica, I was studying to become a lawyer; however, if you don't have the money to complete law school, that dream is shattered. There is no system [there] that will help you gain the knowledge you need. Becoming a citizen made America home. [Here] if you have a dream, your dream can come alive if you put your mind to it. I was living in Florida in 2011 when I heard about Mark Zuckerberg, and I decided I wanted to be a billionaire too. I wanted to be able to write $600 million checks. I googled 'how to make a social network' and that led me to coding. I didn't really become the entrepreneur that I wanted to be, but at the end of the day I still have a successful job at 27 [Spence is a senior web developer at VSP]. I own two Audis. I live in a penthouse apartment. You won't get that opportunity anywhere else than America. You just have to put your mind to it. That's what America stands for to me."
​
Khaleel Yasir, 38, and Zuhal Alameen, 36
Country of Origin: Iraq
Place of Residence: Citrus Heights
Khaleel: "I was a university student [in Iraq] in 2003 when the U.S. Army entered Iraq. It was my dream to become an American since I was a child, so I decided to work with the U.S. Army and was a translator during the Iraq war. I had to teach them how to deal with the Iraqi people, the Iraqi army and police. My situation was really dangerous because the militia and other fighters were looking for me. I'm working now with the World Relief resettlement agency in Sacramento. We take care of refugees from Iraq, Afghanistan and Slavic countries. Many were affected by the travel ban last year and worried about their families. [Becoming citizens] will change everything. For example, my wife [Zuhal] was working in a store, and her manager dealt with her as a refugee, saying she was nothing, she was not American. I'm sure the manager would change his mind about her now. I will not forget the moment [today] when they said, 'Now you are Americans.' I really felt in that moment that I was born anew in the United States. I'm a new Khaleel."
Andrew Makanoneng, 32, with daughter Andrea, 3
Country of Origin: Indonesia
Place of Residence: Carmichael
"We moved here because it's hard to be a Christian in Indonesia. We are a minority. The city where I came from is the center of a radical Muslim group. It was definitely a violent situation. We had police guarding our church when we had service. The radical Muslims were throwing stones every week and they [would] bring machetes and stuff like that to scare us. Finally we had to move out of the church and we worshipped from house to house. I really try to forget. I know it's impossible, but I just don't want to remember the details of the things I experienced. I can show you all the wounds I have from that experience. Here in the United States, I feel more safe. Here you can exercise religion freely and we can go to church every Saturday without being fearful. Not everybody has that freedom to go to church, to worship. I feel blessed. My kids will have a better life than what I had growing up."
Larisa Christiansen, 35
Country of Origin: Moldova
Place of Residence: Rancho Murieta
"I definitely love it here. I would never go back. Coming here changed a lot in me. It gave me the freedom to be who I wanted to be. Back in Moldova, the way they see women is like, 'OK, here is your husband. You have to obey him.' When I came here [in 2003], I started to see this new perspective. I know that many people feel that the American dream isn't alive anymore. I do not agree with that. It is definitely alive because if I could be where I was, having an 8-month-old and a 6-year-old, being a single mom [and getting] through school [to become an ultrasound technologist], then anybody could do it. This country can and will give you an opportunity—you [just] have to work for it."
Niwash Noorani, 32
Country of Origin: Pakistan
Place of Residence: Natomas
"I feel very proud and very happy that I will be able to vote and contribute. I would have certainly wished to be able to have a say in the last [presidential] election because I strongly believe that each vote counts. It feels like you're powerful, that you have a voice, if you're able to vote. You can feel confident that you did everything in your power to form the government [you want] or participate. My parents always wanted to have the world open to me. My father passed away some time ago, but my mother was really happy that I became a citizen and have more rights. I'm very proud to be a Pakistani, but I'm also very proud to be an American now."
Gaith Ben Younes, 37, with daughter Lamis, 7
Country of Origin: Tunisia
Place of Residence: Roseville
"Hard workers get rewarded in this country and that's what I like about it. I came over in 2005 and [studied] at Golden Gate University in San Francisco. I got my master's in accounting and taxation. My wife Fatma got her degree in early childhood development [from Skyline College in San Bruno] and was able to pursue her dream to be a preschool teacher. And here we are. It was all about education for us really. Getting a higher position in my work now is my focus, and we dream of having a house as well, so I'm working on that too. My little daughter, Lamis, is 7 and she dreams of being a doctor and scientist. She's really good at school. My little boy, Adam, is 3 and his dream is to be a police officer. Being an American now is totally different than being an immigrant. My wife got her citizenship almost two weeks ago, and she told me, 'When you take the oath, you'll feel a change.' And that's exactly how I felt. Oh man, I got goosebumps. I was born today—reborn, actually. [Becoming a citizen is] something I've been dreaming of for a long time. It's an honor. It's really an honor."