Amaro Amore
The team behind Shady Lady has crossed R Street to open Amaro, serving up classic Italian fare inside a playfully elegant dining room. Its name may mean "bitter," but for foodies, the new restaurant hits the sweet spot.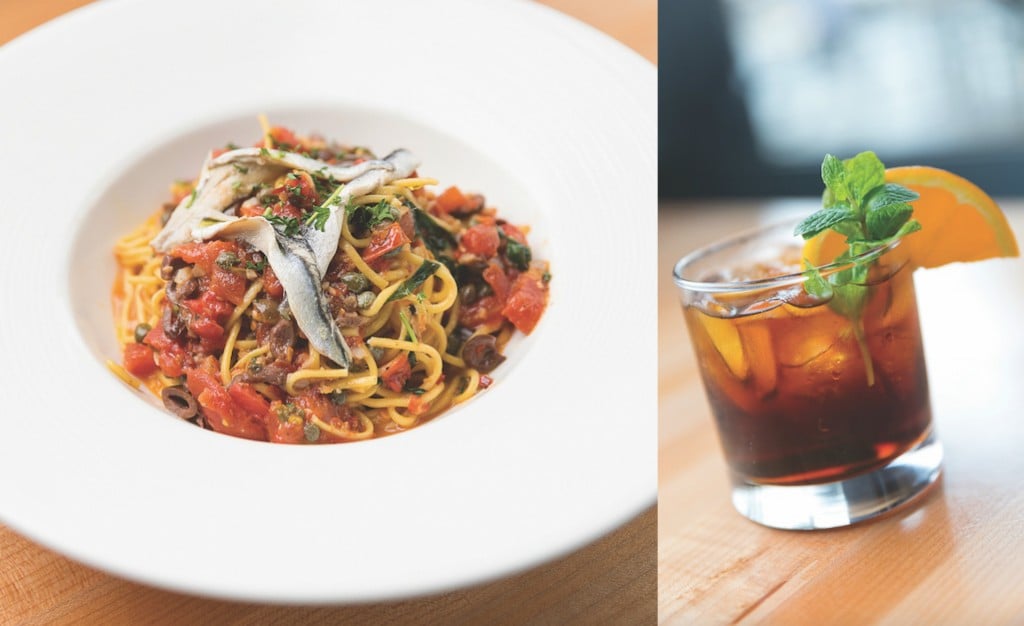 Amaro
1100 R St.
399-4145
amarobistrobar.com
R
The name of the latest hot spot on the R Street Corridor is a bit of an inside joke: TAmaro, which opened in January and means "bitter" in Italian, refers to a class of medicinal-tasting Italian spirits—Campari, Ramazzotti, Fernet, Cynar—favored by end-of-shift restaurant personnel in a ritual popular since the turn of the century known as the "bartender's handshake."
"Every West Coast bartender was having a beer and a shot of Fernet," says co-owner Jason Boggs. "Here we drink it like water."
When Boggs, Alex Origoni and Garrett Van Vleck opened their first venture, the Shady Lady Saloon, at 14th and R in 2009, the three friends were early adopters on the craft cocktail scene. At a time when vodka was the spirit of choice, "we were focusing on whiskeys, gins, ryes and scotches," says Boggs. "So for the first few years it was a battle with Sacramento: 'Don't drink that, drink this!' "
Sacramento listened and learned, and the bordello-themed boîte serving seasonal Old Fashioneds and Louisiana-inspired fare was named one of the top 25 bars in the country by Esquire magazine in 2014. In 2015, the team branched out with B-Side, a '70s vinyl-themed, cocktails-only lounge located a block over on S Street, and retooled a neighborhood dive in West Sacramento, transforming Sail Inn into a nautical-inspired establishment last spring. As he has done with the group's previous undertakings, executive chef Kevin Ritchie heads up the kitchen at Amaro, where Deftones drummer Abe Cunningham has an ownership stake as well.
Amaro Bistro & Bar's short craft cocktail list, a collaboration of all the principals, requires a translator for the uninitiated, but fortunately all of the servers have become fluent in the lingo of amari. They will tell you that the Red Devil features sweet vermouth, herbaceous Amaro Averna and Cynar (an amaro made with artichoke), and is served with mint and an orange slice. The drink, which is balanced and smooth, has the darkness of licorice and the comfort of caramel. The American Tourist, made with rye whiskey, Cynar and maraschino liqueur, is simpler and sunnier (as the tongue-in-cheek name implies) and a good introductory cocktail.
"As our palates expand, we start falling in love with amari," says Boggs, warming to the topic and eager to welcome Sacramentans to the next cocktail revolution. "We drink it differently than our brethren in San Francisco, because you have a 105-degree day and you want to have something that's cool and refreshing, and an amaro served with a splash of soda or champagne lends itself to that. It's perfect for a Sacramento summer day."
But whereas Shady Lady may be locally known as a great bar that happens to have great food, Amaro is a restaurant first and foremost, and a traditional Italian one at that.
"If you talk to any chef in town, they love Italian food—the simplicity, passion, the heart, the attention to detail, [like] when you see one of our chefs spend eight hours rolling gnocchi," Boggs says. "[Or] a tomato sauce with the right amount of salt, pepper and garlic­—it's one of the best things you'll ever have. That's why, when you look at our menu, we're not trying to get all Californian with it. We're keeping things classic."
"No pad Thai pizza," adds Ritchie with a merry wink.
"One of our overriding principles here is to source good ingredients and not hide behind a recipe that's got 25 components," says Origoni. "With simplicity comes the opportunity for a lot of elegance."
The space, on the other hand, is a harmonious blend of modernism and classicism, with a dash of wit and whimsy. Dimly lit and crisscrossed by heavy iron beams, at eye level the industrial space confidently complements its R Street block dominated by warehouses converted into artist lofts. But cast your eyes up and a dramatic atrium floats above diners' heads, a sumptuous jewel box of a room lined with red-bound volumes and reproductions of paintings by Italian masters, such as an 18th-century cityscape of Venice by Canaletto and portraits by Bronzino and Raphael. A Victorian-era copper ceiling reflects light from six ornate Tuscan-style chandeliers. This pastiche of over-the-top ornamentation works precisely because it hangs out of reach, hovering over your dinner like an imagined dreamscape.
The conceit is so clever it's a surprise to learn that no designer's hand was involved. The team co-authored the space, with Van Vleck getting much of the credit for the atrium décor. "People think we start each project with this grand vision," says Origoni, "but it's a more organic, evolutionary process."
The opportunity to open Amaro itself came to the team serendipitously. The restaurant's site had been earmarked for an Italian fast-casual concept from the proprietors of R Street neighbor Burgers & Brew, but that group's plans went in a different direction.
"Bay Miri and Ali Youssefi, the owners of this building, approached us and asked us if we were interested in opening a restaurant, with the caveat that they'd already pulled permits and had an approved layout and equipment [including a pizza oven]," says Origoni. "So it kind of had to be an Italian restaurant."
That was music to Ritchie's ears. He'd produced a Creole-influenced menu for Shady Lady and elevated dive bar basics at Sail Inn, but the Sacramento native had long dreamed of doing a pizza concept. "I grew up on the original Shakey's," he says, referring to the once-dominant national pizza chain, the first of its kind, that started with a single store in East Sacramento.
Happily for Amaro's clientele, the grown-up Ritchie's idea of pizza is informed less by nostalgia for chain-store pie than it is by his experience working for chef Rick Mahan at The Waterboy, executing southern French and northern Italian cuisine.
Ritchie's pizza dough ferments for 12 hours before being hand stretched, and the toppings are thoughtfully applied, with a nod to the Neapolitan style of favoring sauciness over cheesiness and what Ritchie calls "good leoparding" on the crust, meaning spots of char and blister. The carne pizza, for example, isn't your typical meat-lover's extravaganza, but reminiscent of a charcuterie plate, with prosciutto, pepperoni and pancetta from celeb chef Paul Bertolli's salumeria Fra' Mani in Berkeley, as well as house-made sausage. Ritchie has a knack for layering flavors in a way that allows a single note to resonate—here a Calabrian chili pesto. "You get a little heat from it," says Origoni, "it's kind of sweet and spicy at the same time."
But as much fun as Ritchie and chef de cuisine Del Gibbs are having with their pizza oven, the pasta menu is proving to be Amaro's most popular feature. "There is a shockingly small number of Italian pasta restaurants around town," says Origoni.
Ritchie's classic spaghetti puttanesca is another case study in restraint, a preparation so simple he can rattle off the recipe.
"The puttanesca starts with a little garlic, shallot, chili flakes and olive oil, right in the pan," he says, "Then you melt anchovy into the pan with the olive oil and garlic, add tomatoes, basil, olives, capers, white wine and a little bit of butter, and finish it with a little stock. It gets tossed together with [spaghetti], salt and pepper and garnished with some white anchovies, really nice finishing olive oil, and some fines herbes."
The spicy, salty sauce coats the spaghetti thinly so that the toothsome al dente pasta stands out, bracketed by the two treatments of anchovy, the bass note provided by that briny, preserved anchovy that anchors the sauce and the top note by the fresh, vinegar-cured anchovies, silvery slivers of fish that add brightness.
"A lot of people get weirded out by anchovies," Ritchie says. "But it's not what you're expecting."
"It's the Italian umami," Boggs quips.
The lasagna also colors within the lines of tradition when it comes to flavors, tweaking the dish's construction so that it plates up with some flair. Instead of layering pasta in pans to be sliced up, Ritchie builds each individual serving separately, using one wide noodle. "It's just accordion-folded back and forth." Between the folds go layers of familiar fillings: Bolognese, béchamel sauce, spinach, fontina cheese, and then comes the twist, something called ricottage cheese from Orland Farmstead Creamery near Chico. "It's just what it sounds like," says Ritchie, "a cross between cottage cheese and ricotta." The light, fluffy cheese is less grainy than plain ricotta, without the density of pure cottage cheese curds.
A seasonal menu of appetizers, salads, non-pasta entrées and desserts rounds out the offerings at Amaro, with clever versions of classics like a beef carpaccio gilded with an utterly surprising dressing of pickled whole mustard seeds in oil that has the texture and pop of caviar and a sweet, mellow tang that harmonizes with the metallic flavor of the raw beef.
Slow-braised osso bucco sits on a bed of root vegetables and fregola sarda, a grain-shaped pasta reminiscent of Israeli couscous that has a nutty roasted taste, served with a gremolata of citrus and parsley for contrast. In the spring, the menu will be shot through with bright green. "I'm really going to be focusing on peas, favas, nettles, asparagus, fiddlehead ferns," says Ritchie. "Especially asparagus. You're going to see asparagus several places on the menu."
"We're very excited about our first tomato season," says Boggs, every bit as fired up about serving fresh produce as he was a moment ago about pouring fine spirits.
"I consider a good dining experience to be a work of art," Origoni says. "I have all the respect in the world for every art [form], whether it's painting, sculpture or music—a lot of those [works] you can buy and keep forever but a dining experience is a one-time-only thing, and it's the only art form that you can truly and genuinely receive with all five senses."
It's that connoisseur's enthusiasm that won Shady Lady its acclaim and stands to win Amaro its own devoted following—no secret handshake required.