An exhibit about Kentucky Derby winner California Chrome to debut at The California Museum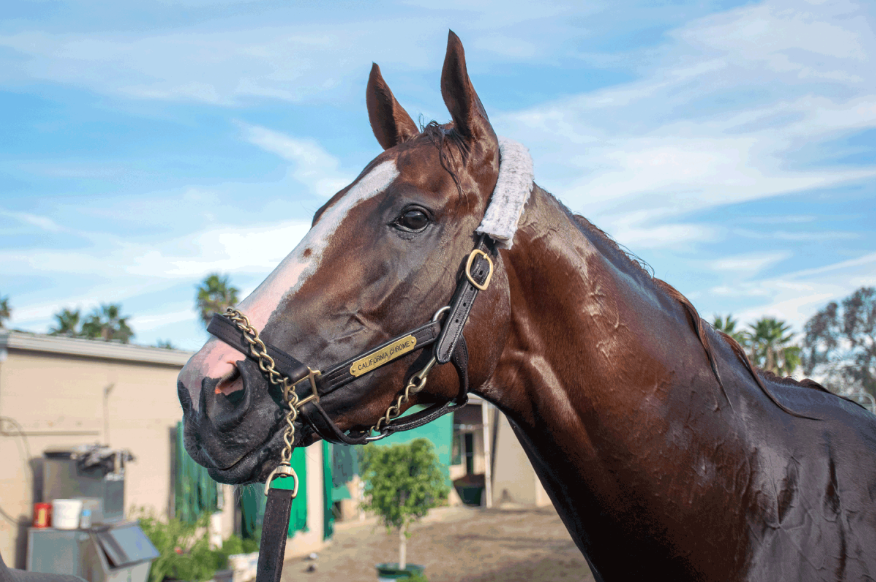 Update: The California Chrome exhibit has been temporarily delayed and will open this summer. Stay tuned for more details.
"Chromies," take your mark. The California Museum in downtown Sacramento will unveil a special exhibit celebrating the prize-winning racehorse California Chrome, who captured the attention of the nation last year after his victories at the Kentucky Derby and Preakness Stakes.
Opening May 2—the day of this year's Kentucky Derby—and running through April 30, 2016, the exhibit will feature the first public display of artifacts from Chrome's life, including the 2014 Kentucky Derby and Preakness Stakes trophies, as well as other exclusive memorabilia like horseshoes, blinkers and silks Chrome wore while running the Derby.
"I'm hoping this puts a spotlight on the positive side of the racing and breeding industry and the wonderful people that work and live with these horses," says Perry Martin, who co-owns Chrome with his wife Denise and Steve and Carolyn Coburn of Topaz Lake, Nev. Chrome was born and raised at Harris Farms in Coalinga and the Martins lived in Yuba City for 12 years before moving to Wyoming last September. They still own their McClellan Park-based business, Martin Testing Laboratories.
In addition to artifacts, museum visitors can expect to see video clips of the 2014 Kentucky Derby and Preakness Stakes races. The exhibit will also highlight California's long association with horseracing, including a glimpse into the life of Golden Gate Fields jockey Russell Baze, who holds the record for the most wins in the history of North American horseracing, and displays about the legendary stallion Seabiscuit, who rose to fame at California racetracks in the 1930s, and the Pleasanton oval, which is the country's oldest racetrack.
"The California Museum bills itself as the keeper of the California dream," Martin says. "Even though the previous Cal-bred [horse] to win the Kentucky Derby was Decidedly way back in 1962, this exhibit will show that the dream to win the Kentucky Derby is alive and well in California."
Meanwhile, the dream to win more races isn't over for California Chrome. The colt, who was named the 2014 American Horse of the Year in January, is currently stabled at the Los Alamitos Race Course in Orange County and preparing for competition at the Dubai World Cup, which will take place on March 28. "Hopefully we have a full fruitful year of racing ahead of us," Martin says.
The "California Chrome: A Race for the Dream" exhibit will run from May 2 to April 30, 2016 at The California Museum (1020 O St.). For more information, call 653-7524 or visit californiamuseum.org.