Animated Figure
Death takes a holiday in the Día de los Muertos-centric film Coco, which made its Netflix debut on May 29. Having spent over four years bringing the Pixar animated feature to life, its co-director/writer Adrian Molina talks about taking a holiday of his own, saying proper thank yous at the Oscars and making "awful" movies while growing up in Grass Valley.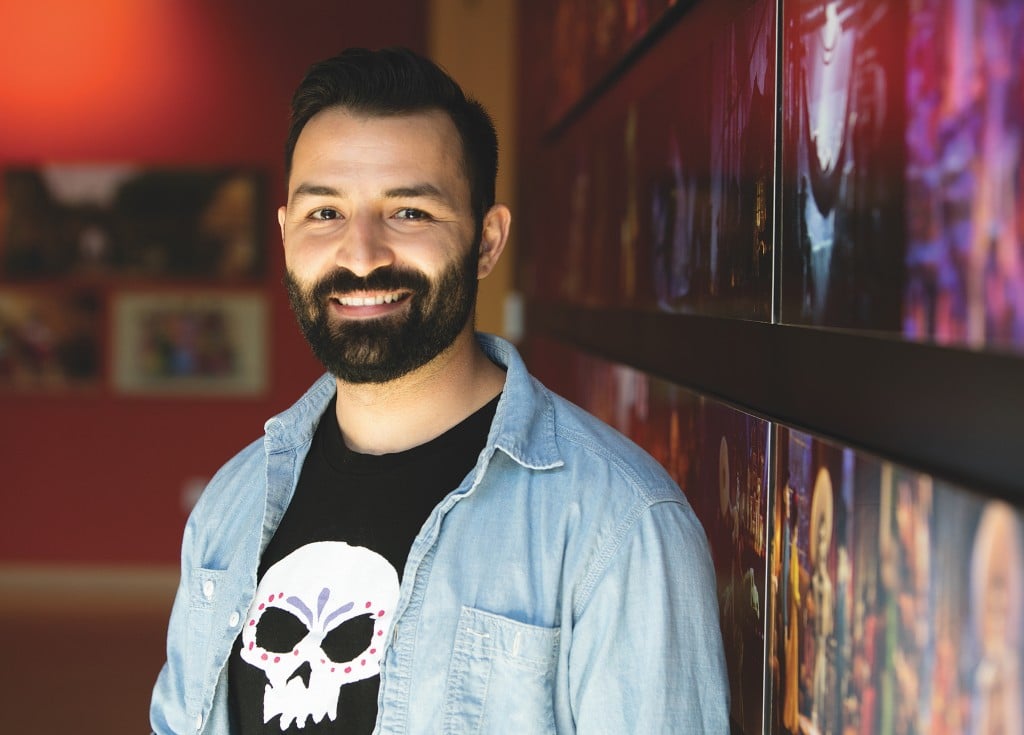 First of all, congratulations on Coco's success. 
Thank you so much. I felt very excited about this project from the very early stages, because it felt like a story that I could bring more of myself to. Every time we [at Pixar] tell a story we try to take our own experiences and hopefully there's something in there that is specific and unique and enriches that story we're telling. For Coco, there was so much of that stuff—the music, the culture, the language, the family aspect. I was like, "I have so much that I want to say about all of this. This is wonderful." It's always really hard to try to construct a story at Pixar that has that level of quality and interest and takes you on a journey. But more than any other film that I've worked on—and I'm super proud of all of the films I've worked on at Pixar [which include Ratatouille, Toy Story 3 and Monsters University]—with this film there was something very special about it for me. Every day I showed up to work, I was so excited for the thing we were going to put out into the world.
How does it feel to see and hear all the positive feedback on it?
As you're creating a film, you have to be skeptical about how good it is because you want to make it as strong as possible. You have to be the person asking, "Can we make this better?" So by the time you put it out into the world, you have hopes it's going to connect. But the reception we got even outstripped my hopes because so many people have contacted us saying how emotional it was to see this film and its message about family and remembrance, and they took away a completely different outlook about what it means to be connected as a family, even across the veil of death, and what it means to be connected to your culture. People took their grandparents [to see] this film because it expressed something they wanted to share with their families. Those types of things were a little overwhelming to hear, but the more we heard them, the more we realized that this film has really connected on a deep level with so many people.
You are of Mexican descent. How much of your own background influenced the writing?
My mom is from Mexico and my dad is half Mexican—my mom was born in Jalisco and grew up in East L.A., and my dad grew up in Whittier. So much of the film is about the stories that your family passes down, and the stories you don't know about—I did a lot of digging. When I was growing up, my parents were my parents, my grandparents were my grandparents, and that was the entirety of how I understood them. But working on this film, I started asking questions like, "What was Grandpa like when he was growing up?" and "What were [my parents] like growing up before me and my siblings came along?"—things you never think to ask until you get to a stage in your life where you realize, "Oh my gosh, my parents were people before I existed. My grandparents were people before I existed. They had these whole lives."
The movie centers on Día de los Muertos [Day of the Dead]. Did your family celebrate the Mexican holiday?
We didn't celebrate Día de los Muertos. I didn't start to become aware of it until high school when it was taught in class. But we did have a lot of our own traditions and culturally unique things that we did as a family that I didn't see other people doing with their families. A lot of it was the food we cooked, singing "Las Mañanitas" on birthdays, getting together with cousins in Southern California for weddings and funerals, and all that stuff. There was a definite sense that the culture was something to embrace and be proud of. And that was something I wanted to reflect in the making of the film—a family that was very vibrant and colorful, and how passing on those traditions can be both a blessing and also a challenge sometimes. Being able to explore that and draw from my own experience was a pretty cool way to spend the last four and a half years.
In your speech at this year's Oscars, where Coco won best animated feature, you thanked "my family, my Latino community and my husband Ryan for expanding my sense of what it means to be proud of who you are and where you're from." Can you elaborate on that?
The story of Coco is about family, about its traditions and [one's] upbringing—all of the things that are invisible to you as you're growing up, but really form the fabric of who you end up being, and a lot of that is thanks to family, a lot of that is thanks to environment, a lot of that is thanks to traditions. This film is a thank you to all of the people who have supported me and been there for me.
Speaking of your family, your parents live in Grass Valley, where you were raised. Were you born there too?
I was born in Yuba City, but I moved to Grass Valley when I was like 1. Where I grew up, it's very rural, so it's very quiet—there's lots of nature, lots of deer.
How did growing up there influence your career choice?
It was a really good place to [grow up] because it was far away from civilization, or at least it felt far away from civilization, so it forced me as a kid to be very creative—drawing, writing stories. I'd make home videos with my brothers—I have three siblings, an older sister, an older brother and a younger brother. My dad had a little camera and let us run around with it and star in our own movies. We would narrate them. They were awful, but it was a good way to have fun with storytelling.
I always liked watching cartoons and movies, telling stories and writing. I learned pretty early on that animation was something people did for a living and could go to school for. Around the seventh grade, I started doing the things someone who wants to be an animator does—keeping a sketchbook, reading lots of stories, drawing comics, designing characters, drawing from life. Those are things that my art teachers told me [were involved in] being an animator. So that kind of set me on my path toward gaining those skills.
Was there a particular art teacher who made an impact on you?
I had Holly Laughlin as an art teacher. She was very important because she could tell that I loved art and I spent a lot of time on it. So she asked me, "What do you like to do?" and I said, "I like to draw cartoons. I'm interested in animation." And she was really great about finding resources and classes for me. There's not really much of an animation industry in Grass Valley, so she would look up summer programs in Southern California that taught animation that I applied for and got into. She found weekend classes in San Francisco that taught animation to high school students, so I signed up for those and I carpooled with a bunch of other Bear River [High School] kids to take different classes. To have someone who was helping me find information and build a portfolio really made me aware of a lot of opportunities that may not have even been on my radar. That was pretty transformative to have someone to point me in those directions.
What do you do when you're back home?
I mostly just chill. We're a pretty quiet family, so there's lots of reading, lots of cooking, watching TV together and just enjoying each other's company. So that's always nice.
When I came home for Thanksgiving, my dad got a bunch of teachers from Bear River and friends from grade school and high school to come see Coco, so I got to see some friends, Ms. Laughlin and [my high school English teacher] Mrs. Mason. Beyond that, I've gotten a lot of Facebook notes, emails and texts from people who were glad to see that someone they remember from school had worked on the film.
Looking ahead, what projects do you have coming up?
Nothing to announce yet. I just came back from a restful vacation. It's a lot of work to put one of these films out, and after all of that output, it's nice to recharge. I'm helping out with a few films that are in production right now, but I'm not sure yet what the next thing will be. Hopefully it'll be as exciting and as interesting as Coco has been.