Aqua Duck
Since 2007, a Dutch artist's massive rubber ducks have been enthralling audiences in coastal and river cities around the world, bringing both whimsy and tangible economic impacts. Why don't we take a quack at it?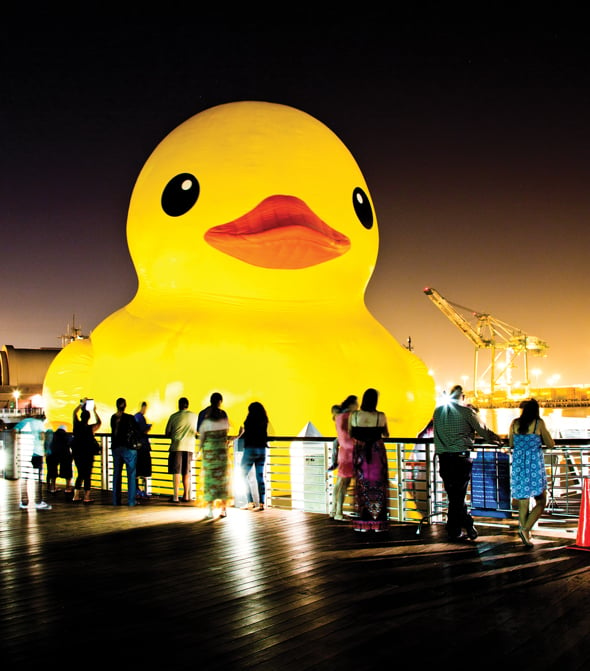 The Idea
In 2007, Dutch artist Florentijn Hofman fashioned a massive inflatable rubber duck that floats on water. Since his first version debuted in France, he has designed various sizes of it, ranging from 16 to 85 feet high, in tandem with host cities like Osaka, Sydney and Hong Kong. 
When the Pittsburgh Cultural Trust brought the duck to the Steel City in 2013, 100,000 people showed up on its first day for a Rubber Duck Bridge Party, and over a million people flocked to see it during its nearly month-long visit. Hofman's Rubber Duck (which is actually vinyl) has received similar receptions around the world. 
As it happens, our region is a haven for ducks. The waterfowl group Ducks Unlimited says that one to three million ducks, swan and geese spend their winters in the  Sacramento Valley wetlands. And the California Duck Days Festival is held in Yolo County every February.
But real waterfowl aside, if the giant rubber duck has made waves in other cities, it will here too. This massive piece of whimsical public art will bring throngs of visitors to the Sacramento riverfront, and straight into the shops and restaurants of Old Sacramento and downtown.
The Players
Old Sacramento would certainly benefit from the duck's presence. The Sacramento Convention & Visitors Bureau might want to incorporate it into next year's Farm-to-Fork Celebration. And the Sacramento Metropolitan Arts Commission is always the city's biggest champion of public art. Perhaps they could all chip in.
The Bottom Line
The CEO of VisitPittsburgh says the economic impact of the duck's 2013 visit was in the "tens of millions of dollars," much of that going to restaurants, hotels and the adjacent historic district. We think that a civic windfall like that, combined with the priceless value of some oversized pop-culture public art on our underused riverfront, makes this an idea worth floating.