Armed With Knowledge
The number of gun-related deaths per year in America is now at its highest point in the last 30 years. But in California, in that same time frame, the numbers have fallen by nearly 30 percent—due in no small part to the relentless efforts of Dr. Garen Wintemute, a Sacramento physician who employs science and data to help implement pioneering gun violence legislation. It turns out that the best way to stop a bad guy with a gun is a good guy with a gun research center.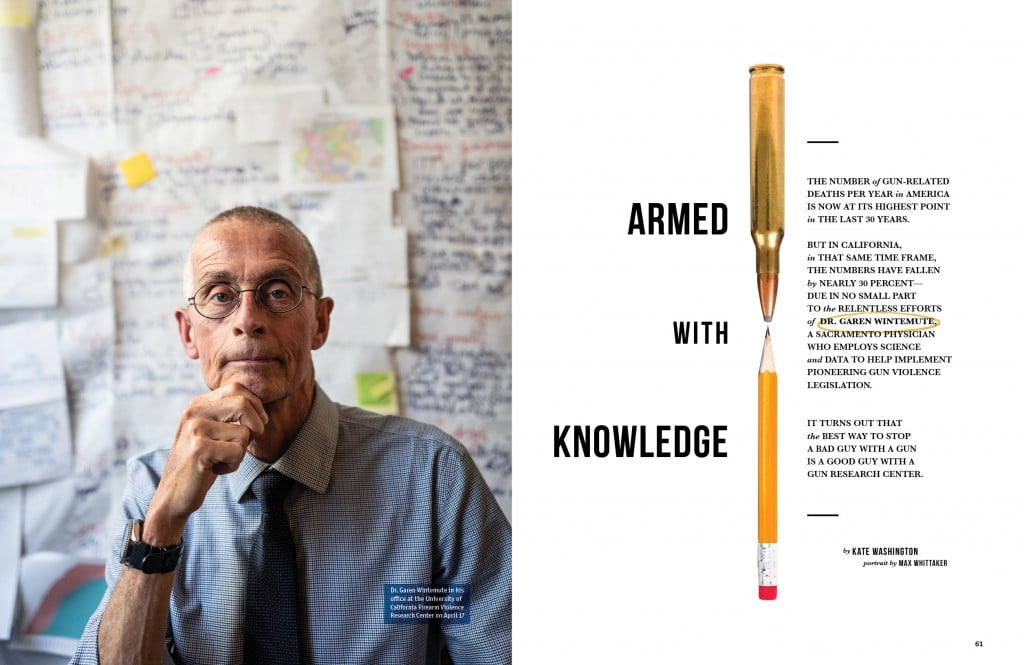 The cramped, unmarked office of the University of California Firearm Violence Research Center in Sacramento is a long way from the killing fields of Cambodia, but to Garen Wintemute, the two are inextricably linked.
The 67-year-old UC Davis emergency medicine doctor, who is lean and wiry with close-cropped hair silvering at the temples, has the intense, single-minded gaze of a man who has devoted his life to one unwavering goal: preventing gun violence. But almost 40 years ago, Wintemute (pronounced "winta-mute") was an idealistic young physician, who was fresh out of residency at UC Davis and volunteering overseas.
"I spent five months working in Cambodia right after Pol Pot's time. It was still a combat area," says Wintemute, who ventured to the region in 1981 with the American Refugee Committee, under the auspices of the Red Cross.
Nearly 2 million Cambodians had died under the rule of the Khmer Rouge, the brutal regime headed by dictator Pol Pot, and as part of an international effort to aid the country in the aftermath of the genocide that was committed there, Wintemute and his fellow aid workers provided medical care in a 120-bed "hospital," a word the doctor utters using air quotes. "We would hear gunfire every day," he recalls. He would hear bullets whiz by in the trees and land mines in the distance. Victims of those land mines came in with, say, the lower half of the leg blown off and he would "complete the amputation" using local anesthetic. At one point, he pauses mid-sentence. "Sorry," he says. "A memory intruded."
Witnessing such intense trauma permanently altered Wintemute's perspective. "The lasting impact was the sum total of those vicarious individual experiences," he says. "In the five months I was there, I never once met an intact family. I heard stories of how the missing members had died. So what it was for me was an understanding of the power of violence to shape the future of whole populations, which is why I got interested in [a career in] public health and not, let's say, trauma surgery."
Wintemute returned from Cambodia determined to do something. At first he thought his anti-violence destiny lay in work abroad. But the targets of gun violence he saw when he returned to practicing emergency medicine in the U.S. convinced him to remain stateside. "I decided, 'Nope, the problem is big enough here,' " he says. But it didn't take long for him to realize that most victims of gun violence—estimated to be 75 percent—never even make it to an ER. So, in order to prevent more gun-related deaths, the bigger challenge was to prevent the shots from being fired in the first place.
***
WWintemute's wood-paneled office at the Firearm Violence Research Center—the first state-funded institution of its kind—is all but bare. One wall holds a piece of paper on which he has written out a quote from writer Samuel Beckett: "Ever tried. Ever failed. No matter. Try again. Fail again. Fail better." Above the quote, he scrawled a note to himself: "Remember why you're doing this, and for whom. Be patient. Be grateful."
And Garen Wintemute has been nothing if not patient. Unlike in the ER, where a life can be saved in minutes, saving lives through research takes years, and usually decades. Wintemute recalls when his life took its turn in this direction. Shortly after returning from Cambodia, he enrolled at Johns Hopkins School of Public Health in Baltimore in 1982, and in a class on injury prevention, he had a teacher that he describes as a "really spellbinding public health attorney [who] was doing I think the first synthesis of the very little research there was on firearm violence as a public health problem."
That teacher, Stephen Teret, became Wintemute's mentor—though first Teret had to overcome a less-than-ideal first impression, when he spotted Wintemute in the back of the class, tilting back his chair. "I thought, 'This guy is going to be trouble,' " says Teret. When Wintemute introduced himself, however, he was so well spoken that the professor quickly changed his mind. "I actually went down to the admissions office to read his application. I thought to myself, 'I've got to get to know this guy. I think he's why I became a teacher.' I was very lucky."
It was Teret who first exposed Wintemute to both the challenge and the opportunity that would define the latter's life's mission. The two went on to develop a close working relationship. "For me, it's been one of the most stimulating, fruitful and pleasant aspects of my career to [collaborate] with Garen in this difficult work," says Teret, who is now retired.
"Here's this huge problem," Wintemute says of the epiphany that he had stumbled on an important field of study that virtually nobody was working on. "It's like being out in the desert. There's just nothing but you and empty space." And all of the reasons that would deter most people—there were few funding sources, there was opposition (and organized opposition at that), the issue was incredibly complex—only intrigued him more. "To me it was, 'What's not to like?' I enjoy the austerity and the challenge and the risk of it."
In the late '80s and early '90s, as homicide and suicide rates rose to epidemic levels in the United States, the Centers for Disease Control and Prevention (CDC) began funding firearm research for the first time. Wintemute was already studying the subject at Davis and receiving small amounts of funding, but to be eligible for larger grants, he needed to create a formal entity. For this reason, he formed the Violence Prevention Research Program—which served as a precursor to the Firearm Violence Research Center—in 1991.
Today, another wall in his office demonstrates the complexity of the work. He's taped up a palimpsest of papers that maps out a vast research project evaluating the efficacy of a California law that he helped craft. In 1999, the year of the shooting at Columbine High School where 12 children and one teacher were killed, the California legislature conceived of a program to remove guns from people who bought them legally but were no longer eligible to own firearms due to various factors, including having subsequently committed a felony or a violent misdemeanor. Wintemute advised the program, which was enacted in 2006 and based in part on his research showing that gun owners with criminal records were more likely to commit gun-related crimes. The initiative was given additional funding in 2013 after the Sandy Hook Elementary School shooting. In 2015, then-State Attorney General Kamala Harris called the program—the Armed and Prohibited Persons System—her "top priority." To date, it has seized over 28,000 guns, including more than 700 assault weapons.
And, as Beckett implores, when Wintemute fails, he tries again. In 2013, Gov. Jerry Brown vetoed a bill that would prohibit people from owning firearms for 10 years if they were convicted of multiple DUIs (or other substance-related misdemeanors). "His veto message said there's not enough evidence," Wintemute told ProPublica at the time. "There's tons of evidence of alcohol as a risk factor of violent activity. I think he meant evidence specific to gun owners. We've started one study, and are in the process of another. We'll come back with the evidence." It took five years, but Wintemute and his team did just that in 2018. A revised bill is working its way through the legislature, and the doctor believes it's one that Gov. Gavin Newsom will sign.
The emptiness of Wintemute's office belies his chaotic schedule—as the center's founder and director, he typically has 25 meetings a week. He's also a renowned and prolific researcher who has published about 100 studies on the epidemiology—the science of finding the causes of health outcomes and diseases—of gun violence.
His research has provoked death threats, put gun manufacturers out of business and led to lifesaving policy changes. He has been instrumental in putting California in the vanguard of a national movement for states to tighten gun control laws and combat gun mortality. And at an age where most people are retiring, he's gaining momentum.
Now the director has even more ambitious work underway with the nearly 20 young researchers he has hired to join the center since it was established in 2017. The staff includes experts in public health, criminology, law, economics, epidemiology and statistics, in addition to medical doctors. Its work encompasses studies on suicide reduction, community policing, whether violence spikes after mass shootings, and much more.
The group's wide-ranging approach is key, says researcher Hannah Laqueur, 37, an assistant professor at UC Davis who holds master's degrees in public policy and biostatistics, as well as a PhD in law and economics. "Garen really had this vision that we should think about violence as being a problem that needs to be solved by thinking about it in multifaceted ways," she says. "That's the best way to get at these big questions."
"The problem of gun violence in the U.S. is a particularly knotty problem, and solving it requires a lot of different disciplines coming together," adds Teret. "You need people who bring different skills to the table. I can think of one exception to that, and that one exception is Garen, because Garen can do all of those things."
***
TThese days, the concept of examining gun violence as a public health problem is quickly gaining acceptance, but in the 1980s, when Wintemute started, it was revolutionary. If anything, the media and the masses thought of guns as an inner-city crime issue. "People knew [criminal violence] was something for which young men were at greatest risk, particularly young men of color," he says. "I don't like talking about this, but it's simply true that for much of society that meant, 'Oh, this happens to people who aren't like me, so it's not my problem.' "
"People say, 'Gun violence is a public health problem?' And I think, 'Well, what else would it possibly be?' " says Amy Barnhorst, 45, vice chair for community mental health at the UC Davis Department of Psychiatry and Behavioral Sciences. "It's a social problem, a cultural problem, a legislative problem, an economic problem. You need people who are able to enact social change, to change cultural beliefs, to pass legislation, to actually stop the bleeding in the ERs, to do counseling in primary care offices. It's preventative medicine."
Wintemute, who had earned his undergraduate degree at Yale and his MD at UC Davis, completed his master's in public health at Johns Hopkins in 1983. He then returned to UC Davis, where he continued working as a medical doctor—but also began researching gun violence. His first study on the issue, an examination of accidental firearm deaths among children in California, appeared in 1987.
Just a year later, Wintemute first put his stamp on a major piece of gun violence reduction legislation. In 1988, two parallel bills—federal and in California—were being crafted to prevent the manufacture and sale of assault-style weapons. The physician was called in to advise on both efforts. As he recalls, he was the point person between the dual pieces of ambitious legislation, sharing information between the camps in order to strengthen both bills.
For California lawmakers, there was a heightened sense of urgency after a gunman with an AK-47 assault rifle walked onto the playground of Cleveland Elementary School in Stockton on Jan. 17, 1989, and shot 34 children in about three minutes, killing five. That May, the state legislature passed a ban on 75 types of assault weapons (including the AK-47)—the first of its kind in the country. Five years later, U.S. Senator Dianne Feinstein, also with Wintemute's help, led the charge to pass a national version of the law, which sunsetted in 2004.
---
READ MORE: Trigger Effect – Looking back on the Cleveland Elementary School shooting 25 years later
---
The Violence Prevention Research Program that Wintemute started at UC Davis in 1991 was launched without fanfare. It was essentially an outgrowth of the research work that Wintemute was already doing. And the subject of guns was already so controversial that the medical school housed the new program off campus, on Alhambra Boulevard. "Basically, they said, 'Look, Garen, if someone is going to blow you up we don't want them to have to go through the hospital to get to you,' " recalls Wintemute.
In the early 1990s, Wintemute and his team published numerous studies on a range of gun-related topics. In 1994, his report Ring of Fire examined six Southern California manufacturers of a particularly dangerous gun, known as the Saturday Night Special, which was inexpensive, lacked safety features and was disproportionately used by youth.
After the report appeared, several Los Angeles-area communities banned the gun. And in June 1997, the PBS series Frontline produced an episode based on Ring of Fire. That October, Time magazine featured Wintemute as one of its "Heroes of Medicine" and called him "a new breed of physician eager to affect public policy about gun violence by using their special insights as healers." Two years later, California passed legislation that made it illegal to make or sell Saturday Night Specials in the state, and five of the six manufacturers examined in Ring of Fire eventually had to close their doors.
Even with his rising status, Wintemute struggled to find funding. The National Rifle Association and other pro-gun advocacy groups didn't like the potential impact of such gun violence research, which the Centers for Disease Control, a federal agency, was funding in the early 1990s. In 1993, a high-profile study in The New England Journal of Medicine identified guns in the home as a significant risk factor for homicide.
At the NRA's behest, in 1996, Jay Dickey, a Republican congressman from Arkansas, added an amendment to the omnibus spending bill that essentially prohibited the CDC from spending money on gun-related research. (The politician, who died in 2017, later expressed regret for his role and even wrote a letter supporting the establishment and funding of the Firearm Violence Research Center.)
As a result of the Dickey Amendment, money for gun violence research nationwide has dried up for decades. The amendment remains in effect, though there is increasing support for funding research on the topic: This past April, for example, House Democrats unveiled a spending bill that would designate $50 million for federal gun violence research.
Despite the challenges of the last two decades, Wintemute has persisted. "There came a point when I decided if I need to keep the lights on, that's what I'll do," he says. To date, the doctor has personally donated $2.2 million to this research, out of his own salary and a long-ago gift of stock from a company started by his father, a successful businessman.
There came a point when I decided if I need to keep the lights on, that's what I'll do," Wintemute says. To date, the doctor has personally donated $2.2 million to this research and deliberately keeps his expenses low to devote his physician's salary to his cause. He drives a 2010 Subaru, has lived in the same 700-square-foot, one-bedroom apartment since 1997, doesn't eat out and doesn't own a television.
Wintemute, who has been divorced for nearly 20 years and never had children, deliberately keeps his expenses low to devote his physician's salary to his cause. He drives a 2010 Subaru, has lived in the same 700-square-foot, one-bedroom apartment near the Sacramento River since 1997, doesn't eat out (he makes his own lunch every morning, and even goes to grocery stores when he's on vacation or on a business trip), and doesn't own a television.
But financial obstacles aren't the only ones he has faced. Gun control incites passion for many Americans, and Wintemute has been the target of what he calls "organized opposition" over the years. "The work is risky," he says.
In the 1990s, Wintemute often went to gun shows to see the trade in action. At one show, he was spotted using a hidden camera and things got heated fast; his then-girlfriend overheard some men say they were going to abduct and kill him as soon as he exited the building, so he waited inside until they left the premises. Some colleagues in law enforcement urged Wintemute to wear a bulletproof vest, a precaution he never took. At another show, one of the manufacturers featured in Ring of Fire, Bruce Jennings, confronted Wintemute and said that he'd set aside money to make the doctor's life miserable and also suggested that Wintemute have his life insurance policy paid up.
Later, Wintemute played another role in Jennings' life: "In 1996, it became illegal [in the U.S.] to own or possess or purchase firearms if you've been convicted of domestic violence," says Wintemute. "Bruce had broken his wife's jaw, and it was public record." The physician helped bring Jennings' record to the attention of the Bureau of Alcohol, Tobacco, Firearms and Explosives, and the gunmaker lost his firearms license. (Jennings is currently serving a 10-year federal prison term for distributing child pornography.)
Wintemute's op-eds, which have been published in The Sacramento Bee, San Francisco Chronicle and The New England Journal of Medicine, provoke angry letters to the editor and his name is often mentioned on gun rights forums online; in a recent discussion about proposed legislation AB521, for instance, one comment reads, "F–k them, what this is really about, is more money for that Wintemute doosh [sic] canoe."
The controversy around firearms heated up throughout the 1990s, as the NRA—formerly an organization for sport shooters—ramped up its gun rights activism. The result was little data and even fewer studies about the causes of gun violence and how to address it.
Wintemute's 1994 report Ring of Fire examined six Southern California manufacturers of a particularly dangerous gun, known as the Saturday Night Special, which was inexpensive, lacked safety features and was disproportionately used by youth. After the report was published, several Los Angeles-area communities banned the gun (the California legislature eventually followed suit). In June 1997, PBS' Frontline produced an episode based on Ring of Fire. That October, Time magazine featured Wintemute as one of its "Heroes of Medicine."
State Senator Hannah-Beth Jackson, a Democrat representing Santa Barbara who is currently sponsoring the revised DUI bill based on the center's research, points out a double bind in the funding freeze: the lack of information about the causes of gun violence made implementing policies to curb it all but impossible. "We basically had our hands tied by the pro-gun groups [insisting] we were making decisions without any scientific basis," she says. "Of course, they were keeping us from developing that quote-unquote scientific basis because we were prohibited from collecting any data."
The limitations on Wintemute's mission only made him even more determined. For well over a decade, he maintained a punishing schedule working seven days a week with no real breaks. Perhaps as a form of quiet encouragement, someone has arranged magnetic poetry on the office fridge to read "have vacation please." The doctor is listening: While he still maintains a seven-day work schedule, which includes pulling ER shifts, eating lunch at his desk and staying into the evenings, he now takes a few vacations a year.
Every few months, Wintemute also goes up to his family's ranch in Southern Oregon to visit and help with seasonal roundups and haying. The ranch is the home of his father who kept guns in the house during Wintemute's childhood. "We were taught how to respect guns," says the son, who was raised in Long Beach. By his teens, however, Wintemute, a self-described "beach kid," was more interested in hunting in kelp beds with an underwater speargun. But Wintemute learned to shoot and once even got offered a job teaching riflery to kids at a YMCA camp. "I like shooting," he says, with a shrug. "I'm good at it. I used to belong when UC Davis had a rifle and pistol club."
Although he no longer shoots competitively, Wintemute is adamant that neither he nor the center is anti-gun. "I don't have a problem with the tool," he says. "I have a problem with the uses to which they are put."
He's as strict about gun safety in his private life as he is in his public research. Although the area surrounding the ranch tends to be pro-gun, "the only time there's been any controversy," Wintemute says, "was when it came time to disarm Dad. He's 94. Around the time you start thinking that maybe Grandpa shouldn't have access to the car keys, they shouldn't have access to firearms either."
***
WWhen Wintemute began researching gun violence and how to reduce it, the topic wasn't the hot-button issue it is today. Now, America's nearly 40,000 annual gun deaths and the growing number of mass shootings in this country are at the center of an urgent public debate. In 2017, Congress introduced a bill designating June as National Gun Violence Awareness Month. Then in the spring of 2018, the first March for Our Lives event, the nationwide student-run protest for stricter gun control measures, took place shortly after the Parkland massacre—last year saw more shootings on school campuses than any year since 1970—and was the third largest protest in American history.
And it's mass shootings—in schools, churches, offices, concert venues, movie theaters—that have moved Wintemute's work from the fringes of research to the mainstream. Even though they account for a small fraction of all gun deaths, they have become the face of American gun violence.
Unlike the private toll taken by suicide deaths or the remoteness of homicide, mass shootings feel universally personal. " 'No matter who I am, no matter what I look like, these things happen to people like me,' " Wintemute says of their equalizing effect. " 'No matter where I go in life, these things happen in places just like the places I go to, the places of worship, the mall, the concert.' Everyone feels a personal stake in getting this problem solved because they realize, 'This could be my children, my grandchildren.' "
In fact, state funding for Wintemute's Firearm Violence Research Center was at least partially motivated by the 2015 shooting in San Bernardino, in which a county health department employee killed 14 colleagues. And within weeks of the Las Vegas massacre on Oct. 1, 2017, in which a man killed 58 people and wounded 422 more by gunfire, Wintemute published an article aimed at doctors called "What You Can Do to Stop Firearm Violence." In it, he advocated for health providers to ask about patients' access to firearms and advise them on the dangers, and he asked them to publicly state their commitment. To date, nearly 2,600 doctors have done just that.
His efforts got an accidental boost from, of all people, the National Rifle Association, which last November posted a tweet mocking his peers, reacting to a position paper from the American College of Physicians that recommended tightening gun control restrictions. The tweet read in part: "Someone should tell self-important anti-gun doctors to stay in their lane."
The medical community responded with a Twitter storm, using the hashtag #ThisIsOurLane to tell heartbreaking stories of treating firearm victims. "We saw a flood of responses where physicians were posting pictures of blood-soaked ERs," says Wintemute. "For the NRA, of all people, to say, 'That experience notwithstanding, [gun violence] is none of your business,' was really a mistake," prompting "a very intense interest" by doctors in making a difference regarding gun violence.
Now there's pending legislation sponsored by Democratic Assemblymember Marc Berman that would grant $3.8 million to Wintemute's What You Can Do initiative, to help the center train MDs in reducing firearm risk for their patients. "In my mind, $3.8 million over three years so we can train medical professionals to try to intervene before something happens is a remarkably smart investment," says Berman, whose bill cites that, in contrast, the cost of hospital and emergency department care for firearm-related injuries in California in 2010 (the most recent year for which numbers are available) was $112 million.
Some of Wintemute's colleagues had already developed an interest in doctors playing a role. Psychiatrist Amy Barnhorst had two daughters in elementary school at the time of Sandy Hook. "I was on call in the ER the weekend after, and I overheard Garen talking with someone about the debate about whether this was a mental health system failure or a failure of our gun laws, and how he was frustrated by people saying this is a mental health problem," she says.
Barnhorst was hooked. "I completely butted into their conversation and said, 'I am the front lines of the mental health system, running a crisis unit in a hospital, and we're not going to be able to stop this.' " Although Barnhorst is not on the center's staff, she and Wintemute have worked together on the issue ever since.
The two helped craft California's landmark Gun Violence Restraining Order (GVRO), which went into effect in 2016. Although it's not based on any one study, it bridges a long-standing gap in firearm safety policy by enabling law enforcement to remove firearms from people who present imminent threats. In other words, if a family member or a roommate is acting in a way that you (or law enforcement) believe could result in them using a gun against themselves or others, you or the police can file a court petition (with easily accessible forms online) that gives the police the authority to temporarily remove that person's access to guns for up to a year.
Modeled on domestic violence restraining orders (where guns can be temporarily removed from those served with a protective order), GVRO arose in part from the 2014 Isla Vista rampage in which perpetrator Elliot Rodger killed six people, three by gunfire, and wounded 14 more near the UC Santa Barbara campus. Rodger's parents were alarmed by warning signs of their son's violence and made frantic attempts to intervene. But Rodger, who purchased guns legally, didn't meet the mental health criteria for committal. There was nothing law enforcement could do.
California's restraining order law has served as a model for other states that have seen a groundswell of support for new gun legislation in the wake of Parkland. Such measures have rare bipartisan support: In January, Republican Senator Marco Rubio said, "A gun violence restraining order is one of the most effective policies we can put in place to prevent another tragedy like Parkland." And in March, fellow GOP Senator Lindsey Graham said of the concept, "I really can't see a reason why we can't pursue this at the federal level. The benefits are enormous." In April, Colorado became the 15th state in less than three years to enact such a law, and two dozen more states are weighing similar legislation.
I have struggled for 40 years to see gun violence reduced, and I have a level of optimism that ultimately it will be, because of people like Garen," says prominent public health researcher Stephen Teret. "But there aren't many people like Garen. So in large part, it will be reduced by Garen. He is a national treasure."
And while prominence of mass shootings has led to increased prevention measures, they can also obscure how common and deadly other forms of firearm violence are. Of the 39,773 gun deaths in the U.S. in 2017 (the most recent year for which such statistics are available), nearly two-thirds were suicides. And homicides by gun occur in America at a rate 25 times higher than in any other "high-income" country (those with a per capita income above $12,000), according to Preventive Medicine. Women in the U.S. are over 15 times more likely to be killed with a gun, often in domestic violence incidents, than women in other such countries. Nationwide, firearms are the second leading cause of death for children, killing almost twice as many children as cancer, and they are the top cause of death for African-American children.
But Wintemute's ever-growing center is arguably doing more to stem this violence than any other group in the country. Interestingly, most of Wintemute's new recruits are, like Barnhorst, early- or mid-career women, some explicitly motivated by parenthood. "I didn't set out to recruit women to come to this program," he says. "I set out to get the best, smartest people I could find. And most of the people who came to the top were women."
He's protective of their careers, dedicated to getting adequate and continued funding to guarantee their employment. "When they tell me, 'I've committed my life to this,' I believe them," Wintemute says. "The challenge—the opportunity—for me has been to make sure they have a job."
His efforts are seemingly paying off. Originally, the state granted the new research center $1 million a year for five years. Gov. Newsom's proposed budget, currently pending, would lift the sunset clause and extend that funding in perpetuity.
Meanwhile, the center is dizzyingly busy and productive, turning out reams of rigorous, multidisciplinary research that's having a serious impact on California gun laws and beyond. And its location in the state capital is critical to the team's work and influence.
***
LLikely few in Sacramento know of the existence of the Firearm Violence Research Center, but Wintemute says that it "would not be possible outside of Sacramento. California gathers uniquely rich data related to firearm violence. And the Department of Justice in Sacramento is a 10-minute walk from my office."
Very few other states collect or offer researchers access to as much data on gun-purchasing records and other statistics. California retains so much information in part because Wintemute himself has long advocated for record-keeping laws. He and Hannah Laqueur, for instance, are planning to launch a new study of illegal gun ownership based on research that's only available to them now because of a bill that Wintemute wrote and helped pass in 1998.
Proximity to state legislators is also key for implementing policy based on the center's work. Such legislation represents an incremental approach to change based on proven harm-reduction models—rather than emotional appeals to ban guns or enact sweeping gun control measures, which would certainly fail or be unconstitutional.
Although such measures may sound modest, the center's strategy to base policy recommendations on proven science (and then measuring their efficacy after they've been implemented) is turning out to be the best tool yet against gun violence. In a way, it's no different than standard medical research projects, like for, say, cancer. It's slow, methodical, piecemeal, unsexy work that is slowly but surely changing the world.
The on-the-ground connection to lawmakers has been quite fruitful. "Dr. Wintemute's ability to come articulate what his research means has been and will continue to be very, very effective," Senator Hannah-Beth Jackson says. "The member from Silicon Valley shouldn't say this," adds Assemblymember Marc Berman, who represents the area, "but there's nothing better than meeting with folks in person as opposed to Skype or emails. Having them so close by is a huge benefit for the legislature and for California."
California is an important location not only for research, but also for effecting political change nationwide. "It's symbolic of a lot of things California does, where the federal government abdicates its responsibility in a critical public safety arena," Berman says. "We can come up with these progressive policies, implement them in California, do research, collect data, see if it's actually working, and then have those be modeled across the country. It's really awesome that California has the center, and we'd be negligent if we didn't work with them very closely to come up with additional policies."
Policy changes based on Wintemute's work have helped make California's gun regulations among the tightest in the country, with bans on assault rifles and high-capacity magazines, universal background checks, restrictions on firearm sales to people under age 21, and more.
Such measures appear to be translating into increased safety for residents. The state's rate of firearm mortality has dropped by half in the last 25 years and was the seventh lowest in the nation in 2017—down from 19th in 2005.
Other states are taking notice of the change. New Jersey has established a research center explicitly patterned on California's, and similar centers are planned in New York, Hawaii, New Mexico and Washington.
***
WWith public interest in gun violence high, the ear of legislators, a broad research mandate, and a growing flow of funding, Wintemute is optimistic about the Firearm Violence Research Center's outlook.
Multiple new research projects are underway on a range of topics. What You Can Do director Rocco Pallin, 28, plans to augment the initiative with a video addressing the general public, to explain why physicians ask about firearm safety—and offer guidance.
Her colleague Hannah Laqueur recently launched a study with epidemiologist and UC Davis assistant professor Rose Kagawa, 34, to look at whether increased gun purchases after mass shootings result in a spike in gun violence. (Early results indicate that they do.)
Amanda Charbonneau, 38, a postdoctoral fellow at the center, is interested in how suspicion—an important legal concept in determining whether stops and searches are constitutional—informs police officers' decision-making, and is beginning a related project with police departments throughout California. She also foresees taking her work with her when she moves on after her fellowship. "Garen is quite deliberate about thinking about the whole pipeline and the sustainability of the research, so you have that cycle of mentorship, training and grant-seeking," she says.
Passing the baton to the next generation is crucial to Wintemute's bigger plan. Even more than his own career goals, what drives Wintemute is the ongoing influence of the center. "We play the long game in this business," he says. He firmly expects the center—his life's work—to continue its groundbreaking research long after he's gone.
Laqueur marvels at what Wintemute has created. "It is quite amazing," she says. "Garen has had incredible vision to have planted seeds in all sorts of places over the years. Now those things are coming to fruition."
Stephen Teret, his former professor, agrees. "I've struggled for 40 years to see gun violence reduced, and I have a level of optimism that ultimately it will be, because of people like Garen," he says. "But there aren't many people like Garen. So in large part, it will be reduced by Garen. He is a national treasure."
Wintemute, in turn, points to his younger associates. "The really big story around here is that now there's this whole cadre of brilliant young people who have given their careers to this," says Wintemute. "What it means is that when I inevitably can't do this work anymore, it will continue. We are here to stay."
For gunshot victims, the aftereffects can last a lifetime—a hidden toll (and cost) that many don't consider. Wintemute continues to see these aftereffects on just about every ER shift he works. "What I'm seeing are the long-term consequences [of gun violence]: the paraplegic who has a urinary tract infection, the person whose wound has gotten infected, the person with PTSD or anxiety or depression."
Those patients, vulnerable and injured, continue to motivate him. "To me, what matters the most is being of service. I'm one of those lucky people who found their groove. I'm in a position that allows me to give everything I have to something I believe in very deeply," Wintemute says. "So, I won't retire. There will come a point when I will die on the job or somebody will tell me, 'Garen, you're demented, you need to leave now.' But hopefully five, 10, 20 years from now, I'll still be in the game."