Artist shows a colorful view of Sacramento in a new exhibit at the Elliott Fouts Gallery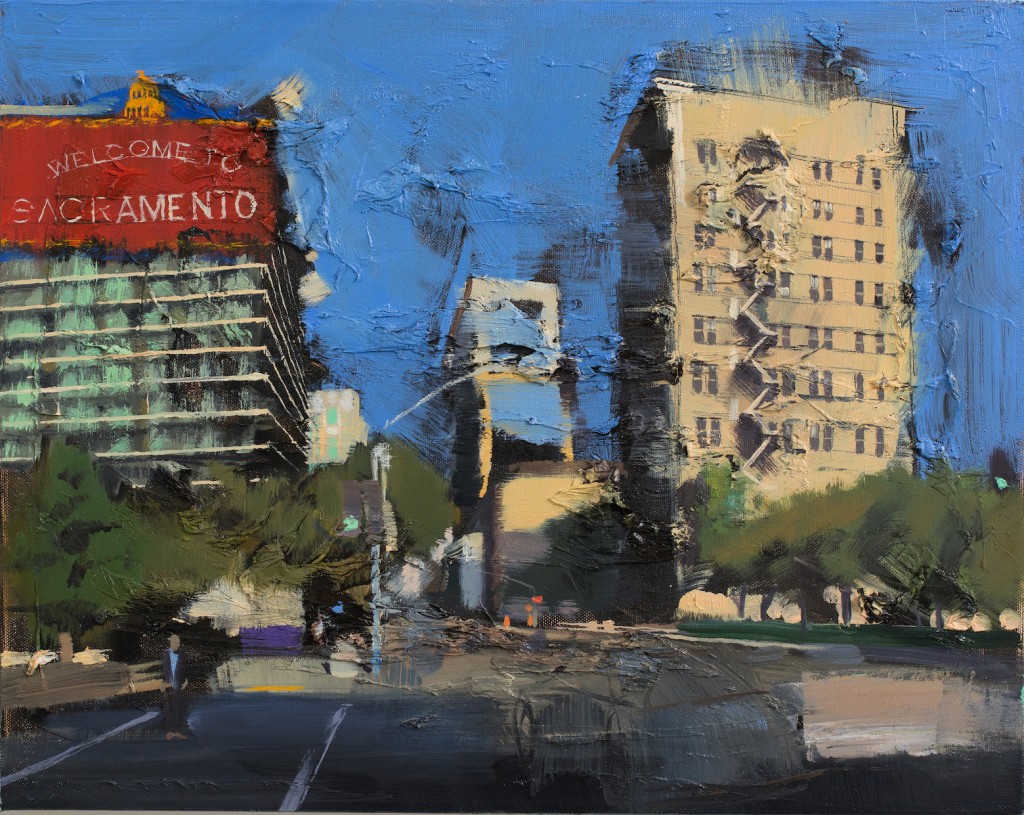 To 38-year-old painter Andrew Patterson-Tutschka, the capital city is a muse.
"I love Sacramento," he says. "I love the architecture. I love the light."
For his first-ever solo exhibit at midtown's Elliott Fouts Gallery, which opens Sept. 2 and runs through Oct. 5, the former Boulevard Park resident (Patterson-Tutschka recently made the move to Redding after nearly a decade in the River City) will showcase a collection of older paintings and 30 new works, 20 of which depict downtown Sacramento.
Patterson-Tutschka has become known around town for his mobile paint cart, which he transports by bike. He pedals to his desired street corner, sets up his easel and paints, capturing the city as it rushes by with bold, bright colors in a style he describes as a cross between abstraction and Impressionism. In this new exhibit, titled Parallel Changes, he aims to highlight the capital city's civic evolution.
"Sacramento is going through a lot of changes and has a lot of economic development [occurring], and the paintings in the show are about [the] radical change," he says. "There are layers upon layers—sometimes I even gouge out the top layers so the underlayers are revealed. There is a dialogue between the old and new in the paintings in the same way there is a conversation [in the city] between old pieces of architecture and newer developments."
In addition to paintings of his go-to subjects, which include such Sacramento landmarks as the Elks Tower, the D.O. Mills Bank Building and the Citizen Hotel, Patterson-Tutschka will feature canvases depicting the forthcoming Kimpton Sawyer Hotel and the single-story storefronts along the 7th block of K Street during the construction phase.
The artist feels as if his own technique has grown with Sacramento as well. For instance, he now includes more people and moving objects into his paintings, which he says is quite a challenge for a plein air painter. "I've begun to accept that things can be left unfinished more," he says. "Buildings can be left unfinished, people can be left unfinished—that frees you up to paint ephemera you can only see for a moment."
And with this exhibit, Patterson-Tutschka—who will appear at an artist's reception at the gallery on Sept. 9—hopes to convey a unique view of Sacramento that people may have never seen before, or that they simply miss as they go about their day-to-day lives.
"For perceptual painters, the highest aspiration is to show people their world afresh, so they see it in a different way when they walk around," he says. "I hope to capture this moment of real change in Sacramento."
Parallel Changes runs Sept. 2-Oct. 5 at the Elliott Fouts Gallery, located at 1831 P Street, with an artist's reception on Sept. 9 from 6-9 p.m. For more information please call the gallery at 736-1429 or visit efgallery.com. To see more of the artist's work, visit patterson-tutschka.com.
You Might Also Like
Hot New Hoods in Sacramento
Best of the City 2017
Johnny Cash Trail to open in Folsom this fall