"B" the Change
The Great Recession hasn't been kind to our cultural community, stopping multiple arts seasons and projects dead in their tracks. And our city's record on philanthropy isn't helping. But here's another chance to get it right.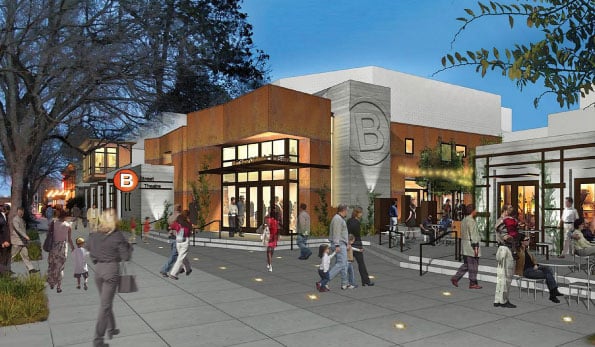 IIn 1991, as a young reporter, I was invited to cover a press conference for a new theater
company in Sacramento. Unlike other local press conferences, this one had a bit of star power to it.
Actor Timothy Busfield and his big brother Buck were launching the new project, and with Tim fresh off his star turns in Thirtysomething and Field of Dreams, this particular made-for-media event drew a disproportionately large turnout given its location inside a tiny industrial building at the base of a railroad berm in a slightly sketchy part of town.
By that time, Tim and Buck had already built a successful troupe called The Fantasy Theatre for Children (now renamed the B Street Theatre School Tour), bringing live theater to schools around the region, and often giving kids their first exposure to the performing arts. This new theater, however, dubbed simply the B Street Theatre, would cater primarily to adults. The brothers were promising first-rate theater in the round, with only a few rows of seats on each side for as little as $10 a ticket.
True to their word, they delivered. And then some.
Before the theater had established a cast of regulars, Tim called on a host of Hollywood heavyweights, from actor-playwright Jeff Daniels to superstar scribe Aaron Sorkin (The West Wing, The Social Network) to help out with this bite-sized theater. Sorkin, whose play A Few Good Men would debut as a film later that year, holed himself up in the Clarion Hotel here for four months to write a play called Hidden in This Picture and then actually performed in it with Tim.
Now, 20 years later, B Street has clearly established itself as one of the best theater companies in the region, featuring both original works (like Buck's holiday plays and the extraordinary one-man shows by Jack Gallagher) and acclaimed national works. Not only does it now sell more tickets than much larger theater companies here, but it has greatly expanded its reach to schools, too, exposing more youth to the arts than ever before. In fact, B Street is now California's third largest producer of plays for children, reaching about 200,000 of them annually, in addition to the nearly 100,000 adults that it brings to 27th and B streets.
For over a decade, the theater group has been hoping to move to a larger plot of land at 27th Street and Capitol Avenue that Sutter Health has donated to it, and construct a modern theater complex across the street from one of Sutter's new medical buildings. B Street believes this $24 million facility would allow it to reach 35,000 more children every year (including many of the kids in the nearby hospital) and bring 150,000 adults annually into the midtown area, just steps from restaurants like Biba, Paragary's, Ink and Cafe Bernardo. Suddenly a small collection of eateries would become something much more—a civic destination.
So let's review. Invigorate midtown. Raise the cultural appeal of the city, allowing us to better retain and attract the creative class that drives economies. Expose kids of all economic backgrounds to theater. Perform for sick children.
It sounds like a no-brainer, right? Well, it certainly should be.
As of now, B Street needs $8 million more to make this project a reality. And they hope to break ground by 2013 for a 2014 opening. Yet, aside from the exception of the Crocker's $100 million expansion (which was largely funded pre-recession), our region doesn't have the greatest track record when it comes to supporting the arts from a philanthropic perspective.
Last year, the Sacramento Region Community Foundation released a study comparing our philanthropic largesse to cities with similar demographics, and Sacramento came up decidedly short. Not only did fewer of our households give to charities than households in the other cities, but those of us who did give, gave less. While 91 percent of those surveyed believed "it is important to give locally," only 63 percent of donations were made to local organizations. And the news was even worse for the arts, which received only 3.8 percent of all donations.
Sadly, our poor showing isn't terribly surprising news.
It was only last year that the opera canceled the remainder of its season, and back in 2009, the ballet was forced to cancel the rest of its season after record-low ticket sales for The Nutcracker.
And consider that last year, plans for the new E. Claire Raley Studios for the Performing Arts—a $25 million midtown structure that would streamline costs and foster artistic collaboration among the Sacramento Philharmonic, Opera, Ballet and California Musical Theatre by bringing their offices and rehearsal spaces under one roof—were temporarily shelved due to a lack of funds. Despite Joyce Raley Teel's extraordinary pledge of $5 million, the community didn't get behind it enough to keep the momentum going.
Clearly, the Great Recession isn't helping, but the fact is, we need to do more to push projects like these forward. They are, quite simply, civic game-changers.
And you don't need to be part of the "1 percent" to help. B Street is selling personalized bricks for $1,000 each, and seats for $2,500. Still too expensive? Then buy a ticket to the theater's annual fundraiser on May 18 for $200. It's always one of the best parties in town.
Here we have a fresh opportunity to turn the tide on local arts philanthropy and make a difference. And it's not our only chance. The Sacramento Philharmonic recently kicked off a major fundraising campaign to help it stabilize its finances. And the opera and ballet are still regaining their financial footing. The list of worthy arts groups that need our help is long.
I also truly hope that Sacramento's suburban cousins will pitch in, too. In B Street's case, the proposed theater will be in the central city, but the B Street Theatre School Tour performs at schools in Roseville, Folsom, Davis, Elk Grove and across the region. If suburbanites appreciate their kids being exposed to great theater, it's critical that they step up, too.
So let's crush the stats that show how low we rank in philanthropy and make this project a reality. Now is the time to elevate our community, our culture and our kids' lives in one fell swoop. Now is the time—to paraphrase Gandhi—to "B" the change you want to see in this city.