Bacon Fest Sacramento gears up for fourth delicious year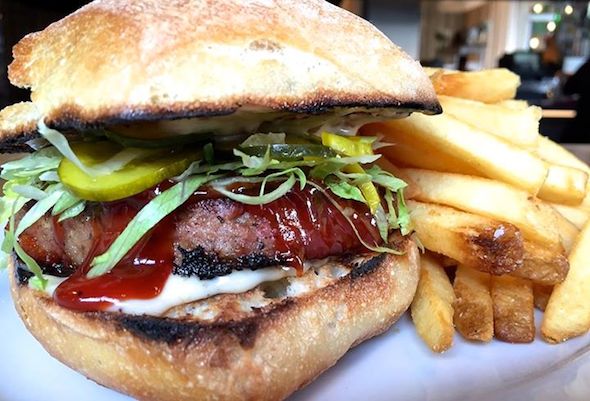 The annual Bacon Fest Sacramento is right around the corner, with some of the city's favorite chefs and restaurants tantalizing and tempting the strictest New Year's resolutions with seven days of perfectly curated (and cured) bacon-themed events and festivities from Jan. 19-25.
Now in its fourth year, the event has grown from a small, two-day gathering of bacon aficionados to a week-long extravaganza expected to draw in bacon lovers from not just Sacramento, but across Northern California.
"We think that Sacramento is a great town, so to get people to come out from both out of town and locally to see what we are all about is really rewarding," said Brian Guido, one of Bacon Fest's co-founders. "We are trying to make people notice that Sacramento and its surrounding areas are probably one of the best culinary areas in the United States. We have so many great farms, seafood, wines, cheesemakers, charcuterie makers, bread makers and olive oils—just to name a few—so we are pretty fortunate."
Anticipated bites in 2015 range from a rich and hearty bacon meatloaf sandwich at Ella Dining Room and Bar to a series of five bacon-spiked concoctions at Devine Gelateria, which will mix the salty, smoky characteristics of bacon with the sweet, creamy flavors of traditional gelato. (Planned varieties include maple bacon, salted caramel bacon toffee and bourbon bacon s'mores.)
Bacon Fest's opening-night celebration will take place Jan. 19 from 5 to 10 p.m. at midtown's Hook & Ladder Manufacturing Co., where a full menu of bacon specials (including small plates by executive chef Brian Mizner and bacon cocktails by beverage director Chris Tucker) will satisfy addicts. The event is free to attend, and festival organizers will also give away tickets to Bacon Fest's grand finale—a sold-out, 14-chef pork belly battle royale at Mulvaney's B&L on Jan. 25—every hour.
On Jan. 23, a happy hour "bacon crawl" will welcome attendees to outlets like The Red Rabbit and Shady Lady, which will be ready with snack specials to round out cocktails or craft brews enjoyed along the way. Even vegetarians can partake in the festivities on Kevin Bacon Tribute Night (also Jan. 23), where music junkies can rock out to local bands such as Californios, Salt Wizard, and Jem and Scout as they perform a variety of songs from Kevin Bacon movies.
Outside the grid, Samuel Horne's Tavern in Folsom will host its own Bacon Fest gathering on Jan. 21. And beyond bringing together some of the region's best chefs to celebrate the crispy, salty, meaty namesake, Guido points to Bacon Fest's greater mission raising money for the Center for Land-Based Learning in Winters.
"[The festival is] about having a good event that showcases places who do the right thing and make [good food] accessible for everyone," Guido says. "We do this every year because we want to support local restaurants that use really great ingredients and that are sourced correctly. It kind of breaks down the barriers and lets people see what [food providers] here have to offer here."
To browse a full list of this year's events, check out Bacon Fest's official site at baconfestsac.com or follow the festival's Facebook page, which will feature regular updates on food and drink specials through Jan. 25.
Related Links
–Get great meals for a steal during Dine Downtown
–New brewery tour hits hot spots of Sacramento's beer boom
-Have a taste of the sweet life at the second annual Sacramento Chocolate Salon