Bastille Day Waiters' Race and Street Festival returns to midtown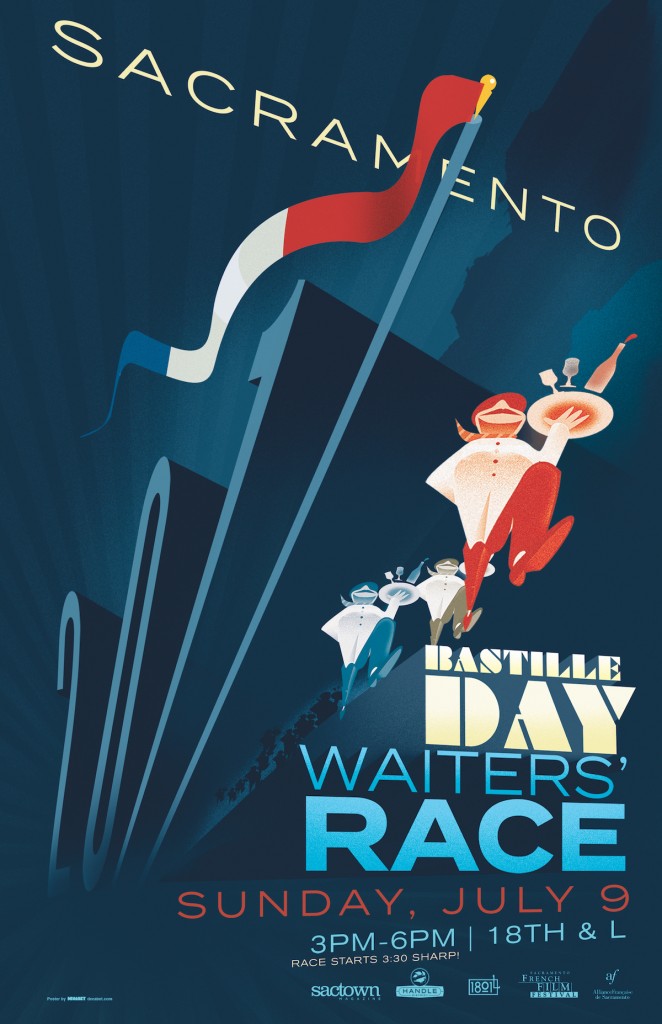 This Sunday, midtown's Handle District will be transformed into a Parisian neighborhood as the Sacramento Bastille Day Waiters' Race & Street Festival returns for an eighth year of thrills and spills.
During the race, 50 servers from restaurants all over the city will speed-walk around the flag-adorned business district, completing two laps of the block bounded by 18th and 19th and L Streets and Capitol Avenue—all while balancing a bottle of Perrier and two half-filled glasses on a tray. (Watch a video of the race action below).
The first waiter and waitress to cross the finish line without dropping or significantly spilling the contents of their tray will each take home $500, while second and third place winners in both the men's and women's divisions will receive $250 and $100, respectively. Afterward, kids can partake in their own version of the race, as they try to make it through the blue, white and red balloon archway at the finish line without dropping water balloons.
"This event showcases servers, and it's a nice opportunity for us to cheer them on and to thank them in the form of a race that celebrates them," says Seann Rooney, executive director of the Handle District, one of the event's co-organizers.
Throughout the afternoon, Francophiles can stroll the block to watch actors from B Street Theatre perform mime skits, listen to local French jazz band Swingtime in Paris, and check out a 20-foot-tall artistic interpretation of the Eiffel Tower by sculptor David Putnam, which will be positioned for photo-ops at 18th and L.
Fieldwork Brewing Co. will be pouring beer, and at least 10 restaurants in the Handle District, including Zocalo and The Rind, will be dishing out free samples. Aïoli Bodega Español plans to serve free egg and vegetable tortes and baby back ribs, while Ginger Elizabeth Chocolates will hand out bonbons and sell Bing cherry buckwheat macaron ice cream sandwiches.
Though the waiters' race has long been a tradition in France, it first came to Sacramento in 2010, inspired by an article in Sactown magazine. This year's event will benefit the Sacramento French Film Festival and the Alliance Française de Sacramento.
Free ($25 for waiter registration). 3-5:30 p.m. (Race begins at 3:30 p.m.) L St. between 18th & 19th streets. 447-1960. sacramentobastilleday.com
You Might Also Like
Six festive farm events to attend this summer and fall
Six great new restaurant patios to check out this summer
SPLAT latte art tournament returns for a fourth year in Sacramento