Bastille Day Waiters' Race returns for its seventh year July 10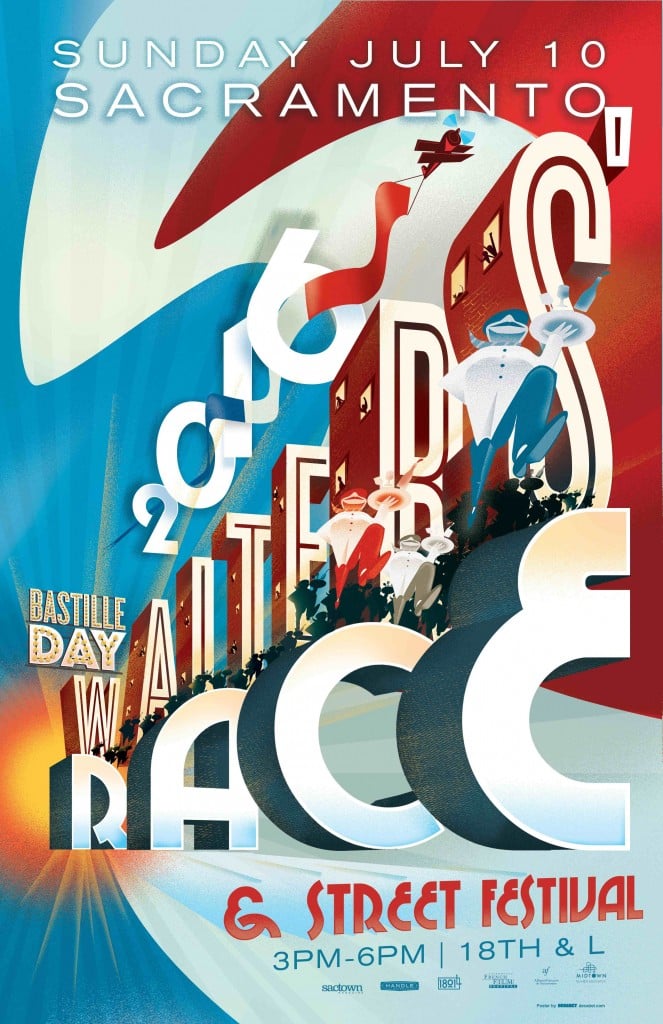 The Sacramento Bastille Day Waiters' Race & Street Festival, styled after a similar footrace in Paris, is returning to midtown on Sunday, July 10.
Over 1,000 people are expected to attend the "tray" magnifique festivities, during which up to 50 servers from local restaurants will compete for cash prizes in a test of speed and balance. Dressed in traditional Parisian black-and-white uniforms, servers will carry trays holding a bottle of water and two half-filled glasses with the goal of making it around the block (the block bound by 18th and 19th and L St. and Capitol Ave.) twice while speed-walking and avoiding spillage—or dropping their tray completely.
The first waiters and waitresses to cross the finish line most quickly with completely dry or almost dry trays will be declared the winners. First, second and third place servers in both men's and women's divisions will receive $500, $250 and $100 prizes, respectively. Last year's first place winner in the men's division was waiter Houston Castleberry of Paesano's Midtown and in the women's division, Alejandra Robles, a waitress at Zocalo, took the top spot. For the third year in a row, a children's race will follow the adult waiters' race.
"When Bastille Day comes together it's totally killer," says Seann Rooney, executive director of the Handle District, one of the event's co-sponsors. "It's a big family event and a lot of fun every year."
Along with the waiters' race, a variety of other French-themed festival events will help attendees celebrate Bastille Day. Street entertainers and actors will perform scenes from French plays along the flag-adorned block, and attendees can sip wine from the Lodi Winegrape Commission. The Handle District will also debut a new 20-foot-tall aluminum Eiffel Tower that was created especially for this event; it will be set up at 18th and L streets for this year's Bastille Day, replacing the shorter wooden model of previous years.
A portion of the proceeds from the race registrations will go to the Alliance Française de Sacramento and the Sacramento French Film Festival.
The annual Sacramento Waiters' Race began in 2010 based on an article in Sactown Magazine.
Attendance is free. $25 for waiter registration. 3-6 p.m. (Race starts at 3:30 p.m.) L St. between 18th & 19th streets. 447-1960. sacramentobastilleday.com
You Might Also Like
Why Not Here: Fireworks at the state capitol
Vintage-style trolley hits the streets of Sacramento
Sacramento's French Film Festival returns
SaveSaveSaveSave