Bavarian Rhapsody
Building on the success of their popular Oak Park taqueria La Venadita, Tom and David Schnetz open Oakhaus nearby, serving up German comfort food with a side of nostalgia. Get set to tuck into a Teutonic Thanksgiving (yes, in the middle of summer) with all the fixins.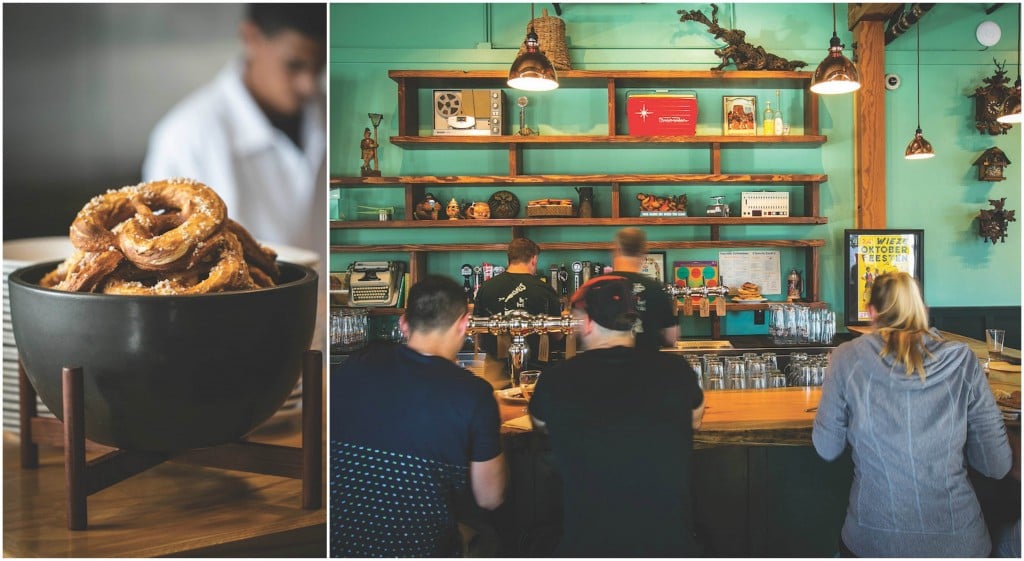 Oakhaus
3413 Broadway
376-7694
oakhaussac.com
R
"It was like Thanksgiving every day," Tom Schnetz says with a wistful sigh, Irecalling childhood meals at Sam's Hof Brau. His brother and business partner David—sitting across from him near the living-edge bar he built for their new restaurant, Oakhaus—concurs, adding, "Root beer on tap."
"I liked the simple stuffing," Tom says, "and the pickle. They had this huge barrel full of pickles."
Nobody in the Schnetzes' immediate household was a memorable cook, the brothers say—Dad taught second grade and Mom sold real estate—so the Oakhaus concept is loosely based on their halcyon memories of visits to Sam's, the local carvery that blossomed into a chain of 11 restaurants by the early '60s before falling out of fashion (and selling out to Denny's) and slimming down to a single beloved and independently owned outlet in Arden-Arcade.
Tom and David make their own pickles now at Oakhaus, which opened in May, where it's also Thanksgiving every day. Occupying pride of place on the menu at this new carvery and biergarten in Oak Park is a turkey leg confit with stuffing that might just give you flashbacks to your own childhood. And if you're one of the many young parents moving to this up-and-coming neighborhood for its affordable housing and diversity, your kids are highly likely to grow misty-eyed over that stuffing in years to come.
Inside Oakhaus, oversized wood tables and a hewn slab bar suggest a mountain ski chalet, but it's a tongue-in-cheek reference, echoed by a whimsical collection of wooden cuckoo clocks mounted on a vivid green wall, shelves full of Germanic kitsch, like a grouping of ceramic beer steins, and random memorabilia, including a painting of an inn in Germany that was owned by the Schnetz family ancestors. "They had this little restaurant where they made their own schnapps," Tom says. "I don't know if it's still there."
On summer evenings the sprawling patio—strung with Edison lights and dotted with bright orange picnic tables—beckons. It's a space where you'd be equally comfortable parking a stroller or a schnauzer.
Oakhaus sits in the heart of the recently revitalized Oak Park, where Tom and David were among the first to occupy a clutch of new and restored buildings in the neighborhood's Broadway Triangle District when they opened La Venadita less than a block away in May 2016. A taqueria with colorful oilcloth-covered tables whose logo is a portrait of Frida Kahlo with deer antlers, La Venadita—which means "little deer" in Spanish, a nod to Kahlo's self-portrait known by the same name—taps into the Schnetz brothers' Mexican heritage on their mother's side of the family, while their latest venture winks at their dad's German roots.
Tom and David's own roots trace back to Land Park, where they grew up, and midtown, where they got their career start running a popular cafe called Marshall Grounds, which they opened in 1991 on such a shoestring that they had almost no equipment to work with.
"We didn't have a stove," Tom, 50, remembers, "so we were pretty creative. We would use the espresso machine to steam eggs."
Tom was working as a chef at a Bay Area restaurant called Square One at the time, and commuted back and forth ferrying food to the restaurant from his home in San Francisco.
"I would make soups and stocks, and every once in a while, one would spill over onto the upholstery of my car," Tom says. "At first it would smell really good, then a few days later it would start to smell really bad."
In 1999, Tom, then 32, opened his first "serious" dining establishment, Doña Tomás, in Oakland. A year later, the brothers quietly closed down Marshall Grounds—the business was healthy, but they both were ready to move onward and upward. "We had a really good run," Tom says.
Tom became one of the darlings of the East Bay's resurgence, expanding his presence there with a succession of eateries like Flora and Tacubaya. Serendipitously, in 2015, he came to the attention of Sacramento architect and developer Ron Vrilakas, the man behind the curtain of Oak Park's renaissance, who had been building new buildings and renovating neglected architectural gems.
For 10 years, Vrilakas had eaten at Tacubaya on visits to the East Bay. It was one of his favorite restaurants anywhere. "Then I read one day that this guy with Sacramento roots was the owner," Vrilakas remembers. "So I contacted him, and he agreed to meet me and see the space in Oak Park."
Tom immediately recognized a quality in Oak Park that vibed with his world view. "It reminded me a lot of Oakland," he says. "In my mind, this was the most exciting neighborhood in Sacramento. It's so diverse, and it feels like a true neighborhood."
For his part, David Schnetz, 49, had spent the intervening years building a flourishing construction business, but he and his wife Amy were ready for a change. "The opportunity came up," David says, "and we could do a lot of the work ourselves."
So last year, the Schnetzes opened La Venadita. It became an instant neighborhood staple, a taco joint with a full bar that served all-day chorizo breakfast burritos—and $2 tacos on Tuesdays—to a new wave of locals hungry for culinary variety.
That first project was such a good fit for the area, that plans for Oakhaus were soon in the offing. Family members and employees all pitched in on the buildout, as they had for La Venadita, much like an urban version of a community barn raising. "Most of our employees are from the neighborhood," Amy Schnetz points out, "and most of them [live] within walking distance to the restaurant. We've got good friends for many years working with us."
Chef Matthew Ridgeway is one of those friends, a Bay Area native who has worked with Tom Schnetz for over 15 years, including at Tacubaya, and embraced the chance to move to a new city and explore a new cuisine. "You can't eat Mexican every day," he says with a shrug and a grin, gesturing to Tom and David. "Their kids need to have something else or they're going to go crazy. They're tired of Mexican." Ridgeway is an equal partner in Oakhaus and his take on the restaurant's concept comes from his own childhood meals at Brennan's, the classic Irish hofbrau in Berkeley that has a separate turkey menu with everything from giant turkey legs to turkey wings, turkey necks and even turkey tails.
Oakhaus' signature turkey leg is smoky and tender, and the accompanying stuffing daringly simple—it's all about moisture and creamy mouthfeel. It's good, honest food without the slightest trace of irony or cant.
The meatloaf, likewise, with a sweet brown sugar ketchup crust, is classic—it tastes exactly the way meatloaf should: meaty, herbaceous, savory. The thick slices have heft, but not density. Nothing here is unnecessarily updated or elevated, and that's exactly the charm.
Roast chickens come out of a showpiece of a rotisserie oven that's as much a part of the décor as the wood-paneled organ. Prime rib rounds out the carvery menu. Sides, like those at Sam's, are ordered à la carte and served in separate dishes, including pancetta-laced Brussels sprouts, caramelized baby carrots and cider-braised red cabbage with a Christmassy, mulled sweetness.
For dessert, there's pineapple upside-down cake, towering German chocolate cupcakes, and creamy-textured Bavarian cupcakes topped with rich chocolate frosting by pastry chef Karen Henderson, a Food Network Cupcake Wars winner and director of the Edible Sac High program at Sacramento Charter High School.
"I think this cuisine is going to be great in this neighborhood," Tom says. "It's a very young population, a lot of young families moving in. It's very much comfort food."
If Oakhaus is an homage to Sam's, it's also a nod to the actual Germanic hofbrau tradition of royal breweries with beer gardens and plates of hearty fare on offer. A plate-sized, golden-brown pretzel, boiled and baked in-house and served with a pot of beer cheese, may be the item most closely tied to the Teutonic original, something you might have been able to order at the famous Staatliches Hofbräuhaus in Munich as early as the 1800s.
The equally authentic sausage selection, including bratwurst (plain or smoked) and Chicago-style Polish sausage, are all sourced from Sacramento's Morant's Old Fashioned Sausage Kitchen, whose owner, Dirk Muller, learned his craft in the old country. "In the future we may make our own, but I think it's also nice to be able to create symbiotic relationships," says Tom. "They're an old business that's been around for a while so it's kind of nice to give them a little nod."
And while you might expect a hofbrau to have great brats, one of Oakhaus' standout items is a bit of a surprise: a humble $3.75 plate of kraut balls. The dish started out as a bit of an inside joke, according to Ridgeway. "David would not stop talking about kraut balls," he says. "Nobody had any idea what they were. He just kept saying it: kraut balls. I went online and saw people in the Midwest offered something like this. I got a little excited and thought it would be fun to see if we could pull it off."
The deep-fried cabbage croquettes may sound—and even look—like a Teutonic gut bomb, but the texture and flavors of this vegan dish are unexpectedly delicate and refined. The lightly fermented cabbage is sautéed with spices like cumin and paprika, and aromatics like garlic and carrots. The crust, made from crushed, day-old pretzels, is brittle, yielding and savory, with just enough tooth to scoop up a dollop of sweet brown mustard or the spicy house-made curry ketchup.
Another highlight is the creamy potato salad, which was resurrected from the Marshall Grounds menu and based on a family recipe, with potatoes cooked in vinegar and sugar and dressed in a generous helping of mayonnaise and herbs. Equally delicious, the deviled eggs—tender whites and yolks whipped up with a touch of crème fraîche and dusted with paprika—don't showboat, eschewing trendy eclecticism for essentialism.
As for the beer—after all, Oakhaus is, in part, a bier hall—if you're an IPA junkie, you'll see your usual triple-hopped suspects on draft, but you can also find fresh Germanic alternatives, like the summery Paulaner hefeweizen, a traditional wheat beer served with a slice of citrus, or the quaffable, if unpronounceable, Weihenstephaner lager. And the light, rustic farmhouse saison from local brewery New Glory makes for the ultimate patio companion.
But whatever you decide to top up your stein with, it will serve as the perfect complement to the comforting turkey and stuffing, one bite of which will lead you to say thanks at the dinner table, no matter what time of year.