Big cheese coming to Sacramento for 2014 American Cheese Society Conference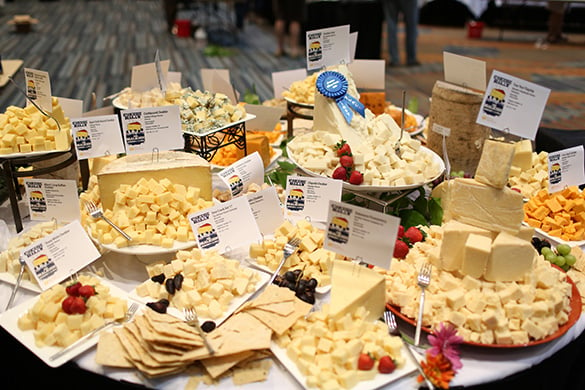 America's farm-to-fork capital is set to say—and see and taste—cheese next week as the 31st annual American Cheese Society Conference descends upon downtown from July 29 to Aug. 2.
Held at the Sacramento Convention Center, this prestigious industry event will bring together hundreds of cheese industry leaders and the largest American-made cheese judging competition in the nation.
Sacramento's renowned grocer and culinary expert Darrell Corti will kick off the conference opening as a keynote speaker, accompanied by radio and TV personality Narsai David. Local chefs like Andrew Hillman of The Cultured & The Cured and Michael Touhy of LowBrau and Block Butcher Bar will also be leading education seminars.
"What's curious is that people don't think of California as a cheese-producing state, but there are now more cheese producers in California than there were in the United States several decades ago," Corti says. "It will be interesting to see how much things have actually developed." During his talk, he will be covering the facets of selling top-quality international and American-produced cheeses within the Sacramento market.
While many of the weekday conference events like Corti's lecture, cheese farm tours, pub crawls and seminars, are available solely for ACS members and industry professionals, the public can take part at two weekend events.
The first is the Festival of Cheese on Friday, Aug. 1, during which guests can sample the winners—and more than 1,600 other contestants—of the conference's cheese competition after the judges have doled out their ribbons. Participating Northern California cheesemakers include Fiscalini Farmstead Cheese in Modesto, Sierra Nevada Cheese Company in Willows and Point Reyes-based Cowgirl Creamery, a past American Cheese Society "Best of Show" winner. Other artisanal food vendors will provide crackers, charcuterie, preserves and craft beer to cleanse your palate. If you're hungry for more, purchase a cheese grab bag on your way out; each bag will be filled with a random variety of artisan cheeses.
If you're seeking the perfect smoked cheddar for a macaroni and cheese recipe or would like to prepare for a picnic with the country's best cheese selection, on Saturday, Aug. 2, head to the public cheese sale, which will offer artisan cheese at highly discounted prices. All proceeds from the sale will benefit the nonprofit American Cheese Education Foundation.
For schedule information or to purchase tickets, visit cheesesociety.org. Festival of Cheese: Aug. 1. $60 (includes cocktail plate and commemorative wine glass). 7-9:30 p.m. Public cheese sale: Aug. 2. Free. 11 a.m.–2 p.m.
Related Links