Bike Dog opens taproom on Broadway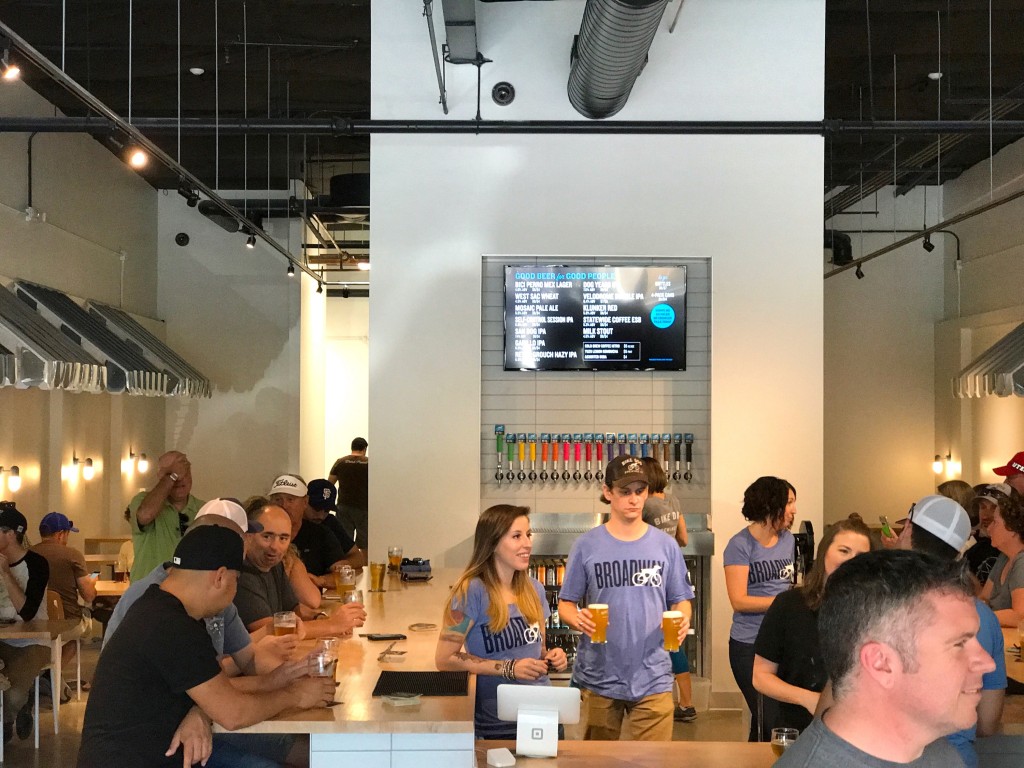 The wheels are in motion. On Tuesday afternoon, Bike Dog Brewing Co., the popular West Sacramento brewery founded in 2013, is officially opening the doors to its new Sacramento location on Broadway next to Selland's Market-Café.
The 2,500-square-foot taproom soft-opened Saturday to a substantial crowd, which bellied up to a brand-new bar boasting 18 taps decked out in a rainbow of pulls made from rubber bike handles.
"It already feels like a neighborhood spot," says co-owner Sage Smith, who runs both Bike Dog locations with three partners: Raef Porter, Pete Atwood and AJ Tendick. "I think everybody was surprised about the difference from our West Sac brewery."
Most noticeably, the new Bike Dog on Broadway is solely a taproom, so you won't see large metal tanks on-site. Designed by Popp/Littrell Architecture & Interiors, the space foregoes the reclaimed wood and industrial metal accents that tend to define modern breweries in favor of a bright space with clean lines and accents like mini patio awnings over each of the tables. The alder butcher-block bar is backed with white subway tiles, and floor-to-ceiling windows at the front of the taproom provide ample natural light.
Fourteen of those aforementioned 18 taps are reserved for Bike Dog's rotating beer lineup, like its new Bici Perro, a Mexican lager that Smith says is "bright, crisp and refreshing" for the final few days of summer. TA lemon yuzu kombucha and a cold brew coffee are also currently on tap.
In another change from Bike Dog's West Sacramento spot, guests won't find food trucks parked outside. Rather, there's a menu of beer-friendly plates prepped by the taproom's next-door neighbors, Selland's. Expect pizzas, like one with prosciutto, fontina, caramelized onions and sage, along with salads and hearty sandwiches, including a French dip and a BLTA (bacon, lettuce tomato and avocado) on levain. For a full meal, look for entrées like herbed salmon and hot sides like macaroni and cheese topped with toasted breadcrumbs, and desserts like lemon squares and a low-gluten chocolate cupcake.
Within the next month, Smith expects he'll obtain the alcohol license for the taproom's patio facing Broadway, where up to 40 folks can hang out with pints of brew and their four-legged companions. (Alas, he explains, non-service dogs aren't allowed inside this Bike Dog location due to health code restrictions for businesses that serve food.)
Smith says Bike Dog on Broadway will host a grand opening Oct. 13, which will include special releases of beers. More info will be posted on the brewery's Facebook page as the event date draws near.
Beginning Sept. 19, Bike Dog on Broadway will be open Tues.-Thurs. from 3-10 p.m., Fri.-Sat. from 12-11 p.m. and Sun. from 12-9 p.m. 915 Broadway. bikedogbrewing.com
You Might Also Like
5 refreshing local beers to drink this summer
Déjà Brew: the story of Sacramento's beer-making past
Four frozen, boozy drinks to put on your tab this summer