Bohemian Rhapsody
He's the first person to rap extensively in the Punjabi language, he's written songs for Bollywood films (one with Rob Lowe) and has almost as many Facebook fans as Missy Elliott. How did an Elk Grove teenager grow up to become the King of Punjabi Rap?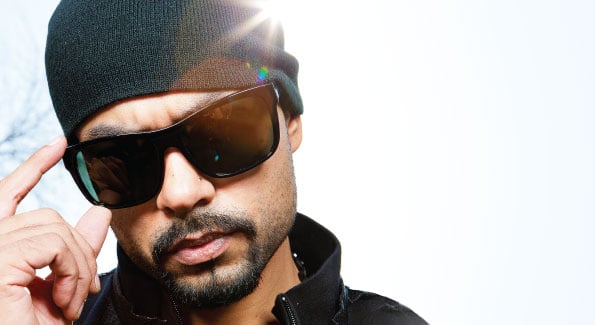 TThe Punjabi rap star orders the lamb masala. His two compatriots wait for their garlic naan
to cool. Conversation has turned from the rabid fandom of Mumbai street kids to the demands of globe-trotting Pakistani singers. Fingers and forks dig into savory food between anecdotes. The air around the table is scented with curry.
This isn't India, mind you. This is midtown Sacramento. The restaurant is Monsoon, a new establishment at 16th and K. The rapper is Bohemia, otherwise known as the King of Punjabi Rap, and Sacramento is where he launched his career.
It's late afternoon in mid-December, and Bohemia is discussing his new album, which is due for release this March. He's digging deep into his personal and professional history: emigrating to Northern California while still in his mid-teens, within years finding himself playing backup at Arco Arena for visiting South Asian superstars, finding popularity on the BBC, being signed by Universal Music Group and, most recently, writing music for Bollywood movies.
While his adopted name is far from a household one in his adopted country of the United States, Bohemia's Facebook page evidences a booming global fan base. As of January, he has topped 420,000 fans. (For comparison, that's fast approaching the level of chart-topping rapper Missy Elliott, and surpassing that of Sacramento indie-rock luminaries Cake.) Bohemia's Facebook page accumulates dozens of polyglot comments from loyal followers around the planet. His most played YouTube video, "Ek Tera Pyar," has more than three million views.
It's been quite an odyssey, and Bohemia wears each of his 32 years in his dark eyes. He's clad in black from head to toe: thin collarless jacket, dark jeans, beard cropped tight, the whole self-presentation topped off with a black beanie. His English is lightly accented. When he makes an occasional comment in Punjabi, his voice gets heavier and more lyrical.
Born Roger David in Karachi, Pakistan, in 1979, he came with his family to the United States at age 14. "When I first moved to America," he jokes, "all that the word 'California' meant to me was that's where Michael Jackson's home is." Within a year, his mother passed away from cancer. "The whole home thing broke up," he says of his family. His already tenuous relationship with his father deteriorated. Bohemia started high school in San Francisco, but dropped out and ran away around age 16, landing in Sacramento in 1997. He has been itinerant ever since. He spends half the year in India and half in Northern California (he has a home in Walnut Creek), flying back and forth. "Even now some of my stuff is still in a suitcase," he says.
For a while, though, his life didn't require a passport. When Bohemia dropped out of high school, he benefited from the generosity and couches of friends and extended family, and within a year, he ended up in the capital city. He was drawn here by an assortment of veteran Sacramento musicians he had met in the Bay Area. Together they played at cultural and religious events, with Bohemia on keyboard, mostly at rented halls that served as temporary temples. They backed up touring South Asian music stars, including the popular singer Jazzy B.
"Musicians flying from Pakistan can't always fly in [all] of their many keyboard players," says Bohemia. "So that's where we came in. They'd hire local musicians." The "we" in the sentence is a group of local Sacramento musicians of varied South Asian backgrounds who circulated around a garage studio near Cosumnes River College.
Playing keyboards led him to experiment with fledgling electronic equipment: beat machines and sequencers. He'd show his bandmates how to use recorded loops to enrich their music. They were amazed at his skills, but their praise only reinforced for Bohemia how different he felt from them. "These Punjabi musicians I was working with here had come over a little too late in their lives," he says. What he means is that it was more difficult for them to adapt not only to digital music-making, but to Western culture.
And as the 20th century became the 21st, Bohemia again suffered significant loss: the bandmate with whom he was closest, Suresh Mangoli. "He got lost, driving to Hercules," says Bohemia. "They found a body tortured, gun shots, everything." Dental records from India helped identify him. In an unrelated incident, another bandmate did time in Soledad, and was then deported to India.
With Suresh gone, Bohemia played additional Sacramento-area shows, including at Arco Arena, and in 2001 tried to move back with his family in San Francisco, but the old wounds hadn't healed. He landed with a cousin in Pinole, and after briefly considering dropping music entirely, he returned to his beatmaking. His new music took a surprise turn: "I started making beats, gangsta style. And it was cool," he says, citing Tupac as an influence. What was cool about it was that the song lyrics spoke to his peers, to immigrant youth struggling to make sense of dueling cultural experiences. He got the name Bohemia from a friend. (Now the name is tattooed on his right arm; "Elizabeth's Son" is inked on the other.) "A bohemian person doesn't follow anyone's path," he says. "They find their own way."
Rapping in Punjabi was certainly an untrammeled path. He'd written poetry since age 10, but the enunciation, the phrasing, was fully new. "It was amazingly hard," he says. "For some time I would spit everywhere. Sometimes I'd bite my tongue." His chest was so swollen from exertion that he was encouraged to visit the hospital.
Bohemia's debut album, 2002's Vich Pardesan De (In the Foreign Land), which he had started to write while in Sacramento, ended up with a DJ on BBC Radio, where a song soon became among the top 10 most requested. The exposure led to Universal Music Group releasing two of his albums (one of them featured Snoop Dogg rapping on a song), and to work in Bollywood, the prolific movie-making industry of India that is predominantly driven by feature-length musicals. He's written songs for two films (Chandni Chowk to China and 8 X 10 Tasveer) involving the prolific actor Akshay Kumar, and he contributed music to the 2011 Canadian production Breakaway, about hockey-playing Sikhs, that starred Rob Lowe as the team's coach.
Bohemia has a new album essentially completed, and he's sorting release options. The album features rock and club elements, as well as extensive collaborations with English-language rappers (Bohemia raps exclusively in Punjabi), in part, according to his manager, to expand his audience. These include two Bay Area figures: the Jacka and Baby Bash. (The latter has recorded with T-Pain and Jennifer Lopez.)
Bohemia's extended family today is spread around Northern California. He enjoys the ability to remove his trademark beanie and sit at a Walnut Creek Starbucks, invisible amid the dense Pakistani and Indian population. He still visits Sacramento to meet up with musicians he once lived among.
"Suresh and I wanted to be the musicians who weren't the backup musicians," he says of his fallen bandmate. Bohemia's eyes are moist. It isn't the curry. He accomplished his goal, but he did so alone. A little over a decade ago he was a runaway teenager benefiting from the kindness of Sacramento musicians. Now he's back here to talk about his forthcoming album while his ground team in India tends to business. The conflict between abandonment and success is palpable.
He arrived in Sacramento as a lost kid, and he left a trained musician. That Elk Grove garage studio was, for four years, his conservatory. It's where he was schooled in ragas and raginis, foundations of Indian classical music. And it's where he realized that Indian music on its own wasn't enough for him. "That studio," Bohemia says, "is where my first stage of growing up happened."
Marc Weidenbaum was a senior editor at Tower Records' Pulse! magazine, and has written for Downbeat and TheAtlantic.com.