Brau Wow
Midtown's new LowBrau presents a modern take on a German beer hall and boasts the best of the wursts.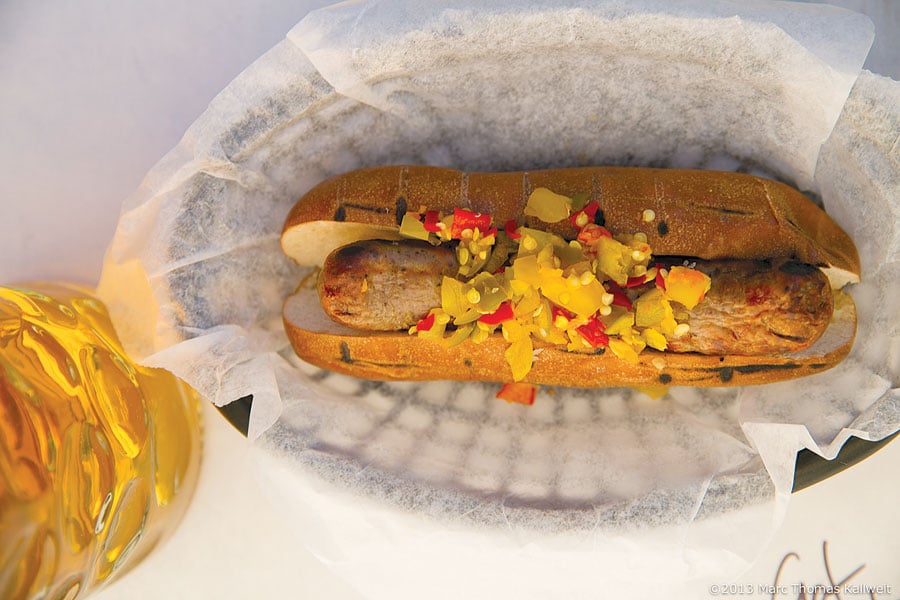 LowBrau
1050 20th St.
706-2636
lowbrausacramento.com
FFrom champagne lounge to German beer hall: It might seem that the space at 20th and K that used to be Lounge on 20 has gone, well, lowbrow. Don't worry about insulting restaurateurs Michael Hargis and Clay Nutting by saying so, though. They claim the term in the very name of their new restaurant.
LowBrau, the Sacramento entrepreneurs' vibrant, runaway-hit beer and sausage joint with a mod, cheeky edge, refuses to take itself too seriously (its tagline is "King of ze Wurst")—but that refusal doesn't extend to the hearty Teutonic food or the alluring beer and cocktail list, which are both easy to like and legitimately good. The menu revolves around sausages (including three vegan sausage choices like the smoked apple sage) and a Germanic-leaning beer list, with extras like golden duck-fat fries (vegetarians are out of luck there), and Bavarian cucumber salad and pretzels. A distinctive lineup of traditional schnapps rounds things out.
The original idea for LowBrau came from Hargis, who had worked with Nutting on the annual Launch festival. (Both are longtime Sacramento residents.) Hargis's career was in designing and building custom homes, but in the wake of the economic downturn, he says, "I wasn't getting new design clients because jumbo loans weren't available. So I woke up one morning and said, 'OK, there are two things I really want to do.' " The first was to grow Launch; the second was to open a restaurant—but one that truly fit the midtown community and Sacramento's soul. "LowBrau was a by-product of saying that we don't need another sports bar, and we don't need another high-end eatery. We need a place where true midtowners can come and hang out and enjoy each other," Hargis says.
Once the concept of a beer hall and sausage kitchen was in place, Hargis and Nutting talked with contacts at local brewery Sudwerk, who pointed them to Los Angeles restaurant Wurstküche, which has a similar concept. When the expansive space in the MARRS building formerly occupied by champagne bar Lounge on 20 became available, the pair knew they wanted it for their new restaurant. "This is ground zero in midtown," says Nutting. The location was a perfect fit for their goal of updating that traditional German community center, the beer hall. "A beer hall is really where people come together and share a common experience, and maybe get to know each other over a liter of beer," Nutting continues. "We really liked the idea of being unpretentious and accessible for almost anyone."
Despite the pair's vision, however, they were new to the tough restaurant business. As Nutting puts it, "Here we are, two guys that don't have any experience, just a lot of passion and a really cool concept." When they met with MARRS owner Michael Heller about the space, as Nutting tells it, "He asked us if we had restaurant experience, and we were like, 'Well, we'll be right back.' " The pair then approached bar-restaurant Shady Lady Saloon's management team, who became consultants and helped refine the concept. Nutting continues: "So we went back to Mike Heller, and we were like, 'OK, we've got restaurant people on board.' And he was like, 'Great. Do you have any money?' And we were like, 'We'll be right back.' So we just started pounding the pavement." At the time, Hargis confesses, "I was [so] broke I didn't know where I was going to get gas money to meet the investors to ask for money." Somehow he did, investors responded with enthusiasm, and the pieces fell into place. From conception to opening, however, took nearly two years (the restaurant debuted with a soft opening just before New Year's Eve).
The wait has been worth it, and business is already outpacing expectations. It helps that the price is right (all the sausages on the regular menu are $5.50 or $6.50, with the exception of the wild boar, which weighs in at $7.25), the vibe is fresh, and the food and beer are delicious.
"Sausage and beer is as unpretentious as you can get," says Nutting, a self-professed beer geek. "But we wanted it to be quality, too." To that end, the two have worked with local charcutiers (including Jason Azevedo of Testa Duro Salumi and Placerville's Smokey Ridge Charcuterie) to develop unique sausages—Sampino's for instance, once made a spicy Italian-style calabrese sausage, which LowBrau served Philly cheesesteak–style with beer cheese sauce and peppers—for its ever-changing Best of the Wurst selections. But if those aren't available, the regular offerings are more than interesting enough. Sausages come with two toppings (your choice), including beer cheese sauce, crunchy herbed onions, sautéed peppers and more. And pairing them up with sausage selections on the permanent menu, like the dusky, earthy wild boar or the juicy bratwurst, could keep diners happy for a lot of lunches.
The beer selection is equally diverse, including brews from local favorites like Sudwerk and Ruhstaller, Belgian sours and saisons, and an impressive lineup of Germans, from hefeweizens to, on a recent menu, a rare smoked winter Weiss from experimental brewer Freigeist. More unusual choices tend to appear on a changing menu, which has its own hashtag: #beernerdmenu. (For those who really want to go lowbrow, there's also the $2 Pabst.) If you can't pronounce all those Deutsch names, the sweet-tart Belgian 75 cocktail—a twist on the classic French 75 that uses framboise and lambic beer—gives non-hopheads a fresh option.
And about that schnapps menu: You won't find peppermint shooters or Sex on the Beach here, but rather traditional German schnapps—powerful fruit and herb-redolent brandies. A focus on traditional European schnapps is rare in the U.S., says Nutting: "As Americans, we think about the peach schnapps or [Sour] Apple Puckers and things like that, but it's really just another hijacked Americanization of something that has been done for hundreds of years. In Europe, schnapps is brandy distilled from fruit, and they're beautiful, delicate liquors." Although the schnapps program—which features the liqueurs served either neat or with soda from the bar's custom fountains—is still ramping up, LowBrau already has a signature schnapps, which fittingly has a boar as its logo: Schwartzhog (literally "black hog"), a haunting botanical spirit that looks and tastes faintly reminiscent of the familiar Jägermeister, but with lasting herbal complexity and a bitter edge on the finish. "On opening night, we had this bottle on top of our draught. We were saying, 'I wonder what would be our cult hit?' " says Nutting. "And we looked at the Schwartzhog and we ordered a big round of it for everyone. It's really good, and it has become our cult hit—so much so that our distributor told us, 'You have bought us out of all the Schwartzhog. We have to go to Germany to get more.' "
While you are unlikely to find lederhosen at LowBrau, its German spirit plays out in a number of subtle ways. Freeport Bakery, owned by Bavarian bakers Walter and Marlene Goetzeler, provides the restaurant's pretzels and pretzel rolls. Communal tables echo the casual feel of the German beer hall, as does a wall of white cuckoo clocks mounted on birch tree trunks, created by Hargis with local designers Tim and Linda Arbogast.
"The design is modern in its essence, but uses natural materials to show that modern doesn't have to be sterile," says Hargis, who masterminded the design with an assist from local team Whitney Johnson and Tina Ross (most recently known for their work on Hook & Ladder). The space is mod-Euro meets butcher-shop chic, with clean lines (marble bar top, concrete floors, reclaimed-oak tables and benches) softened by quirkier items like a collection of gold-painted vintage cleavers over the bar and pig-themed gold stenciled walls in the back (painted by Tina Ross).
"We wanted this place to feel like it had a heart," says Hargis of such fun touches as the logo featuring a pig wearing a crown or the funny bathroom décor (a poster reading "Don't Hassel the Hoff" and featuring the visage of the Baywatch star). Other items have been collected over time, like a small white pig over the bar, a piece of "tapigami" (made from masking tape) by local artist Danny Scheible, who crafted it at the bar.
Local artists aren't the only ones who have herded into LowBrau since its inception. Those big communal tables (each weighs about 300 pounds) have been jammed, to Hargis and Nutting's relief. "We were a little nervous about how Sacramento was going to respond to the all-communal seating, and it's been an amazing hit," says Hargis. "To see people—young and old, black and white, from all walks of life—coming together and relating over sausages and beer? It's just awesome."