Brewster's Millions
After a multimillion-dollar renovation, one of Galt's oldest and stateliest structures is now one of the Sacramento region's newest culinary destinations.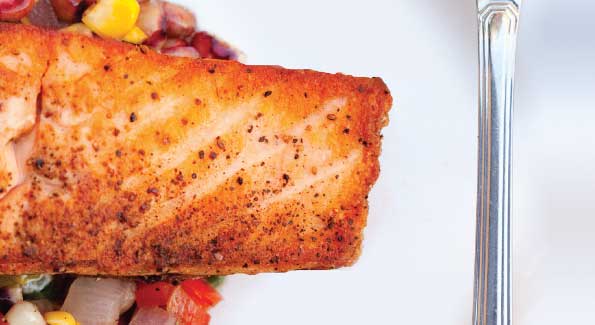 Brewster's Bar & Grill
201 4th St. Galt
209-251-7230
B
Brewster's Bar & Grill stands across the tracks from a 127-year-old church topped by a spindly steeple. Whistles blaring, Union Pacific freight trains rumble between the buildings and past a tin-sided feed store that glistens in the afternoon sun. Around the corner, there's a ballroom for weddings and quinceañaras and a one-chair barbershop.
Is this really the site chosen by some of Sacramento's hottest young restaurateurs for their second act? Apparently, it is.
Located in a restored 1868 landmark, the restaurant was opened in May by the owners of Sacramento's Shady Lady Saloon. Walk in and it's hard not to be impressed by the mix of vintage décor and an understated cool.
Ornately patterned fabric in muted turquoise and copper covers the columns and sections of the brick walls. Stevie Ray Vaughan plays over the sound system and a life-size, antique figurine of a dancing woman, hoisting her long dress and flashing some ankle, is set in the central alcove of a grand alder-wood bar.But as you walk in the front door, despite all the attention to detail in the décor, invariably you will look down. That's because inset within the handsome hickory floor is a long section of thick glass (yes, you can walk on it), which offers a peek below at racks upon racks of wine bottles stored in the restaurant's cellar. It's a striking feature that's meant to hint at the core of Brewster's raison d'être.If Shady Lady tilts toward artisan cocktails, then wine is very much at the heart of Brewster's. And if you open a restaurant in a historic building in a small Central Valley town, then a sense of place just comes with the territory. So with its emphasis on wine and an expansive, from-scratch menu that focuses on the fresh and local, Brewster's Bar & Grill is definitely of California.
Alex Origoni, who co-owns and operates Brewster's with Shady Lady partners Jason Boggs and Garrett Van Vleck, says they wanted diners to be able to come in for everything from a $9.50 pesto chicken sandwich on ciabatta to a $24 pan-seared filet mignon in Cabernet reduction. Quality and affordability both count here.
The trio works closely with head chef, Justin France, who studied at the California Culinary Academy and previously served as sous chef at Sacramento's Cafe Bernardo and Zinfandel Grille. "But we like to afford our head chefs enough liberty that they can take our concepts and ideas and make them their own," says Origoni. "We let them be creative and do their own thing."
That thing is seasonal to be sure, but hearty and filling, too. Call it Contemporary California Comfort Cuisine.
For example, there's the barbecue pulled pork sandwich that's piled high on a plush challah bun (which is also used for burgers) and calamari with breaded lemon wheels and house-made cocktail sauce. With the filet and pepper-crusted rib eye, steak lovers will have their temptations, too.
Local produce shows up in a salad with baby greens from West Sacramento's Del Rio Botanical, while heirloom squash from Capay Valley's Riverdog Farm accompanies a petrale sole in lemon-caper sauce. And spinach, also from Riverdog Farm, is mixed into spatzle that comes with the slab of apple-chipotle glazed pork porterhouse, which is sweet, smoky and spicy.
And one dessert choice is truly of Galt. The menu features a marionberry pie with a buttery, flaky crust from Spaans Cookie Company—literally a two-minute walk away.
The sense of place extends to Brewster's design as well. The custom-made host station doubles as a display case for found objects: farm tools, stirrups and spurs, and a rail spike. On the ceiling, a Works Project Administration-style mural by Sacramento artist Valeriy Kagounkin, a native of Siberia, depicts Galt history: the iconic silver water tower, a steam locomotive spewing smoke, and workers crushing grapes in wooden vats.
It was the area's viticulture tradition and the growing prominence of local wineries that inspired Origoni, Boggs and Van Vleck to make wine a central theme. Every Wednesday, Brewster's hosts tastings and recent events have spotlighted such regional wineries as Clarksburg's Twisted Rivers and Shenandoah Valley's Sobon. Origoni says they're committed to adding more local varietals to an extensive list of more than 100 wines.
Even so, lovers of Shady Lady's drinks need not fear. Cocktails hold a place of honor at Brewster's, too, where syrups and tinctures are blended in-house. And yes, those are locally grown apples in the Baked Apple Old Fashioned.
"Galt now has a better cocktail program than 90 percent of the places in Sacramento. So that's something the town can be proud of," says Boggs.  "It's not as expansive as Shady Lady's but we didn't take any shortcuts. You are still going to get a proper martini. You're still going to have fresh squeezed juices. And our bartenders are going to make a good Martinez for you."
Such Shady Lady comparisons seem inescapable. They also raise questions about why Origoni, Boggs and Van Vleck would follow their Sacramento success by opening a restaurant in a small town 25 miles from their existing clientele.
Go back to 2009: Steve Lebastchi and Bay Miry of D&S Development—the Sacramento-based historic renovation specialists that worked on the Sacramento complex on R Street between 14th and 15th streets that holds Shady Lady, Magpie Café, Burgers and Brew and other spots—invited the guys to see a potential Galt restaurant location.
"Where they go, we try to follow," says Origoni. And while Galt may be off the gastronomical radar for many Sacramentans, it's actually no farther from downtown Sacramento than say, Folsom, Rocklin or Granite Bay.
The Brewster's building, an Italianate landmark which has housed everything from the original town post office to an Odd Fellows hall and even a meat locker (and is named for the long-gone Brewster Company general store), has played many roles in Galt.
In 2000, it even earned inclusion on the National Register of Historic Places. But empty for a generation, the building was a ruin, a roofless brick-walled shell with birds living inside. High-concept glimpses into the wine cellar were a long way off. Instead, Shady Lady's owners had to watch where they stepped. Otherwise they could fall through what remained of the floor.
Still, they were inspired. "We walked in and thought, yeah, this is a special project," says Origoni.
More than $2 million later, it certainly is. If Shady Lady is a city sophisticate, then Brewster's is a rootsy country cousin that blends tradition and contemporary design. Pressed-tin ceiling panels adorn the dining room and an upstairs performance space for blues, jazz and country. Heavy iron beams and supports create a trellis over the modern patio and combine with a steel-and-glass elevator shaft to provide the building's structural reinforcement. And authenticity matters to these guys: That's actual gold leaf on the front windows.
"We were definitely out of our comfort zone coming down here but it was also good for us. We like a good challenge. It's fun," says Boggs. "We're not in this just to make a paycheck. We do truly love restaurants. I love everything about it. This is what I want to do. Alex and Garrett are the same way. It's in our blood."
"We can't not do it."