Bright Underbelly mural to be unveiled with festive events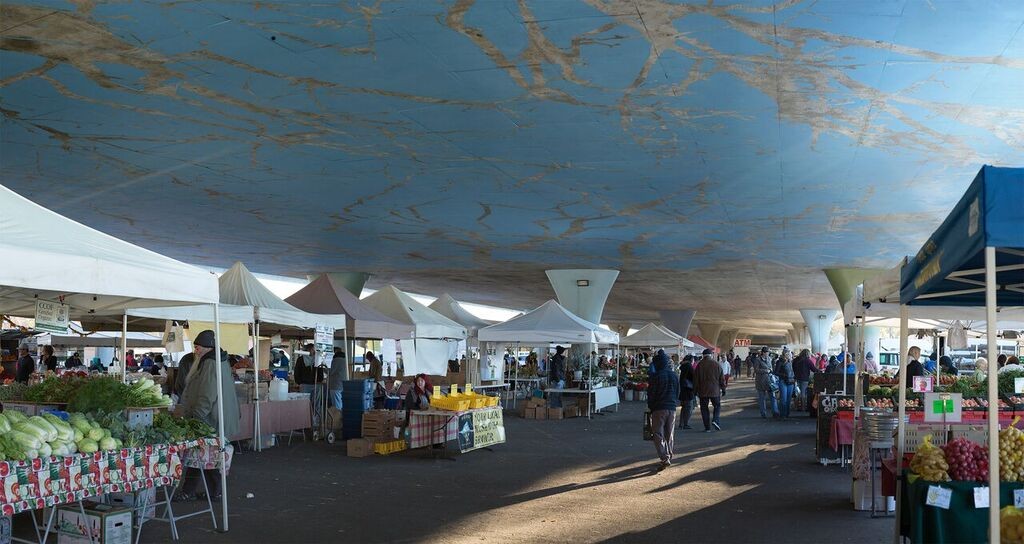 Celebrate the beginning of spring with the unveiling of Sacramento's largest mural—the colorful, nature-inspired Bright Underbelly project. Covering 70,000 square feet on the underside of U.S. Route 50 between 6th and 7th streets, Bright Underbelly will be formally unveiled with a ribbon cutting, community reveal party and chef dinner from March 17 through 20.
Local artists Sofia Lacin and Hennessy Christophel spent five months painting Bright Underbelly. The pair has had their hands, literally, in numerous works of public art throughout the region, like the "We're All In It Together" mural on midtown's BloodSource building, installations at the Warehouse Artist Lofts, and the vibrant bridge at 12th and C streets.
"It feels like a dream come true—to have it go from a tentative dream to a reality," says project manager and local arts producer Tre Borden of the mural's completion. "It's very satisfying."
Bright Underbelly resembles the view looking up at a blue sky through leafy sycamore trees (a reference to a sycamore grove that formerly stood where the freeway does now), complete with depictions of native bird species like the white-throated swift and Canada geese. Progression from one end of the mural to the other reflects the changing of seasons, a nod to the weekly Sacramento Central Farmers' Market that occurs every Sunday beneath it.
Opening festivities kick off with a ribbon-cutting ceremony on March 17, during which the Bright Underbelly team will discuss the process and significance of the artwork and reveal the pillar dedicated to the project's donors.
On March 19, the team will host a free community day featuring the Hefty Gyros food truck, lounge areas beneath the mural to optimize viewing, artist lectures, booths with nonprofit groups like the Sacramento Public Library and the Food Literacy Center, and a scavenger hunt to scope out the hidden animals in the mural.
The grand reveal culminates with Spring Awakening: An Art and Food Experience on March 20, during which guests will dine on fare inspired by the farmers' market and prepared by renowned local chef Patrick Mulvaney. Highlights include a pig roast, desserts by Ginger Elizabeth Chocolates and bottles of New Helvetia Brewing Company's Underbelly IPA, created and specially labeled for the project.
Borden is enthusiastic about the momentum that Bright Underbelly could spur in the public art scene.
"We hope [Bright Underbelly] becomes a template for other overpasses," he says. "We hope it becomes a landmark that shows our creativity as a city."
All events take place at W and 6th streets. For event times, Spring Awakening tickets and more information visit brightunderbelly.com. Read more about the history of the Bright Underbelly project here and here.
You Might Also Like
Massive new mural promotes big-time health in Sacramento
The Art of the Matter: the future of public art in Sacramento
When Public Art Fails: the opportunity to fix one of the city's saddest artworks