Burger Patch pops up in midtown to serve up all-vegan fast food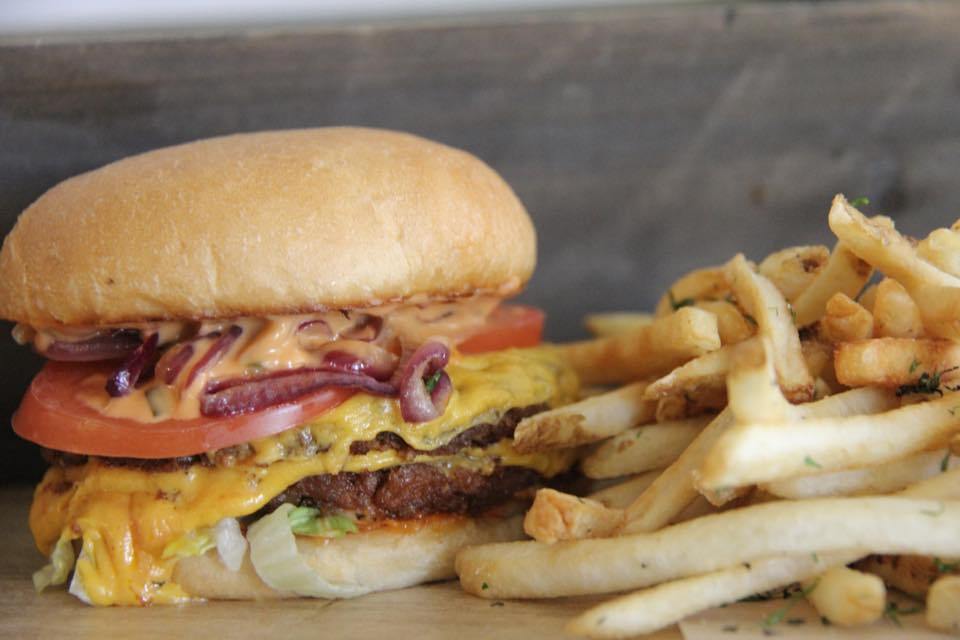 Aug. 16, 2018 update: A year after the blockbuster success of their Burger Patch pop-ups in midtown Sacramento—during which folks waited up to three hours to get plant-based fast food like burgers with Beyond Burger meatless patties, bean-based bacon and vegan sauce, Gardein chick'n strips and cashew shakes—husband and wife owners Phil and Danea Horn have announced Burger Patch's first brick-and mortar-location. The casual joint will serve a similar menu to that of its pop-ups out of a ground-floor retail space of a new eight-unit mixed-use building at 2301 K Street, near popular haunts like The Golden Bear, Midtown's Cantina Alley and Der Biergarten. While Phil is unsure about when Burger Patch will open (the building is still being finished), he says the 750-square-foot eatery will be geared toward grab-and-go food with minimal seating inside and a small outdoor patio, and will feature a simple, modern aesthetic. The Horns also plan to offer specials that highlight new plant-based proteins as they hit the market.
For more information, visit theburgerpatch.com
***********
Meatless Monday will become Meatless Thursday next week in midtown when The Burger Patch—which took the Handle District by storm at its one-day event last month— returns to the neighborhood on June 22 to dish out tasty vegan eats for the Kings' NBA Draft 2017 Block Party.
Co-owned by husband-wife team Phil and Danea Horn, The Burger Patch held its first pop-up in May, in the space that formerly housed Saddle Rock at 1801 L Street, and people flocked to partake of the plant-based fast food. Think In N' Out served up veggie style: the burgers feature a Beyond Meat meatless "burger" patty (largely comprised of peas), the chick'n strips are made from soy protein courtesy of Gardein, the bacon is made from beans, and the shakes get their creamy thickness from blended cashews.
The first pop-up was hugely popular, resulting in a three-hour-long wait time for some patrons: "We had a line of 200-plus people before we even took our first order," says Phil Horn, "so there was going to be a wait there. But as far as the food goes, [the feedback] was overwhelmingly positive."
At the upcoming block party on June 22, The Burger Patch will inhabit the same space from 4-9 p.m., and offer a similar menu to the one they served up in May. Signature items include the popular Patch Burger with a Beyond Burger patty, lettuce, tomato, grilled onion and (secret recipe) Patch sauce on a vegan bun from Truckee Sourdough Company, and the Earth Quake, a chocolate or vanilla shake made from cashews, agave and soy milk. (Phil says to get there early for the shake—it was the one menu item they ran out of last month.)
The Horns, who live in the Pocket area, devised these pop-ups as a way to gauge the community's response to meat-alternative dishes in anticipation of opening a brick-and-mortar fast-casual joint by the end of the year. The couple eliminated animal products from their own diet nearly a decade ago, but only recently felt that food science had achieved the flavors and textures they were looking for.
"We definitely think the time is right and the appetite is there for it," says Phil. "Sacramento [has] such a progressive food scene that there's room for something new like this."
June 22. 4-9 p.m. 1801 L St. theburgerpatch.com
You Might Also Like
First Look: Oak Park's new Bavarian-inspired Oakhaus
​Canon in East Sacramento unveils all-star chef team, readies to open in July
Casual Mexican bar to open in Dos Coyotes space on R Street