Catalyst for Change
The recent design competition to reinvigorate Capitol Mall is a big step in the right direction. But now that the ideas are on the table, let's make sure we're viewing the situation from the right vantage point (preferably a high one).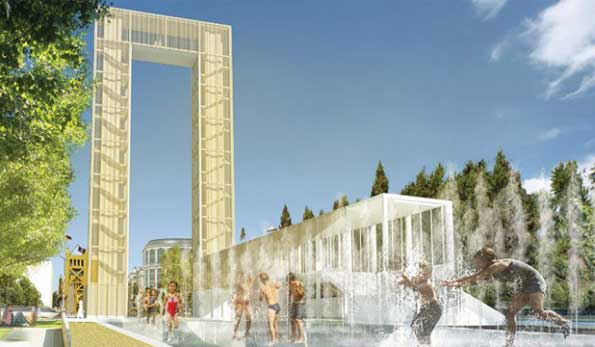 F
For decades, with a few notable exceptions, Capitol Mall has been
Sacramento's boulevard of broken dreams.
In 1989, an all-star list of architects and developers engaged in a heated battle to build a signature tower (or towers) on an empty block at 6th and Capitol. Among the architectural firms in the running were world-renowned companies like Skidmore, Owings & Merrill and Kohn Pedersen Fox, along with celebrated architects like Philip Johnson and John Burgee.
The proposals included towers up to 57 stories (our tallest now is the Wells Fargo building at 30 stories), along with luxury hotels and condos. One proposal even offered an observation deck with a restaurant and a gold electronic beacon that would be seen for miles. The winning project was a $241 million complex proposed by New York billionaire developer David Rockefeller and the Johnson-Burgee design team, which included a 34-story office building and a 20-story Ritz-Carlton. Capitol Mall was about to hit pay dirt.
And then the economy hit back, killing the project.
In 2004, developer John Saca announced his plans to build twin 52-story condo towers at 3rd and Capitol that would have included luxury condos and an InterContinental Hotel. A year later, developer Craig Nassi landed celebrity architect Daniel Libeskind to design a sleek 39-story condo tower at 6th and Capitol. Both would have brought retail, dining and—most importantly—people to Capitol Mall.
But the economy struck again.
So now the city and the Central Valley Chapter of the American Institute of Architects have done the smart thing and decided to stop waiting for condo towers and start planning the mall's revitalization on the ground floor instead. They held a long-stalled design competition called Catalyst this past fall and, while it fell short on attracting A-list national or international architects, it did provide a host of creative ideas that, combined, could dramatically alter this key piece of Sacramento's urban landscape.
But though it convened a host of respected jurors from around the country to judge the winning entries, only two of the seven jurors were Sacramentans. And while the idea of importing outside talent has great merit—sometimes outsiders can see things that we're too insular to spot—I fear that their inherent, though understandable, lack of perspective about the city's larger needs could have clouded their focus on this particular project.
For example, the jurors' winning selection, announced Nov. 9,  was one called Capitol Canopy. It has a beautiful rendering and the basic concept is that it would fill Capitol Mall and the surrounding area with … trees. One juror's comment on the winning design was that the concept "respects the historic, civic character of the Capitol Mall and extends (sustains) the image of the city of trees."
The city plans to form a task force soon to determine how best to proceed and there will likely be charrettes in coming months to elicit public opinion. In the past, these kinds of exercises have bogged the process down to the point where projects die from inertia. We can't let that happen here.
Now, don't get me wrong. I love trees and, as a native Sacramentan, I've always been proud that we're known as the City of Trees. And to be fair, there was more to the proposal than just trees. A grassy amphitheater space (a great idea) was included and it wisely proposes to activate the street under the tree canopy with farmers' markets, bike lanes, "water play pods" and more.
But here's the thing. We are already the City of Trees. And that's great (except for when they make us all sneeze). And while I'm not remotely opposed to adding more trees to Capitol Mall, we're missing the larger picture here, which is that Sacramento needs something that it does not already have.
Large, ambitious projects don't come around here all that often, and when they do, they often don't make it past the drawing board (like the ones cited at the top of this piece). If Sacramento is hoping to carve out a stronger national identity (or a stronger regional one), it needs to think bigger than an oak tree, or even a thousand of them.
Having an urban forest with street-level amenities is nice, but it's not unique. Roseville has that. So does Elk Grove and Davis. And so do hundreds of cities around the country. We have the opportunity to do something more here. If we can't find a way in this economic climate to build enough residential units on or near Capitol Mall to populate the area, then we need to create something that truly makes it a destination.
The bad news is that the winning design simply isn't the solution to breathing life into Capitol Mall. The good news, however, is that there are many exciting ideas contained within the dozens of entries, including some components of the winning Capitol Canopy concept.
Take, for example, the concept from architects Stan and Jess Field in Palo Alto, pictured at the beginning of this article (it received an honorable mention from the judges). It offers the idea of a nine-story walk-up observation tower in the middle of the mall that echoes the shape of the Tower Bridge and symbolically extends the river to the mall with appealing water features. Not only does it add a new architectural landmark to the skyline, but it also gives locals and visitors a brand new view of the Capitol and Tower Bridge.
Another proposal (pictured above) that includes an observation tower is by Arkansas architect Chris Sullivan. In his proposal, instead of simply adding trees, he's suggesting that we create architecture based on trees, like a 440-foot Sequoia Spire with solar panels, an observation deck and possibly a restaurant near the top. He also proposes constructing a second level above Capitol Mall that allows for continuous pedestrian access, powerful views and more architectural shapes based on native trees like oaks and weeping willows. The second-level concept reminds me of New York's incredibly popular High Line, which is an urban park built on an old raised subway platform that snakes through the dense urban forest of Manhattan.
But another intriguing option is to build down. Virginia architect Stephen Zuber of KGD Architecture, whose proposal took third place in the Catalyst competition, came up with his own concept of creating an uninterrupted public space by going under the roads that cross Capitol Mall, but also constructing a raised walkway near the Tower Bridge that allows for generous public views of the mall, Capitol, bridge and river.
And there are plenty of intriguing details in other proposals that merit consideration as well. The key now is to keep the momentum going. The city plans to form a task force soon to determine how best to proceed and there will likely be charrettes in coming months to elicit public opinion. In the past, these kinds of exercises have bogged the process down to the point where projects die from inertia. We can't let that happen here.
We must also hope that the task force and the public consider the bigger picture. It's one thing to create a pleasant isolated area for people who happen to work or live there; it's an entirely different goal to create a bold statement (like an observation tower, multilevel spaces or exciting public art and architecture) that acts as a magnet to pull in people from other cities, states or even countries.
As we learned from the failed K Street experiment, pedestrian malls don't work because of the malls; they work because of the pedestrians. And to attract pedestrians in large numbers, you need sizzle and drama and something new. So in the months and years to come, here's hoping the powers that be will focus less on what we already have and more on what we don't yet. Otherwise, I'm afraid, we won't see the forest for the trees.