Center of Attention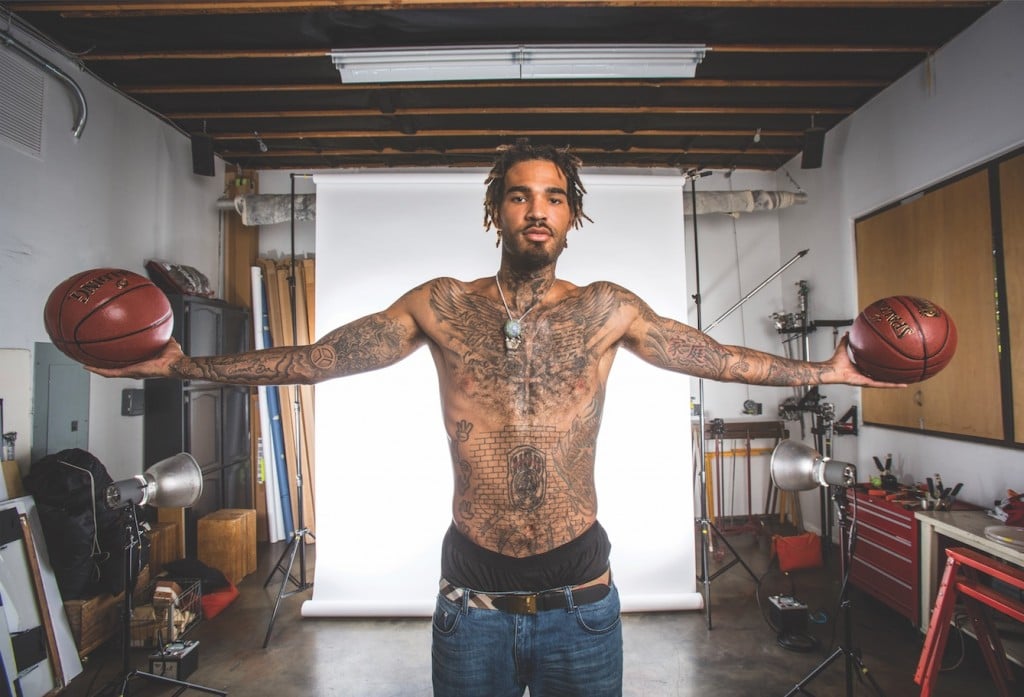 After the Sacramento Kings traded their franchise player in February, all eyes turned to Willie Cauley-Stein, the new starting center and a critical component of the team's plan to build a dynasty from the ground up. But with only two years of NBA experience under his belt, does this agile 7-footer have the right stuff to lead the Kings to the next level? If you ask him, it's definitely within his prodigious reach.
Willie Cauley-SteinW is fearless—and hungry.
Just ask Taro Arai, who knew Cauley-Stein was different the first time the chef met the Kings center in his rookie season with the team. "I went to their practice once and made sushi for the players," the co-owner of the Mikuni chain says. "Willie jumped in right away and bam! He started eating everything I threw at him, all the stuff most people won't eat. He's up for anything, and that's hard to find."
Cauley-Stein made a similar impression on local painter David Garibaldi. The two toured China together last year as celebrity guests on a Visit California junket. Garibaldi is a lifelong Kings fan, and Cauley-Stein has nursed lifelong ambitions of being a painter, so they bonded, and continued the friendship back home in Sacramento.
"We'd end up at my studio after hanging out," Garibaldi says. "I tend to continue creating late at night, and so there was one night, it was probably 3 a.m., where he said, 'I'd really like to collaborate with you.' So I said, 'Why not now?' I got out some paint and a canvas and we started painting."
He and the Kings star have been painting side by side ever since. "I set him up with a huge canvas, and I just let him do his thing," Garibaldi says. "He really has no fear. Whether he's going up against a 7-foot player or a 7-foot canvas, he just goes for it."
Cauley-Stein's output from this past off-season's painting spree—call it his "purple period" in honor of the Kings—is proudly on display on his Instagram page, bold, colorful, outsized portraits of Jimi Hendrix and the Joker from Batman, obviously influenced by Garibaldi's brash, gestural style. Other posts feature his artfully layered outfits: checkered Vans with crew cut socks, shorts over long johns, ironic neon-camo-print hoodies. He's got an eye for proportion and color, and although he hasn't launched his nascent fashion line yet, its name, Catalyst, is already inked on his body in a couple of places, so it's only a matter of time.
For the moment, though, all eyes in Sacramento are focused on what the big man with the fast feet is going to do on the court when the new Kings season begins with an Oct. 18 home game. Last February, when DeMarcus "Boogie" Cousins—at the time, the team's marquee center and ostensible franchise player—was abruptly traded away at the All-Star break, Cauley-Stein found himself instantly promoted from backup to starter. (For the record, he wasn't happy that Boogie got the boot, despite his rise in rank as a result. "That was my big bro," he says.) It was a step-up-or-shut-up moment for the second-year player who had heretofore been known as a solid five-position defender but hadn't really shown as much of a spark offensively (although earlier that month, he did make a spectacularly decisive one-handed dunk against the Boston Celtics that later made the year's "best" lists). And Cauley-Stein thrilled fans by roaring fearlessly into the gap in the very first post-Cousins game, scoring a career-high 29 points and elevating spirits and expectations across the board. Afterward, he attributed his performance to teamwork, refusing to hog the spotlight. He never quite rose to that level of ferocious play again last season, but the young center didn't fade away either, raising speculation that with enough hard work in the off-season, he might just come back this fall capable of filling Boogie's shoes.
But what did we see him doing with his downtime this past summer? The Kings posted an unlikely video—complete with a plucked lute soundtrack—of Cauley-Stein taking a painting class on a June trip to Vietnam, bending his tall frame in half to dab at a pastoral landscape with a tiny bristle brush. To a lot of armchair observers, the breadth of his extracurricular interests has been cause to express doubt over his seriousness about the game. He's been accused of lacking focus. Of not sweating enough bullets. Of being "soft." Whenever he's had enough about being called the latter, he just goes out on the court and dunks, displaying a bit of showmanship ability he shares with his new teammate Vince Carter.
But just because Cauley-Stein is not monomaniacally focused on basketball to the exclusion of all else doesn't mean he isn't motivated to succeed. In an era in which the talent pool for pro sports is so vast, and the barriers to entry so high that stage parents routinely hire private coaches for their 8-year-olds, he seems to have nurtured a holistic work ethic: you grow as a ballplayer by growing as a person—even if this means learning how to add highlights and lowlights to a still life of a bowl of fruit by watching the late Joy of Painting host Bob Ross while other kids are executing passing drills.
• • • • •
One thing is for sure: Cauley-Stein has swagger. Unfolding his long, heavily inked limbs from the passenger seat of a Chevy SS, he rises languidly into view in cutoff jeans, dreadlocks and a pair of gold wire-rimmed glasses with wooden temples, and ambles into an afternoon photo shoot.
"I'm definitely a hipster," he says unironically, with an open grin that reveals a set of braces he's scheduled to get off the next day—a reminder that even though he is, along with Kosta Koufos, now the longest-tenured player on the Kings' impossibly young roster and expected to be a leader, he's still just a kid himself.
"How am I supposed to mentor somebody? I'm 23," he says (he'd turn 24 in a few weeks), laughing with incredulity. "A lot of people think I'm crazy, so I don't know if they'd listen to me anyway." Then he smiles and slowly nods, and you know that he's been thinking a lot about this. "I'm dropping knowledge though," he adds.
When he talks about what the Kings can do this coming season, he sounds jazzed—and focused. "This year is on my shoulders," he says. "I have a say in if we lose or win. So I have a new vision. I'm in it, so let's do it. A year ago, if I was presented with this opportunity, if Boogie left and the team was looking for me to step up, would I have been ready for it? I don't know. But I'm ready for it now. I'm excited."
He's troubled by the cynicism he sees rampant in the NBA, like the way he sees money influencing young players. One of Cauley-Stein's more recent tats—he's covered in ink pretty much stem to sternum (and beyond)—is a trio of portraits of Benjamin Franklin, Andrew Jackson and Ulysses S. Grant splayed across his back. He calls them the "money men." That they're portrayed as zombies is a commentary on his ambivalence about the way wealth and its promise change young players, including himself. "I feel like my whole mentality was based on money," he says. "Good and bad." He doesn't want to play for money, at least not just for money. He wants to play the way he paints, with emotion and honesty. He wants to be his own man, on and off the court. The ink is one of the ways he keeps himself honest. "It's a timeline of inspiration," he says of his collection of tattoos. "I'm literally wearing my life on my sleeve."
Cauley-Stein has been trying to take control of the narrative from the get-go, down to a memorable entrance on draft day 2015. When he showed up at the Barclays Center in Brooklyn, the thing about him that was on everyone's lips was not his uncanny ability to guard all five positions or his quick hands, but a brand-new neck tattoo he got done just in time for the occasion. "Team Blake," it announced, in memory of Blake Hundley, who died of brain cancer earlier that spring at the age of 9.
We're not talking about a fleeting celebrity meet-and-greet. The then-college basketball sensation and Blake, who met via mutual acquaintances, became real friends. "We just chilled, sat up in his tree house," Cauley-Stein says. "I feel like I got more out of [the relationship] than him. It changed my life."
When he talks about what the Kings can do this coming season, he sounds jazzed—and focused. "This year is on my shoulders," Cauley-Stein says. "So I have a new vision. A year ago, if I was presented with this opportunity, if Boogie left and the team was looking for me to step up, would I have been ready for it? I don't know. But I'm ready for it now. I'm excited."
The tattoo, he explains, is for Blake's family. "Anytime that family sees me, they're seeing him," he says. It also ensures that Blake's story will get told every time someone asks him what "Team Blake" means.
That same year, he legally changed his name from Willie Cauley to Willie Trill Cauley-Stein. If he were going to take the national stage, he wanted to do it bearing the name of the people who helped raise him, Norma and Val Stein, his Jewish maternal grandparents. (Adding his nickname Trill as a middle name was a last-minute decision he jokingly pins on the judge, who asked him, "Are you sure that's all you want to change?")
Cauley-Stein is all about friends and family. The Chevy he arrived in (he sometimes rolls to the Golden 1 Center in his own chrome Camaro) belongs to his best friend, Conor Crowley, who is also his business manager. The two have been inseparable since Cauley-Stein's sophomore year at the University of Kentucky, when the basketball player was still known more for his colorful sneakers and riding a skateboard around campus than for his prowess on the boards.
They met in statistics class. "We had the same Air Jordans on," Crowley says. "So we sat next to each other. We started hanging out, became really tight instantly. We had a strong connection, stronger than I've ever had with anybody. The rest is history."
Crowley had originally intended to go to work for his dad's PR firm after graduation en route to becoming a sports agent. He hadn't expected that as Midwesterners he and Cauley-Stein would fall so hard for the River City. "Coming out, I had no idea what to expect," he says, "but we love it here. It's not a second home; it's our first home now. We really do call Sacramento our home. Willie would like to play here his whole career. When the [Kings] beat the Warriors last year, I couldn't believe the fans. If they can be a contender, this city will be rocking. And I think [success] is in the near future."
One morning in July, alone on the Kings' practice court after Cauley-Stein trots away from working on his jumpers to hit the locker room, Crowley, who hooped in high school, stands at the three-point line and lobs a shot. And another. Whoosh. Whoosh. Seven in a row go down—nothing but net. Then two more. He misses the 10th three-pointer, shrugs and grins. "Willie gained respect the first time we played together," he says. "He saw I had some game."
Cauley-Stein and Crowley are thoughtfully laying the foundations for a diversified empire. "We are a team," Crowley says. "I do everything on the ground, [things] as simple as rebounding and helping him practice shooting. All the communication with his agent goes through me. I handle the local endorsements, I travel with him everywhere." He also oversees his BFF's fledgling record label and fashion house.
The name of that someday clothing company, Catalyst, is emblazoned across Cauley-Stein's knuckles. He talks about "dropping" the line here in Sacramento. Unlike a lot of players who hightail it out of their teams' cities during the off-season, he stays put. He likes how "chill" the region is and lives near Elk Grove with his "squad," consisting, in no particular order, of Crowley, Kelsey Brooks (Cauley-Stein's girlfriend since high school), his cousin Tyrell (an aspiring hip-hop artist Crowley also manages), two pit bulls and an English bulldog.
Summer days are spent wakesurfing on Folsom Lake and hitting balls at the driving range. And, on at least one occasion, throwing out the ceremonial first pitch at a River Cats game. Arriving at Raley Field in mid-July, he warms up his arm just like a "real" pitcher, and seems almost disappointed at the brevity of the pitch itself—it goes by in an instant. He looks good on the mound, his impressive wingspan making for a spectacular windup, a bit like Randy Johnson's, who was one of the tallest players in baseball and is still two inches shorter than Cauley-Stein. Later, checking out his technique on a snapshot someone took, he likes what he sees. "Look at that form. I'm throwing gas!" he remarks.
"Once I'm at the pinnacle [of my basketball game], and I'm getting all the shots and all the love, I'm done," he laughs. "I'm retiring at the height—and then I'm going to the River Cats. See that segue? I couldn't resist."
He's joking, of course, but in high school, he was a triple threat who played baseball (as a pitcher), basketball and football. There's video on YouTube of him on the football field, and it's a laughable sight, the other players nipping at his knees like a bunch of Chihuahuas as he reaches for a high pass. Growing up, the tall kid barely had to try to be a star athlete.
• • • • •
On a recent visit to the Crocker museum, Cauley-Stein stands briefly in front of painter Kehinde Wiley's Philip the Fair. The artist, who grew up in South Central L.A., paints outsized Old Master-style portraits of anonymous black men and women in street attire, as if to say, "Just try to ignore us." But the Kings player doesn't know what it's like to be ignored, and his experience as a man of color is nothing like the urban narrative in the painting. He's easily as tall as its exaggerated figure, for one thing, and for another, he didn't grow up anywhere near the streets, but in Spearville, Kansas, population 791, a town so small you didn't just know everybody in town, Cauley-Stein says, "you knew everybody's birthdays."
Marlene Stein met Willie Cauley when both were playing college basketball in Dodge City, she for St. Mary of the Plains and he for Dodge City Community College. They had two sons, Bryce and Willie, but by the time the boys were 8 and 4, respectively, their father had bowed out of the picture and Marlene was raising them on her own in Oklahoma City. Her mother, Norma Stein, offered to take the kids while Marlene got back on her feet.
Cauley-Stein didn't take to rural life at first. "When I first got him, all he wanted to do was sit and play video games," Norma recounts. "And I said, 'Not at my house! You're going to get a ball and go outside.' " It worked.
"Those were the best of times," says Cauley-Stein. "It was me, my brother and [our] cousins. You always had something to do. The kickball games in the front yard were epic."
By the time Marlene was ready to reclaim her boys, they didn't want to leave Spearville. "They talked her into letting them stay," Norma says.
The future King's bucolic idyll continued into the teenage years. Grandpa Val Stein, a Vietnam veteran, drove a truck, while Norma worked at the local grocery store. "Our house was the hot commodity," Cauley-Stein says. "My grandma always had food, and all the friends were welcome. No knocking on doors, just walk in, go straight to the man cave."
His athleticism stood out. He excelled at every sport, including his first love, football.
"His passion was playing football," Norma says. "But he wasn't built for football. Have you ever seen a 7-foot-tall wide receiver? I never forced him, but I said, 'Basketball is your sport because of your height and the way you move.' "
As a sophomore in high school, Cauley-Stein traveled with an Amateur Athletic Union basketball team, where he made friends with a kid named Shavon, whose dad happened to be Will Shields, an NFL hall of famer. Shields saw the potential, and invited Cauley-Stein to come live with his family in Olathe, a suburb of Kansas City.
"Coaches and scouts do not come all the way to western Kansas to look at one kid," Norma says, "and [Willie] had always told me he wanted to go to a Division I school."
She told him he didn't have to go, but that if he wanted that athletic scholarship, this was his only option. She also told him that if he went, there was no turning back: "I said, 'If you get homesick and want to come back to Spearville, that's not going to happen.' "
Sure enough, he did call her early on in his stay, asking to come home, but Norma stuck to her guns. When asked where he thinks he'd be today if she hadn't, Cauley-Stein pauses, then says quietly, "Probably working on a farm."
Norma knew that Spearville couldn't contain him. From a young age, she says, "He was into painting and coloring. He wanted to design clothing and shoes. I told him he needed to go to college." Basketball was what would get him a scholarship to go.
So Cauley-Stein stayed, made his grades, and played b-ball. He also kept playing football, even though everyone said he shouldn't because of the increased injury risk. But Norma supported him. "They wanted me to talk him out of playing [football], but I said no," she remembers. "I told him to enjoy his high school years."
• • • • •
When legendary University of Kentucky basketball coach John Calipari first visited Olathe in advance of the 2011 season, he watched Cauley-Stein play football. There's no better place to clock an athlete's footwork than on the gridiron, and "Coach Cal" was impressed with the versatile giant's speed. Calipari's Wildcats were then known as the winningest team in college hoops—they still are. The team sends players to the NBA by the carload. The year before, in 2010, five Wildcats went in the first round—including DeMarcus Cousins. So a berth on the school's roster would be a major coup.
Cauley-Stein delivered, wowing the coach and the crowd by scoring a 60-yard touchdown. "What I saw was a 7-footer with unbelievable feet," says Calipari. "I saw a guy with great hands. It was exciting to see a guy [that] tall who got it."
The talent was there, but the young athlete had some work to do. He'd been a big fish in a tiny pond growing up in Spearville, and hadn't had the kind of training a lot of other NBA aspirants had. "He was behind all these guys who'd had a serious focus on basketball since the age of 8," Calipari says. "The game hadn't consumed him the way it did other guys. He's what I'd call a late bloomer."
Joining the Wildcats in 2012, Cauley-Stein was on the bench behind Nerlens Noel, who would go in the first round of the NBA draft as the sixth pick overall the next year. Off the court, he carried a sketchbook with him everywhere (something he still does) and formed a rap band. His buddies gave him the stage name Trill Will, then just Trill, a portmanteau of "true" and "real." The dominant criticism of the young player was the same drumbeat it had always been: that he wasn't focused enough on the game. At the same time, he was also struggling academically.
"He came in one day and said, 'I hate school,' " Calipari recalls. "And I said, 'Look, the best players I've coached have all had curious minds. You need to have a curious mind to be the best at whatever you do.' " So they formed a book club together. "The first [title] I threw at him was [the motivational bestseller] The Energy Bus by Jon Gordon," Calipari says. That added reading to Cauley-Stein's list of interests. With the coach's help, the academics picked up.
The following year, the Wildcats had a standout season in which Cauley-Stein, now out from under the shadow of Noel, finally got enough playing time to catch the fever—only to be heartbroken when the team lost the NCAA championship to Connecticut while Cauley-Stein sat on the bench with a freshly injured ankle.
That loss haunted the sophomore, whom everybody expected to enter the draft that year. But Cauley-Stein made the unusual decision to return for a third year of college, bucking the trend for college ballers to depart after one or two seasons.
"It was a wise move," Calipari says. Who knows where Cauley-Stein would have gone in the draft if he'd left then? This way, he got the chance to be a star player.
"He's a very confident guy, but also very humble. He's different. He's not afraid to think outside the box. Willie is an old soul in a young body. And he's gifted," Sacramento Kings assistant coach Nancy Lieberman says. "You know his alter ego, Trill? If Willie is Clark Kent, Trill is Superman. He's not playing second fiddle to anybody. He's a prime-time player."
That 2014-15 team was so deep with talent—teammate Karl-Anthony Towns would go on to be the No. 1 draft pick and Rookie of the Year—that Calipari implemented a novel strategy for ensuring each player got enough time on the court.
"They called it the platoon system," Cauley-Stein explains, describing Calipari's method of treating all players as equals—no bench, no starters, just a constant rotation. "You'd play five minutes, and then [another player] would play five minutes. Then in the last five minutes of the game, whoever was playing the best would play."
The Wildcats had a 38-1 season, suffering their first and only loss in the Final Four of the NCAA tournament. Cauley-Stein was named the Southeastern Conference (SEC) tournament MVP and SEC Defensive Player of the Year, and he was a favorite among the press corps, who came to depend on him for smart sound bites and colorful commentary. A fan of the TV series The Walking Dead, he would school reporters on how to prepare for a zombie apocalypse. During a post-game interview with the Lexington Herald-Leader, he said the Wildcats were more like a "feisty" raccoon, prompting one fan to name an injured raccoon she found "Willie" and nurse it back to health, which in turn garnered more press. When he left for the draft, The Washington Post ran an editorial on how much he'd be missed by sportswriters covering college basketball.
That stellar season and his high profile put Cauley-Stein on the Kings' radar, and the organization scooped him up in the first round with their No. 6 pick.
Vlade Divac, the Kings' general manager and a former center himself, is a fan of Calipari protégés because, as he says, "they play NBA style." He was impressed with Cauley-Stein's ability to handle multiple positions and best-in-class speed, something unusual in a center. "He's one of the fastest guys in the NBA," Divac says, "even though he's 7 feet tall."
• • • • •
What came next is a scenario many newly minted NBA players are familiar with: Cauley-Stein went from being an essential member of a college dream team to warming a bench most of the time on a losing squad. "Man, I took winning for granted," he says.
Known as a big man defensive player, he wasn't necessarily expected to break out, but to fill a niche. But Kings assistant coach Nancy Lieberman saw something more in him from the beginning. "He's a very confident guy, but also very humble. He's different," she says. "He's not afraid to think outside the box. Willie is an old soul in a young body. And he's gifted."
Lieberman, who is sitting this season out after hernia surgery, wasn't at all surprised to see the rising star step into the spotlight after Cousins was traded away. "You know his alter ego, Trill? If Willie is Clark Kent, Trill is Superman," she says. "He's not playing second fiddle to anybody. He's a prime-time player."
When he isn't working on his game, Cauley-Stein thinks deeply about the meaning of life in the NBA. How does he make his way in an increasingly fragmented league with a dizzying level of roster churn? For a player, this means caring is just a way to get your heart broken.
He's candid about how this high turnover among the players and even the coaching staff (Dave Joerger took over the helm in May 2016; Calipari was wooed by the team that season, but ultimately said no) has affected his morale and that of his teammates.
"Coach Joerger is a great coach," Cauley-Stein says. "[He has] a good supporting cast around him, too. I love working with the coaches that we've got." Then his brow darkens. He's leery of accepting that the team's composition won't shift again. "You want to put your trust into them," he says, shaking his head. "In three years, [it feels like] I've been on three different teams. You can't put your loyalty in someone else's hands at this point. I'm big on loyalty. Please don't be selling me a dream and then crush it after all the work I've been doing. Don't do that."
Cauley-Stein is nonetheless ready to put his heart on the line again for the Kings. He is surrounded by new talent, including two more former Wildcats in the new first-round draft pick De'Aaron Fox and last year's standout rookie, Skal Labissiere. And he also has some mentor material behind him in veterans like George Hill and Vince Carter, who, at 40, is the oldest player in the league—Cauley-Stein was 5 years old when Carter won NBA Rookie of the Year honors in 1999. "The vets they surrounded me with are all dudes I can learn from," the Kings center says. An ESPN article praised the new "tantalizing" lineup, including the Kings as a dark horse contender for the NBA's next "superteam."
Coach Calipari, who has the advantage of having coached both Cauley-Stein and Fox, sees a dynamic duo in the making. "What De'Aaron knows is how he should use his feet," he says. "And with Willie, who's as fast as anybody, you can have a team that will fly up and down the court. De'Aaron knows how to throw lobs and Willie knows how to finish them, so I think those two will pair up [well]. There are all kinds of things those two can do."
Divac thinks so too. "De'Aaron is a great point guard who makes everybody on the floor better," he says, "and Willie should take advantage of the way De'Aaron plays." Divac also brushes off any suggestion that he hired Hill and Carter to be the team's mentors, and insists that Cauley-Stein is the one he's expecting to take on the role of teaching the youngsters a thing or two. "This is a big year for him," he says. "It's time for him to step up."
Cauley-Stein recognizes the opportunity before him and is preparing to seize it. Forget that well-publicized day he whiled away in a painting class—he has spent the bulk of the off-season, he says, "shaping my mind like an assassin. I'm ready for it. I like the squad we have. If everybody's on the same page, and everybody is down to sacrifice for each other, we will win. I don't see a lot of egos on our new team. It's just one big [collective] ego, and that's what you're looking for."
He's also got a whole new game. "This summer, compared to the last two summers, was a whole 360," he says. "I was off the grid. I literally hid myself. I call it working in the dark, grinding in the dark. People aren't ready to see what I've been molding myself into. When it hits, it's going to be unbelievable."
Seems somebody made the mistake of saying out loud that Cauley-Stein couldn't play offense. "They put me in a box," he says, " 'You're a center.' " So that assassin persona he's talking about? He is now determined to be an offensive force in the 2017-18 season.
Calipari believes he can pull it off. "He's finally totally committed to what he's doing, and his whole mission is to use every minute of the day and every fiber of his being to prepare himself to be one of the best," says his former coach. "He's finding out who he is every day."
These are sentiments that Cauley-Stein echoes himself. "I'm the center, shooting guard, small forward, point guard, all of it," he says intensely. "That's what I'm working on. That's the big picture. That's my mentality. At the end of the day, I'm not going to stop until I get what I want."
He's been sounding fierce, but here he breaks into a sunny smile again. "It's going to be fun for all of us," he says. "The energy will just be crazy."
Read These Stories Next:
The Game Changer: Vivek Ranadivé is deteremined to transform the Kings
Former Kings center Scot Pollard tackles reality show Survivor
Coloring Outside the Lines: the controversial Koons artwork at Golden 1 Center