9 city-centric artworks to celebrate Sacramento's birthday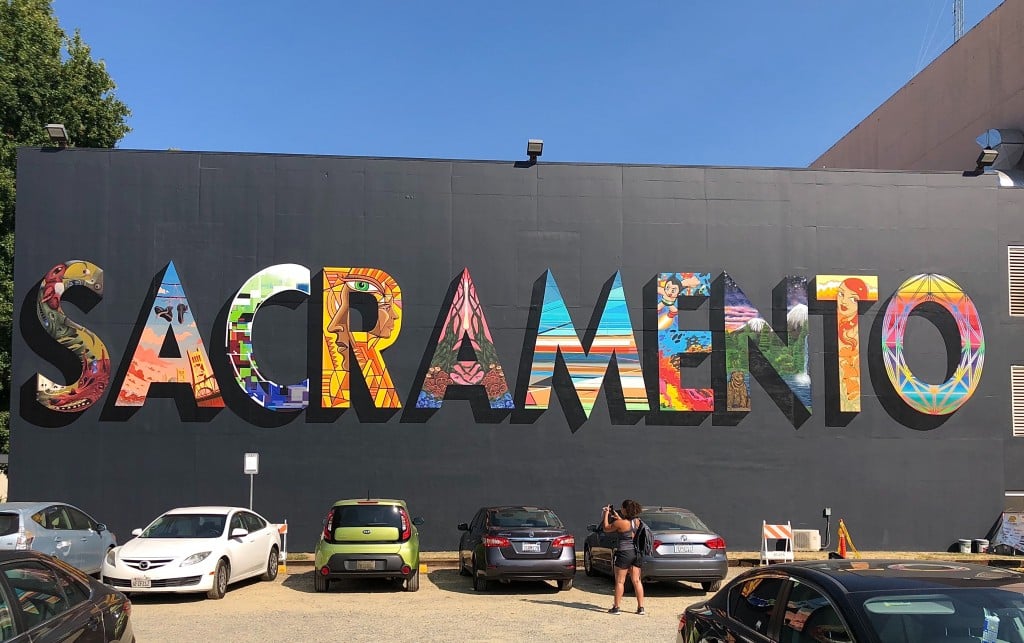 Happy Birthday, Sacramento! In honor of the River City's 170th anniversary, we scoured the neighborhoods to find striking backdrops bursting with hometown pride. Here are nine of our favorites, ready to take your Instagram feed up a Sac-centric notch.
East Sac
This abstract floral mural by Tyson Anthony Roberts went up in 2017 on the south-facing exterior wall of then-new restaurant Canon. 1719 34th St.
---
Sacramento (Ice Blocks)
Sacramento painter Jeremy Stanger outfitted The People of Sacramento's new Ice Blocks shop-slash-pet-adoption center—dubbed CommUnity by TPOS, it opened Feb. 22—with a custom floor-to-ceiling rainbow wall. 1715 R St.
---
Oak Park
Local artist Jaya King raised this depiction of a woman proudly wearing a 'hood-emblazoned tank top on the Guild Theater's southeast side in 2018. 2828 35th St.
---
Sacramento mural at Sacramento State
The west face of Sacramento State University's Shasta Hall is home to this mural, which kicked off Wide Open Walls in 2018 and features work by a dozen different artists, including Raphael Delgado, Jose Di Gregorio and John Horton. 6000 J St.
---
Mansion Flats
Hand-lettering artist Emilee Rudd—who has lent her calligraphy skills to Sactown covers—designed this Art Nouveau-style piece, inspired by coffee plants, for Goodside Coffee.
1430 H St.
---
Sacramento (Belvedere Ave.)
Los Angeles-based graffiti artist Trav MSK tagged the south face of a furniture warehouse east of Power Inn Road, spelling out "Sacramento," "Tower Records" and "Crest Theatre." 8301 Belvedere Ave. 
---
Curtis Park
Curtis Park Market's western exterior wall informs you of your whearabouts with this mural by West Sacramento artist Bruce Gossett. 2703 24th St.
---
Sacramento (Morgan's Mill)
K Street cafe Morgan's Mill, which is set to open in mid-March, features the name of our city scrawled scrawled on the eastern interior wall. The medium? Hundreds of rolled-up Sacramento Bee newspapers. 1026 K St.
---
California
OK, this isn't Sacramento-centric, but as California's capital city, we think this mural on the south-facing wall of the California Automobile Museum deserves a spot on our list. Similar to Sacramento State's mural, each block letter of this work was decorated by different artists, like the River City's own Melinda Arendt and Lin Fei Fei. 2200 Front St.
You Might Also Like
The Lights Fantastic
In the Name of the Father
8 vibrant backdrops around town for your next Instagram selfie