The Ultimate Guide to Apple Hill
For many Sacramentans, A is for Apple Hill, especially in the fall. Want to know where to go for the best homemade pies or the freshest cider doughnuts? We've got your apples-to-apples guide to the beloved region. Scroll down—your fruit-full adventure awaits.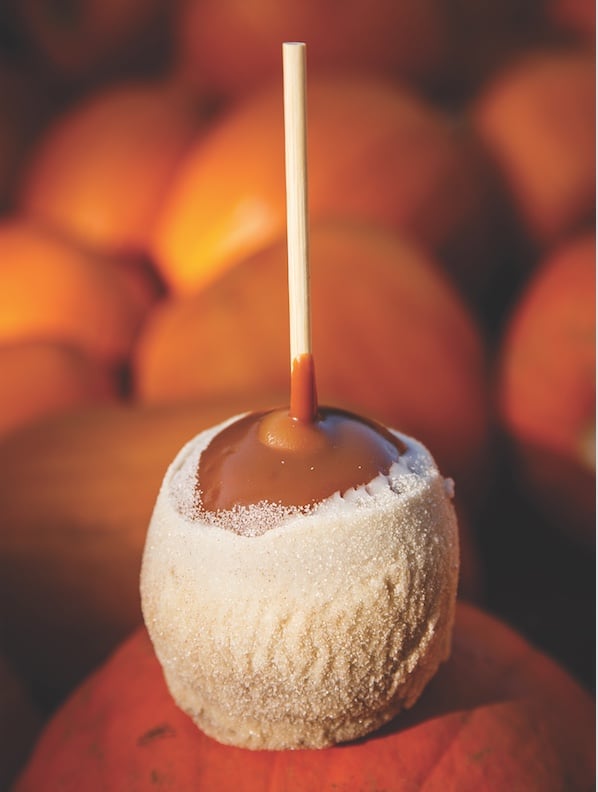 Editors' note: All information was accurate at the time of publication. Please visit the growers' websites for updates.
A Perfect Day
If you only have one crisp fall day to spend in the rolling hills and orchards surrounding Camino, we've got you covered. With about 50 spots on the official Apple Hill Growers map (and dozens of farms and bakeries that aren't members of the association), the array of choices is downright dizzying, but our carefully curated itinerary will have you eating, drinking and frolicking your way through the region's headiest autumnal hot spots a jump ahead of the crowds.
9 a.m.
Rainbow Orchards
The early bird gets to worm out of having to wait for warm, fried-to-order cinnamon-sugar-dusted cider doughnuts (by late morning, the line for these locally famous goodies can wrap all the way around the orchard's barn). Even if you're bleary-eyed, you can't miss the bright, happy-looking rainbow on the building's façade, which lends a hippie vibe to this pleasingly rustic stop—fitting, as current owners the Campbell family acquired the farm (and its secret doughnut recipe) in 1977. Snag a picnic table and wake up with coffee or a cup of fresh-pressed cider (Rainbow offers one of the few pressed-in-house ciders on Apple Hill) while feasting on the superlative cider doughnuts, our favorite sweet treat in all the region. Just don't fill up—we're only getting started. 2569 Larsen Dr. Camino. 530-644-1594. rainboworchards.net
10 a.m.
Denver Dan's Apple Patch
Just around the corner from Rainbow Orchards lies quaint Denver Dan's, established in 1961, where an antique apple peeler-corer has proved so riveting an attraction that its store can barely keep the home version of the contraption in stock. A picture window affords a view into the bakery turning out fresh pies, but for a hands-on experience, call ahead to reserve a slot for the baking class, offered weekday mornings at 10. On weekends, explore the orchard's dozens of varieties or snap a farm animal selfie at the petting zoo. Before you leave, be sure to pick up some giftable stacks of jams in flavors like peach jalapeño and boysenberry apple, a handsome handmade dried apple wreath, or a few hearty, savory chicken pasties (Cornish meat pies), the perfect tote-along picnic food. 4354 Bumble Bee Ln. Camino. 530-644-6881
12 p.m.
Jack Russell Farm Brewery
Trust us, noon's not too soon for a cold one—and once you enter the newly renovated taproom at Jack Russell, you'll be parched for a pint. The brewery offers more than a dozen taps (for peak local-seasonal flavor, try the pumpkin spice and apple-spiked ales). That's more than enough to keep dedicated hopheads busy tasting, but you'll want solid food, too. Whether you brought lunch from home, snagged those pasties at Denver Dan's, or succumbed to the wafting scent of honey BBQ wings and other rib-sticking fare at Jack Russell, the hot ticket is to set up in the brewery's wide-fenced field with picnic tables, an idyllic spot for sprawling out and sharing an alfresco meal with friends—with protein to balance the sweets you've snacked on all morning. 2380 Larsen Dr. Camino. 530-647-6222. jackrussellbrewery.com
2 p.m.
Delfino Farms
Need a leisurely siesta after lunch? Head straight to Delfino Farms to recharge. The key draw? A grassy slope overlooking an expansive sweep of orchards decked in photo-ready fall colors, perfect for plopping down on or rolling down, plus corn mazes to walk through, chickens to feed, and lots of room to roam. This gorgeous parcel used to be called Kids Inc.; the name change marks the passage of the farm to the third generation of the Delfino family, who has owned it since 1964. A fully stocked bakeshop—now sweetly named Joan's, after Grandma Delfino—offers a bevy of apple-themed treats to snack on (like apple crisps and French apple pies), but be sure to also try the family's refreshing barrel-aged Henrietta Stich hard cider, made from their own fruit. Kick back with a tall one or the signature Walkin' Pie with cinnamon-scented cider sauce; there's no better place to while away a fall afternoon. 3205 North Canyon Rd. Camino. 530-622-0184. delfinofarms.com
3:30 p.m.
Lava Cap Winery
Ready to hit the pause button on sweets? Relax on a shady patio with a glass of old vine zinfandel or lush viognier at this winery started by a geologist. Lava Cap's late founder David Jones had a distinguished career at the U.S. Geological Survey and UC Berkeley (check out the National Academy of Sciences medal recognizing his contributions to the theory of tectonics), scoured the globe for the ideal site for wine—and found it here, where rolling foothills are covered with volcanic soil that the '49ers called a "lava cap," believing it signaled the presence of gold. Jones' hunch was right: Lava Cap, which opened its doors in 1986, has produced highly lauded wines (its 2015 Sauvignon Blanc took gold at the Sunset International Wine Competition last year). And the winery's rich volcanic setting is as scenic as it is fertile, lending itself to an unforgettable experience. 2221 Fruitridge Rd. Placerville. 530-621-0175. lavacap.com
4:30 p.m.
Abel's Apple Acres
Evening is approaching. It's time to stock up on pies and hit the road, and the best place to do that is at Abel's Apple Acres, situated at the far western edge of the Apple Hill area—convenient if you're going back down the hill to Sacramento. Abel's, now a fourth-generation farm, bakes a full range of flaky-crusted pies daily, and takes orders ahead through their website. Our recommendations? Try the old-fashioned apple, the pumpkin apple (with tart apple slices embedded in sweetly spiced, earthy pumpkin, it's surprising, and just right for your Thanksgiving table), or the buttermilk apple, which is the bakeshop's specialty and was created by owner Evelyn Abel. If the family is hungry, Abel's also offers a fine slate of barbecue sandwiches and burgers. Plus, snag some adorable crafts like locally sewn aprons and other gift items to take home. 2345 Carson Rd. Placerville. 530-626-0138. abelsappleacres.com
✦ ✦ ✦
The Pie-oneers
How a band of resourceful farmers bounced back from misfortune to make Gold Country the mother lode for apple lovers throughout NorCal
The '49ers are long gone from El Dorado County—which was named, during the region's mining heyday, after a fabled place in South America abundant in gold—but now every fall its hills centered around Camino welcome an eager apple rush of visitors armed not with picks and mining pans but with ice chests, plastic forks and cameras. So just how did the bucolic, rolling countryside around the American River, once home to the Gold Rush, become better known for fruit pies than fortune hunting?
The story begins with intrepid pioneer farmers willing to make rough journeys and survive tough winters. It's hard to imagine how rugged the area once was, when today it's an easy hour-long drive from Sacramento. But in the 1860s, when the Larsen family traveled from Norway to reach then-remote Northern California, they endured many hardships, says present-day family member and former Apple Hill Growers Association board president Lynn Larsen. The clan paused in England, where twins were born only to die on the Atlantic crossing, and made their way from New Orleans upriver to St. Louis, then crossed overland by wagon, losing another baby en route.
The start of farming, however, didn't mean the start of apples. The Larsens, the region's first homesteaders, initially grew what they knew: potatoes. And the first orchard crops were pears, which increased in acreage as more families settled throughout the late 19th century. More hardship came when pear orchards were wiped out by a massive blight in the late '50s and early '60s. Area farmers, desperate and unsure what to do next, traveled to a Southern California area called Apple Country and returned with a spark in their eyes.
"The pear decline really engineered the idea for Apple Hill," says Lynn Larsen, who adds that the El Dorado farmers were inspired by Apple Country's success as a tourist destination. "They came back with the idea, 'Let's make a group, and we can get people to come up [our] way,' and they put in more and more apples." (Apple trees were not susceptible to the disease affecting pears.)
Many growers already had a few apple trees, so they knew the crop did well. Indeed, the Camino soil and climate proved ideal for apples. The 3,000-foot elevation provides ample winter chill time (which the trees need to set fruit), eons-ago lava flows have enriched the soil, and the warm summer days balanced with cool evening breezes develop both sugars and acidity, making for maximally flavorful fruit.
Enterprising farm families took the concept a step further when they started baking, making desserts like pies and turnovers to entice visitors. The idea was so successful that the bakeries could barely keep up with demand—area lore has it that overworked ovens even blew up. In 1964, the farmers officially banded together and formed the Apple Hill Growers Association. Originally comprising 16 farms, today the group boasts almost 50 members—not just orchards, but wineries, breweries, berry farms and more. Many original families remain, with third and fourth generations involved in complicated, overlapping family trees. (Numerous other bakeshops and orchards that are not part of the official association dot the area.)
Apple Hill now attracts 1.2 million visitors a year, most during the bustling fall season—a striking record of success for farmers who originally just wanted to pull in a few hungry travelers with some apple pies. Now, those pies (and doughnuts and cakes and cider) bring families back year after year, building cherished traditions. Those El Dorado forefarmers might not have been prospecting for gold, but they definitely struck a rich vein.
✦ ✦ ✦
Prep Talk
While you can't really have a bad Apple Hill outing, a little planning can help you sail over the rookie pitfalls. Here are our top strategies for making sure your visit proves fruitful.
Bring storage for goodies. Shallow cardboard boxes (like the kind used by grocery stores for canned goods or by online retailers) are great for keeping pies and other delicate baked goods from sliding around in the trunk and making a mess. An ice chest is indispensable if you want to grab frozen pies or fresh-pressed cider. Reusable shopping bags come in handy for apples and other produce.
Tap the app. Yep, there's a handy (and free) map-based app that lists everything from current weather to traffic conditions to the farms' hours. (The app offered by the Apple Hill Growers Association is tagged with the word "official," and its icon sports the red-and-white sign of the group's logo.) The association's website (applehill.com) also offers a wealth of information, including a farm finder that sorts by opening dates or desired features, from kids' activities to the types of produce for sale.
Beat the traffic. Many visitors from the Sacramento area head straight to the big farms at the western end of the region, eagerly jumping off at the first exit, Schnell School Road, to enter Apple Hill. On busy October days, this route is often clogged and slow. Bypass traffic jams by being patient and starting at one of the easternmost exits (such as Barkley Road or Carson Road; although Carson Road traverses the whole region and houses many big players at its western end, its intersection with Highway 50 is farther east), working your way back toward the west. You'll avoid the crowds with your "reverse commute" and be that much closer to home when you're ready to call it a day.
Stay hydrated. The foothills can still be warm in October, and although most bakeshops sell bottled water, relying on that can get pricey. We suggest bringing a reusable water bottle (many farms have drinking fountains for refilling), or, better yet, start with a cooler full of iced H2O bottles, which you can swap out for homebound treats as the day progresses.
Layer up and wear comfy shoes. A chilly morning often gives way to a blazing afternoon, so dress for changes in weather as well as lots of walking. Also, toss a blanket in the car, both for picnicking on and for swaddling sleepy folk as the air crisps up toward the end of the day.
Pack for a snack attack. Bring paper plates, a knife and other utensils so you can buy whole pies or cakes and enjoy them spontaneously when you stumble on that perfect picnic ground. A roll of paper towels and wet wipes are always good ideas, too.
Leave pets at home. As much as Fido may love it down on the farm—and even though most of the orchards on Apple Hill are canine-friendly—you'll be limited in what you can see and do if you bring your four-legged best friend along. Association rules prohibit tying him up while you duck into a bakeshop or eatery (dogs must stay with their owners at all times), and since cars can heat up quickly even in the fall, letting him sit this one out is the better option.
Skip the stroller. Parking lots are frequently unpaved, terrain can be bumpy, and shops can be crowded, so if you're bringing little ones, consider using a backpack or other carriers, as strollers may be more hassle than they're worth. For walks or U-pick excursions, a collapsible wagon is a great choice for transporting your brood—and it can do double duty as a fruit-hauler.
Be patient. With more than a million visitors every year, the Camino apple farms are a hot ticket, so you may have to wait for parking spots or pies. Take a deep breath—remember it's all part of the experience—or consider postponing your visit until after October, when the crowds thin. All the farms are still open in November, an equally lovely and less thronged time to visit the foothills.
✦ ✦ ✦
Apples to Apples
Which apple is best for pies? For applesauce? For snacking? Our guide to the distinctive charms of eight popular varieties grown in Apple Hill answers those questions and more.
Illustrations by Emilee Rudd


Call it the Miss Congeniality of the local apple pageant. This beloved sweet apple is excellent for a range of uses, from making pies (the slices hold their shape and, true to its name, the fruit offers delicious flavor) to applesauce and eating. It also keeps well, and has long been one of the most popular apple varieties in the U.S.

Deeply colored, almost purple, this late-harvested, winey apple not only makes for a dramatic fruit-bowl centerpiece, but is also one to seek out if you're visiting Apple Hill after mid-October. Its very firm flesh makes it a good keeper (its slightly astringent notes mellow with aging) and its tardy appearance makes it an excellent choice for holiday pies.

With a tang that's reminiscent of summer lemonade, the Pink Lady (an Australian apple also known as Cripps Pink) is the ideal snack. Its flavor develops best in warmer climates, and it ripens later in fall, making it a standout in the Apple Hill area and a great variety to look for if you're heading up in late October or November.

This traditional green-and-red variety—a favorite for pies, especially when mixed with Granny Smiths to balance the latter's sour pop—has a mildly tart, spice-scented flavor. Although the McIntosh, which was discovered as a chance seedling in 1811, is harvested in late August or early September, it keeps well with refrigeration, so many farms will have it on hand later in the season.
The pleasingly sour, bright-green apple (think mouth-puckering Jolly Rancher flavor) originated from the farm of Maria Ann Smith in Australia in 1868. It's great for baking, with slices that hold their shape in a pie—but we think it feels most at home on a cheese plate next to a glass of old vine zin from Lava Cap Winery.
The versatile, popular Fuji—originally bred in Japan as a cross between the ubiquitous Red Delicious and the obscure Ralls Janet (said to have been grown by Thomas Jefferson)—does well in the Apple Hill area. It's sweet, with fresh-cider taste and a snappy mouthfeel. We prefer it for eating out of hand or accompanying a firm, savory cheese like aged Gouda.
Gold with red stripes, the beautiful, mild Gala is a cross between Golden Delicious and an old New Zealand variety. It's best eaten raw, the perfect choice for fruit salads, but it also works well in applesauce, breaking easily down to a nubbly texture and releasing its quintessential, well-rounded apple flavor as it bubbles away gently.
This bright red, glossy orb is a handsome devil indeed, but supermarket Romes can be bland. The cool nights and hot days of the Apple Hill region, however, lead to an excellent tangy-sweet taste that makes this varietal, which holds its shape well, perfect for baked apples. For extra flavor, hollow out the cores and fill them with brown sugar, raisins and a little butter before baking.
✦ ✦ ✦
Just Desserts
Treat yourself to these five standout sweets in Apple Hill.
Rainbow Orchards' Cider Doughnuts
Rainbow Orchards' owner, "Doughnut Queen" Christa Campbell, says there's "no telling" how many doughnuts her fryer turns out to order on a typically busy day. Though the original recipe is a closely guarded secret, it's the use of freshly milled cider in the tender-crumbed, cake-style beauties that lends them their delicate, aromatic apple flavor, complemented by a lavish cinnamon-sugar coating. Back in the days when each Apple Hill bakeshop had its own unique specialty, Rainbow's originally made nothing but these doughnuts, and although they've branched out into offering other baked goods like apple crisps and blueberry pie, this signature item is what brings back loyal crowds (us included) year after year, for treats that are worth the trip to Apple Hill even if you get nothing else. 2569 Larsen Dr. Camino. 530-644-1594. rainboworchards.net
Delfino Farms' Walkin' Pie
Joan Delfino—the late matriarch of this family farm—initially created the Walkin' Pie in her home kitchen, in response to the mess her seven kids created eating wedge-shaped apple pie slices. Handheld mini pies meant the kids could take their dessert outside—which is exactly where we now like to indulge in her creation on a crisp fall afternoon. A softball-sized sphere of apples encased in pie crust and baked free-form, Delfino's popular treat has the classic cinnamon-laced taste of a bigger pie, but you can enjoy it all by yourself. Try it with vanilla ice cream or the farm's gooey caramel cider sauce; adding either (or both) un-solves the sticky problem that originally bothered Nanny Delfino, but the resulting flavor bomb is worth it. 3205 N. Canyon Rd. Camino. 530-622-0184. delfinofarms.com
Abel's Apple Acres' Caramel Apple
The thick house-made caramel at Abel's Apple Acres is the best we've tried from the Apple Hill area: good enough on its own to eat with a spoon (pro tip: the shop sells it in tubs for your late-night snacking pleasure, and it also stocks sea salt for sprinkling on the caramel), but even better thickly coating a crisp, sweet-tart fruit. We love the textural contrast of creamy, velvety sauce with a snappy fall-fresh apple. Abel's offers several other candy treats, like caramallows (fluffy marshmallows rolled in that same caramel) and fudge-dipped apples, but in our book you can't beat the classic combination of caramel and the area's apples, especially with a topping of earthy chopped walnuts. 2345 Carson Rd. Placerville. 530-626-0138. abelsappleacres.com
Fudge Factory Farm's House-Made Fudge
Although some candymakers are content to use purchased fudge bases or to settle for a good-enough recipe every year, Fudge Factory owner Jean Reinders, who has been making fudge for more than 30 years, tinkers constantly with her precise recipes (fudge must be cooked and cooled to specific temperatures to achieve its signature consistency) and invents new formulas for her 75 (and counting) flavors, many of which use farm-grown fruit, like the sweet raspberry swirl fudge. She also uses top-quality ingredients: Guittard chocolate, cane sugar (known for being more reliable in candymaking), and extra strong vanilla, and the quality shows in the amazing rich flavor and silken texture of this unparalleled fudge. 2860 High Hill Rd. Placerville. 530-644-3492. fudgefactoryfarm.com
✦ ✦ ✦
Beyond Apples
Suffering from apple overload? Don't get apple-plectic. Despite its name, the Apple Hill area has more going on than just the titular fruit. Whether you want to stockpile pumpkins for Halloween or pick out the perfect tree for Christmas or stain your fingers handpicking berries, here's the anything-but-apples guide to the region.
SMASHING PUMPKINS
O'Halloran's Apple Trail Ranch
Patrick and Donna O'Halloran's quiet ranch, tucked away at the far northeastern end of the Camino area, offers 30 acres to roam, with a popular cut-your-own-orb, 3-acre pumpkin patch that includes both jack-o'-lantern and pie pumpkins, as well as multicolored ears of jewel-like corn, knobby gourds, and dinner-plate-sized sunflowers for all your seasonal decorating needs. (Don't worry, fall-fruit lovers: they've got you covered there too, with more than a dozen apple varieties, from Mutsu to Winesap, plus pears including Bartlett and Bosc.) Golden light slants through the gnarled branches overhead as you wander through the orchards on the ranch's gently rolling hiking trail, so O'Halloran's is also the perfect place to get that romantic autumn 'gram of you and your boo surrounded by drifting leaves. 2261 Cable Rd. Camino. 530-644-3389. ohalloranranch.com
24Carrot Farm
This 13-acre gem of a farm is hiding in plain sight on the less-traveled Jacquier Road, where East Bay transplant Ben Hansen, a restaurant vet, relocated to grow organic produce. There's a big farm stand featuring burgeoning bins of photogenic veggies, as well as a cornucopia of decorative gourds and pots of local honey. But come October, the sprawling pumpkin patch is where it's at, with a dizzying choice of pick-in-the-field pumpkins, each one more flawless than the next. Pack a picnic to eat by the quiet pond and fill your basket with the flaming sunset hues of fall produce. 2731 Jacquier Rd. Placerville. 530-391-8582. 24carrotfarms.com
O CHRISTMAS TREES
Harris Family Farm
This seventh-generation farm lies at the far eastern edge of the Apple Hill area in Pollock Pines, at a higher—and thus wintrier—elevation. You'll appreciate the hot apple cider after you've hit the slopes to choose and cut down one of its multiple varieties of conifers, including the cult fave silvertip firs, which have fragrant, gray-green needles on slender, mod branches that show off ornaments to perfection. After you've buried your nose in an armful of cedar garlands and boughs, we dare you to leave without some. 2640 Blair Rd. Pollock Pines. 530-644-2194. harrisfamilyfarm.com
Santa's Acres
Looking for the rustic experience of heading into wilderness to choose your own tree, but not quite up for an unmapped forest adventure? This chemical-free farm, with 10 ungroomed, rambling acres of choose-and-cut Douglas firs, white firs, silvertips and other conifers, feels wild, but you won't get lost, making it the ideal compromise for city folk. Owner Matt Sorensen grew up on the farm, which was founded by his grandmother and forester grandfather, and in addition to Christmastime evergreens, Santa's Acres feature deciduous liquidambars, planted by the elder Sorensen, that create a glorious, Insta-perfect late-autumn display. Bunches of holly come free with your tree, and fire pits, cider and hot cocoa round out your jolly experience. 2921 Barkley Rd. Camino. 530-391-5865
Hillside Tree Farm
In 1964, the storied Apple Hill Smorgy, a dessert potluck that was the founding event of the Apple Hill Growers Association, was held at what was then El Dorado Orchards—now Hillside Tree Farm. The 20-gauge train that circles the farm's two glassy ponds was used to collect the fruit harvest back in the day, and you get a free ride when you buy a tree, like a long-needled Swift Silver, which glows with a distinctive shimmery bluish hue in the dark. Owner Mark Visman, who opened Hillside in 1991, was the first in the area to plant this rare variety. 2881 North Canyon Rd. Camino. 530-621-2053. hillsidetreefarm.com
✦ ✦ ✦
Open Seasons
While many apple ranches close by Thanksgiving, some remain open into December, and by heading up the hill then, you can pick up holiday gifts and might even find a dusting of seasonal snow. For instance, High Hill Ranch (highhillranch.com) hosts a daily craft fair—with everything from handcrafted birdhouses to decorative candles through Christmas Eve. In late spring and throughout the summer, several farms offer U-pick blueberries and other berries, including Harris Family Farm, which also holds summer "high tea" events in its orchard. 24Carrot Farm boasts a summer produce farm stand, U-pick flowers, and gatherings like a sunset movie night at the ranch. For those pining for U-pick apples, consider an early September visit for the best harvest-your-own opportunities.
✦ ✦ ✦
Liquid Assets
From old vine zinfandel to exotic Portuguese alvarelhão, El Dorado County wines are increasingly worth toasting.
The rolling elevation changes, rich volcanic soil, warm days and cool nights that make the Camino region ideal for apples are similarly suitable for grapes. El Dorado County is an American Viticultural Area (AVA) with a long heritage and an unusually diverse array of vintages, from sprightly whites to big, bombastic reds that make you sit up and say hello.
"We have probably the most dynamic terroir in the world for growing grapes," says Lexi Boeger, vice president of the El Dorado Winery Association and marketing director for Boeger Winery, one of the area's biggest brands. ("Terroir" is a wine term that includes the total environment influencing the grapes, including soil, climate, elevation and sun exposure.)
While the El Dorado region has a history of winemaking dating back to Gold Rush days, commercial wine production died with Prohibition, not to be revived until 1972, the year Greg Boeger (Lexi's dad) founded his winery, boldly staking his claim with a barbera—then relatively unknown in the United States, but a favorite in Italy.
El Dorado features more than 20 distinct soil types, and its frequent elevation changes, ranging from 1,200 to 3,500 feet above sea level, create pockets of different temperatures, or microclimates. Its sloping foothills offer varied sun exposure, which enables wineries to grow several different varietals within a single small vineyard.
"You can literally find the right niche for the right variety," says Boeger, "and because of that, we have over 70 varieties in this county. And this county is tiny. There is no other wine region in the world that even comes close to that many distinct varieties in one AVA." By contrast, Napa Valley boasts around half that number.
In the warmer lower elevations near Placerville, growers focus on such varietals as Northern Italy's robust barbera and California favorite zinfandel, which was first planted in the area over 150 years ago. El Dorado winemakers today make all the usual suspects, like cabernet sauvignon, syrah, merlot and sauvignon blanc. But they have also found a niche growing lesser-known varietals like spicy, elegant tinta cão, a cool-climate Portuguese grape used in port and red blends, and alvarelhão, a rare northern Portuguese red—Madroña Vineyards, which makes estate ports, uses both in its dessert wines, and Rucksack Cellars uses them in their signature Portuguese dry blend. French white muscat (called muscat canelli by area winemakers) is used for lightly sweet and dessert wines by Lava Cap, Boeger, and others. Other less-common French varietals, such as petit verdot, cabernet franc and viognier, also thrive here.
"We have been a small, underdog, unknown region for a long time," says Boeger. "This region is making its mark. It's exciting."
✦ ✦ ✦
FIVE VINTNERS TO VISIT
The Camino area boasts dozens of wineries, from big to boutique. Here are five of our favorites, where it was love at first sip.
Rucksack Cellars
Roll up to the casual open-air tasting counter, which opened last year, and the first thing you see is a wooden bunny on wheels, salvaged from a local theater company's Monty Python production. Rucksack's chardonnay lets the grape's tropical notes shine, and the seco, a red blend of Portuguese varietals, offers deep, structured berry notes. 3030 Carson Rd. Placerville. 530-647-2113. rucksackcellars.com
Bumgarner Winery
Housed in a century-old barn, this winery specializes in refined and distinctive reds. We love the cherry-scented, high-elevation pinot noir and the smooth tempranillo. Don't miss the unusual selection of hard ciders, including a citrusy dry-hopped version and a punchy gingered one. 3550 Carson Rd. Camino. 530-303-3418. bumgarnerwinery.com
Madroña Vineyards
Woodsy and welcoming, the tasting room pours about 10 of the 27 estate vintages the winery makes. Rhone and Bordeaux varieties stand out here, especially the cabernet franc, but don't miss the inexpensive El Tinto, which makes a great table wine. Madroña is also known for its Portuguese blended port. 2560 High Hill Rd. Camino. 530-644-5948. madronavineyards.com
Boeger Winery
The oldest of the El Dorado wineries is not to be overlooked, with a tasting room located in a rustic 1872 farmhouse serving juicy zins and surrounded by idyllic picnic grounds. When owner Greg Boeger was clearing hillside blackberries, he found old vines of Gold Rush–era zinfandel, which proved to have an entirely unique DNA signature; they form the basis for the winery's small-batch Rosa Canina zin. 1709 Carson Rd. Placerville. 530-622-8094. boegerwinery.com
Lava Cap Winery
The wines are spectacular—in particular, the peppery syrah or the powerful old vine zin. You can't beat the gorgeous view from the scenic patio or the snack selection (think gourmet crackers, salami and other savory treats for nibbling) either. Adding a quirk factor are the informative signs touting geological trivia about the location's namesake "lava cap," a remnant of its distant volcanic past. 2221 Fruitridge Rd. Placerville. 530-621-0175. lavacap.com
✦ ✦ ✦
The Fizz Biz
Local orchardists and vintners have caught the craft drink craze and are starting to dabble more in fermented hard ciders. Fizzy and ranging from dry to lightly sweet, with crisp fruit notes and a light-bodied mouthfeel, ciders can appeal to partisans of both beer and wine. Thirsty travelers will also find apple wines and even apple beers. Ready to get tasting? Some favorite spots: High Hill Ranch (highhillranch.net) offers tastings of hard cider and apple wine, plus indulgent caramel apple cider shakes inside its Wine Shack. Delfino Farms is soon to launch a winery, but meanwhile they currently produce a dry sparkling cider. Jack Russell Brewery makes four flavors of cider (apple, peach, blackberry and raspberry), as well as an apple ale. Fans of mead, the honey wine, will also find their thrill here. Bumgarner Winery has three types of cider on tap: traditional hard apple cider, with a straw-pale color and tart flavor; dry-hopped cider that takes on beer-like notes; and the popular, zingy ginger.
✦ ✦ ✦
Forever Young
The Apple Hill region can seem like one big playground, but a few spots hold extra magic for the area's littlest visitors. Here are our favorite activities for the weenager set.
Travel Back in Time
Got children who are fascinated with pioneers or American Girl dolls? Head to Larsen Apple Barn, where they'll go wide-eyed for a peek into the distant past at the Apple Hill Museum. The Larsen family has been farming in Camino since the 1860s, and the building is crammed with artifacts, including old saddles and snowshoes and a replica of their onetime log cabin, replete with antique china plates. The property also boasts vintage tractors and automobiles, and a big high-wheeled buggy. Stop for a family photo at the picturesque mill wheel on your way out. 2461 Larsen Dr. Camino. 530-644-1415. larsenapplebarn.com
Go Fish
Surrounded by tall pines and with a view of the distant blue ridges of the Sierra, High Hill Ranch's fishing pond is pretty enough to make you forget the crowds that flock to this popular spot—and teeming with trout, catfish and sturgeon. Prices are modest, with a permit, pole rental and bait costing just $9 (although if your spawn reels in a whopper, the fish costs $11 per pound). Our best tip to anglers young and old is free: hold the fish out in front of you at arm's length so it looks its biggest for the camera. 2901 High Hill Rd. Placerville. 530-644-1973. highhillranch.com
Hunt for Treasure
Real gemstones, fossils and arrowheads are all waiting to be discovered at Apple Ridge Farms, where kids can mine bags of gemstone ore ($5-$20 each) for precious objects using real sluice boxes with running water. Owner Kandi Tuso, a mom herself, wanted to add an activity to her spacious farm that would engage kids' imaginations, and she says she found it: her pint-sized patrons adore sifting for valuables and walking away with something tangible to keep. The farm also offers a hay bale maze, crafts the grown-ups can browse, and a winding nature trail. 1800 Larsen Dr. Camino. 530-647-0613. appleridgefarms.com
Become Maze Runners
Kids Inc. may have changed its name to Delfino Farms, but it's retained its original child-friendly attractions. The ranch offers not one but two corn mazes. The smaller one sits at the base of a wide grassy hill kids love to roll down, and it's ideal for the younger set. A few yards up the road from the main farm is the more challenging and much bigger maze—nearly an acre in size and full of blind alleys, twists, turns and tricks, it will baffle and intrigue older kids (and, let's be real, parents too). At just $2-$5 per person, prepare to be happily mazed. 3205 N. Canyon Rd. Camino. 530-622-0184. delfinofarms.com
✦ ✦ ✦
Top Tart
What to do with those bushels of Golden Delicious you bought? Make a tart with this easy recipe, which brings the fall flavors of Apple Hill to your table.
Dutch Apple Tart
This simple apple dessert combines the taste of a traditional, streusel-topped Dutch apple pie with the look of a sleek, modern tart. The vintage Dutch apple pie recipe in the Apple Hill Growers' cookbook, Favorite Recipes of Our Apple Hill Farms, uses bitters to add a haunting, subtle note to the custard that moistens the apples. We borrowed that flavor, and the original recipe's easy press-in crust, for this autumnal treat.
(Serves 8)
Tart
1 ⅓ cups flour
⅓ cup brown sugar
½ tsp salt
¼ cup oatmeal
½ cup butter, melted
3 Golden Delicious apples, peeled and thinly sliced
1 tbsp granulated sugar
Glaze
¼ cup apple jelly
2-3 dashes Angostura bitters
To make the tart, preheat the oven to 400ºF. In a food processor, pulse to combine the flour, brown sugar, salt and oatmeal. Pour in the melted butter in a thin stream, pulsing the motor until the mixture starts to come together. Transfer the mixture to a 9-inch tart pan and press evenly into the bottom and up the sides to form the crust.
Arrange the sliced apples in a spiral in the tart shell. (They will shrink during cooking, so pack them in tightly.) Sprinkle with granulated sugar. Place the tart in the
oven and bake until the crust is browned and the apple edges are beginning to brown, around 30 minutes.
While the tart is baking, make the glaze. Melt the apple jelly in a small saucepan over low heat or in the microwave. Stir in the bitters. Keep the liquid warm over very low heat, stirring occasionally.
Remove the tart from the oven and brush the apple slices carefully with the warm bitters glaze. Return the tart to the oven and continue to bake until the apple edges are caramelized and golden brown, 8-10 minutes longer. Take it out of the oven and place it on a wire rack to cool. Let it cool completely, slice into wedges, and serve.