The Ultimate Guide to Apple Hill
For many Sacramentans, A is for Apple Hill, especially in the fall. Want to know where to go for the best homemade pies or the freshest cider doughnuts? We've got your apples-to-apples guide to the beloved region. Scroll down—your fruit-full adventure awaits.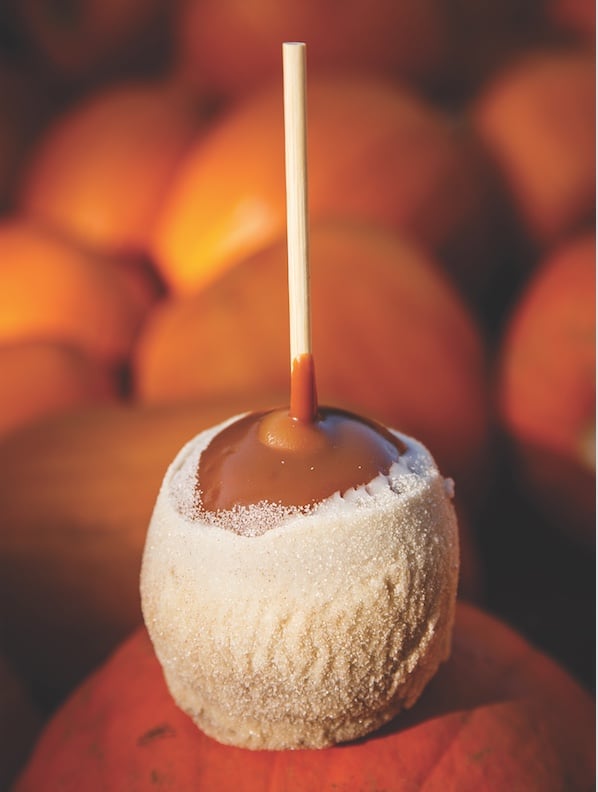 Editors' note: All information was accurate at the time of publication. Please visit the growers' websites for updates.
A Perfect Day
If you only have one crisp fall day to spend in the rolling hills and orchards surrounding Camino, we've got you covered. With about 50 spots on the official Apple Hill Growers map (and dozens of farms and bakeries that aren't members of the association), the array of choices is downright dizzying, but our carefully curated itinerary will have you eating, drinking and frolicking your way through the region's headiest autumnal hot spots a jump ahead of the crowds.
9 a.m.
Rainbow Orchards
The early bird gets to worm out of having to wait for warm, fried-to-order cinnamon-sugar-dusted cider doughnuts (by late morning, the line for these locally famous goodies can wrap all the way around the orchard's barn). Even if you're bleary-eyed, you can't miss the bright, happy-looking rainbow on the building's façade, which lends a hippie vibe to this pleasingly rustic stop—fitting, as current owners the Campbell family acquired the farm (and its secret doughnut recipe) 40 years ago, in 1977. Snag a picnic table and wake up with coffee or a cup of fresh-pressed cider (Rainbow offers one of the few pressed-in-house ciders on Apple Hill) while feasting on the superlative cider doughnuts, our favorite sweet treat in all the region. Just don't fill up—we're only getting started. 2569 Larsen Dr. Camino. 530-644-1594. rainboworchards.net
10 a.m.
Denver Dan's Apple Patch
Just around the corner from Rainbow Orchards lies quaint Denver Dan's, established in 1961, where an antique apple peeler-corer has proved so riveting an attraction that its store can barely keep the home version of the contraption in stock. A picture window affords a view into the bakery turning out fresh pies, but for a hands-on experience, call ahead to reserve a slot for the baking class, offered weekday mornings at 10. On weekends, explore the orchard's dozens of varieties or snap a farm animal selfie at the petting zoo. Before you leave, be sure to pick up some giftable stacks of jams in flavors like peach jalapeño and boysenberry apple, a handsome handmade dried apple wreath, or a few hearty, savory chicken pasties (Cornish meat pies), the perfect tote-along picnic food. 4354 Bumble Bee Ln. Camino. 530-644-6881
12 p.m.
Jack Russell Farm Brewery
Trust us, noon's not too soon for a cold one—and once you enter the newly renovated taproom at Jack Russell, you'll be parched for a pint. Celebrating its 20th anniversary, the brewery—which last year opened a restaurant in Placerville—offers more than a dozen taps (for peak local-seasonal flavor, try the pumpkin spice and apple-spiked ales). That's more than enough to keep dedicated hopheads busy tasting, but you'll want solid food, too. Whether you brought lunch from home, snagged those pasties at Denver Dan's, or succumbed to the wafting scent of honey BBQ wings and other rib-sticking fare at Jack Russell, the hot ticket is to set up in the brewery's wide-fenced field with picnic tables, an idyllic spot for sprawling out and sharing an alfresco meal with friends—with protein to balance the sweets you've snacked on all morning. 2380 Larsen Dr. Camino. 530-647-9420. jackrussellbrewery.com
2 p.m.
Delfino Farms
Need a leisurely siesta after lunch? Head straight to Delfino Farms to recharge. The key draw? A grassy slope overlooking an expansive sweep of orchards decked in photo-ready fall colors, perfect for plopping down on or rolling down, plus corn mazes to walk through, chickens to feed, and lots of room to roam. This gorgeous parcel used to be called Kids Inc.; the name change marks the passage of the farm to the third generation of the Delfino family, who has owned it since 1964. A fully stocked bakeshop—now sweetly named Joan's, after Grandma Delfino—offers a bevy of apple-themed treats to snack on (like apple crisps and French apple pies), but be sure to also try the family's refreshing barrel-aged Henrietta Stich hard cider, made from their own fruit. Kick back with a tall one or the signature Walkin' Pie with cinnamon-scented cider sauce; there's no better place to while away a fall afternoon. 3205 North Canyon Rd. Camino. 530-622-0184. delfinofarms.com
3:30 p.m.
Lava Cap Winery
Ready to hit the pause button on sweets? Relax on a shady patio with a glass of old vine zinfandel or lush viognier at this winery started by a geologist. Lava Cap's late founder David Jones had a distinguished career at the U.S. Geological Survey and UC Berkeley (check out the National Academy of Sciences medal recognizing his contributions to the theory of tectonics), scoured the globe for the ideal site for wine—and found it here, where rolling foothills are covered with volcanic soil that the '49ers called a "lava cap," believing it signaled the presence of gold. Jones' hunch was right: Lava Cap, which opened its doors in 1986, has produced highly lauded wines (its 2015 Sauvignon Blanc took gold at the Sunset International Wine Competition last year). And the winery's rich volcanic setting is as scenic as it is fertile, lending itself to an unforgettable experience. 2221 Fruitridge Rd. Placerville. 530-621-0175. lavacap.com
4:30 p.m.
Abel's Apple Acres
Evening is approaching. It's time to stock up on pies and hit the road, and the best place to do that is at Abel's Apple Acres, situated at the far western edge of the Apple Hill area—convenient if you're going back down the hill to Sacramento. Abel's, now a fourth-generation farm, bakes a full range of flaky-crusted pies daily, and takes orders ahead through their website. Our recommendations? Try the old-fashioned apple, the pumpkin apple (with tart apple slices embedded in sweetly spiced, earthy pumpkin, it's surprising, and just right for your Thanksgiving table), or the buttermilk apple, which is the bakeshop's specialty and was created by owner Evelyn Abel. If the family is hungry, Abel's also offers a fine slate of barbecue sandwiches and burgers. Plus, snag some adorable crafts like locally sewn aprons and other gift items to take home. 2345 Carson Rd. Placerville. 530-626-0138. abelsappleacres.com