City Pickers
As we become more and more distanced from the source of our food, a new crop of urban ranches like Sacramento's Soil Born Farms are bringing us back to our roots.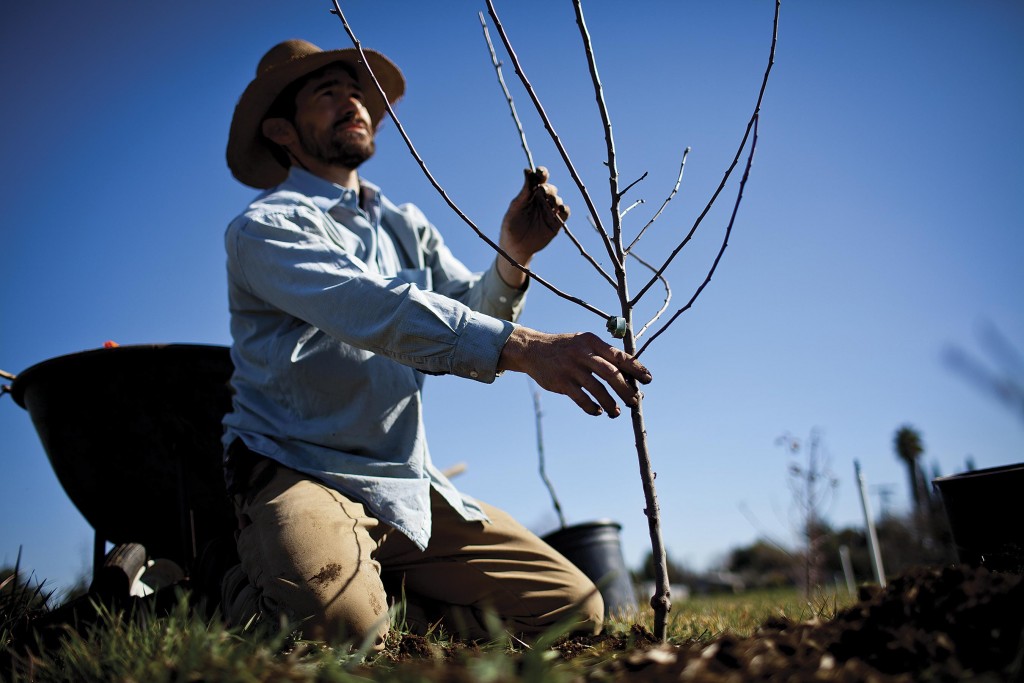 T There's a cow grazing in the middle of Rancho Cordova.
It's highly unlikely that the rush hour commuters whizzing by on Highway 50 or the shoppers pouring into a nearby Target have spotted the brown bovine. In fact, the odds are fairly good that remarkably few of the citizens in this city of 66,000 even realize there's a farm animal—several, in fact—roaming in the middle of a field in their town. But there they are, and they're going nowhere fast.
The cow, named Phoebe, is a full-time resident of Soil Born Farms, the Sacramento region's largest urban farm—55 peaceful acres of historic ranchland along the American River hidden smack dab in the middle of suburbia (Soil Born also manages a small plot of land in Arden-Arcade). And the story of how Phoebe the cow got here is the story of how cities across the country are beginning to reclaim their agricultural heritage one tiny acre at a time.
With boundaries of cities quickly replacing farmland, more urban farms are cropping up as people realize the importance of reconnecting to the land and to their food. "It's really about looking at the whole food system," says Soil Born co-founder Shawn Harrison. "Food right now is grown in the rural environment. We live in city environments. I think this idea of edible cities, edible landscapes and landscapes that teach and feed offers a rich opportunity."
Harrison started the farm in 2000 with friend Marco Franciosa when they discovered 1.5 acres of undeveloped land wedged in a residential neighborhood on Hurley Way between Fulton and Watt avenues—two major urban thoroughfares lined with car dealerships and strip malls. They put a note in the mailbox asking the owner if they could farm it, and got the green light.
They started by planting garlic and talking to local chefs—Randall Selland of The Kitchen, right down the street from that original farm, was an early supporter, as was The Waterboy's Rick Mahan—about what they'd like to see grown. "Ultimately we wanted to change the landscape of our community," says Harrison, "But we had pretty modest aims at first—starting a community farm. We had no idea whether the community would be interested. What surprised me was how quickly it resonated with folks and how quickly people were willing to roll up their sleeves and help."
Harrison and Franciosa were joined by a third partner, Janet Whalen Zeller, in 2002, and the little farm's mission quickly began to expand, eventually becoming a registered nonprofit in 2004. And since then, its projects have grown like a tomato plant from a tiny seed.
Soil Born's four main activities comprise organic food production (its food stand opened in May this year and will remain open on Saturdays until November); improving food access for disadvantaged communities via projects such as Harvest Sacramento (a program that donates backyard fruit to the Sacramento Food Bank); community education, including immersive classes (see box at right); and reconnecting locals to the land through farm events, such as Soil Born's annual Equinox Celebration in September and the yearly "Day on the Farm" event in May.
But locals don't need to wait for a party to visit. "We always had the vision that everyone in the community would feel like, 'This is our farm,' " says Zeller. To that end, the Rancho Cordova farm is open to the public with a self-guided walking tour and easy access from the adjacent American River Parkway.
The welcome wagon includes Phoebe the cow, named in honor of a fifth-grade class from Sacramento's Phoebe Hearst Elementary, which visited the farm a few years ago and raised $1,500 to buy Soil Born a cow. The farm is also home to chickens and a special grazing variety of hogs. The land the small herd inhabits is now under the umbrella of the American River Parkway and will be protected as farmland in perpetuity; Soil Born has a long-term lease.
In the end, all of Soil Born's many programs support that single, bigger dream: bringing farming—and healthy food—to Sacramento's urban core. "When we start to knit [these projects] together," says Harrison, it all pays off. "A kid gets exposed to the school garden, and then is walking home and there is great [food] in the corner store. There are a bunch of front-yard and backyard gardens he's walking by. Then at home, there is a meal that [the family is] getting easy access to that's fresh."
Over time, "you can see where it would begin to change people's direction, awareness and behaviors. That, ultimately, is what I want to see. It's a huge vision," he acknowledges, "but I have big vision."
Digging in the Dirt
Soil Born Farms' popular Grow Your Groceries courses have two tracks: one for eager backyard vegetable gardeners, and a more intensive training for those who wish to start small urban farms. The full Home Gardener course includes farm visits and hands-on field hours, as well as many of Soil Born's ongoing classes, which cover such topics as "Gardening through the Seasons" (offered on Oct. 30) and "Soil Fertility Building" (offered on Nov. 9). Class dates and prices vary ($330 for the full Home Gardener course). soilborn.org