Classic films like 'The Sound of Music,' 'The Blues Brothers' and 'Tootsie' will shine on the big screen this spring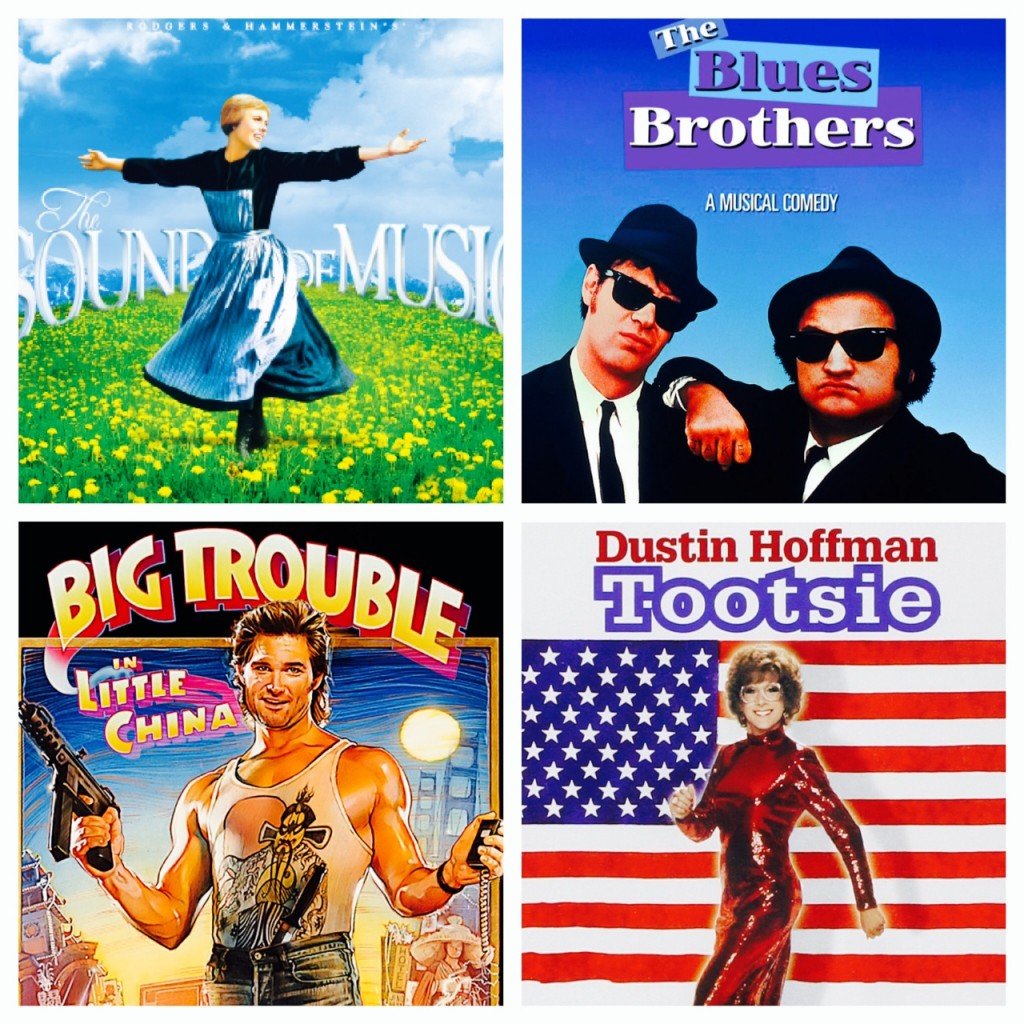 As you spring forward this season, your local multiplex will be looking back: Six vintage film favorites—including The Sound of Music, which is celebrating its 50th anniversary, and '80s blockbusters like Tootsie and The Blues Brothers—will be resurrected on the silver screen as part of the newest lineup for the Cinemark Classic Series, which will run through May. Here's a preview of the coming attractions.
The Sound of Music (April 22 at 2 & 7 p.m.)
Based on a true story, The Sound of Music stars Julie Andrews as Maria, a spirited young Austrian woman who is hired as a governess to seven children and wins the heart of their widowed father, Georg von Trapp, played by Christopher Plummer. This 1965 film adaptation of a Tony-winning musical won five Academy Awards, including best picture and best music, and overflows with now-classic songs like "Edelweiss," "My Favorite Things," "Climb Every Mountain" and "Do-Re-Mi."
Tootsie (April 26 at 2 p.m. and April 29 at 2 & 7 p.m.)
This 1982 gender-bending comedy—which is ranked No. 2 on American Film Institute's list of the funniest American movies of all time—features Dustin Hoffman as an out-of-work actor named Michael Dorsey who, under the guise of Dorothy Michaels, rockets to stardom after he lands the part of a female hospital administrator on the soap opera Southwest General. The film's all-star cast also includes Bill Murray, Geena Davis, Teri Garr, Charles Durning, Sydney Pollack, Dabney Coleman and Jessica Lange, who earned an Oscar for her performance as Hoffman's love interest.
Big Trouble in Little China (May 3 at 2 p.m. and May 6 at 2 & 7 p.m.)
John Carpenter's Hollywood take on the Shaw Brothers kung-fu movies of the 1970s was a flop when it was released in 1986, but has since achieved cult classic status. This sci-fi adventure stars Kurt Russell as a wisecracking truck driver who gets involved with the underground world of gangs, magic and monsters in San Francisco's Chinatown.
Steel Magnolias (May 10 at 2 p.m. and May 13 at 2 & 7 p.m.)
The 1989 weeper, based on a play of the same name, focuses on a group of women in Louisiana and the bond they form as they experience life events like weddings, births and deaths. The film boasts an ensemble cast that features Sally Field, Dolly Parton, Shirley MacLaine, Daryl Hannah, Olympia Dukakis and Julia Roberts (who won a Golden Globe for her portrayal of a young mom with type 1 diabetes), and was turned into a 2012 television movie starring Queen Latifah, Alfre Woodard, Phylicia Rashād and Jill Scott.
The Blues Brothers (May 17 at 2 p.m. and May 20 at 2 & 7 p.m.)
Dan Aykroyd and John Belushi reprise their Saturday Night Live roles as singing siblings Jake and Elwood Blues in this 1980 spinoff movie. (The Blues Brothers are still going strong as a touring act with Aykroyd and his late comedy partner's brother Jim Belushi.) As the two traipse through Chicago trying to reunite their R&B band, catch performances committed to celluloid from music greats Ray Charles, James Brown, Aretha Franklin, Cab Calloway and John Lee Hooker.
Full Metal Jacket (May 24 at 2 p.m. and May 27 at 2 & 7 p.m.)
This intense war film will close out the spring Cinemark Classic Series. Directed and co-written by Stanley Kubrick, who received an Oscar nomination for the screenplay, the 1987 movie chronicles Joker (played by Matthew Modine), a private in the Marines who becomes a Sergeant and goes to Vietnam as a war correspondent. Full Metal Jacket was the second-to-last movie in the legendary filmmaker's career.
The movies in the Cinemark Classic Series (prices per screening vary; $30 for the six-film package) will be shown at the following local theaters:
Century Stadium 14: 1590 Ethan Way, Sacramento
Century 16 Greenback Lane: 6233 Garfield Ave., Sacramento
Century Laguna 16: 9349 Big Horn Blvd., Elk Grove
Century Roseville 14: 1555 Eureka Rd., Roseville
Blue Oaks Century Theatres: 6692 Lonetree Blvd., Rocklin.
Century Folsom 14 Theatre: 261 Iron Point Rd., Folsom
Related Links
Tower Records doc 'All Things Must Pass' coming to theaters in September
New Sacramento Kings documentary premieres in theaters in May
Go down memory lane this summer with concerts by Huey Lewis, The Beach Boys, Boyz II Men and more