Coloring Outside the Lines
For the plaza outside the new Kings arena, Sacramento pulled out all the stops and spent $8 million to land Jeff Koons' sculpture "Coloring Book" in what was the art world equivalent of a No. 1 draft pick—expensive and potentially game-changing. Here's the behind-the-scenes look at how fate, fortunes and family connections came together to make it possible.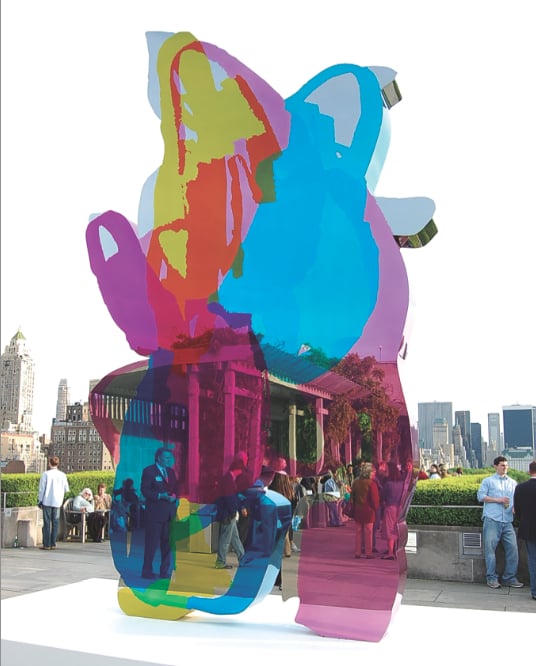 A"A 5-year-old could draw that!"
Someone will inevitably point to the new Jeff Koons sculpture outside Golden 1 Center and utter the most clichéd response to contemporary art in the book. In this particular instance, though, they'll be absolutely right.
The 18-foot-tall sculpture is called Coloring Book, and it loosely depicts a greatly abstracted image of Piglet holding a shovel from A.A. Milne's Winnie the Pooh, as colored by a child, so it's almost a dead certainty that Koons is trying to elicit that response deliberately.
For his part, Koons has claimed that there is no irony in his work. No critical depth. It's meant to be appreciated for what it is, not parsed for what it means.
Coloring Book, from a series of large-scale sculptures and paintings called "Celebration" that includes Koons' famous Balloon Dog, Puppy, Tulips and Play-Doh, is chromium steel polished to a high gloss and "colored" in vivid, translucent tones. Its undulating, chromatic surface shimmers and reflects its surroundings, tricking the eye into thinking it may be transparent, or even liquid, or be in motion. Whether you admire Koons' artistry or think him a charlatan (more on that later), Coloring Book (one of five differently colored variations) is visually entrancing as an object.
In many ways, Koons' celebratory and unironic sculpture is the perfect artwork to grace the new Kings arena, with sports being one of the few avenues of life where adults allow themselves to be shamelessly emotional and childlike. To express unbridled enthusiasm. To be ridiculously sincere. To be publicly heartbroken. And here comes Koons, inviting you to react to his art the way you'd react to Boogie Cousins sinking a three–pointer at the buzzer: with unfettered, uncomplicated joy.
The path Coloring Book took to arrive at Downtown Commons, aka DoCo, is not at all uncomplicated, however. The origin story is an exercise in serendipity and synchronicity, a perfect storm of coincidences that conspired to create one of the most extraordinary opportunities for philanthropic visioning in the history of the capital city.
••••••
In June 2014, at a Crocker museum auction, Marcy Friedman—a painter herself and prominent doyenne of the local art scene who was on the committee formed to select the public artworks in and around the arena—bid on and won a tour of the Koons studio in New York and a private viewing of that year's Koons retrospective at the Whitney Museum of American Art. Marcy, the widow of prominent attorney and real estate developer Mort Friedman, had long been an instigator of civic improvement. She and Mort had been instrumental in luring retail giant Nordstrom to open a store at their Arden Fair mall in the 1970s, ushering in a new era of stylishness, and they chaired the fundraising committee for the Crocker's 100,000-square-foot expansion, which opened in 2010, donating $10 million themselves.
The reason the Sacramento museum was able to obtain such a splendid and unusual offering in the first place was that Koons' mother-in-law lives in Sacramento, and had helped arrange the donation, as a good friend of hers worked on the auction. Jeff and his wife, Justine, have been known to visit the area with their six children. So Koons, while not a Sacramento resident, is a resident-in-law.
That September, Marcy and two of her three sons took the Koons studio tour, including Mark Friedman, the developer of Golden 1 Center. Marcy was "blown away" by what they saw in the gleaming white 10,000-square-foot Manhattan workspace staffed by over 100 assistants painting, polishing and assembling art. "It really opened my eyes to what an important and transformational artist Koons is," adds Mark.
The tour they both describe sounds like Charlie's romp through Willy Wonka's Chocolate Factory, with Koons as the impish impresario Marcy depicts as "very sweet and charming."
Her son Mark was further struck by Koons' perfectionism. "He was working on his Hulk Elvis series, which [includes] giant inflatable Hulks," Mark recalls. "He was walking around and there were people with jeweler's loupes and pieces of sandpaper the size of my thumbnail polishing microscopic imperfections. The level of execution was stunning."
Pieces of metal sculptures lay about, offering a glimpse into the internal workings below Koons' sleek surfaces. The degree of complexity impressed Marcy. "It's [polychromed bronze] that's made to look exactly like plastic," she says, describing the Hulk statues. "It almost looked like a plumbing workshop or automobile assembly line, with all of these pipes and brass and stainless steel fittings."
But it was at the Whitney retrospective, which the family visited on a Tuesday when the museum is closed to the public, where Marcy bonded with a piece that, like Coloring Book, belonged to Koons' "Celebration" series: a 10-foot-tall aluminum reproduction of a pile of Play-Doh. "There was this connection to something you know so well," she says. "You remember the smell of Play-Doh, the pliability of it. It was so evocative of childhood that it was pretty hard not to fall in love with it."
In many ways, Koons' celebratory and unironic sculpture is the perfect artwork to grace the new Kings arena, with sports being one of the few avenues of life where adults allow themselves to be shamelessly emotional and childlike. To express unbridled enthusiasm. To be publicly heartbroken.
A few weeks after the Friedmans returned from New York, Vivek Ranadivé, principal owner of the Kings, ran into Mark and said excitedly that someone from Koons' gallery had contacted him after hearing that Sacramento was in the market for public art and mentioned the availability of a new version of a piece he adored, Coloring Book. Did Mark happen to know the sculpture?
Mark thought the particular work in question fulfilled his vision for public art at the arena. "I knew we needed something that was monumental and colorful to stand up in that environment, because the building itself, architecturally, was very strong," Mark says. "It's going to be in a really visually dense environment, so you needed something with the power to stand on its own."
Not to mention that other iterations of Coloring Book have been on display at the Metropolitan Museum in New York and the Royal Academy in London. It is an important piece of art by international standards.
Mark immediately emailed his mother. "My comment was, 'Wow!' " Marcy says. "And, 'How much is it?' Because we all knew what Koons was selling for. Balloon Dog sold for $58.4 million, the record for a living artist."
That was the hitch: Coloring Book's price tag was $8 million—or $2.5 million more than the existing budget for the arena's public art program. But with the Friedmans' enthusiastic support, Ranadivé and Kings minority owners Phil Oates and Kevin Nagle each chipped in $1 million and approached the Sacramento Metropolitan Arts Commission (SMAC), which was in charge of overseeing public art in and around the new arena, with a proposition: We'll put up the extra money if you make a direct purchase of this particular artwork, skipping the usual call for submissions and competitive bidding process.
SMAC's arena art selection committee was keen on the idea, voting overwhelmingly to bring the proposal in front of the city council for approval.
But when word got out, to the astonishment and dismay of everyone involved, the local art community erupted in a furor. This sudden move to make a purchase without a call to consider other options created a tempest in a teapot with a group of area artists who objected vociferously to the acquisition all over social media, for a host of disparate reasons: the funds should have gone to Sacramento artists; the artwork itself wasn't relevant to the city; the selection process should have been competitive; that much money shouldn't go to art at all but to social programs or schools.
The finer point, that the initial budget was mandated by ordinance, was lost on the protesters, as was the potential benefit to the local arts community. (As a publicly funded project, the arena fell under the purview of city and county ordinances mandating that two percent of construction costs be set aside for SMAC's Art in Public Places program. Established in 1977, the program has funded the acquisition of over 650 artworks at various scales.)
Lial Jones, director of the Crocker and a member—along with Marcy Friedman—of the SMAC art panel, also wryly points out that many of those who complained were painters, while public art installations are generally the work of sculptors. "It's not a painting commission," she says. "The area sculptors were remarkably silent."
Nonetheless, the fact remained that the arena project was simply too large to be well served by a single artwork. Enter Marcy Friedman to the rescue, donating $1 million to invest in works by Northern California artists, which was an unprecedented gesture for the local creative community. The city added the remaining $500,000 of its public art budget to the regional art pot.
This allowed for the commissioning of work by midtown artists Gale Hart and Bryan Valenzuela, and the Sacramento-based art collective Royal Chicano Air Force, as well as a "sound sculpture" by San Francisco composer Bill Fontana. Money was also set aside for an LED screen project featuring the work of Sacramento State students. Marcy made her donation conditional on the purchase of the Koons, which allowed the package deal to move forward.
Koons is excited at the prospect of contributing to this town's cityscape. "I am very proud to be able to have Coloring Book become a part of the visual life in Sacramento," Koons says. "I have felt a connection with Sacramento for a long time—it's wonderful to see this interaction take place."
In the end, before a packed house at a city council meeting, and after 27 people had spoken out for the acquisition of Coloring Book and another 27 had railed bitterly against it (the number of pros and cons was set by the city), many of them artists, the council, led by Mayor Kevin Johnson, voted unanimously to approve the purchase.
"Hated Jeff Koons Public Artwork Approved for Sacramento Kings Arena," a headline on the Artnet News website announced.
That was in March 2015. Two months later a different edition of Coloring Book sold to a private collector for $13.3 million. Koons tops Artnet's rankings of artists by value, with sales over the last ten years topping $646 million, above such iconic artists as Jasper Johns, Richard Prince, Ed Ruscha and Sacramento's own Wayne Thiebaud, who clocks in at No. 6 with $163 million in sales. Whatever anyone thinks of it, as investment properties go, Coloring Book is not a bad bet for the city.
A year and a half later, time has begun to yield perspective on both sides. "Sacramento's art community is small," Jones says. "You never want to see it fractionalized." But she sees the rift as having started to heal. "And I think once the art is here it will heal even more," she adds.
Mark Friedman looks at the controversy with a sanguine eye, in retrospect. "I have to say: mission accomplished," he says with a twinkle. "Because when was the last time we as a community had an extended debate about the value of a piece of art? That's terrific for Sacramento!"
••••••
Koons is one of those artists you either love or love to hate. He has his detractors, both locally and abroad, many of whom read cynicism or kitschiness into his work, or think it too commercial. Former Sacramento mayor and active patron of the arts Burnett Miller doesn't care for the manufactured nature of Koons' sculptures. "It takes away from the intimacy of creation," he says, before adding, thoughtfully: "But [the pieces] are very impressive."
When the work consists of a life-sized gilt and porcelain statue depicting Michael Jackson in an ersatz pietà with Bubbles the chimp, it's hard not to see campiness, but maybe that's the challenge.
Throughout his career, Koons has dared us to think about our surroundings by taking familiar subjects or commonplace objects and tweaking them just enough that we have to look at them again. "At the start of the [Whitney] exhibition were vacuum cleaners in their nice vitrines, one after the other, all shiny, new, untouched. Machines to pick up dirt that were kept pristine. I'm sure people look at each other and go, 'Why?' [while other] artist friends of mine are just blown away by the basketballs floating in water," Marcy says, referring to the series Koons did of Spaldings and Wilsons suspended in fish tanks.
Some think Koons is a bit of a huckster, more salesman and spin doctor than artist of substance. The Guardian once called him the Donald Trump of the art world.
In 1989, when he was dating Italian porn star turned member of parliament Ilona Staller, aka La Cicciolina (the couple married two years later), and embarked on a series titled "Made in Heaven" that depicted the two of them in flagrante, Koons claimed he was trying to purge sex of shame and anxiety, but he was widely viewed as having lost his way.
Whatever his thematic vagaries, Koons' most crowd-pleasing work thus far, by far, belongs to the "Celebration" series, several pieces of which, including Coloring Book, were exhibited on the Metropolitan Museum's rooftop in 2008. The artist began the series in 1994 after his marriage to Staller collapsed and she took their young son with her to Rome, sparking a bitter custody battle. The creation of "Celebration" spanned a decade, and if it began in wistfulness, it deepened in complexity as Koons remarried and embarked on a more joyful period as a new husband and father of six more children. The provocateur may have been domesticated, but in the process his work evolved into something that was at once thematically brave and emotionally accessible.
"All of the critiques that people make about his work, that it's superficial, that it's commercial, that it's made in a factory studio process, are in many respects the point of the work itself," Mark Friedman says. "[Koons' work] is a critique of commercialization, of what art is, of who does it belong to, and of which things we choose to valorize and ascribe meaning to."
Marcy points to The New Yorker art critic Peter Schjeldahl, a sometimes detractor of Koons who describes a moment when even he came around to appreciate the artist's output, while first encountering Koons' Puppy, a giant topiary Scottish terrier covered in living flowers, in Germany in 1992. (The sculpture now stands guard at the Guggenheim Bilbao museum.) "As I was judiciously taking descriptive and analytical notes, a bus arrived bearing a group of severely disabled children in wheelchairs," Schjeldahl wrote in 2008. "They went wild with delight. Abruptly feeling absurd, I shut my notebook and took instruction from the kids' unequivocal verdict."
Schjeldahl's comments can serve as fair instructions for Sacramentans on how to approach Coloring Book. "It's got that familial tug," says Lial Jones about the work's nostalgia for childhood. "It's a universal subject."
That the 61-year-old Koons' happier days of domestic bliss are tied to Sacramento through his local in-law connection makes the River City an unexpectedly relevant place for this personal work, one of Koons' most emotionally resonant—even more so, Jones points out, as Sacramento "has always been a family place."
••••••
When it comes to Coloring Book, it likely won't be long before skepticism gives way to enthusiasm. Some Sacramentans also groused about Lawrence Argent's Leap, nicknamed the Red Rabbit, when it went into the Sacramento airport in 2011. Now it's a beloved local image, a staple on Instagram and memorialized on T-shirts. A popular midtown restaurant was even named after it.
The phenomenon of dislike at first sight isn't just a local one. When 21-year-old Maya Lin's design for the Vietnam War Memorial beat out over 1,400 other entries in 1981, the hue and cry about the minimalist design was brutal. (For example, an editorial in The New York Times by Vietnam veteran Tom Carhart called the design a "black gash of shame.") The artist had to defend her work in testimony before Congress to get it approved. Today her work is one of the country's most revered pilgrimage sites. "Did you go look at it?" Marcy Friedman asks. "How far did you get before you were crying? It didn't take long before I was reduced to a pulp."
Koons himself is excited at the prospect of contributing to this town's cityscape. "I am very proud to be able to have Coloring Book become a part of the visual life in Sacramento," he says. "I have felt a connection with Sacramento for a long time—it's wonderful to see this interaction take place."
His visits to the city have inspired one of his latest designs, Train, a 70-foot-long replica of a locamotive he fell in love with at the California State Railroad Museum in Old Sacramento. "I utilized the resources of the museum many times," Koons says. "I looked at their Baldwin 2925 steam engine and at the surfaces of some of their other engines, and have incorporated this information into Train." The piece has been proposed to be on display at the end of Manhattan's High Line park, a little bit of Sacramento in the Big Apple, although its $25 million-plus price tag has proven to be a sticking point.
Meanwhile, Coloring Book is a fundraising first in terms of public art in Sacramento. "The way the piece was acquired was actually kind of brilliant," Lial Jones notes, "in that the public art was supported by private donors in a way that it has never been before."
It is worth noting that the sculpture's purchase also holds significance on a national scale, in that it's the first and only version of Coloring Book that's on permanent public display anywhere (the others are in private collections).
When all is said and done, controversies and committee meetings aside, the fact remains that Coloring Book is a feast for the eyes.
"What isn't apparent from any of the [arena] renderings is the extraordinary beauty and precision of the fabrication," says Mark Friedman. "It is an amazingly refined piece, which is kind of fun because there's this juxtaposition of the crude scribblings of a kid on a piece of paper, which is the inspiration for the work, but that has been rendered in the most highly polished, most refined chromium steel that is designed to withstand the elements. It's a really nice mix of expertise in fabrication and simplicity of concept."
In the end, the sculpture humbly aspires to do what all great public art does, which is to provide a sense of place and civic identity. The next time Sacramentans are downtown, when they turn a corner stepping out of a DoCo restaurant or heading to the arena for a Kings game, they'll be greeted by a bit of joyful visual noise that will nudge them to remember just where they are and where this city is going. And they might see someone from Nebraska, or Manhattan, or Bilbao, or Amsterdam taking a selfie in front of Coloring Book to show the folks back home just where they've been.