Community refrigerators pop up around Sacramento offering free donated food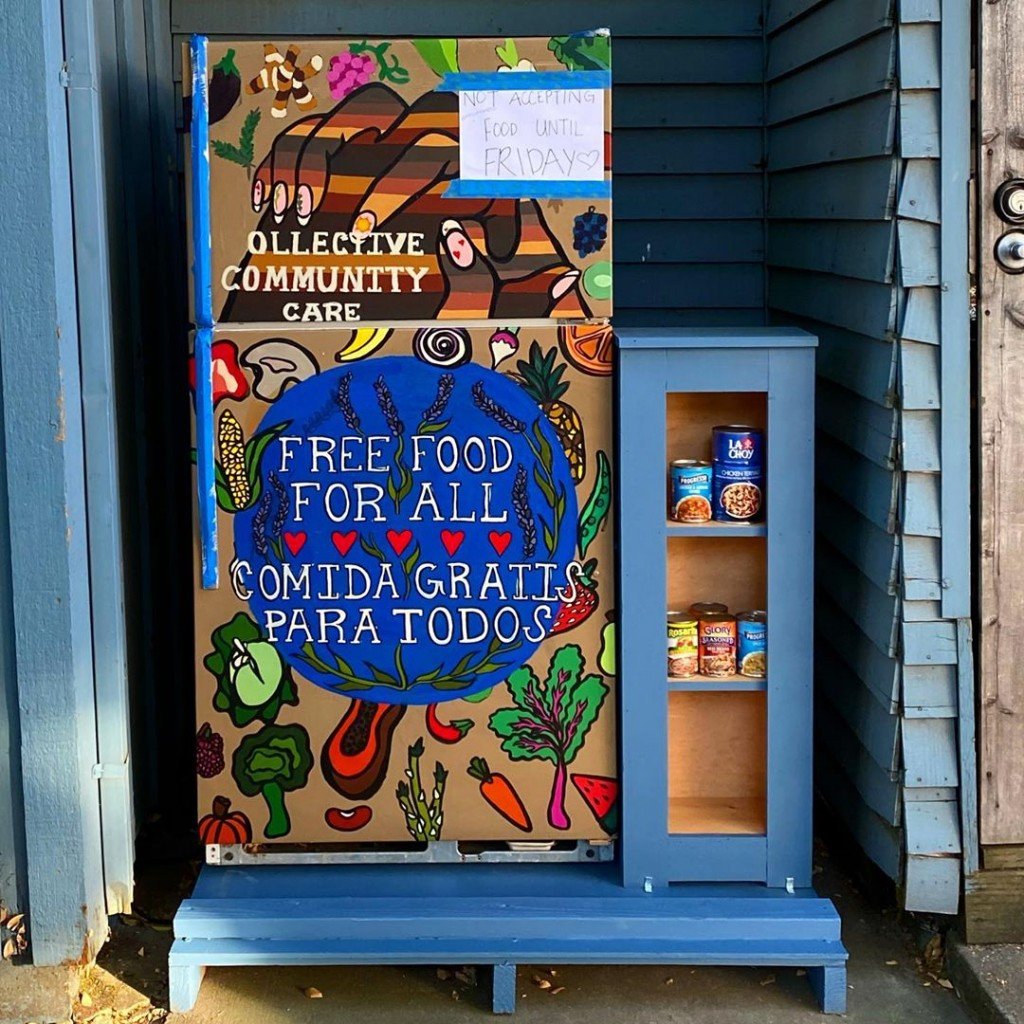 An out-of-place refrigerator, illustrated with vibrant vegetables and a pair of interlocked hands, is tucked into an alcove on Powerhouse Alley between P and 25th streets. It's brimming with fresh produce, containers of homemade soup and freshly baked bread, free for the taking by any peckish pedestrian. This particular solitary icebox, installed on Oct. 14, is the first mutual-aid appliance from the recently launched nonprofit food-share program Sacramento Community Fridge (SCF).
With unemployment at staggering levels and talks of a second federal stimulus package stalled as of Sept. 15, SCF joins the ranks of Northern California grassroots organizations like Oakland's Town Fridge, San Francisco's Mission Meals Coalition, as well as Sacramento's own Garden of the People, an urban farm co-op in Oak Park, in their efforts to feed communities suffering from food insecurity in the wake of the Covid-19 pandemic. They're guided by a "give what you can, take what you need" philosophy, a throwback to the communal hive of activity abuzz during WWI and WWII and later, the counterculture of the late 1960s and early 1970s.
"It's really about collective care," says SCF co-organizer Jo Bulaong, 22, who has previously volunteered for the local chapter of the International Rescue Committee, a refugee aid organization. "It's for our unhoused neighbors, students, working families, single mothers or anyone who's low on their rent. We want this to be accessible to the people who need it."
Just three weeks in, the first refrigerator is already receiving raves. One Instagrammer, @artseygirl18, recently called it a "godsend," after she and her husband both found themselves unemployed for the first time in 20 years. A second refrigerator was installed on Oct. 15 at 1322 F Street, a private residence in Mansion Flats, and the nonprofit is preparing to set up three more locations with donated and refurbished appliances in Oak Park, Arden-Arcade and Land Park in the coming months. Another grassroots organization, Foreign Native Fridge, has even followed suit and set up its own community ice box outside arts center Sol Collective near 21st and Broadway (2574 21st Street).
Earlier this summer, Bulaong and project co-founder Maggie Vinzant, seniors at Sacramento State and San Francisco State University, respectively, separately contacted In Our Hearts, a New York City-based network of aid collectives—some of which were early adopters of the community refrigerator trend—looking for ways to help. "I just kept thinking, 'What if there were a pandemic and this much food insecurity in our communities 10 or 15 years ago?' " says Vinzant, 21. "How different growing up would have been for me."
In Our Hearts connected the former strangers and fledgling philanthropists, and on July 21 Bulaong and Vinzant mobilized the community with a call to action on social media that received a generous outpouring of support, including produce donations from urban gardeners like Find Out Farms in South Oak Park.
Bulaong and Vinzant are currently searching for locations to host upcoming refrigerators, and to keep the iceboxes stocked, they're building partnerships with grocery stores and farmers' market vendors who often donate excess produce and other food items that otherwise can't be sold. The ultimate hope, however, is that locals take it upon themselves to fill the refrigerators and help their neighbors in need.
"The world is crazy and chaotic right now and people are really feeling powerless," says Bulaong. "But that's not true—we all have the power to affect positive change in our community."
For ways to help, find Sacramento Community Fridge on Instagram.
You Might Also Like
How does your indoor garden grow? By a window all in a row
7 CSA produce boxes that bring the farm to your fork
A new mobile farmers' market gets ready to hit the streets