How does your indoor garden grow? By a window all in a row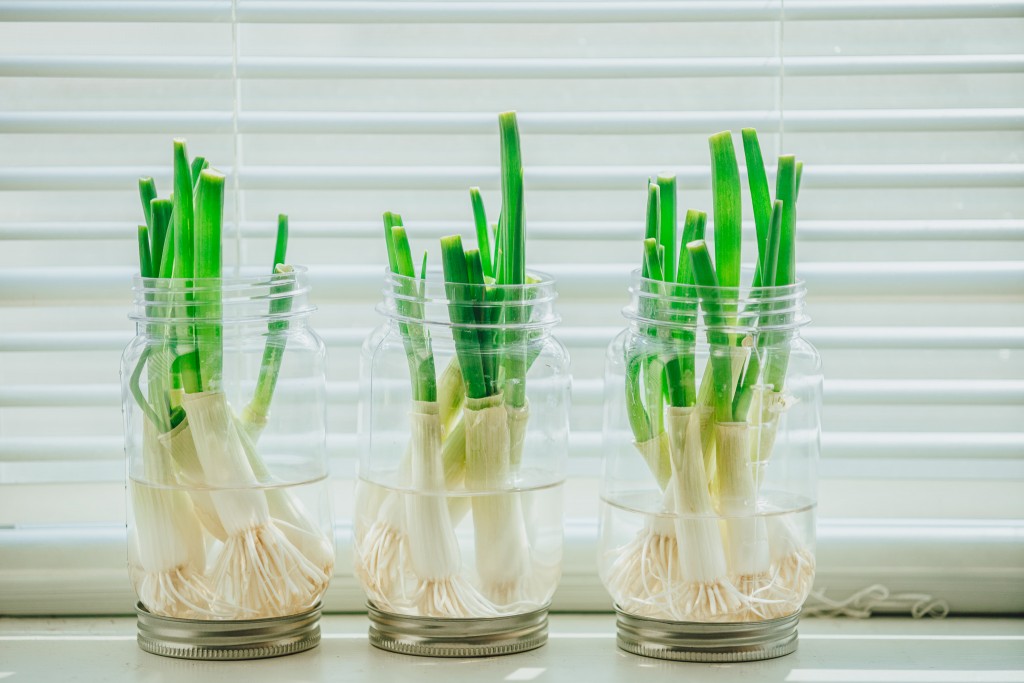 Green-thumbed home cooks have known about the trick for ages: Place a scallion bulb in a small cup of water, set it on a sunny window and watch the green shoots grow. This easy example of indoor gardening really began trending when New York chef David Chang posted the penny-pinching hack on Instagram in March. Since then, everyone from Chrissy Teigen to food critic Helen Rosner to members of the Sactown staff have hopped on the bandwagon.
"Growing scallions is a fun, inexpensive indoor project," says Angela Pratt, owner of The Plant Foundry in Oak Park. "It helps people understand how plants work and how they can reproduce crops on their own."
Here's the deal: If a kitchen scrap still has its root system attached, it's likely to grow well in water, with its new green shoots rising in good sunlight. Propagating an edible plant this way is sure to produce a few hearty harvests, but Pratt says the bounty won't last. "If you want to do serious food production, it's best to get the roots into soil."
The New Yorker recently published a story that referred to indoor gardening during the pandemic as a "tonic"—after all, witnessing nature thrive even when society is seemingly paused can be seen as a small, but meaningful affirmation that life goes on. And besides, says the article, "the potential to grow things and feed people [is] a thrill." With indoor gardening, you can be reaping what you sow in as little as a week. In addition to scallions (aka green onions), here are six other crops worth cultivating, so you can do your part to make sill-to-table the next big culinary movement.
Garlic
If you notice a garlic clove sprouting a green shoot, plop it in a little water, just enough to cover the root. It won't produce another clove, but you can use the shoots, which grow like scallions, as a sharp garnish on spring salads.
Leeks
"Leeks, like scallions, are really cool because they have both the root and the shoot attached," says Pratt. Let the cut root base sit covered in a glass of shallow water and after a week of full sunlight, you'll be ready to harvest a new plant, enough for potato leek soup for two.
Mint
Snip off a 6-inch shoot of mint—spearmint, peppermint or any other variety of your choosing—and remove the bottom leaves before placing it in a small vessel of water. (This will facilitate the rooting process.) Keep the top half dry and replace the water daily. Once the shoot grows more roots, you'll need to transfer it to soil where the easy-growing plant will keep you in mojito muddlings for years.
Romaine Lettuce
Cover the root stem (sans leaves) in a glass of shallow water—"You can't just grab a cut leaf without the base attached; you need the root stem," says Pratt—and in about 10 days, you'll have the start of a small Caesar salad on your hands. To grow a fully formed head, you'll need to replant it in soil.
Cabbage
Just like romaine, save the root stem from the head and place it in a dish of shallow water. New roots should sprout in days, and a new green harvest for your taco-night slaw should be ready after two weeks.
Fennel
Save a portion of a bulb's root base and place it in a container with an inch of water. New growth should appear in days (just be sure to regularly change the water), and in about two weeks, you should have a new licorice-y bulb to shave over salads.
You Might Also Like
Local cookbook authors help you bring the farm to your table this spring
With stay-at-home becoming bake-at-home for many, Faria Bakery's "Head of Bread" offers up the lowdown on sourdough
Is takeout safe? A UC Davis virologist shares how to stay healthy and support local restaurants