Container Enthusiasm
In cities around the world, steel shipping containers are being used to create stylish and quirky pop-up shops, cafe and hotels. With our own deep-water port and long shipping history, it's time for Sacramento to be the world's newest pop-up city.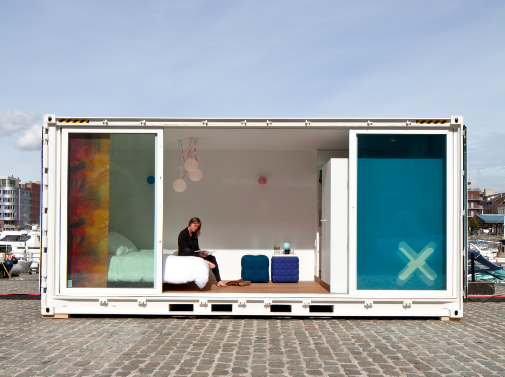 The Idea
The concept of prefabricated structures dates back to post-World War II America, when using off-the-shelf materials to create a home was simple, cheap and occasionally fashionable (when done by the likes of Charles and Ray Eames). But the industrial-chic trend of using steel shipping containers as prefabricated structures for both temporary and permanent structures is relatively new and now spreading across the globe like a style tsunami. And it doesn't hurt that they're inexpensive and eco-friendly, thanks to the fact that so many of the containers are being repurposed.
In Belgium, a pop-up hotel (fittingly called Sleeping Around) is comprised of six shipping containers—four hold fully furnished hotel rooms (pictured below) and the other two are used as a lounge and sauna. They are transported by trucks to various sites, giving them ever- changing views and neighborhoods. In East London, an entire shopping center called Boxpark is made of 60 such containers. And in 2011, Starbucks opened its first cafe made of four refurbished shipping containers just outside of Seattle. Individuals are getting in on it, too, with one small group in Raleigh, N.C. raising $25,000 on Kickstarter last fall to open The Farmery, combining a hydroponic urban farm with a farmers' market using four shipping containers.
Sacramento has one of only a few inland deep-water shipping ports on the West Coast, making this nascent architectural trend an authentic fit for our region. If clever restaurateurs are making food trucks work here, then clever architects, designers and retailers of all stripes should jump at the chance to express their creativity with this inexpensive, sustainable, mobile concept.
The Players
As empty land in West Sacramento—where the port is located—awaits development, inviting locals to craft inventive, temporary pop-up businesses using shipping containers would create instant buzz. And the R Street Corridor downtown, a budding industrial warehouse and arts district, would be the perfect spot to generate traffic while other projects wait for the economy to improve.
The Bottom Line
There are several companies in Sacramento that sell used and new cargo containers in various sizes, and some companies sell them with doors and windows (and even bathrooms) already in place. Basic 20-foot-long containers (the length of the one pictured) sell for around $2,500, and naturally require an investment of thousands more. There are even companies, like Denver's Popshopolis that will custom design them for you. The benefits are that there's no rent to pay and no property to buy. So for all you entrepreneurs wanting an affordable, yet cool way to open your small business, your ship has finally come in.