Conventional Unwisdom
The city is in danger of making an epically bad decision about our convention center. It turns out we've made this same mistake before—twice.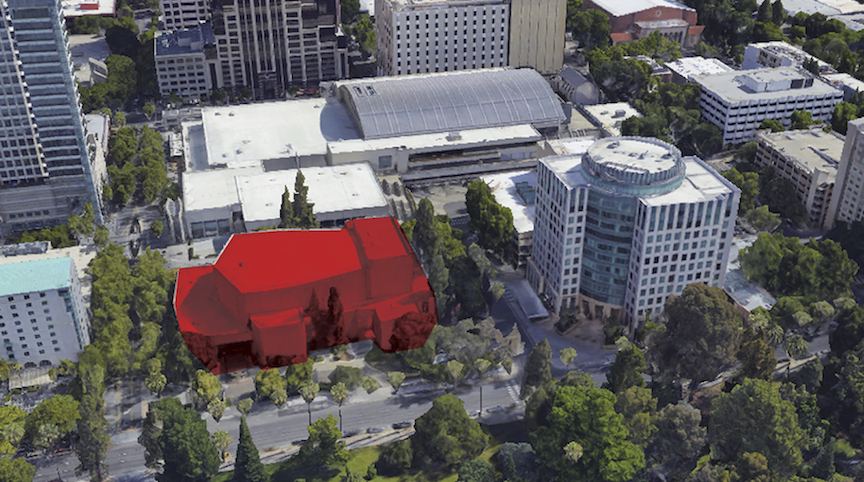 AAlbert Einstein once said that "the definition of insanity is doing the same thing over and over again and expecting different results."
It's too bad that the German physicist doesn't have a seat on the Sacramento City Council. When it comes to the newest proposal to expand the convention center—tentatively set to be discussed, and perhaps voted on, on Oct. 18—we need to consider Einstein's words carefully.
By all appearances, we're about to make the same mistake for the third time on the same plot of land.
The first time was in 1974 when the city built a shiny new convention center. The problem? Apparently, the city didn't think it would ever need to expand. How do we know that? Because it was landlocked, blocked on every side.
So in 1986, when Sacramento convention officials—none of whom are affiliated with the city today—declared that it was time to expand the convention center to keep up with other cities, funding wasn't the only challenge. There was simply no room to grow. Multiple structures surrounded the facility, including a 1912 apartment building—the Merrium—that preservationists wanted to protect. The city was stuck.
Long story short, city officials and lawyers wrestled with land acquisition issues—including lawsuits, protests and eminent domain discussions—year after year until the situation was resolved (the Merrium didn't make it), and the $80 million expansion finally materialized 10 long years after the Sacramento Convention & Visitors Bureau (SCVB) first said it needed it. To borrow loosely from the UPS slogan, that's not exactly moving at the speed of business.
Nonetheless, in 1995, the new concrete structure we know today opened to much fanfare with, according to The Sacramento Bee, "trumpets blowing, children singing and torches flaring."
The opening date: April Fools' Day.
Why is that meaningful? As the Bee then noted, the SCVB returned to the council 199 days later. There was a problem. Convention bookings, bureau executives explained, were going much slower than anticipated and the SCVB couldn't make its payments. It turned out that in order to fill the convention center, Sacramento needed more nearby hotels. So the city had to buy itself out of its hole, and offer up cash to attract hotels. Funny thing, though. It turns out that hotels also need the same thing convention centers do—land.
Eventually the hotels came, thanks in part to wrecking balls and public subsidies.
Yes, for a second time, we built a bigger convention center with no room to expand.
Fast-forward to 2013. The SCVB told the city it was time to invest in a larger facility again. The organization, recently renamed Visit Sacramento, was right, of course. It had been nearly 20 years since we'd last expanded the center, and we had lost our competitive edge once again.
But while almost everyone agrees that we need a bigger convention center, not everyone agrees on the size. The SCVB recently said that we need a relatively modest bump from 137,000 square feet of exhibition space to about 200,000 square feet. Meanwhile, two influential business groups in Sacramento—Region Builders and the Greater Sacramento Area Economic Council (GSAC)—have called for a far larger expansion.
Part of it, naturally, comes down to money. The city has been looking at spending roughly $200 million on a combined refurbishment and expansion of the convention center and Community Center Theater. It sounds like a lot, but isn't nearly enough according to some involved.
Both GSAC and Region Builders are arguing, rightly, that we're approaching this problem backwards. Instead of determining what we actually need to do to boost our convention business in a major way, we're looking at how much we can afford right now, today, without a sharp eye on the future.
But don't get lost in the numbers—either square footage or available dollars. Both are pliable figures that will change over time. What won't change in the near future is the finite amount of land available at this site.
Sound familiar?
In this case, however, there is far more room to expand than the city is willing to admit. One major structure on the site not only can be demolished—freeing up ample space for a more substantial convention center expansion—but should be demolished and resurrected in a new and better location in another part of downtown.
So instead of wasting $100 million—the approximate amount the city is considering spending to refurbish the theater alone, thus saddling us with a lesser building in that space for generations—let's take that money, create a public-private partnership, and build a new landmark structure on Lot X.
I'm speaking, of course, of the decrepit Community Center Theater (CCT)—that concrete mass of Brutalist architecture that stands defiantly as a paean to civic mediocrity. Not only is it uninspiring, but its glaring inadequacies are why it sits empty an embarrassing 270 nights per year. Through a series of unfortunate events, Sacramento has surrendered its cultural mojo to superior performance halls in Davis and Folsom.
As I've opined in this column before, not only is the theater grossly inferior as a home for the performing arts, but its current site, virtually hidden on L Street, is the wrong spot for a lively cultural center. Just ask the local chapter of The American Institute of Architects, which wrote the city manager and city council this past March explaining that "the existing Community Center Theater is generally considered to be a disconnected and underachieving low point in our otherwise vibrant downtown." The letter goes on to say, "As architects, we intimately know the transformative value of good design, and its effect on the region and the individual. We hope you will see the opportunities available in pursuing a new theatre."
As a member of Mayor Johnson's performing arts center task force—which after a year of study concluded definitively that a new theater is, in fact, needed—I can tell you that, in my opinion, the ideal home for a brand-new performing arts center is at Lot X at 3rd Street and Capitol Mall, a property now owned by the Sacramento Kings. Not only is it a high-profile address, but it's also highly visible from Interstate 5—the perfect perch for an architectural showpiece.
At its current location on L Street, approximately 11,000 cars pass by it each day. At Lot X? Nearly 200,000 cars drive by daily on I-5 and Capitol Mall. Designed right, this new civic amenity could be an architectural icon that helps shape the perception of the city for over 70 million drivers per year.
So instead of wasting $100 million—the approximate amount the city is considering spending to refurbish the theater alone, thus saddling us with a lesser building in that space for generations—let's take that money, create a public-private partnership, and build a new landmark structure on Lot X.
Also, at that location, it would be adjacent to the planned Crocker Park sculpture garden, creating a powerful synergistic effect where thousands of people could gather in the park to watch real-time performances happening inside the theater that are being projected on the exterior of the building—an extraordinary option not available where the theater sits today. Imagine families of all economic strata being able to watch Wynton Marsalis perform for free outside on picnic blankets on a warm Sacramento night.
In Miami Beach, the New World Center—designed by Frank Gehry—has just such a feature, coined Wallcast. Live video of concerts by the New World Symphony and other acts inside the theater are displayed on a 7,000-square-foot projection wall, providing free entertainment to hundreds of patrons in the adjacent park. "I can tell you that the design of the New World Center, the Wallcast concerts and the other content that is projected on the wall have changed the center of gravity in Miami Beach," says the symphony's Craig Hall. He adds that a recent study showed that the outdoor audience was younger and more ethnically diverse than the audiences of many of the symphony's other events. Programming like this feeds directly into arts education and creates a far wider audience for the performing arts.
As for concerns from restaurants near the theater about losing pre-performance diners? One prominent downtown restaurateur told me that convention-goers spend far more money than theatergoers. Conventioneers don't just come for dinner. They also come for lunch, brunch and drinks, and, not insignificantly, they spend more because they use corporate credit cards.
But I digress.
On Sept. 1, the city held an open house where an architect from Populous—one of America's largest designers of convention centers—said that most cities expand or redesign their centers every five to 10 years.
For example, in August, Visit Indy—the convention and tourism outfit for Indianapolis that happens to be run by former Sacramentan Leonard Hoops—commissioned a feasibility study to consider expanding its convention center for the second time in five years. Indianapolis currently has 566,000 square feet of contiguous exhibition space; Sacramento has 137,000 square feet.
We can agree to disagree about how much the convention center needs to be expanded at this moment, but what is not in dispute is the fact that we will be having this conversation again before we know it.
If we don't move the theater, we might be stumble by with a modest expansion for five to 10 more years. But if we do move the theater, there will be room to grow for decades. That's just smart planning.
To be blunt, if we make this timid decision to do the bare minimum, we'll be half-assing both critical projects. We'd have an incremental convention center expansion, and an unrecognizable and underutilized Frankenstein's monster of a theater (the newest proposal is to chop up the walls and footprint, and obscure the structure with an as-yet-undetermined material) that doesn't serve the vast majority of arts groups well.
Quite simply, this decision will go down as one of the biggest missed economic and urban design opportunities of our lifetime.
Instead, let's take the long view and solve both problems at once. Let's move our theater and build the kind of cultural facility this city truly deserves and, in doing so, let's give ourselves the space we need—now and in the future—to grow one of our critical economic engines: our convention center.
In other words, let's prove we're no longer as crazy as Einstein's observation of insanity suggests that we once were.