Cover Art
In Seattle and Vancouver, people are looking down on art these days. Literally. That's because manhole covers are being transformed into whimsical works of urban design. With a little imagination, our streets, too, can be paved with good inventions.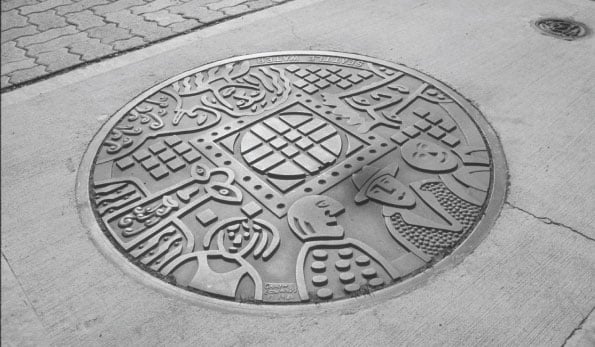 The Idea
When it comes to designing great cities, big game-changing projects like arenas, skyscrapers and museums are important, but there are much smaller projects—in this case shorter than an inch in height—that can make a big impact, too. Part of what makes any city intriguing to locals and visitors is a sense of discovery and surprise, and other cities have learned that their streets and sidewalks can be canvases for cast-iron works of art—namely, the lowly manhole—that delight passersby.
One example is Seattle, which launched an art program in the '70s for its "hatch covers," as they're called up there, and now boasts over 100 of them spread around town. Some feature a stylized map of the city that marks civic highlights (like the Space Needle) and shows you where you are in relation to them, while others are more playful or artistic in nature (like the one pictured, by artist Garth Edwards). According to the city's Office of Arts & Cultural Affairs, the covers "proved to be so popular among area residents that the program was revived" and newly designed covers were placed throughout the city in 2001. And yet another round is set to be installed in 2013.
In 1999, Con Edison (New York's version of SMUD) held a design contest for a "Millennium Manhole Cover," which was won by world-renowned designer Karim Rashid and resulted in 150 of the covers being installed around the city. In 2004, the Vancouver Public Art Program also held a design contest for its covers, generating 640 entries. Two designs by local artists were selected and have been used to replace 1,000 covers to date. Now, the city is planning another competition for more of them.
Here, we can put our own spin on it, fashioning clever wayfinding maps, marking historic districts or creating our own unique heavy metal art gallery on the streets of Sacramento.
The Players
The Sacramento Metropolitan Arts Commission would clearly be a natural organizer for this, but so might SMUD, Pacific Bell or PG&E, which control many of the city's manholes. In Seattle, the covers are funded by the city's  "1 percent for art" fund. And in at least one case, a cover was privately funded by Bill Speidel's Underground Tour, which paid for a cover to honor its founder.
The Bottom Line
Once a mold is made (the molds in Seattle cost around $2,000), they don't cost more to produce than regular covers—a few hundred dollars each—and can give local artists more foot traffic than any gallery in town. And just think, our Second Saturday Art Walk will finally live up to its name.