Coyote Beautiful
The founder of Dos Coyotes Border Café created his home like any good chef prepares a gourmet meal—completely from scratch, served with warmth and color, and filled with distinctive flavors. And, in this case, one very important ingredient: Sage.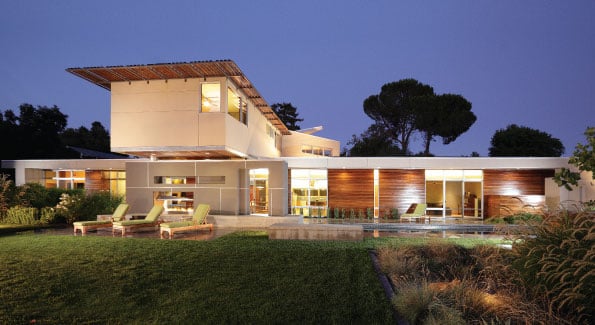 "I'm not like everybody else"
(The Kinks, "I'm Not Like Everybody Else," 1966)
Bobby Coyote wanted a modern house. There was one problem: cold feet. "Those modern homes are all based on concrete floors,
concrete countertops, and that can be sleek to the point that it's cold," the Sacramento restaurateur says. "It's so modern, it's uncomfortable."
Coyote, the gregarious owner of Dos Coyotes Border Cafe, a chain of Southwestern restaurants in and around Sacramento, isn't one for fitting in. "I'm not like everybody else," he says, quoting Ray Davies of the Kinks. Which is not to say he's after shock value. The Kinks, after all, are far from punk. And Coyote is as down to earth as they come.
Houses, like dogs, take after their owners. Coyote's home, designed by the Sacramento-based studio Sage Architecture, Inc., is eye-catchingly hip on the outside, but warm within, a hospitable heart in a modern shell. And, of course, architect Pam Whitehead laughs, "no concrete floors!"
The project started like a good dinner party, with a getting-to-know-you conversation. "We don't usually have a meeting and just start discussing ideas right away," Paul Almond, Whitehead's husband and the other half of Sage, says. "We need to get to know a client, otherwise we're designing at them, not for them." Sketching, loose as it is, is too definitive a practice. "Once you start sketching, getting the thoughts on paper, you start to defend them. You're designing a house and selling it to them, not designing it for them."
Instead, the conversation revolved around magazine clippings, Coyote's vibrant and diverse art collection, and the man himself, his personal style—"blue jeans," Whitehead says. "Comfortable."
Still, the first thing you might notice about Coyote's house is the distinctive absence of adobe and turquoise. The house of the owner of Dos Coyotes is defiantly un-Southwestern. "I don't want to come home from work and feel like I'm still working," he says. "I wanted some solitude."
"Just give me some security"
(The Kinks, "20th Century Man," 1971)
The house ducks behind a protective sheath of ecru plaster and anodized aluminum, punctuated with reclaimed tigerwood slats and a soaring, jagged entrance canopy. Sleek? Sure. But it glows with warmth.
That front door, large, even slightly imposing, "feels like the door to a vault." It swings open along a roughly textured, tile wall curved to make it appear thicker than it is, adding weight to the already sturdy entryway. "He wanted a house to give him security," Almond explains.
But once inside, the house lays itself open before you, generous and welcoming. Three bedrooms and a ship's-prow-like office upstairs, kitchen, dining room, and living room downstairs—the house is big at over 3,000 square feet, but it doesn't feel it. "It lives small," says Whitehead, mainly because of its informal layout. The front door leads to the living and dining area—spacious and comfortable with a wrap-around leather couch and Eames Lounge Chair, the focal hearth of this foodie's castle—which leads through to the
kitchen. The aluminum window frames outside fade into Douglas fir inside, on the frames and the stairs; warm, pale maple lies underfoot; and the exotic tigerwood stretches along the ceiling. Modern may mean less, but the details matter more.
The kitchen is spacious but manageable, a respite from the commercial ranges Coyote is used to. "It's comfortable for the everyday, and for large gatherings," Almond says. Coyote stocks it accordingly: lots of wine ("this is a wine house"), easy-to-clean countertops, practical stove. "I needed a stove with enough BTUs, but I didn't want one of those Wolf or Viking stoves, those professional models that are so big and heavy you can't lift off the grate to clean them."
The dining room opens to the backyard, which, hidden from the street, is nonetheless the home's most striking façade. The site is oddly shaped—like a pennant, or a slice of pie—and unfortunately oriented. The house had to be built along a north-south axis on the east end of the property. That's bad news in a region like this one, where afternoon sun pouring through west-facing windows can ratchet up a home's temperature.
"The backyard is the west side of the house," Almond explained. "Bobby wanted to open up the west elevation, but we didn't want to cook him inside on hot summer afternoons. So we built the second-floor building to run east-west." The upper story extends 24 feet over a small patio in the backyard, creating sheltered space outside, and shade inside, despite a massive bank of windows. Tigerwood clads the belly of the overhang, tracing the ceiling through to the outdoors. Wooden slats fanning out from the roofline shade the upstairs windows.
"You can keep all your smart modern painters"
(The Kinks, "20th Century Man," 1971)
Open as it is, the house is far from empty. In fact, Whitehead says, "he's filling it up!" Coyote's art collection works as a third tenant (besides Coyote and his girlfriend, Margo Jameson), inhabiting, shaping, enlivening the space. Coyote doesn't collect to show off. "It's not expensive," Whitehead says, "just pieces he found along the way." The collection is personal, not for show, funky, colorful, mostly mixed-media pieces Coyote picks up on his travels and from Davis's John Natsoulas Gallery. "Every piece has a personality, its own quirkiness. There's a sense of whimsy."
The collection is so diverse aesthetically that it couldn't possibly influence the look of the house—it's too disjointed, in a good way, to produce a concerted aesthetic effect. Instead, the art changed the space itself. Sage didn't make the house bigger; they made it more flexible. "I wanted to make sure as time went on there was room to grow, to express my individualism," Coyote says.
"We thought of it as how a museum or a gallery works," Almond explains. "We just needed to provide a framework, flexibility. We didn't throw square footage at it; it happened organically." Warm, wood-paneled alcoves punctuate the downstairs landing; oversized shelves line the fireplace; corners left open are perfect for a high-heeled nude or flashily painted dog here and there. Underneath the stairs, a built-in plinth makes it feel like sculptures aren't stuffed there, but rather, belong. Whitehead describes the house as "a nice backdrop:" white-walled, with "lots of little niches for things."
That way, Coyote's collection can grow naturally, unhindered by architecture. "I can decide to sell some pieces, my taste can change. When I moved in, I only had a handful of pieces from my previous house," Coyote recalled. "Now when I'm visiting friends or traveling, I'll wander into a gallery and see something I like," he says. He won't have to worry about having enough wall space—"I'll think, how can I work this into my budget?"
Those big, western windows change Coyote's art, even if he doesn't, animating the house with mercurial indirect light. The interior is energized while the shell keeps a straight face. The modernist exterior intrigues, but those glowing windows prove true character lies within.
"If you all want me to settle down
Slow up and stop all my running round
Do everything you want me to
There's one thing I will say to you:
I'm not like everybody else
I'm not like everybody else"
(The Kinks, "I'm Not Like Everybody Else," 1966)