Craving of the Week: An Honest Pie's buttermilk pie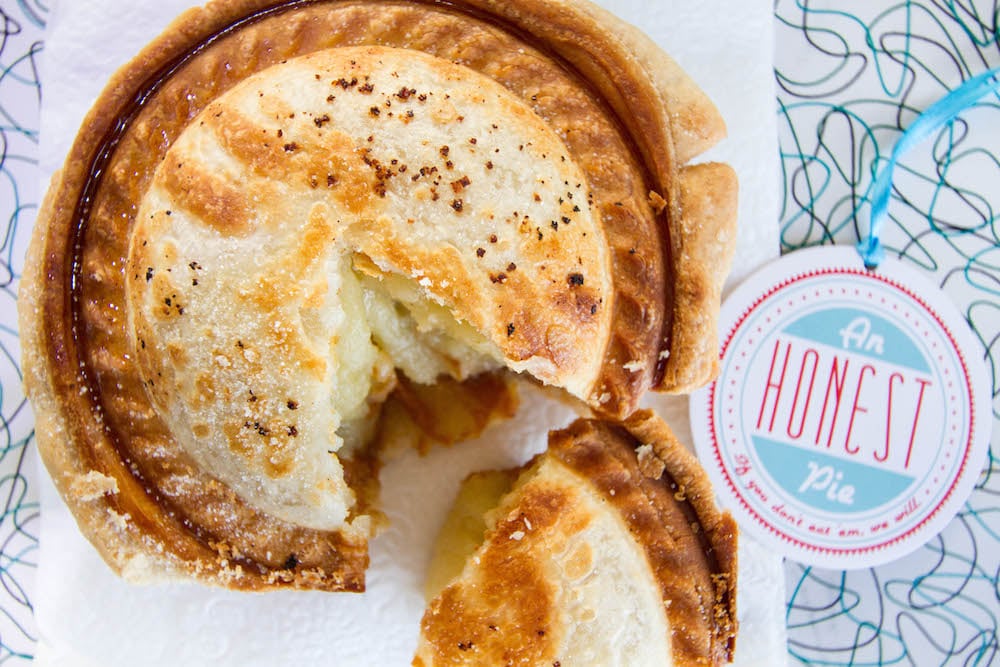 If you're from the South, you know that buttermilk pie is like the Marilyn Monroe of pie flavors—impossibly alluring.
And if you're not from the South, you'll quickly become a convert, as did we upon our first bite of that decadent dessert from local mobile bakery An Honest Pie.
The pie's flaky, buttery crust gives way to a warm, sweet interior that tastes like crème brûlée with a gooeyness reminiscent of pecan pie filling. Handmade to order and dusted with sugar, the treat is so filling you'll feel like sharing bites, but so additive you won't want to.
"It changes your life just a little bit," says jovial owner Brenda Janssen of her food truck's signature item, which is coined Kelly's Buttermilk Pie.
When Janssen was young, a family friend named Kelly would bring Southern buttermilk pies to gatherings, and the treat became a favorite in Janssen's household. She got hold of Kelly's recipe, tweaked it over the years, and finally mastered the hand pie incarnation when she rolled out her mobile bakery in 2012.
The Grass Valley-based food truck makes regular stops throughout the region, and is slated to expand its operation in September with a brick-and-mortar pie shop lodged inside a remodeled vintage travel trailer parked at Auburn's Home Depot, making its buttermilk pie available every day of the week. Starting in October, Janssen will start offering a version infused with pumpkin purée.
For the week of Aug. 22-26, An Honest Pie will appear at Home Depot in Auburn (403 Smaltz Way) Tues.-Thurs. from 11 a.m.-4 p.m.; at Hewlett-Packard in Roseville (8000 Foothills Blvd.) on Fri. from 11 a.m.-1:30 p.m.; and at Tahoe Park (3501 59th St.) with Sacto MoFo on Fri. from 5-9 p.m. Visit An Honest Pie on Facebook for location schedules and updates, or anhonestpie.com for more information.
You Might Also Like
Craving of the Week: Mayahuel's La Abuelita Ice Cream
Craving of the week: The Mill's Waffle-in-Hand
Craving of the Week: Skool's Matcha White Chocolate Cake