Culture Club
ArtStreet, the hotly anticipated follow-up to Art Hotel, is just the next step in M5Arts' master plan to transform Sacramento into a creative mecca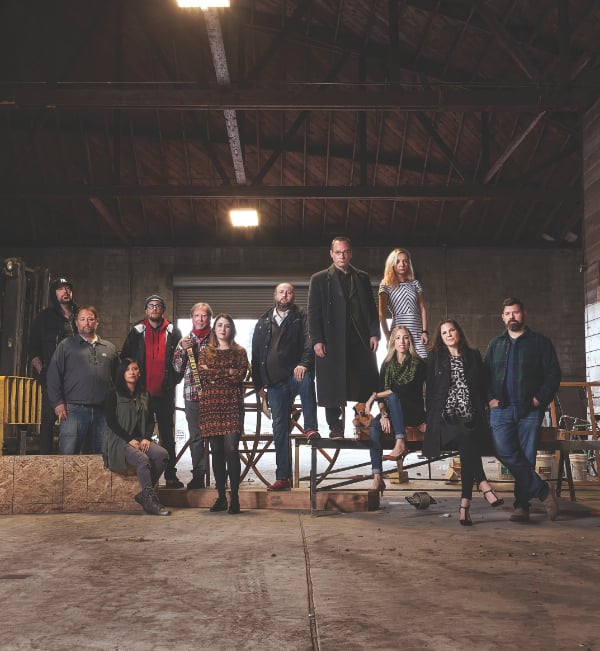 "It was supposed to be a question, and what it [remained] was a question," says Clay Nutting, Ia member of the Sacramento arts collective M5Arts, of his group's wildly popular debut production, Art Hotel. Though Nutting claims he's not an artist—he's a restaurateur and the founder of DBA Arts, a nonprofit organization that helps raise capital for M5Arts projects—he could have fooled us. His museful bottom line about last February's unprecedented experiment in which 130 artists commandeered every square inch of the deserted downtown Jade Apartments building, is also applicable to M5Arts' next undertaking, ArtStreet.
"If we learned anything from the Art Hotel experience, it's that ArtStreet will be an organic, ever-evolving organism," says Nutting. "We're not afraid of not knowing what it's going to become." Needless to say, M5Arts, a 12-member volunteer group with a deceptively simple M.O. ("to create culturally significant art experiences"), did not anticipate exceeding Art Hotel's original concept (a mere 14 artists installing work in the building), nor did it expect to surpass the predicted turnout of 5,000 visitors (nearly three times as many folks showed up to see what all the fuss was about—crash-pad-size skate park, anyone?).
The unforeseen success of the inaugural feat has set the bar high for ArtStreet, which will take place from February 3-25 in an abandoned warehouse in the Mill at Broadway housing development. Partly to generate excitement for M5Arts' sophomore effort—"We want it to be a surprise for everyone," says marketer Scott Eggert, the group's spokesperson—and partly to manage the public's expectations (after all, sequels don't have a stellar reputation; case in point: The Hangover Part II), little will be revealed until the show opens. Apparently, when it comes to ever-evolving organisms, questions are the only certainty.
The theme of the event—"street"—is loosely knit by design, so a wide net was cast for potential artists. "The street is a platform for diversity and cross-pollination of people and ideas," says art consultant Jennifer Jackson, who is also part of the M5Arts team. "Now more than ever, people are craving the community that 'street' provides." With such controversial fodder as Black Lives Matter, grassroots #NotMyPresident campaigns, and rallies for Aleppo playing out in the streets daily, Jackson has found reviewing the more than 330 artist proposals submitted from as near as the R Street Corridor and as far as Estonia "fascinating and illuminating." "Artists create with their fingers on the pulse of society," she says.
M5Arts' co-founder Seumas Coutts, who has worked as a curator in Berlin and San Francisco, likens this kind of urban curiosity to that of French poet Charles Baudelaire's flâneur—"a gentleman who walked streets and arcades of Paris observing life in the colorful city," he explains. And just like that, a mythic trope from 19th-century France winds its way through streets and arcades from midtown to Eastern Europe, gathering stories and images for an art show that will take place in a deserted warehouse in modern-day Sacramento.
Like the Jade Apartments before it, this exhibition site, scheduled to be razed in late 2017, is just the latest in a well-established trend of giving near-death buildings one last artistic hurrah. "These [spaces] give us the freedom to create what we want and the overhead can be pretty low," says Sacramento muralist and M5Arts member Shaun Burner, who will be drawing from his years working as a carpenter to build infrastructure within the warehouse.
The vast empty shell—"a truly blank canvas with four walls and nothing in between," says Eggert—will be able to accommodate a stage for concerts and salon-style talks, as well as a cafe and bar area. Add to that a drastically improved occupancy (only 60 visitors at a time were granted access to the Art Hotel; the warehouse will be able to hold at least five times the number of guests) and an extended engagement (two weeks longer than Art Hotel's nine-day run), and ArtStreet is, even in its planning stages, already next level. A successful Kickstarter campaign last November raised more than $18,000 to help fund ArtStreet (M5Arts estimates a total cost of $150,000 for construction, materials and stipends for the artists), and since the group insists upon free admission to the show, every penny helps.
Besides its practical advantages, abandoned, soon-to-be-demolished architecture also strikes a poetic note. Haunting and profound, its inherent impermanence creates a sense of urgency and deeper value. Graffiti artists have for years sought out neglected buildings as canvases. In 2007, Canadian artist Heather Benning famously turned a neglected farmhouse in Manitoba into a life-size dollhouse. And late last year, Breathing Lights, a temporary public art installation in New York, illuminated the windows of vacant homes in three blighted cities around the state.
While Coutts correlates the allure of ephemerality to savoring a rare bottle of wine, Jackson offers a more empirical view. "Taking a space that's on the fringe, empty, ready to be discarded, and turning it into something alive and meaningful is art's alchemy," she says. "Artists see potential in these spaces."
The same could be said about Sacramento. Coutts asserts that the city's cheaper rents—compared to those of San Francisco—can attract more artists, a phenome-non he witnessed in Berlin, which had been overshadowed by the flash of London for decades, maybe even centuries.
"I think Sacramento is still under the radar as a center of arts and culture. We have the talent, but it isn't a destination yet," adds Jackson. In addition to M5Arts programs, the Second Saturday gallery walk and the Sacramento Mural Festival are two of the existing platforms for emerging creatives. And, of course, the historic Crocker museum has long anchored Sacramento's attempts to be a contender in the art world. Whether or not the Golden 1 Center's Jeff Koons sculpture, Coloring Book, is the pin that puts Sacramento on the map remains to be seen. But can Sacramento's art legitimacy really hinge on a single blue-chip addition to the landscape?
M5Arts isn't banking on it. ArtStreet is just the second phase in its agenda to create a vibrant arts scene in the city. Next up: the Sacramento Biennial, a citywide contemporary art exposition modeled after archetypal festivals in Venice, Paris and Berlin, and fueled by gumption the likes of which only a dark horse could muster.
"Think of [ArtStreet] as a celebration of what we have, but more importantly as an opportunity to grow," says Jackson. "We're doing everything we can to keep the art scene in Sacramento invigorated."