The Humor, the Ardor and the Candor of Darrin Bell
In 2019, Darrin Bell became the first Black person to win the Pulitzer Prize for editorial cartooning, and his nationally syndicated comic strip Candorville will mark its 20th anniversary later this year. Today, the Sacramento cartoonist is receiving acclaim for his new graphic memoir, The Talk, which illustrates the racism he has faced, first as a Black child and later as a Black man in America. As Doonesbury creator Garry Trudeau says of Bell's new book, "It's nearly impossible to appreciate another person's truth, but if a brilliant storyteller offers to light the way, take him up on it."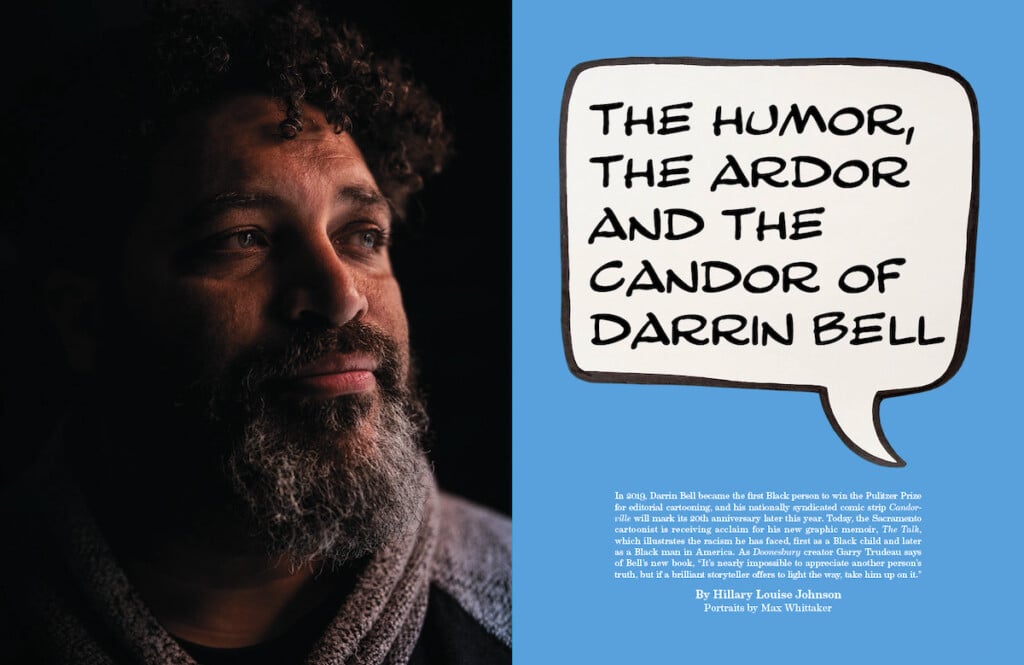 D
Darrin Bell has asked to meet me where he does most of his work these days—at a picnic table overlooking a lily pond in a leafy Sacramento park.
I recognize him, bent over an iPad working on a cartoon panel for a new children's book concept, oblivious to the chatter of birds and the ping of bats hitting balls at the baseball diamond nearby. I've just read his graphic memoir, The Talk, published on June 6, about growing up in '80s and '90s Los Angeles with a white mother and Black father who are both public school teachers. (Young Darrin is once called, tauntingly, "Halfrican American" in the book by an obnoxious teenager.) He looks just like the cartoon Darrin, but older, at 48, with more gravitas. His piercing yet merry green eyes are set in a handsome face framed by a beard that's gray around the edges, and his presence is as calm and centered as his work is jangly and fierce.
"I like what you've done with the place," I say of the park setting. "I got it during the pandemic," he answers, opening his arms wide to take in the entirety of this beautiful spring day, and inviting me to sit. It's a fitting "office" for a man who won a history-making Pulitzer Prize in 2019. That's when Bell became the first Black cartoonist to win since the prize in editorial cartooning was established in 1922.
I lived in L.A. in the '90s too, so we begin the conversation where Angelenos in our age bracket often do, with: Where were you in 1992? It's a reference to when the city erupted in violent riots after the police officers who beat Rodney King were acquitted.
I was pushing a stroller down the boardwalk in Venice Beach, past tanks and armed National Guardsmen, while Bell was a high school student in Van Nuys. "We were all very proud that Paula Abdul had gone to our school and that a lot of The Wonder Years was filmed there," he says. "Everything was already surreal for me, so this was like another scene in a movie when I saw the smoke coming over the Hollywood Hills," he remembers. "I wanted to go cover it, because I was working for the student paper at the time, but my mom forbade me."
He had the even more surreal experience of seeing his grandfather's house in South Central Los Angeles—the house Bell was born in—on TV. "When the helicopter cameras were panning toward Florence and Normandie avenues, where Reginald Denny was dragged out of his truck and beaten [during the riots], you can see my grandfather's house a few blocks away. I was happy that it wasn't on fire," he says. "My grandfather had told me just a few weeks earlier about the Watts riots in '65. The way he described it, it was like a war zone—and he had been in a war."
Bell's grandfather, a World War II vet who died at 94 in 2013 with Bell by his side, was all set to be the subject of Bell's first memoir, part of a two-book deal with Henry Holt & Company, an imprint of Macmillan Publishers. "But then George Floyd happened," Bell says of the May 2020 murder of the Black former security guard by a Minneapolis policeman who knelt on Floyd's neck for nine minutes and 29 seconds. And then one day, his 6-year-old son Emyree Zazu piped up at the dinner table with "Who's George Floyd?" and Bell knew that it was time for a memoir with a different focus.
The first iteration of "the talk" in The Talk comes when 6-year-old Darrin begs his mom for a squirt gun. When she relents and gifts him a lime green one, he's both excited and disappointed. "Why is it green?" he asks her. "Everybody'll make fun of me."
Mom delivers her version of the talk, according to a young Darrin, in a speech bubble reading, "Blah blah blah blah blah."
Although warned against it by his mother, little Darrin sneaks out to play shoot 'em up, and inevitably ends up being confronted by a policeman who shouts at him to "Drop the weapon!" In the book, Bell draws the policeman's face morphing with that of a vicious neighborhood Doberman baring its teeth in a menacing snarl. Innocence ripped away, Darrin walks home, the "talk" his mother gave him replaying in his head—this time, her words ring out, beginning with, "The world is… different for you." He vows to tell no one about the encounter.
Bell is an enthralling storyteller in person, but his real gift is for distilling story down to its essence, as in an episode that occupies a single page of The Talk, when a flirty co-ed browses his dorm room CD collection finding "40% Prince, 30% grunge, 10% jazz, 10% Air Supply, 9% New Wave, and 1% Boyz II Men" and asks, "You sure you're Black?" "That was a whole couple of years of college condensed into one thing that represented it," he tells me.
Bell's friend and longtime collaborator Matthew Richtel summarizes the Darrin Bell experience neatly over the phone. "When you sit down with him, he is unassuming. It's almost like he doesn't want to take up too much space," he says. "But with his pen, he just explodes into the world."
The Talk is both cinematic and literary, the drawing style loose and impressionistic, steeped in washes of blue-gray punctuated by flashing red daubs of police lights, the colorful squares of a Rubik's Cube, and the Day-Glo green of that squirt gun. As coming of age stories go, it's like a cross between James Baldwin's emotionally searing autobiographical first novel about growing up in Harlem, Go Tell It on the Mountain, and, well, The Wonder Years. The authorial voice is tender, gentle, and funny, so that when it does go dark, the impact is visceral.
"It's nearly impossible to appreciate another person's truth, but if a brilliant storyteller offers to light the way, take him up on it," wrote Doonesbury creator Garry Trudeau, in a blurb for The Talk. "Bell is the Ta-Nehisi Coates of comics, an indispensable explainer of how it feels to grow up in a world that repeatedly treats you as other. The talk with my white sons boiled down to 'Be kind.' It's hard to overstate the distance between that admonition and 'Stay alive.' "
In a starred review, Publishers Weekly called the book, "an unflinching debut graphic memoir that balances gravity, vulnerability, and humor in relaying his life as a Black man and parent," while Kirkus Reviews dubbed it "a triumph."
C.J. Kettler, the president of Hearst's King Features which syndicates Bell's cartoon nationwide (along with classic strips ranging from The Amazing Spider-Man to Beetle Bailey and Popeye), put it bluntly: "Obviously Trudeau is a genius," she says. "I think Darrin Bell is a genius."
DARRIN THE MENACE
Bell's early life as a precocious young journalist/artist was alternately charmed and fraught with obstacles. His parents divorced when he was 10 and he saw little of his dad afterward. "A year would go by," Bell says. "I don't know why." Later attempts at reconciliation were thwarted when Bell's father sent Darrin an email in 2015 recommending that he check out conservative commentator Alex Jones. "When I wrote back to him [expressing] exactly what I think of Alex Jones, it hurt his feelings because he loved Alex Jones," Bell recounts. It was the beginning of the two growing apart again.
As for his creative interests, Bell found his calling early. As depicted in The Talk, an essay he wrote for his high school paper was reprinted by the Los Angeles Daily News, and then-Gov. Pete Wilson called the school to congratulate him. Later, at his senior year awards program, the vice principal called his work "profound" and gave him the school's first annual journalism award. And he was publishing editorial cartoons in the Los Angeles Times while still a poli-sci student at Berkeley, where he inked a strip called Lemont Brown, about a young Black cartoonist, which ran in The Daily Californian newspaper.
His next big break came with an assist from a fax machine in 1997. Richtel—who was business reporter for the Oakland Tribune at the time and would go on to win a Pulitzer Prize of his own at The New York Times, where he works today—tells the story: "I had this idea for a comic strip, but I'm such a bad artist that my stick figures look like circles. And across the fax machine comes this incredible editorial cartoon." It was Bell, submitting his work cold—which just happened to catch Richtel's eye, so he cold-called Bell in return. Soon after, they teamed up and the result was Rudy Park, a tech-themed comic strip set in an internet cafe (that Richtel wrote under the pseudonym Theron Heir).
Cartoon editor Amy Lago, who served as Charles Schulz's main editor for the last five years of Peanuts, was at the receiving end when Bell and Richtel pitched the strip to United Feature Syndicate (UFS). "Back in those days, we were probably getting two to three thousand submissions a year, and picking up maybe four or five for development, and we would launch two to three a year," Lago remembers. Rudy Park stood out immediately.
"When I look back at pictures of us, we don't look old enough to shave," Richtel marvels. The syndicated strip launched on Sept. 3, 2001, just a week before the World Trade Center attacks. After that, the young collaborators immediately had to decide whether, as Richtel puts it, "to have the strip remain a one joke pony, or become inherently political, as the world had become." They went political. In a satirical spirit reminiscent of Doonesbury's portrayal of former Vice President Dan Quayle as a feather, Rudy Park portrayed then-Attorney General John Ashcroft hiding out from the press in a pastry box, while Democratic leader Tom Daschle hid under a cafe table.
Early on, Richtel says, "I saw all that courage and artistic bravery. But not near the level of the last five to 10 years. Only now do I realize what I was looking at back then, which was young embryonic brilliance that has really started to glow in its full nature."
As we speak, Richtel grows serious. "I was actually thinking of Darrin not that long ago. I was in Italy, thinking about the power of artists as I walked through the Sistine Chapel, and the ways in which the right art and the right tone at a certain time helped propel the rise of Christianity," he says, before laughing at the magnitude of the point he's trying to make. "And here's Darrin, born at the right time, because the way we consume information is in the small bites that he provides them in. He can synthesize an idea in a picture and five words."
Lago, too, knew Bell was going places. "Darrin also submitted Lemont Brown," she says. When UFS passed, she shopped it to the competition at The Washington Post Writers Group, which took it on, publishing it as Candorville starting in 2003 (Lago later became his editor on the strip when she went to work there).
Set in a mythical city, Candorville centers on Bell's doppelgänger, a cartoonist named Lemont Brown; Lemont's cynical, ne'er-do-well friend Clyde; his go-getter Latinx friend Susan, a character influenced in part by Bell's girlfriend-turned-wife-turned-ex-wife Laura (theirs was an early marriage with an amicable end; and a pair of occasionally prophetic homeless commentators named Tyrone and Rosencrantz. The strip's topics range from family to pop culture, and race to, yes, politics.
Lago was the one to wake Bell up with a phone call telling him he'd won the Pulitzer in 2019, which is supposed to be a secret until the winner is announced, but "it's inevitably leaked," she says.
"I was groggy, and it took a while to register," Bell remembers. "Then the disbelief gave way to me thinking, 'Well, why not me?' "
The Pulitzer jury called his work "beautiful and daring." His drawings are fiercely gestural, full of coiled energy that explodes off the page. They pack a punch, then leave you thinking.
Bell won for a set of 19 panels, many concerning race, or Trump—then in the middle of his presidency—or race and Trump. In one, an angry "Karen" calls 911 on a Black cartoonist "sketching people without a permit." And in a single-panel cartoon from July 2018 (when Trump sided with Vladimir Putin over U.S. intelligence agencies on Russian election interference), Putin is driving Trump on a low-speed police chase in a white Ford Bronco, O.J. Simpson-style, while a crowd cheers from the road-side waving MAGA signs.
For the record, Bell is a bipartisan satirist: One cartoon from June 2018 shows Bill Clinton answering a #Me Too query with "#WhoMe?" And Bell says he still hasn't forgiven Joe Biden for his treatment of Anita Hill during Clarence Thomas' confirmation or for the 1994 crime bill that Biden sponsored, which has been blamed by many for a massive increase in the incarceration of Black Americans. "Few people remember the incredibly racist arguments he was making on the floor of the Senate," Bell says. During the primaries, he posted a video of a Biden speech to an online forum, he says, "and Democrats and liberals said it was fake."
And in a 2020 tweet, Bell lambasted Nancy Pelosi, saying she "doesn't think she needs to bother debating her own opponent. This sort of smug, arrogant, elitist snobbery is probably why so many people continue to 'vote against their own interests.' " No one is spared in Bell's work just because they're members of one political party or another.
"He's extremely talented at being able to make difficult things funny," Lago elaborates. "But he knows when not to be funny. He knows when entertaining someone might mean presenting them with truths that they need to face. And he can do it in a way that his logic is unassailable," Lago says, then laughs. "Although people will write to him and assail it anyway—but they'll be wrong."
"This is a guy you could give the Pulitzer Prize to every year and nobody would bat an eye," says The Sacramento Bee's Jack Ohman, the capital city's other Pulitzer Prize-winning cartoonist (2016) and one of Bell's close friends. "There are a couple people like that—mega talents—and he's one of them. His writing is brilliant. His illustration is brilliant. It's almost frightening how much talent that guy has. And he's a really nice guy."
FOR BETTER OR FOR WORSE
Bell says he has been cautious about articles that discuss where he lives because he's received death threats in the past. "Not recently, though," he says. "I'm hoping that's over with." Ironically, he thinks that the rising tide of hate in America may actually be the reason. "If half the country are the 'enemies,' then I don't stick out," he says ruefully.
Bell once set aside political cartooning for more than 10 years. A cartoon he drew in the days after 9/11 depicting two of the hijackers in Bin Laden-style turbans sparked outrage when it appeared in The Daily Californian. But what got to Bell most wasn't the hundred-plus Students for Justice for Palestine who occupied the school newspaper's offices, protesting the cartoon as offensive to Muslims, it was a phone call from the mother of a Sikh boy, who said that the cartoon had hurt her son by making him a target of hate.
Disturbed, Bell chose to focus on his daily strips until George Zimmermann shot 17-year-old Trayvon Martin in 2012. Bell scrapped a week's worth of Candorville strips and drew new ones, in which Martin visits Lemont Brown in his dreams, riding aboard a dreamscape train to "the Starbucks at the end of the world," where dead children live out the lives they didn't get to have—graduating from school, hoisting a child of their own onto their shoulders. The strip caused such an emotional response that it was reported on as a news story in its own right. Bell told a Washington Post reporter, "I felt catharsis. I felt like somewhere there is justice, even if it's only in Lemont's dreams."
Bell started drawing editorial cartoons with renewed conviction the following year—even as he took over Rudy Park's writing duties when Richtel, with two small children at home, decided to step away. He won the Robert F. Kennedy Journalism Award for editorial cartooning in 2015, and the Berryman Award in 2016. When he won the Pulitzer Prize in 2019, The Washington Post headline read: "How the Trayvon Martin tragedy led to Darrin Bell's historic editorial cartooning Pulitzer."
Leading up to his Pulitzer win, Bell also became a contributor to The New Yorker. Some cartoonists have submitted every week for decades without a win. The celebrated Sacramento artist Wayne Thiebaud illustrated ten covers for the magazine but could never get a single cartoon accepted. Well, Bell didn't have to try—The New Yorker called him.
FAMILY CIRCLE
At 35, Bell met his wife Makeda Rashidi, then a 25-year-old artist, when she interviewed him on stage at the San Francisco main library. They married in 2014. With one child and another on the way, the couple relocated from L.A. to Sacramento in 2017, choosing it as the Goldilocks of cities in which to raise a family—small enough to feel safe in and be able to afford, but big enough to provide fodder for Bell's cartoon characters' urban adventures.
Bell jokingly describes his household as prime sitcom turf. Population: two adults, four children (aged 9 to one-and-a-half), two rabbits, and some chickens. Oldest son Emyree Zazu, 9, is into Star Wars, like his dad was, while 6-year-old daughter Ehani Zia is into Barbie. And 3-year-old son Ember Zahir emulates whichever sibling he's playing with. "Since he started sharing a room with our daughter, he's been trying to be more and more like her, so he's really into Barbie videos on YouTube. There's a whole genre of pregnant Barbie videos," Bell says, arching an eyebrow. "I asked him what he wants to be when he grows up, and he said, 'Pregnant.' "
Rashidi homeschools the Bell children. "So they don't have to deal with any of the stuff that I dealt with in The Talk," Bell says. "And they won't grow up having to reminisce about all the school shooting drills they went to."
When I ask Bell how he feels about raising kids in Sacramento, he pauses for a long time, then says, with visible reluctance, "Not great." He has felt racial tensions rise in the community since moving here, and describes a few incidents, best summed up by one in particular while he was visiting the playground swing sets in Oak Park—a historically Black neighborhood that some complain has become increasingly gentrified—with then 3-year-old Emyree Zazu. "My son was the cutest boy, and so innocent, and so was this little white girl who came to sit next to him and asked him his name. Then out of nowhere, her father comes and yanks her away," Bell says, shaking his head. "And he looked scared. He was a foot taller than me and looked like he worked out all the time, and he looked terrified of me." He shrugs with hollow resignation. "So, I don't know how I feel about raising kids in Sacramento. There are a lot of liberal and progressive people in the city itself, but…. I used to think things were changing for the better, then Trump got elected. There's been a backlash for every single moment of awakening."
PEANUTS
Bell's creative output appears superhumanly prodigious, and his friend and fellow cartoonist Keith Knight—whose life and K Chronicles comic strip inspired the Hulu series Woke—explains the fragile economics of cartooning to me in a phone call. "There used to be a time when if you had a daily comic strip, it was like being a tenured professor," Knight says. "But nowadays, it's like you're doing full-time work that pays part-time, so you have to do other things. It's a never-ending hustle. Every couple of weeks, there are cartoonists doing GoFundMe [campaigns] for medical stuff, and it's heartbreaking."
Adding to his challenges, Bell had a scary moment in 2017. "I was doing two strips, sleeping three hours a day, and I got this pain in my arm. I've seen the PSAs," he says, referring to the knowledge that arm pain is one potential symptom of a heart attack. "I didn't have health insurance, and I thought, if I go to the hospital and it's something serious, we will lose the house." So, Bell did nothing. He slept on the couch that night, watching episodes of his favorite show, Star Trek: Deep Space Nine, just in case it was to be his last night on Earth.
He woke up achy but alive. He never found out what was wrong, but now figures it must have been exhaustion. Shortly thereafter, he merged the Rudy Park characters into Candorville. Since the two strips ran in different papers, he effectively cut his workload in half without reducing his income. But even after winning a Pulitzer Prize, he still needed to moonlight to make ends meet, doing storyboards and illustrations for hire for private and corporate clients. The book advance looked like an economic lifeline, until he realized most cartoonists take five years to draw a book—and advances are paid out in dribs and drabs during the process—so he drew The Talk in two and a half.
Bell continues to take risks in his work; risks that can have a financial downside. Just this February, when Dilbert cartoonist Scott Adams posted a YouTube video calling Black people a "hate group" and suggesting that white people should "get the hell away from Black people," prompting newspapers around the country to drop the strip, Bell answered back by going on "vacation" while "Scoot Madams" drew a satire called Filbert, skewering the character Dilbert for a week.
When we meet in early May, Bell has just learned that the Sacramento-based McClatchy newspaper group was dropping Candorville and a few other comics from its 29 papers nationwide—including The Sacramento Bee—bringing the number of papers his strip appears in down to around 110 from its all-time high of around 300. It's not clear why. Like Doonesbury, Candorville is so often political that papers don't always know whether to put it on the comics pages or the editorial page, and sometimes they simply drop it altogether.
In 2007, after the Los Angeles Times cut Candorville, Bell happened to be in the audience at the Los Angeles Times Festival of Books when the comedian Elayne Boosler was interviewing cartoonist Wiley Miller (best known for his comic strip Non Sequitur). Boosler recognized Bell, and called him to join them on stage. "I was surprised I got an ovation," Bell says. "I didn't think anybody knew who the hell I was." Boosler urged the audience to write letters to the editor. "Two days later, I was riding my bike and I got a call," Bell remembers. "Just three words: 'You're back in.' "
Today, he says, nobody writes to the editor. They just tweet, broadcasting their frustrations rather than targeting them, and the powers that be don't get the message. One such tweet in April came from @GordonGartrell9, directed at the McClatchy-owned Raleigh News & Observer:
"Can't believe you dropped @candorville, the smartest and best drawn strip."
The image of readers standing shoulder-to-shoulder shouting (or in this case tweeting) noiselessly into the great void sounds like the description of a Darrin Bell cartoon.
"So, I don't have much hope that it's coming back this time," he says. Is it a Dilbert backlash, or just a financial decision? Bell has been assured it's the latter, but suspects it's the former. (McClatchy did not provide us with a comment for this story.)
PRINCE VALIANT
In his cozy, brick-walled office, where we meet up a few days after our initial conversation in the park, the first dollar he ever earned is framed, sitting on a ledge next to a Star Wars stormtrooper commemorative popcorn tub. His godmother wrote him a $200 check for a drawing when he was a boy, and when he opened his first bank account with it, he asked for $1 back because George Jefferson of The Jeffersons had a framed dollar on the wall of his dry cleaning shop.
When the pandemic started, Bell still worked here every day. There's a treadmill desk surrounded by monitors at one end, and a couch and TV at the other—watching the news is part of the day job. This lair was his sanctuary until one night early in the pandemic when the sound of prolonged coughing in the hallway drove him to seek refuge in the park—fearing he'd been exposed to Covid, he didn't want to go home. "It was nighttime, I had the whole [park] to myself, and it was beautiful," he says. "I drew the cartoon I'd started in my office."
An avid hiker who used to put Emyree Zazu in a backpack carrier and wander the Sierra foothills, Bell had found his happy place, and a new voice. As he wrote in his Substack newsletter: "The Talk ebbs and flows between tension and relief, between setbacks and triumph, between heartbreak and elation, in a way it would not have had I not ended up creating most of it in the middle of nature, to the soundtrack of ducks and rustling leaves."
He asks if I've read Octavia Butler's Parable of the Sower—the 1993 novel set in a California ravaged by climate change, class war and economic strife that Bell first read when it came out. I tell him I have. "It seemed a lot more science fiction-y when I first read it," he says. "I started re-reading it recently, and it was basically like reading the newspaper."
Yep. The world right now—it's a lot. And it's a brave alchemy, figuring out how to make people laugh with purpose (lest they become inured to pain and horror and feel nothing), and at the same time, live your own full life.
"I would rather have less material," Bell says, slumping in his chair to pantomime a moment of Eeyore-like sadness, then laughs at himself. "Sometimes I spend a week [of Candorville strips] not touching politics at all, just to rekindle my hope that someday Star Trek will be all I have to talk about. I really hope that someday people will look at old collections of my cartoons and won't be able to relate to them at all, because the politics will be so much better than they are now. I won't have to feel like I'm some soldier in a battle to save democracy."
The last talk in The Talk takes place in Bell's Sacramento home, around the dinner table, where Darrin and Makeda explain well, I'll not spoil the ending of the book for you, except to say that 6-year-old Emyree Zazu comes away from the talk with an enlightened, empathetic understanding of race in America. As do I. Maybe we all need someone to sit us down and explain it to us as if we're 6. And then, because Darrin Bell is nothing if not hopeful, there is an epilogue that is—you guessed it—a literal walk in the park.