Disney legends will descend upon Sacramento for upcoming appearances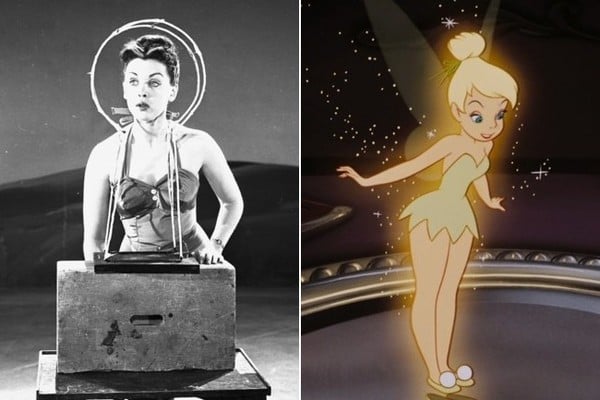 Disney fans won't have to travel to the Happiest Place on Earth to feel its magic in the coming months as Stage Nine Entertainment in Old Sacramento hosts a parade of Disney legends leading up to its 25th anniversary celebration in May.
The first event on Nov. 18 will feature a book signing and autograph session with Margaret Kerry, who served as the figure model for Tinker Bell in Disney's 1953 animated film Peter Pan. The 88-year-old former actress—whose prolific Hollywood career included roles in The Little Rascals, The Andy Griffith Show and voice overs for the 1960s children's animated series Clutch Cargo—will host a Q&A and sign her 2016 memoir Tinker Bell Talks: Tales of a Pixie Dusted Life. Tickets start at $15 and can be purchased here.
On Feb. 3, Stage Nine will host a meet and greet with Bob Gurr, one of Disney's original Imagineers, who began working on concepts for Disneyland in 1954, a year before the park opened. Gurr's appearance will be accompanied by a collection of blueprints, renderings and images of his work, which included designing Disneyland's famed monorail, the Doom Buggy ride system for the Haunted Mansion, along with the Matterhorn bobsleds and the cars for Autopia. [Update 1/12/18: the VIP event with Bob Gurr on Feb. 3 at 7 p.m. is sold out, but the public can attend a free meet-and-greet with the Disney legend earlier that same day from 12-4 p.m. Visit stagenine.com for more information.]
David Bossert—a former animator, producer and creative director for Walt Disney Animation Studios who contributed to films like The Lion King, Aladdin and The Little Mermaid—will appear at Stage Nine on March 31 & April 1 to speak with guests and sign several books he has penned on Disney icons and history, like The Art of Tennessee Loveless, depicting collections from the pop artist who created a series of bold Mickey Mouse paintings, including one for Sacramento featuring local landmarks like the Tower Bridge and Delta King.
On May 19 & 20, Stage Nine Entertainment will throw its 25th Anniversary party, which owner Troy Carlson said will feature celebrity guests and a celebration of the company's completed renovations to connect Stage Nine to its sister stores G. Willikers Toy Emporium and The Old Fashioned Candy & Confectionary Store, which opened a year ago.
"One of our main inspirations was the Emporium [on Main Street] in Disneyland where you can easily go from one store to the other," Carlson says. "We want to create more of a destination for Northern California and the shoppers who come to Old Sacramento."
Stage Nine, which opened in 1999 and features Hollywood-themed gifts and fine Disney art, recently underwent a cosmetic remodel to refurbish its floors, lighting and audio-video system, which was completed Nov. 9.
Events will take place at Stage Nine Entertainment Store at 102 K St. in Old Sacramento. For tickets and more information, call 447-3623 or visit stagenine.com.
You Might Also Like
Sacramento inspires Mickey Mouse painting
Disney's California Adventure letters placed at California State Fair
Drawn From Life: inside local illustrator Pascal Campion's studio