Don't Trash Sacramento
Cities around the world are fighting litter, so as the capital city adjusts to its new place in the national spotlight, it's time to clean up our act.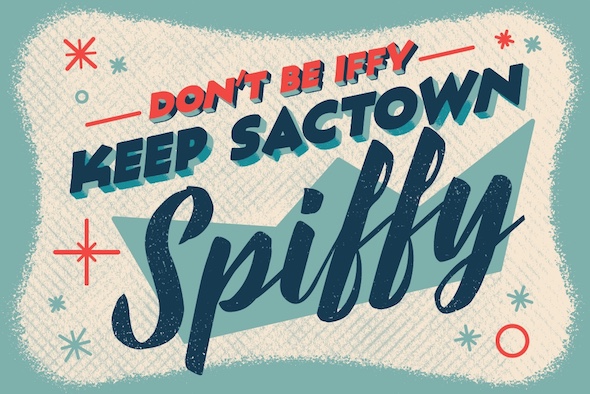 Every few years, a new American metropolis emerges as a darling of the national press, with glowing articles in magazines and newspapers touting a suddenly "undiscovered" destination city. Sacramento, as you may have noticed, has been one of these cities in recent months, with stories in The New York Times, Food & Wine, Travel & Leisure, Sunset and many others extolling the offerings of our collective hometown, thanks to a big assist from Greta Gerwig and Lady Bird, but also from our burgeoning food, coffee and beer scenes, along with our newly vibrant downtown.
That's the good news.
The not-so-good news?
A little over a year ago, J.D. Power released its first-ever Destination Experience Satisfaction Study, in which it ranked 50 American cities on key metrics, such as cost and lodging. One of the factors was cleanliness, and unfortunately, Sacramento showed up near the bottom of the heap, at No. 38, tied with Pittsburgh.
Since then, anecdotally, the volume of trash on our streets has spiked. Yes, it's safe to assume that the tragically surging homeless population is a big part of the reason, and that's a problem our civic leaders appear committed to solving. But it's also important to recognize that there are things that can be controlled and things that can't be. Homelessness is a complex issue that will take a long time to resolve. But when it comes to cleaning up our sidewalks, there really is no excuse for not figuring this out quickly, especially in high-traffic areas that shape the perception of our city. Yes, it's hard work and expensive, but the consequences of not doing it—its adverse impacts on tourism, convention business and quality of life for those who live here—are far more costly, both in economic terms and in terms of national reputation and civic pride.
Indeed, there are efforts being made. But we need to do better.
Many cities around the country face the same challenges, so there is no shortage of creative ways to combat the problems.
Yes, cleaning up our streets is hard work and expensive, but the consequences of not doing it—its adverse impacts on tourism, convention business and quality of life for those who live here—are far more costly, both in economic terms and in terms of national reputation and civic pride.
One of the most intriguing is a strategy designed to tackle multiple issues at once—recruiting the homeless to remove litter on city streets. In 2015, Albuquerque Mayor Richard J. Berry launched a program in which the city partnered with a local shelter to hire homeless people for $9 an hour. The results were dramatic. Within a couple of years, the city had provided 3,498 shifts and cleaned 599 city blocks, removing 175,000 pounds of litter. The effort also connected 368 people with employment services to find more work, and moved 21 people into a housing program.
"The good news is it doesn't take much," Mayor Berry told a TEDx audience last year. "We started with an old van, a super fantastic human being [who served as both driver and coordinator], a great local nonprofit and $50,000." In 2017, thanks to the project's success, the budget was increased to $181,000.
Inspired by Albuquerque's efforts, Anaheim started a similar venture called Better Way Anaheim on Jan. 4 of this year. The six-month pilot program provides $60 in gift cards (for places like Subway and Walmart) to participants in exchange for five hours of work, including cleaning up city parks and painting trash cans.
In January, a San Jose-based group called Downtown Streets Team made its debut here with enough funding to enlist 25 homeless people to work four hours a day, five days a week picking up trash around North Sacramento, including the area surrounding the city's winter triage homeless center. The Streets Team gives its "team members" gift cards for food and other living expenses, and provides employment and housing assistance. By March, there was a waiting list of nearly two dozen people. Project manager Rachel Davidson says the organization hopes to expand to downtown within the year. "Our Sacramento team has been the largest launch in the agency's history," she says of the program that launched in 2005 and also serves eight Bay Area communities. "Sadly, this speaks to the incredible need the city is facing."
Some cities are turning to technology to help curb littering.
Last year, Pittsburgh and Washington, D.C., purchased public trash cans outfitted with sensors to monitor how full they are. That way, city employees can empty receptacles before they overflow.
In New York, Baltimore and Philadelphia (or Filthadelphia, as some frustrated locals call it), solar-powered trash compactors have been deployed. They hold five times more garbage than standard trash cans, reducing the number of times they need to be emptied.
Other cities are looking to Disneyland.
When Walt Disney opened his park in 1955, cleanliness was a priority. As legend has it, to figure out how far to place garbage cans from each other, Disney picked up a hot dog from a Main Street vendor and started eating it as he walked. He counted about 30 steps before he finished it and needed to toss the wrapper. And that's why the distance between trash cans in Disneyland is around 30 steps or less.
Inspired by this story, the Downtown Modesto Partnership bought 72 trash receptacles and last year placed them every 31 feet on key blocks—that's six cans per block. "It helps tremendously with litter pickup," says director Josh Bridegroom.
So what can you do? Be vocal. Let your elected officials know if there's a problem in your neighborhood. Take pictures and email them to the powers that be.
Or, if you want to take matters into your own hands, literally, you can join the new mini fitness craze imported from Sweden called plogging—a combination of the Swedish phrase "plocka upp" ("pick up") and the word "jogging." Essentially, it's jogging (or running or walking) while picking up trash. Type #plogging into Instagram and you'll see thousands of photos of people doing just that. Participants say it's a better workout than jogging alone. In fact, according to the health app Lifesum, which recently added plogging to its features, on average, 30 minutes of jogging burns 235 calories, but the same amount of time spent plogging burns 288. Just bring a small bag and a rubber glove and you're all set.
Whatever tactic we take as a community, a little encouragement goes a long way. Cities across the globe have developed slogans and programs to help fight litter.
In California alone, there's Keep Oakland Clean & Beautiful, I Love a Clean San Diego, Keep Fresno Clean, San Francisco Clean City Coalition, Clean Streets L.A., and Keep Santa Clara Clean.
In the immortal words of Dr. Dre, "Sacramento, where you at?"
Of course, the most iconic anti-littering slogan in the U.S. is "Don't Mess with Texas"—a wildly successful campaign that dates to 1986 and is credited with dramatically reducing littering in the Lone Star State.
Lesser-known efforts include the 1987 program in Syracuse that utilized basketball-hoop-themed trash cans and implored citizens to "Dunk Your Junk." And last year, the New York City Department of Sanitation teamed up with the Knicks on a "Talk Trash New York" campaign to deploy 500 hoop-themed trash cans. The Kings do a great job keeping Downtown Commons spotless, so maybe they can sponsor a similar program for the surrounding blocks, which could definitely use some help.
If positive reinforcement fails, we can always adopt a shame-based approach, as the group Keep Savannah Clean did in Georgia in 2016, displaying anti-litter messages on
10 of its garbage trucks, like "There's a word for people who litter… CRIMINAL." Toronto's brilliant 2014 campaign combined logos on pieces of actual trash to spell out words like "lazy" (from Lay's chips and Krazy Glue) or "lowlife" (from Sweet'N Low and Life Savers).
So what's the answer to litter in Sacramento? There is no one solution, of course, but it includes everyone, from each one of us to our elected officials. It's time to recognize that litter is more than skin deep. The cleanliness of our streets and sidewalks, or the lack thereof, communicates something about our city as a place to live, work and visit. It speaks to our civic pride and even to our ambitions as a city. And with the national spotlight shining on us more than ever, this is the time to take action.
Who's ready to Keep Sactown Spiffy?