Drake's Brewing sets opening date at The Barn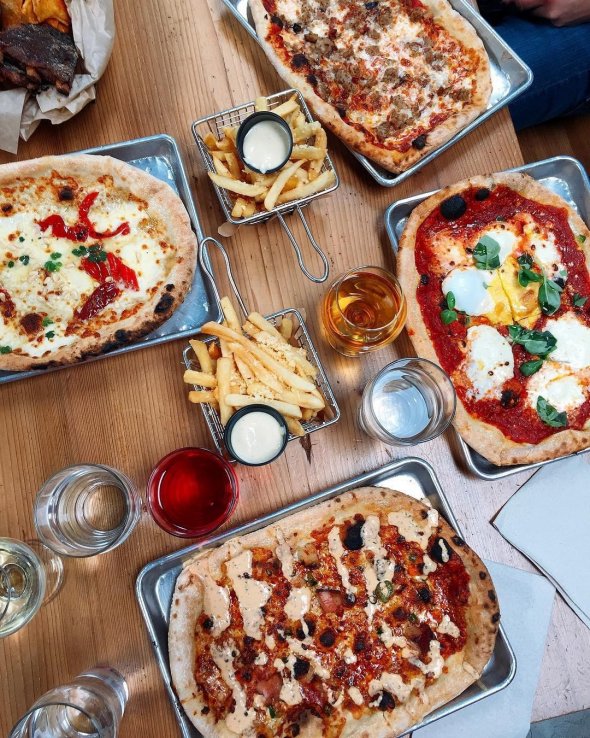 The west bank of the Sacramento River is about to get a whole lot sudsier. Two years after announcing its forthcoming West Sacramento pizza restaurant and beer garden, Drake's Brewing Co. is set to open its doors at The Barn on Wednesday, Oct. 24.
A collaboration between The Barn and San Leandro-based Drake's, the 2-acre space is anchored by the swooping cedar-shingled pavilion designed by Dutch architect Jerry van Eyck, and will feature a 30,000-square-foot lawn (more on that later) and a 400-seat open-air biergarten. The bar will boast 50 taps pouring popular Drake's mainstays like the signature Best Coast IPA and the boozy Denogginizer Double IPA, along with guest brews and new specialty releases, including 30 Motels, a reference to a West Sacramento billboard that Drake's co-owner John Martin passes by on his commute into the city.
For the restaurant portion, dubbed PizzaSmith, Drake's executive chef Taylor Smith will offer a menu of thin-crust pizzas—like the Eb, with pickled pineapple, sausage, jalapeños and sriracha, and the 89, with pepperoni, shaved red onion and pickled goat-horn peppers—similar to those served at Drake's Oakland restaurant, Drake's Dealership. (Produce for the eatery will be harvested from an on-site urban farm as part of a partnership with the Winters-based Center for Land-Based Learning.) The team also plans to add a craft cocktail bar—Drake's first-ever—later this winter.
Martin hopes the outpost will become a gathering space for the community, with concerts featuring local musicians on the property's three stages (Elk Grove band So Much Light and Sacramento-based The Philharmonik will perform during the restaurant's opening week) and pop-up attractions like mini golf on the aforementioned 30,000-square-foot lawn.
"[Drake's] is really supposed to feel like you're in a quasi-public park that happens to sell beer and spirits and pizzas," says Martin. "We look at it as a place away from it all—a party in the park. It's been a long project, but we are excited to finally be opening the doors."
Opening week hours: Wed.-Fri., Oct. 24-26, from 4 p.m.-midnight; Sat., Oct. 27, from 11:30 a.m.-midnight; and Sun., Oct. 28, from 11:30 a.m.-9 p.m. Regular hours beginning Oct. 31 will be Wed.-Thurs. from 11:30 a.m.-10 p.m.; Fri. & Sat. from 11:30 a.m.-midnight; and Sun. from 11:30 a.m.-9 p.m. Drake's will be closed Mon. & Tues.
985 Riverfront St. West Sacramento. drinkdrakes.com
You Might Also Like
Gourmet "hipster-hop" doughnut shop Milk Money sets opening date
Owners of The Rind share details for their new West Sacramento pizzeria
Soak up the suds this summer at 11 new Sacramento breweries and taprooms