Eat Drink Play Love
If you think you know Napa and Sonoma, think again. We've got the skinny on the region's newest hot spots (and updates on a few old favorites), just in time to celebrate the harvest season. Discover the movie mogul's swimming pool where you can make a splash, the glampground where you can sleep in a yurt, the fried chicken shack where you can sample a Michelin-starred chef's finger-lickin' fare and, of course, the coolest watering holes, from a bike-themed tasting room to an organic cider house that rules. Scroll down, and get ready to wine and unwind.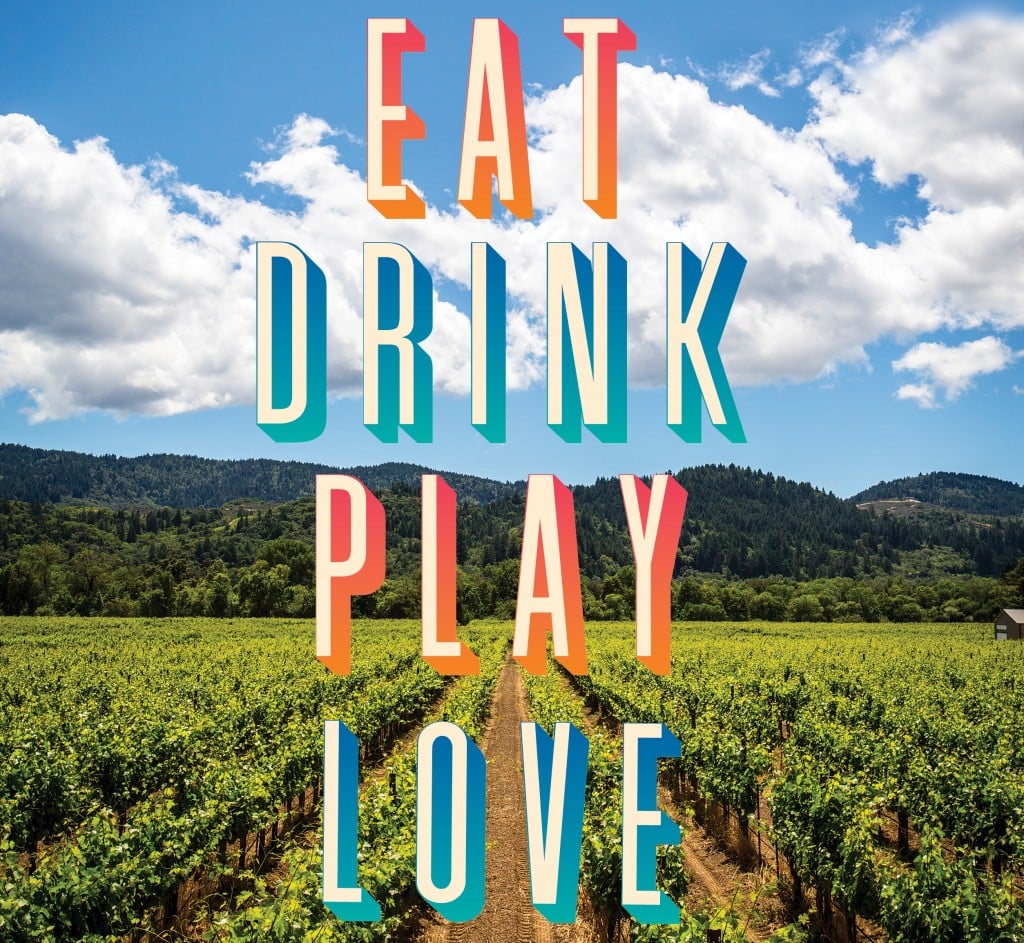 For oenophiles, Napa's a bucket-list destination that revolves around traditional notions of luxury, like $25 appointment-only tastings, infinity pools and plates of pâté. But there's a lot more eclecticism and energy to be discovered in this sun-soaked, bucolic region than the postcard vistas on wine labels would lead you to believe. We've scouted out some of the most offbeat, elegant, bespoke, down-home or all-around surprising discoveries in a place you thought you knew, from a post-earthquake downtown bustling with food markets and nightlife, to a gem of a campground, to a retro-cool winery where you can play pinball—all destination-worthy attractions to keep you intrigued whether or not you know your merlot from your malbec. Whatever your predilections, there's a Napa Valley here that's up your alley. —Hillary Louise Johnson
EAT
Addendum
If you've yet to bag that once-in-a-lifetime dinner at The French Laundry, fret not—there are more ways than ever to get a little Thomas Keller into your life, the latest being this fried chicken and rib shack in Yountville tucked behind Ad Hoc, the chef's mid-range, family-style offering. Locals who used to pray their reservations fell on one of the nights Keller's famous fried chicken popped up on Ad Hoc's rotating prix fixe menu now just line up at Addendum to score white paper boxes of the glistening, golden morsels, flecked with rosemary and served with sides like coleslaw and macaroni salad and, if you'd like, a cup of sweet tea. Throngs eat at communal picnic tables under a stand of redwoods, licking fingers and chasing napkins that blow away in the breeze. Addendum is only open for lunch, Thursday through Saturday, so plan accordingly if you want to make a pilgrimage. 6476 Washington St. Yountville. 707-944-2487. adhocrestaurant.com
Brasswood
Fans of L Wine Lounge & Urban Kitchen will recognize a familiar face in general manager Marcus Marquez, who co-owned the former midtown hot spot, but he's the new kid at Brasswood. When Napa staple Tra Vigne shuttered after a 30-year run (it's now the setting for The Charter Oak, see below), the majority of the kitchen and waitstaff stayed together, moving en masse to Brasswood, the clubby, leather-appointed restaurant at the winery of the same name that opened in early 2016. Also jumping ship: Tra Vigne's signature dish, mozzarella "al minuto," an appetizer of fresh, hand-pulled mozzarella cheese that's made to order and served on tranches of grilled baguette from La Brea Bakery, drenched in olive oil. With a side of balsamic-laced heirloom tomatoes still warm from the sun that grew them, it's a perfect farmhouse meal. And you will no doubt be eating it next to a farmer, as this is the kind of place where land barons and laborers rub elbows and talk shop. Out of respect for the mothership, Brasswood doesn't put the dish on its menu (other standouts include a warm Brussels sprout salad and duck risotto), but your server will tip you off, if the swoons at the table next to you haven't already—did they just order a second plate of it? Why, yes they did, and so will you. 3111 St. Helena Highway North. St. Helena. 707-968-5434. brasswood.com
The Charter Oak
Chef Christopher Kostow's Restaurant at Meadowood earned him three Michelin stars, but the palate wants what the palate wants, and his newest venture, The Charter Oak, which just opened in June, is a radical departure into what he calls "elemental cooking." Along with chef Katianna Hong, Kostow is putting out food that is purposefully simple, much of it prepared over the St. Helena restaurant's central open hearth. Picture hand-cut, roasted potato chips served with a dip made of house-smoked Brie, potato and salmon roe—if this is Kostow's idea of elemental, it's working: the dish is an essay in vegetal textures, the roe serving as a seasoning, the cheese binding the dish, the layered, potato-on-potato action the star. Or try a plate of whole, raw baby summer vegetables displayed like a deconstructed cornucopia, served with fermented soy dip. If your own idea of elemental skews caveman, there are beef ribs grilled over cabernet barrel staves, alongside beets roasted and tossed in the rendered fat. The vast, cavernous space has an industrial edge, feeling both timeless and contemporary, and the details are entertaining, like menus delivered tucked into vintage books, and cocktails that are bottled and poured out of private-label flasks. Best of all, you can wander in at any old time and sit down at the communal table, with the best view of the hearth, without a reservation. 1050 Charter Oak Ave. St. Helena. 707-302-6996. thecharteroak.com
Oxbow Public Market
If downtown Napa's rollicking public market reminds you of San Francisco's Ferry Building, that's because it was designed by the same team. This is choose-your-own-adventure dining: Start with an appetizer of creamy, garlicky oysters Rockefeller from the Hog Island Oyster Company, or a crispy ahi taco from Gott's Roadside, an outpost of the famous '50s-style burger shack in St. Helena, then choose a 50-day dry-aged steak from the meat counter at Five Dot Ranch and have it grilled up to order. Grab a glass of Fieldwork Brewing Co.'s churro cream ale for dessert, or a scoop of lemon cookie cream from Three Twins Ice Cream, and wander among the vendors' displays of exotic provisions. Napa Valley Distillery, for instance, boasts over 50 brands and 100 varieties of bitters—from Addition's Filthy Dirty Tincture for making dirty martinis to Bad Dog Bar Craft's Fire and Damnation for creating "volcanic" daiquiris—and you can try them all, if you dare. 610 & 644 First St. Napa. 707-266-6529. oxbowpublicmarket.com
DRINK
Velo Vino
Whether your idea of two-wheeling it runs toward Lance Armstrong or Pippi Longstocking, the Clif Family Winery's bike-themed tasting room has you covered. Gary Erickson and Kit Crawford invented the Clif Bar while cycling through Italy tasting wine, and they've gone to great lengths to create a complete experience for guests, with no detail left out. You start out at their tasting room on St. Helena's Main Street with coffee and—what else?—a Clif Bar, then set off on your rented steed of choice with a clever map that tucks into your cycling jersey (or pinafore pocket) and lists local wineries where you may wish to tarry, along with routes that range from bucolic idylls to athletic workouts. The Tour de St. Helena is the classic all-ages-and-abilities ride, taking you through quaint neighborhood streets and up a canopied country lane for a gentle 8 miles, with opportunities to stop at Orin Swift Cellars and Farmstead at Long Meadow Ranch. Upon your return you'll sprawl on the colorful patio, tasting wines from the Clif Family Vineyards and feasting on fare from the Clif Family Bruschetteria food truck, where chef John McConnell does insane things to toasted bread, like topping it with shaved beet pimento cheese and spiced almonds, or Moroccan rabbit confit and minted yogurt. Sound good? Falling in love with this side of Napa is as easy as riding a bike. 709 Main St. St. Helena. 707-968-0625. cliffamily.com
Tank Garage Winery
If the charms of Tuscan fountains and castles are lost on you, and if you maybe have a tattoo or two you regret (or not), Tank Garage Winery is going to be your new jam. Housed in an erstwhile 1930s service station and decorated with vintage guitars, motorcycles and arcade games, this three-year-old joint in downtown Calistoga is wine-loving-hipster heaven. Especially on certain random evenings, when the tasting room turns into a speakeasy and you need a password (happily distributed by staff) to enter—"Wah Pedal" on a recent Friday. And lest you think it's all quarters and rockabilly, they do take their wine seriously, with a lineup that tends toward the bold and fun. But if you fancy, say, the 2015 Lipstick and Gunpowder, a sultry blend of barbera, syrah and old-vine primitivo, then you'd better stock up, because Tank Garage never repeats a vintage, and you can only get it here. 1020 Foothill Blvd. Calistoga. 707-942-8265. tankgaragewinery.com
Mad Fritz Brewery
They say it takes a lot of good beer to make great wine. Husband-and-wife brewers Nile Zacherle and Whitney Fisher both came up in the wine industry and still work as vintners by day, in addition to running what may be the most famous brewery you've never heard of. Drop the name Mad Fritz (which is a combination of Madeline and Fritz, the couple's two kids) at any craft brewery taproom in Northern California and you'll see eyes light up, then mist over: everyone in the business seems to have made a pilgrimage to this tiny taproom in St. Helena, where you have to make an appointment for Nile himself to pour for you. Mad Fritz eschews the hop-heady IPA trend, which Nile likens to that generation of over-roasted coffee that everybody thought was "good"—until they tasted Temple's Guatemalan peaberry. The label on a bottle of The Wind and Sun golden ale (the brews are all named after Aesop's fables) lists the provenance of every ingredient, from the well where the water was drawn to the barrel it was aged in, and, as the moniker suggests, drinking the beer is like drinking a glass of crisp, molten harvest sunshine. Mad Fritz has just begun growing and malting its own barley, and has ambitions to create a line of single-origin brews, exploring the notion of terroir. Who knew the Napa Valley would be the birthplace of beer 3.0? Apparently it takes a lot of good wine to make great beer. 393 La Fata St. St. Helena. 707-968-5058. madfritz.com
Trefethen Family Vineyards
The 2014 Napa earthquake just about put paid to one of the oldest wineries in the valley, but the Trefethen family painstakingly rebuilt their 1886 building, brick by brick and board by board, reopening just this past May. The project is so new you can still smell the freshly hewn oak—the second-floor tasting room is dominated by open storerooms full of picturesque barrels. The main reason Trefethen is so fiercely beloved by a loyal cult of club members, though, isn't the graceful surroundings, or even the great wine (like its flagship HaLo cabernet sauvignon and its dry riesling, which won Best White Wine of Napa Valley at the California State Fair this year), but the warm welcome, epitomized by the uniquely hospitable ways of tasting room doyenne, wine specialist Shannon Walli. You know how people who've met Bill Clinton always say he makes you feel like the most special person in the world? Walli shares that gift. When your gaze lingers on the striking communal table hewn from a single oak slab, she touches your elbow conspiratorially and whisks you away to view old photos of that tree when it used to stand in front of the winery, telling its story to you and others who gather around. You'll leave Trefethen feeling like you've experienced what a family winery is really about. As one visiting club member put it, "There's good wine all over Napa. We come here to see Shannon." 1160 Oak Knoll Ave. Napa. 707-251-2473. trefethen.com
PLAY
Hear More Better Blues
The latest offspring of the legendary jazz and blues club in New York's Greenwich Village (others include venues in Tokyo and Milan), the intimate Blue Note Napa—which opened on the ground floor of Napa's renovated historic opera house last October—is the ideal sized room for appreciating the buttery tones of jazz singers like baritone Nicolas Bearde (Sept. 20-21) or singer-songwriters like Livingston Taylor (Aug. 25-27), who shifts easily between original pop songs and renditions of Gershwin. There isn't a bad seat in the house, and the cheap seats ($10-$35) at the bar could arguably be deemed to provide the best vantage point of all. The barrel-vaulted brick ceiling and translucent blue walls behind the bar create a feeling of being underground, or even undersea. It's the perfect environment if you want to be transported. Order a Sazerac and slip away to the blue bayou. 1030 Main St. Napa. 707-880-2300. bluenotenapa.com
Go Up, Up and Away
The wee-hour wake-up call for a hot-air balloon ride can be challenging when you're in vacation mode, but rest assured everything starts to look up from there—literally. At the launch site near Domaine Chandon in Yountville, pilots at Napa Valley Balloons will assess the conditions—we'll take light and stable winds under a cloudless sky, please—before calling the whole thing off or inflating the balloons. If the weather gods are cooperating, you'll take flight, gliding at an altitude of 1,000 to 3,000 feet above the valley floor, seeing the land divided into a patchwork of vineyards, farms and neighborhoods. You'll recognize the restaurant you ate at last night, spot an outdoor labyrinth, wave hello to people on the ground, and watch the sun gain strength as the approximately hour-long ride flies by. You'll gently touch down somewhere safe (for us, it was an empty playground) before a van whisks you back to the winery for a champagne breakfast. By 8 a.m.—widely accepted as a normal time to rise and shine—you'll have conquered your phobia of heights and gained an entirely new perspective on one of the world's most famous wine regions. 707-944-0228. napavalleyballoons.com —Leilani Marie Labong
Get Cooking
The Culinary Institute of America's shiny new downtown Napa home, which used to house the culinary center Copia, is a playground for foodie exploration, with museum exhibits, a restaurant, a store (where you can buy a copper braising pot that looks like it belongs on the coffee table, not the stove) and a full roster of cooking lessons, from daylong master classes to kids' workshops. But the coolest ticket here is the farm-to-table cooking demonstration, which offers an opportunity to watch a professional chef (in this case, Hilary Sullivan Powers) at work while she prepares dishes from ingredients plucked moments ago from the school's culinary garden—which you strolled through on your way to class. In the dramatic teaching theater, you sit at tiered dining tables (with wine, of course) and follow along during prep work with the aid of large TV screens showing the cutting board action in detail while Sullivan Powers, who grew up gardening in Vacaville and designed menus for George Lucas' Skywalker Ranch, shows you how to chop, season and measure out ingredients to effortlessly turn out creative dishes—strawberry-rhubarb crisp and a salad with shaved fennel, radish, fava bean and ground juniper berry on a recent visit—fielding questions and offering tips along the way. You'll leave with upgraded skills, like knowing the right way to use a mandoline slicer and how to season a salad (hint, you're not pinching nearly enough salt), and your appetite for culinary experimentation newly whetted. 500 First St. Napa. 707-967-2500. ciaatcopia.com
Steep in Mud
Deposited from epochs-ago eruptions of nearby volcanoes, the mineral-rich ash naturally found at the magical bohemia known as Indian Springs is mixed into the historic spa's signature mud bath ritual ($95). You will be helped into a concrete tub full of thick, black mud—a very warm (and at times, hot) mixture that's fortified by the geo-thermal waters from the geysers on property. For 12 minutes, you'll soak there in a perceived state of zero gravity (translation: you'll feel like you're floating, even though 10-15 pounds of the good stuff has been smeared on top of you), while your skin purportedly detoxifies, your circulation improves, and your creaky joints loosen up. After a shower, you'll head to a bathtub where you'll steep in clean geyser water for 15 minutes; use the time wisely to hydrate (the attendants will bring you as much citrus-infused water as you want) and clean your fingernails (a cuticle stick is provided). After that, a steam room awaits, where you're instructed to stay as long as you can, since steam opens pores and helps all the good minerals penetrate the skin—definitely stick your head out of the porthole in the glass enclosure to cool down if you get overheated. At the finishing line of this therapeutic relaxathon, you'll be tucked into a cot for a 15-minute power nap. Can't get enough lightness of being? Before heading back to your hotel room—the small but sweet lodge just completed a refresh last November—float for a while in the resort's famous geyser-fed outdoor pool. 1712 Lincoln Ave. Calistoga. 707-942-4913. indianspringscalistoga.com —Leilani Marie Labong
STAY
The White House Inn
Though house-sized, this design-forward inn is no mere bed and breakfast. It feels more like a miniaturized resort, with a grand lobby, a stately pool and spacious, lavishly appointed rooms whose Hollywood Regency-inspired décor looks like it is right out of a Fred Astaire and Ginger Rogers movie, with Lucite chairs, chandeliers and tufted headboards. Built in 1886 as the home of the German tanner who invented patent leather, the White House Inn was given a modern makeover last year (think bright green accents against navy carpets dotted with giant polka dots), putting it right at the cutting edge of boutique chic. Husband-and-wife managers Candace Fecteau and Scott Richards lovingly prepare the breakfast spread every morning, a dazzling assortment of small plates that range from strawberry quinoa salad to coddled eggs to spiced bacon and Brie on a small biscuit with blackberry jam. You can walk a few blocks to the bustling restaurant scene in Napa's revitalized downtown—that is, if you can bring yourself to ever leave. $280-$450 per night; 443 Brown St. Napa. 707-254-9301. whitehouseinnnapa.com
The Yurts at Bothe-Napa Valley State Park
Maybe you blew 80 percent of your weekend getaway budget on that wine club membership, or maybe you just like falling asleep to the sound of a babbling brook and a light breeze wafting through the redwoods. This state park, with campsites, yurts and cabins strung along a shady stretch of Ritchey Creek, is a hidden gem that even most locals you ask are barely aware exists. But they should be, because it may just be the perfect campground: 10 miles of hiking trails—including the gently sloping, shady Redwood Trail, which runs alongside the cool creek—and private campsites surrounded by vegetation (i.e. your neighbors won't be in your business) offer enough rustic charm for outdoors people, but with enough amenities, like showers and a swimming pool (open on weekends), to seduce the novice glamper. The yurts are simple, with a wooden floor, a table and a cushy memory-foam queen bed. Don't even think of bringing sleeping bags—do it up like Bedouin royalty and pack your satin sheets and fluffy blankets for the most comfortable camping experience of your life. You'll drift off with visions of zinfandels and cabernets dancing in your head. $60-$75 per yurt per night; 3801 St. Helena Hwy. between St. Helena and Calistoga. 707-942-4575. napavalleystateparks.org
Napa Valley Railway Inn
This family-run hotel's nine rooms are comprised of 100-year-old railcars perched on the actual tracks that used to define the Napa Valley Railway. The period-authentic rooms will make you feel like role-playing Matt Dillon and Miss Kitty, but there's no theme-park kitsch here—the bedding is fluffy, the carpets plush, the toiletries unctuous. But fun and games aside, this golden nugget's greatest asset may just be its location, smack in the middle of downtown Thomas Kellerville, er, Yountville. A few short blocks in any direction will take you to his spots Bouchon, The French Laundry, Ad Hoc and Addendum, with a dozen other choices including Redd, Bardessono and local favorite Bistro Jeanty nearby, too. After you've slept off the foie gras, you can grab your morning coffee from the caboose, where the much-loved Model Bakery opened an outlet in June. $225-$295 per night; 6523 Washington St. Yountville. 707-944-2000. napavalleyrailwayinn.com
The Carneros Resort and Spa
This resort just outside of Napa on the road to Sonoma is something like a dude ranch for fairy princesses, a 28-acre village of farmhouse-style cottages surrounded by native plantings. The simple, rustic-moderne aesthetic doesn't mean you'll be roughing it, as the appointments are impeccable after the first phase of a $6 million renovation was completed last year. That beautiful slate floor in the bathroom is heated, and you'll make your morning coffee in your very own Nespresso machine, not over a campfire (although room service will deliver a s'mores package to your private fire pit in the evening). Seventy-six freestanding cottages all open onto private patios and sport fun details like indoor-outdoor showers and pony-skin Le Corbusier lounge chairs, and the stunning adults-only pool provides a sweeping view of the valley where you can soak and sip while watching next year's crop of zin ripen on the vine before drying off and donning your Daisy Dukes to dine at Farm, the resort's "agri-chic" farm-to-fork restaurant, where the ingredients for the rotating menu are grown on-site under the supervision of a full-time culinary gardener. Or if you just need to recover from too much wine and sun, you can always stop by the resort's Boon Fly Café for a bacon-garnished, secret-recipe Bloody Mary, which Food & Wine magazine named one of the country's 20 best earlier this year. $620-$1,750 per night; 4048 Sonoma Hwy. Napa. 707-299-4900. carnerosresort.com
While geography-challenged wine lovers all over the world have been filing Sonoma County under "Napa" since the mid-1800s (when vintages from the California Wine Country started making a splash), winds of change are picking up: A new generation of wine drinker, not especially suited for the well-heeled cabernet sauvignon crowd, is taking a shine to Sonoma, where everything is still a sincere exploration of the land, inspiring approachable and diverse wines, soulful food from enlightened farmers and creative chefs, and an untamed spirit that just won't quit. —Leilani Marie Labong
EAT
The Brass Rabbit
This new restaurant, which opened in May in a coveted spot on Healdsburg's town plaza, is best described as a modern American supper club. While the handsome quilted leather banquettes and shiny pressed-tin ceiling are dead giveaways, less obvious are the enviable tools—namely an impressive, 6-foot-long Argentinian grill and a 4.5-acre off-site vegetable garden—that chef Shane McAnelly uses to elevate classics, such as the grilled pork chop with coal-roasted endive, melted leeks and pickled cherries, or rotisserie chicken with lemon verbena chimichurri. The lavish entrée portions are easily shareable, although our favorite way to tackle a rich menu like this is through a mass-ordering of appetizers. Start light with raw oysters served with hot sauce and a cleverly cooling mignonette granita; from there, move on to the heartier rye toasts spread with house-made rabbit rillettes. Vegetables, practically required eating in Northern California, are definitely better with cheese, so don't pass up the creamy burrata with ember-roasted beets. And the Eggs Mimosa, an elegant, caviar-topped version of classic deviled eggs, is just—you guessed it—heavenly. 109 Plaza St. Healdsburg. 707-473-8580. thebrassrabbithealdsburg.com
Glen Ellen Star
Not long after former French Laundry chef Ari Weiswasser and his wife Erinn Benziger Weiswasser (of the iconic Benziger wine family) opened Glen Ellen Star in 2012, its super-seasonal, Cal-Med cuisine proved too popular for the cozy, 32-seat space. To handle the demand, a tandem 36-seat dining room was built two years ago with the similar distressed-wood, exposed-beam farmhouse charm. This means that patrons have the opportunity for swifter indulgence; much appreciated when you've been thinking about the roasted broccoli all day, with its perfectly nutty singe and generous quenelle of our culinary kryptonite, house-made pimento cheese. While it's easy to make a hearty repast of all the wood-fired vegetables (there are five on the menu, including cauliflower dressed in tahini and sumac), don't forgo the blistered pizzas, the tender whole roasted fish or, when the end of the meal is nigh, the malted milk chocolate ice cream, presented in a rather adorable single-serve carton. 13648 Arnold Dr. Glen Ellen. 707-343-1384. glenellenstar.com
The Spinster Sisters
The name of this Santa Rosa hot spot is potentially misleading, since chef-owner Liza Hinman is not, in fact, a spinster at all—as her husband Joseph Stewart (co-owner of Healdsburg's Downtown Bakery & Creamery) and their three kids can gladly attest. Instead, the catchy moniker honors the former unmarried residents of the corner heritage building in which Hinman opened the restaurant in 2012, her foresight trained on the potential of the town's SOFA (South of A Street) neighborhood, where emerging artists and craftspeople were beginning to set up studios. Spinster's generously portioned, heartfelt farm-to-fork fare—where crispy house-made tostadas are piled high with Rancho Gordo "Midnight" beans and the smoked prosciutto sandwich is memorably layered with a thick swipe of lemony ricotta—is a delicious harbinger of the once-sleepy district's slow-but-sure awakening. 401 South A St. Santa Rosa. 707-528-7100. thespinstersisters.com
SingleThread
A five-minute film on the SingleThread website reveals, stitch by stitch (sometimes literally), how the James Beard Award-winning restaurant—and its five-room ryokan (inn) and 5-acre farm—came together before its debut last December in Healdsburg. It's a gratis glimpse into husband-wife owners Kyle and Katina Connaughton's thoughtful world of omotenashi, the Japanese concept of selfless hospitality, a tradition Kyle embraced while he was a chef at Japanese restaurants in Kyoto and Toyako. But nothing can truly prepare you for the magical, otherworldly—and, let's be frank, pricey—experience of being there. The 11-course kaiseki dinner service ($293 per person, without wine), in which a suited, brogue-wearing hive anticipates your every need, is stunning. The first course alone comprises at least a dozen small dishes ranging from scallop-mousse-stuffed fried squash blossoms to green garlic panna cotta with Hokkaido sea urchin, arranged in a mini woodland landscape. From there, the artistry never wanes. On our visit, poached foie gras was presented in a clear bowl with pink radish flowers, turnip greens and a "tea of last year's tomatoes." Before the rich black cod in a broth of young lettuces arrived, we received a light primer on the clay donabe vessel it was cooked in. The final bite, a mottled chocolate egg with a sesame-and-rhubarb center, was cradled in—what else?—a blue-gray nest of dried lichen from the farm. 131 North St. Healdsburg. 707-723-4646. singlethreadfarms.com
DRINK
Sonoma Cider Company
Award-winning winemaker David Cordtz (Schramsberg, Fetzer) and his son Robert serve their handcrafted fermented apple juice inside a recently refurbished industrial warehouse in central Healdsburg. Established in 2013 as the country's only organic cidery, Sonoma Cider sources apples from Sebastopol to Washington's Yakima Valley to produce 19 potent potables, all available to try in its combination taproom, eatery and event space, where movie nights and musical concerts also transpire (catch the house favorite, The Dixie Giants, a high-energy, trumpetless jazz ensemble, on Aug. 4). While we're partial to the brews inspired by Robert's childhood (the Washboard, made with sarsaparilla and vanilla, is reminiscent of root beer; and the Jax, a skillful homage to Apple Jacks cereal, was concocted to evoke "memories of early morning cartoons in PJs"), grown-up palates will appreciate the Cidermaker Reserves, aged in old wine and whiskey barrels, or the Micro Releases, featuring rare apple varieties such as Baldwin Striped Gentleman or Pink Pearmains. If you're hungry, try the popular chicken and waffles at the cidery's restaurant during Sunday brunch. But heads up: Since the kitchen is fryer-less, you'll have to wait for that bird to crisp up in the oven. How about them apples? 44F Mill St. Healdsburg. 707-723-7018. sonomacider.com
Jordan Vineyard & Winery
Given the sheer expanse of this 1,200-acre estate in Healdsburg, it's hard to believe that Jordan has consistently produced just two bottlings—a silky cabernet sauvignon with strong notes of blackberry and black cherry, and a buttery chardonnay made in the Burgundian style; that is, aged in oak barrels—since the label launched in 1972. In May, a new introduction to the tightly curated portfolio debuted: Jordan Cuvée, a limited-edition bubbly made in collaboration with France's AR Lenoble Winery. Sure, the crisp-apple and citrus flavors complement the richness of its intended, the Jordan Chef's Reserve white-sturgeon caviar by Tsar Nicoulai, but since arranged marriages aren't our thing, we prefer to channel Marilyn Monroe in The Seven Year Itch and pair an effervescent coupe with our go-to vehicle for salt and fat: potato chips. Sneak in a bag during the winery's upcoming Bounty of Sonoma dinner (Aug. 12) or lunch celebrating the olive harvest (Nov. 4), where guests will toast with the new sparkling. 1474 Alexander Valley Rd. Healdsburg. 707-431-5250. jordanwinery.com
Belden Barns
At Nate and Lauren Belden's easy-to-miss farm and winery on Sonoma Mountain Road (look for the wooden, hand-lettered sign nailed to a eucalyptus tree) in Santa Rosa, an old oak stands majestically among the grüner grapevines, its branches adorned with "wish tags" swaying and spinning in the wind. The visitors who come, by appointment only, to taste the estate-grown pinot noir (the 2013 vintage was a Year's Best selection by Wine & Spirits magazine) or see for themselves the rare grüner varietal flourishing on rock terraces (Belden is the only winery in Sonoma that grows this grape—the clean minerality of the wine pairs well with asparagus and artichoke, two foods that tend to stump sommeliers) often stay to make a wish. While the yearnings of those seeking love and romance predominate, it's the trickier ambitions that prove the tree's uncanny success rate. Case in point: after a long untangling of red tape, the Beldens were recently awarded a permit to open their tasting room—located in a 150-year-old chandelier-adorned dairy barn—to the public. "We're going to frame that wish tag," says Lauren. 5561 Sonoma Mountain Rd. Santa Rosa. 415-577-8552. beldenbarns.com
Preston Farm and Winery
Far from the slick wineries with faux chateaux and priceless art, Preston is a humble pioneer of biodynamic farming that draws a mandatory pilgrimage from the back-to-the-land set. At the peak of its wine production, owners Lou and Susan Preston, who purchased the 125-acre plot in Healdsburg in the early 1970s, filled 30,000 cases a year, until they realized that a grapes-only harvest does not a healthy farm make. Adopting a more holistic approach to working the land, they diversified with wheat fields, vegetable and herb gardens, and free-range animals such as sheep and chickens, all in the name of critter-packed, nutrient-rich soil. As a result, the wines—Preston now bottles just 8,000 cases a year—appear more nuanced (the tasting notes for the 2016 vin gris include strawberry, rose hip and … lemon bar). The estate-pressed olive oil seems richer and fuller bodied. And the hearth-baked sourdough bread, made with wheat from the farm, can actually be valued as nourishment rather than common carbs. Grab these provisions in the tasting room for a summer picnic on the lawn, basking in the remarkably rare overlap of vice and virtue. 9282 West Dry Creek Rd. Healdsburg. 707-433-3372. prestonfarmandwinery.com
PLAY
Make a Splash at a Winery
Maximum bliss at Francis Ford Coppola Winery's swimming pool—a trendy oasis of bathwater-temp pools, shaded lounge chairs and plenty of scantily clad sun worshippers sipping pink Sofia blanc de blanc minis—is best achieved with some mid- to long-range forethought. A group of four can split the $170 cost of the highest-tier package, which requires reservations at least six weeks in advance and includes a cabine (a private dressing room and shower), a quad of lounge chairs, a copy of Coppola's literary magazine Zoetrope, and poolside service. If you brave the first-come-first-served madness by purchasing individual tickets at reception, you'll need to bring ground cover for the lawn—the perks of spontaneous visits are barer bones. Since Coppola envisioned his Geyserville property as the Tivoli Gardens of Sonoma, the pools aren't the only attraction at this "modern amusement park"—the winery features a tasting bar (the widely acclaimed 2013 Archimedes cabernet sauvignon, with its nuances of cassis, spices and smoke, is the darling of the lineup), Rustic restaurant (an Italian-inspired grill) and two floors of rare Coppola memorabilia, including an original Tucker automobile, Don Corleone's desk from The Godfather trilogy, and all five of the legendary filmmaker's Academy Awards. 300 Via Archimedes. Geyserville. 707-857-1471. francisfordcoppolawinery.com
See Broadway Under the Stars
Five years ago, the Transcendence Theatre Company established its Broadway Under the Stars series to raise money for the defunded Jack London State Historic Park (contribution to date: $267,000) in Glen Ellen, staging the revues in one of JLSHP's historic buildings. In August, the Sonoma-based troupe will perform Fascinating Rhythm in an open-air theater, set inside the Winery Ruins' original moss-covered stone walls (London turned the former Kohler & Frohling winery into a carriage house, which burned down in 1965). Who needs a roof when warm summer nights in Sonoma are extra starry and the energy from such toe-tapping, finger-snapping numbers as "Cool" from West Side Story or "I Got Plenty O' Nuttin' " from Porgy and Bess would blow the shingles off the joint anyway? 2400 London Ranch Rd. Glen Ellen. 877-424-1414. transcendencetheatre.org
Take a Hike
Repentance for overindulging in Sonoma's embarrassment of swillable riches should take the form of a hike, not just because it's significantly cheaper than a detoxifying spa treatment, but also because there's beauty in them thar forests and grasslands. To build up a sweat, head to Sugarloaf Ridge State Park in Kenwood (2605 Adobe Canyon Rd. sugarloafpark.org), where the rolling hills are gold this time of year, and the trails ascend and descend in long stretches. The final summit push of the Bald Mountain hike (a 5.9-mile loop) is particularly steep, which is probably why there's a picnic table located just before the grind to the top. Those who make it will be amply rewarded with views in the far distance of San Francisco's Oz-like skyline. For a calmer jaunt and pretty flowers galore, the Quarryhill Botanical Garden in Glen Ellen (12841 Hwy 12. quarryhillbg.org) is an unexpected refuge at the foot of the Mayacamas Mountains. Founder Jane Davenport Jansen created this 25-acre oasis in 1987 to be a sanctuary for people and research center for Asian plants like dogwoods, magnolias and rhododendrons, many species of which are endangered in their native China. Here, they grow wild, creating a natural woodland setting for a meditative meander. Start at the arbor and make your way, via short serpentine trails (approximately 2 miles' worth), to the top of the hill where Tibetan prayer flags flutter in the breeze.
Shop at Shed
Think of Doug Lipton and Cindy Daniel's emporium of domestic trappings as an ode to sharing. Inside a sophisticated industrial structure inspired by agricultural sheds, you'll find artisan housewares that inspire generosity. A large ceramic bowl by Mendocino-based Colleen Hennessey makes a beautiful receptacle for Sunday dinner provisions. A walnut tortilla press, handcrafted in Healdsburg, will hold up to decades' worth of homemade tacos for block parties. Shed's new pantry collection includes seasonally created flavor bombs such as shiso salt, which gives plain popcorn a Japanese flair (Kurosawa movie night, anyone?), and an apricot-rosemary shrub for next-level baby shower mimosas. Under chef Perry Hoffman, the Shed Cafe is critically acclaimed as one of Healdsburg's best restaurants—we like to make a family-style meal of all the house-made mezze. And in the spirit of community, events such as the Southern Celebration supper (Aug. 1) and the Wildly Fermented Sourdough Bread Workshop (Aug. 19) take place in the bright and airy upstairs loft. 25 North St. Healdsburg. 707-431-7433. healdsburgshed.com
STAY
Cottage Inn & Spa
The sweetest thing about staying at Zac and Amy Weinberg's charming nine-suite property, located just one block off Sonoma Plaza, is the basket of still-warm pastries from nearby Crisp Bakeshop that's hung on your door by—cue suspension of disbelief—a magical breakfast fairy. While the Cottage Inn makes a great home base for a winery hop (just pick up a "passport" from the front desk, which gives guests complimentary tastings to more than 20 local wineries, including Benziger and Kunde), we prefer straying no further than the front gate. Reading a book in its shaded outdoor courtyard could qualify down the line as your proverbial "happy place." An aromatherapy massage in the one-room Zen Garden Spa should take care of any lingering tension that didn't disappear while you were catching up on your Elena Ferrante. Instagram photos of the modern Mission-style design (a dreamy combination of white stucco walls, terracotta tiles and succulent gardens) are shoo-ins for excessive double-tapping. And when the fire pit in the indoor Paradisio courtyard lights up around 6 p.m., guests mingle around it before retiring to their rooms to begin the countdown to the breakfast fairy's sunrise arrival. $215-$425 per night; 310 1st Street East. Sonoma. 707-996-0719. cottageinnandspa.com
Farmhouse Inn
This quiet 25-room getaway in Forestville is set among vineyards and forests, with nary a bustling town square or even stoplight for miles. While the agrarian spirit is alive and well here—in its modern farmhouse-style rooms, its horse stable-inspired spa and its farm-to-table restaurant—luxury is foremost. After all, those farmhouse-style rooms are kitted out with jetted tubs, wood-burning fireplaces and four-poster beds with cloud-like linens. That stable-inspired spa, with its barn doors and equestrian fresco, highlights the folkloric, if not curative, properties of garden plants and farm crops—in the Body Melt treatment, for instance, alfalfa is used to relieve sore muscles, just as farmers did in days of yore. And that farm-to-table restaurant? It's got a Michelin star. Even though the prix fixe dinners (try the signature plate, Rabbit Rabbit Rabbit, featuring descendants of Peter Cottontail prepared three delicious ways: bacon-wrapped, roasted and confit) end on a sweet note, don't let that deter you from making s'mores around the poolside fire pits afterward. $545–$1,595 per night; 7871 River Rd. Forestville. 707-887-3300. farmhouseinn.com
Fairmont Sonoma Mission Inn & spa
As pink hotels go, the Sonoma Mission Inn ranks high on the iconic scale—right up there with the Royal Hawaiian in Waikiki—not just for its distinctive look, but also for its heritage: Dating back centuries, Native Americans converged on the sacred geothermal spring located on the site to partake of its healing properties. Today, that same source feeds the nearly 91-year-old hotel's six pools, and the lore has inspired the 40,000-square-foot spa's hot-cold Bathing Ritual (soak, steam, shower, repeat), designed to purify the body of toxins and boost the immune system. In August, the main pool, located in the shadow of an old water tower, will host frozen-rosé-fueled Splash parties in the Vegas tradition, stopping shy of any what-happens-in-Vegas antics. (This is a Fairmont property, after all.) Every afternoon, under the carved-wooden vigas in the historic Mission-style lob-by, there's a wine hour starring a different local vintner who is almost always outshined by the most elaborate fromage cart you've ever seen. The restaurant, Santé, is Michelin rated and has a decadent lobster mac and cheese that sometimes gets bumped to off-menu status (in that case, all you have to do is ask for it). And there are rare lithographs in the hallowed, sage-scented halls signed by the likes of, oh, Picasso, making you feel like an artful lodger indeed. $339–$1,199 per night; 100 Boyes Blvd. Sonoma. 707-938-9000. fairmont.com/sonoma