Empress Tavern launches a "Top Gun"-inspired cocktail menu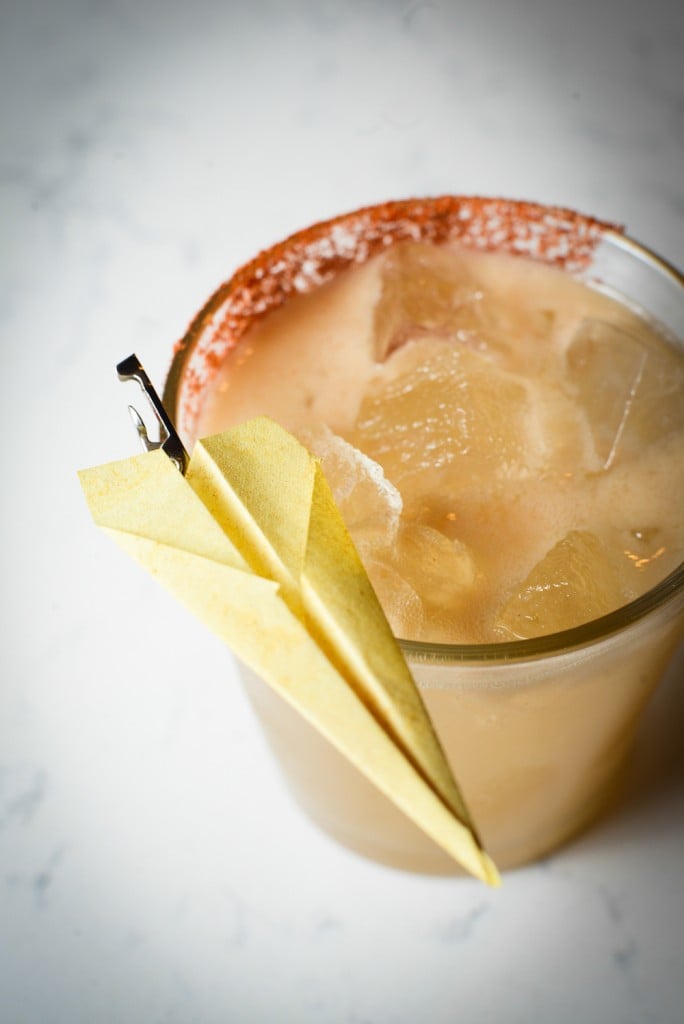 Do you feel the need, the need for speed? Put on your Ray-Bans and check out a screening of Top Gun at the Crest Theatre this Saturday, April 27. And head downstairs to Empress Tavern, which is debuting its new lineup of cocktails inspired by the 1986 Tom Cruise blockbuster that same day.
The seven themed cocktails—which will stay on the menu for about two months—include the "Mach 2 with Your Hair on Fire," a smoky margarita-style drink with blanco tequila, mescal, spiced agave, mango, lime and tamarind, which harkens to a remark Charlie (played by Kelly McGillis) says to Maverick. It features a paper airplane clipped to the glass that's made of yellow curry-infused flash paper and is set aflame when served, producing a spicy aroma. There's also "That Lovin' Feelin'," a cocktail of genever, cane sugar, lemon, strawberry, ginger beer and rhubarb that bears a purple flower and takes its name from the bar moment when Maverick, Goose and their entire Naval unit serenade Charlie with the Righteous Brothers classic. And the "Indian Ocean: Present Day," a rum-based drink with coconut, pineapple, lemon, blue curacao and a "coconut cotton candy cloud" on a toothpick, that refers to the words that set the scene at the beginning of the film.
Empress co-owner Ryan Donahue says the downtown restaurant, which changes up its cocktail offerings every few months, started giving its drinks movie-inspired names about a year and a half ago; The Princess Bride lineup featured tipples like "Mawwige" and "Mostly Dead," while the Jaws menu comprised libations like "The Perfect Engine" and "Dorsal to Tail." (Other films included The Goonies, Beetlejuice and Pulp Fiction.) But it wasn't until this past January, when next-door neighbor The Crest Theatre screened cult favorite The Big Lebowski, that the Empress team got serious about infusing the cinematic theme into the cocktail menu, from titles to recipes and garnishes—the "El Duderino," for instance, was served on a small rug and topped with a few coffee beans.
"It's important to find those films that are iconic," says Donahue. "People like the tongue-in-cheek [nature of it] and making those connections—especially if they've seen the film."
For the Top Gun lineup, bar manager Jose Carrasco and the Empress team also created Talk to Me Goose, with a dog tag around the stem, and Tomcat, served on Cold War-era airplane card coasters. The menu itself will feature related icons drawn by local graphic artist Benjamin Della Rosa, like aviator sunglasses and a fighter jet.
And while the timing of Empress' new cocktail menu launch and Top Gun film screening match up perfectly, Donahue says that hasn't always been the case due to the Crest's moving schedule, where films are often rescheduled in favor of bookings of live acts. (Inside tip: You are allowed to bring your drink from Empress into the theater, provided it is put into a plastic cup.) But Donahue says, regardless of when the movie is screened and when the menu is released, the film lineups have become a way for the Empress team to flex their creative muscle—coconut cotton candy clouds and all.
The Top Gun-themed cocktail menu will be offered starting April 27. Empress Tavern. 1013 K St. 916-662-7694. empresstavern.com. The Crest Theatre will screen Top Gun on April 27 at 7:30 p.m. Ticket prices are $7.50-$9.50. Crest Theatre. 1013 K St. 916-476-3356. crestsacramento.com
You Might Also Like
Craving of the Week: The Cabin's Gimmie S'more
Into the Brew-niverse: Sacramento Beer Week returns with an outpouring of events
The de Vere White brothers bring an Irish pub with a craft cocktail twist to R Street