Exclusive sneak peek at K Street's new Jewish deli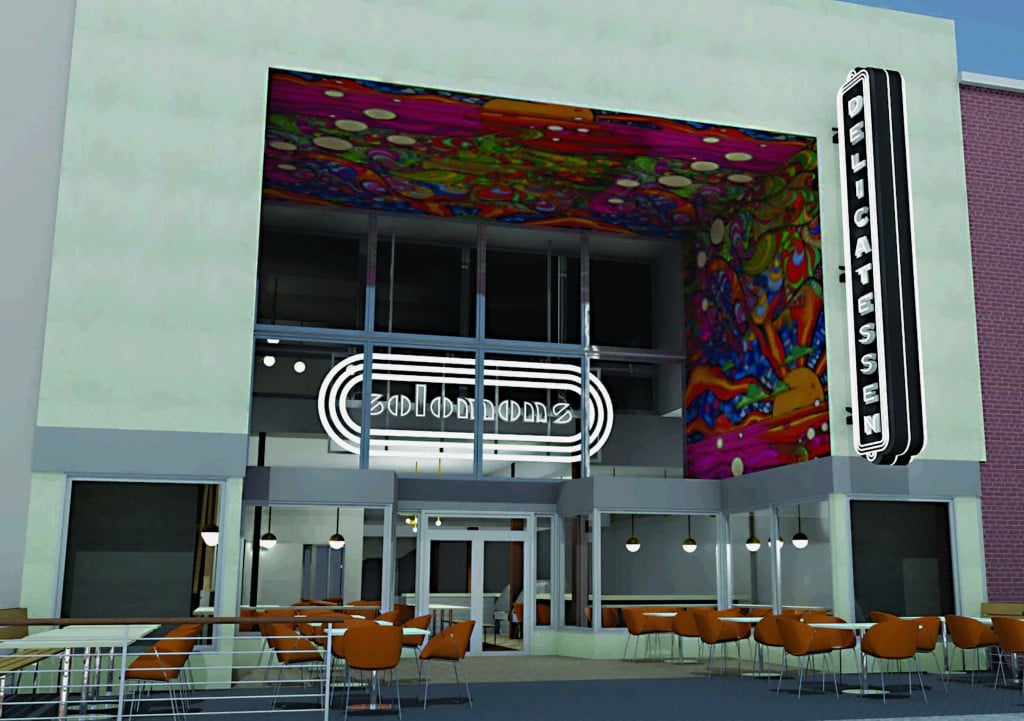 When it comes to the look of Solomon's Delicatessen, the Jewish deli scheduled to open on K Street by year's end, expect its blend of modern feel and vintage flair to go together like pastrami and rye. Leading the design effort is Andrea Lepore, co-owner of the stylish Hot Italian pizzerias, who is a longtime admirer of Tower Records founder Russ Solomon, for whom the new eatery—which will occupy a 5,000-square-foot space that housed a Tower store from 1973 to 2006—is named.
The color-rich interior will take a strong visual cue from graphic designer Frank Carson's original psychedelic storefront mural, incorporating bold hues of the late '60s and early '70s like blue, yellow, orange and fuchsia, says Lepore, who is collaborating with local companies like Lumens and Miles Treaster & Associates to combine vintage design elements—think marble countertops and warm wood tables—with contemporary furnishings and dark leather accents to create a retro lounge vibe.
"We don't want it to look like your typical deli. We want to create a new design that is relevant to Sacramento and honors Russ [Solomon] and Tower Records," says Lepore, referring to the collective goal of the restaurant's owners, who also include Jami Goldstene, Lydia Inghram and Sheila Wolfe (co-chairs of the annual Sacramento Jewish Food Faire), the team behind midtown's Red Rabbit Kitchen & Bar, and Abe Cunningham and DJ Frank Delgado from the Deftones. The kitchen—led by Aimal Formoli, chef-owner of Formoli's Bistro in East Sacramento—will offer classics like grab-and-go sandwiches on rye bread, smoked white fish, pastrami, bagels, baked goods and hopefully a retail section with grocery items and staples for Jewish holidays.
"This is a concept I feel so strongly about, with the history of Tower Records and Russ Solomon and what it means to Sacramento," says Formoli, who took a trip to visit Jewish delis in New York with other members of the founding team for inspiration. "I'm ecstatic to be a part of it."
To enhance the restaurant's throwback look, Lepore is working with the Center for Sacramento History to locate old photos that celebrate Solomon, 91, and his iconic brand, whose motto was, "No Music, No Life." To that, we say, "L'chaim!"
730 K St. solomonsdelicatessen.com
You Might Also Like
Jewish Deli to open on 700 block of K Street
Ruhstaller signs lease on new downtown taproom
LowBrau owners to open new restaurant at the Ice Blocks