Eye in the Sky
It's a bird! It's a plane! It's 20-year-old Dusty Schuh, putting his best feet forward in his awe-inspiring, vertigo-inducing photographs of Sacramento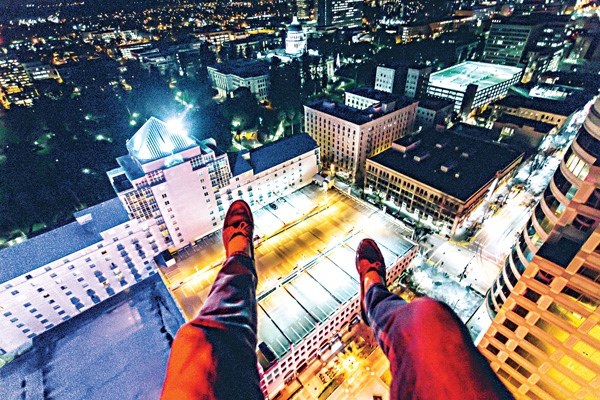 FFour times per week, Dusty Schuh laces up his signature boat shoes, straps on his camera and hits the streets of downtown in search of the perfect picture. But you won't likely see Schuh unless you look up among the rooftops, where the 20-year-old perches over Sacramento for his signature shots of the skyline—often with those shoes dangling precariously over the city like you've never seen it.
"It's like the most surreal experience you could ever imagine," Schuh says of his footloose adventures in photography, which have taken him up dozens of stories and drawn a loyal local following to his dynamic feeds on Twitter and Instagram. (He posts to both under his handle @dustyschuh.) "I've had this urge to get higher and higher and just experience [this perspective]. There's nothing like it. It's like you're flying."
The Cameron Park-based photographer says his goal with these pictures is simple: to share a unique view of Sacramento that residents would not otherwise experience from street level. Pursuing that goal is a little more of a hair-raising undertaking, with Schuh sitting or standing on ledges like that of the 22-story Esquire building (above), bracing himself against the gusts as he snaps images of structures and cars gleaming beneath a softly glowing sky. In some of Schuh's most indelible shots, his legs and feet hang suspended over the vast cityscape as if he's being lifted away on an especially fierce Delta breeze.
"You don't usually see angles that I get from the streets," says Schuh, who has his sights set on summiting the 423-foot-tall Wells Fargo Center—the tallest high-rise in Sacramento. "It's kind of nice to get things that not many people see and [hear them] say, 'Wow, this is the city I live in.' "