Farm-to-Freeway?
As Sacramento's farm-to-fork identity takes root, now is the time to replant our region's biggest farmers' market in a location that honors our agricultural heritage, not "cements" it.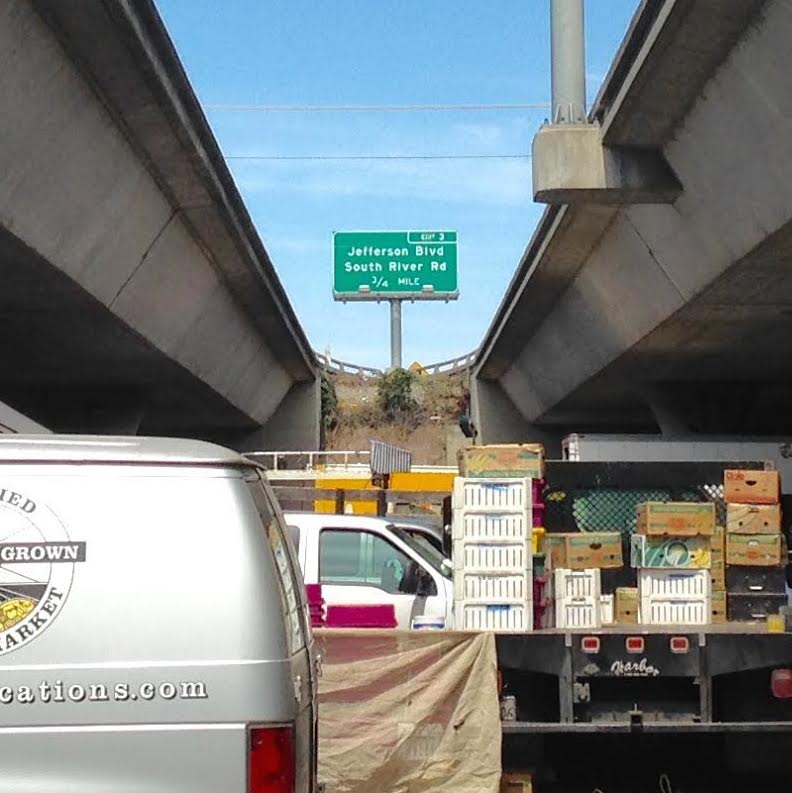 IIn virtually every big city and small town across the country, farmers' markets are community gathering spots. They are, by and large, one part grocery and one part social hour, with a dash of pure people-watching thrown in for good measure. They're affordable, diverse in both their selection of food and customer demographic and, frankly, just plain fun.
And here, at our largest such festival of freshness—the Sacramento Central Farmers' Market (aka "the one under the freeway")—you can spot your favorite local chefs (Randall Selland, Patrick Mulvaney, Mike Thiemann and others) trawling the booths, training their finely tuned olfactory senses on all manner of fruits and vegetables, and sniffing out the best of the bunches. The characters you see and meet can be as colorful as the produce itself. It is, in some ways, dinner theater, served up fresh at 8 a.m. every Sunday morning. The vendors—like Watanabe Farms, Bledsoe Meats, California Endive Farms and Bariani Olive Oil—are, so to speak, the cream of the crop. The selection is amazing. 
The location? Well, not so much. 
When it comes to our relationship to our region's agricultural bounty, things have changed a bit around here in the last few years. In 2013, we branded ourselves as America's Farm-to-Fork Capital. And for those of us who appreciate our extraordinary good fortune to live in such a fertile region, that moniker is much more than a mere marketing slogan. It's a point of pride; it's a vehicle for civic self-identification; it is also, in its best form, a story, and a fantastic one at that. 
And the story isn't simply that we grow lots of food around here. It's that agriculture is intrinsic to who we are as a region. Once the Gold Rush faded, agriculture didn't just feed our citizens, it fueled our economy. We became a port city because of it, and the Transcontinental Railroad, which started here, allowed us to feed the rest of the country. The same elements we often take for granted—the 300 or so sunny days per year and the majestic, slow-rolling Sacramento River—make much of this bounty possible. And today, it's that very history that's lending itself to a true culinary renaissance. In other words, our agricultural roots run far deeper than a 2-pound basket of sub-acid yellow nectarines at the Sunday market. We are, as they say, what we eat.
So, as our city grows, and as we continue to nurture this farm-to-fork ethos, the location of our biggest farmers' market will grow increasingly at odds with the story we're trying to tell. That's because this mega-market of ours lies in a parking lot near 8th and W streets, under an interstate freeway, as it has for 35 years. Our region's soil-born produce is essentially wedged between layers of concrete and asphalt like an overcooked panini. And with nearly 30,000 cars passing overhead each and every Sunday morning, we're seasoning said sandwich with the thick, mechanical hum of automobile traffic and a thin, invisible veil of exhaust fumes. Yum.
There are, I'm convinced, far more imaginative ways to express our agrarian heritage than under a sky of concrete and on a bed of state-owned parking spaces, with no retail or restaurants in sight. The only soil being plowed anywhere near there is a few blocks away … at the old city cemetery. 
We can do better. We're the capital of farm-to-fork, not farm-to-freeway.
And while there's an intriguing plan to adorn the space with a huge mural on the freeway's underbelly, the core problem is as much about geography as it is about ambience.
Fortunately, you don't need to look far for examples of how plugging a farmers' market in a vibrant urban environment makes so much sense. Consider Sacramento's midtown farmers' market, or the legendary Davis farmers' market. Both are situated in or adjacent to their neighborhoods' retail hubs. In Davis, you can pick up your produce and flowers at the beautiful Central Park market, and then walk over to Newsbeat to pick up The New York Times, and read it over breakfast at Crepeville or The Mustard Seed, all without reaching for your car keys even once. 
Or consider the farmers' market at San Francisco's Embarcadero, outside the magnificent food hall that is the Ferry Building. Not only do patrons shop just a few feet from the beautiful bay, but the gathering takes place on an actual port where the city's food has historically arrived from around the world (now that's a good "story"). Once you've picked up your produce and such, you can then walk into the bustling Ferry Building and meet a friend for some third-wave coffee and an organic maple donut. 
That brings us to another key point. In today's world, farmers' markets are no longer merely utilitarian vehicles for the acquisition of fresh foodstuffs. Rather, they have become true civic amenities and, in many cases, bonafide tourist destinations.
But creating civic amenities requires thoughtful urban design. Unlike our freeway market, none of the markets previously mentioned are solitary islands of activity. Each is woven into the urban fabric of their respective communities. Each makes its community more walkable and less auto-centric. 
Sebastian Bariani of Yolo County's Bariani Olive Oil sells his family's products at both the Ferry Building's farmers' market and our freeway market downtown. He notes that his San Francisco customers often spend much of their day in and around the Ferry Building. The Sacramento market, however, "is just so disconnected, so separate," from the rest of the community, he says. "People just drive to the market and then drive home."
And to be clear, you don't need an international destination like San Francisco to achieve that kind of synergy. My wife and I experienced it in Nevada City recently when we stumbled upon the town's wonderful farmers' market while strolling through its historic downtown. The market is located near various bakeries, breweries and other eclectic storefronts, such as the impossibly charming "farm-to-spoon" ice cream shop Treats. It was a tiny, farm-friendly ecosystem. 
So, what if we combine one of our region's greatest strengths—the extraordinary collection of farms represented at Sacramento's misplaced market—with one of our biggest weaknesses? If there is one area that Sacramento has failed above all others, it's that it has largely ignored its riverfront. 
And that's where the story of our agricultural heritage comes back into play. The
Sacramento River and the nearby Delta are the lifeblood for many of the farmers that participate in this market each week. Why not relocate the 8th and W market somewhere near the river, connecting the vendors, our citizens and our tourists alike to the source of the Central Valley's rich soil and water?
As it happens, the city is planning to replace the boardwalk in Old Sacramento, and the proprietors of The Firehouse and Ten22 restaurants—the father-and-son team of Lloyd and Terry Harvego—have been exploring ways to activate the boardwalk and the land west of Front Street, perhaps by creating a shaded, open-air market of some kind. Or the market could relocate to the large grassy area between I and J streets near the railroad museum. Done right, an Old Sacramento location also has the potential of boosting sales for the farmers' market dramatically with all the additional foot traffic from tourists. 
Another opportunity near the river could be the railyard, which is on the verge of finally realizing its potential. Not only is that property adjacent to the river, but it's filled with historic buildings that also help tell our region's story (maybe a vintage refrigerated railcar once used for transporting food could be a part of the new farmers' market), and developers Larry and Denton Kelley would also love a public market to play a major role in the railyard.
Or perhaps the parking lots between the Crocker and Embassy Suites could be explored. Any of these riverfront venues will also allow easy access to the American River bike trail, conjoining three of our region's greatest assets—agriculture, the river and the exquisite gem that is our bike trail.
And what becomes of the freeway site and its planned $150,000 ceiling mural? That's the fun part. There are already semi-regular food truck festivals there. In fact, Paul Somerhausen, who heads the food truck group SactoMoFo, says his April event drew a record 20,000 visitors. "I love that spot," he says, adding that he'd like to hold weekly events there. "As ugly as it is, it's perfect for the things we want to do." He says the freeway noise is actually a good thing for him—and the residential neighborhood nearby—because it dampens the sound of the live music and the trucks' generators. It's also far from brick-and-mortar restaurants that might not appreciate the food trucks' proximity.
If SactoMoFo gets its wish, then in the same way that the story of our farmers' market makes sense near the river, the story of Sacramento's exploding food truck scene makes epic sense under the freeway. The mural will still brighten the concrete ceiling and locals will still flock there every weekend. 
As for the notion of selling farm-fresh produce on an asphalt island near the city cemetery? May it rest in peace.