Film on Tower Records store art hits Crest this Sunday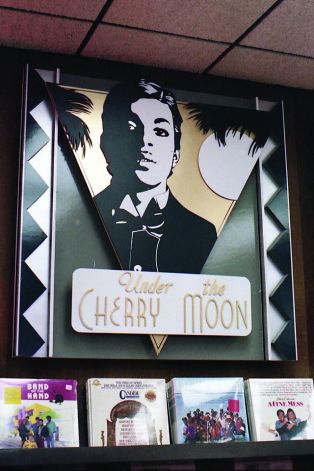 Anyone who frequented Tower Records in its heyday will remember the massive, three-dimensional art displays that helped promote new releases. Modeled after album covers and crafted by hand (and X-acto knives) from layers of foam core and airbrushed paint, the pieces got their start at the Sacramento-based music chain's Berkeley location before going on to line the walls of Tower stores worldwide.
The displays are gone but hardly forgotten, as evidenced by Art Gods: An Oral History of the Tower Records Art Department, a new documentary about their artists' design, debauchery and lasting legacy that screens this Sunday, Jan. 26, at 2 p.m. at the Crest Theater. Written and directed by filmmaker and musician (and Tower art department alumnus) Strephon Taylor, Art Gods uses a mix of archival footage, photos and interviews with the artists—as well as audio clips with Tower founder Russ Solomon—to chronicle the innovations advanced by the Tower Records art crew in the '80s and '90s.
"When you talk to them, there was a lot of partying, a lot of fun," Taylor says. "It was a different culture in a way—a different work environment." Art Gods chronicles the symbiotic ups and downs of that environment, from the fun and games and unbridled creativity of the art department to the wear of drug-and alcohol-infused workdays. "You will never see that again in our culture. You can't do the things that they did."
Moreover, Taylor says, the industry that gave rise to the Tower art department barely exists anymore. "With music culture today being how it is," explains Taylor, "I just thought [the film] would be a great taste of, 'Hey, this is how it used to be.'"
While Taylor has his own stories from those days, his documentary emphasizes the recollections of seminal art department veterans Steve Pellutro, Craig Long, Andrew "Skip" Peterson and others. Taylor also sought to showcase the influence of former Tower artists still seen everywhere from Trader Joe's handmade merchandising stands to visually striking signage in mall storefronts nationwide.
"You didn't see those really big, eye-catching displays before Tower was doing it," Taylor says. "I think in the long run, doing something that's in your face and big when you walk in the store, they were definitely the pioneers of that. By giving an artist free rein and then letting the rest of the chain know that idea through photographs and [other media], that art was shared."
Taylor and several of the film's subjects will be on hand for a post-screening Q&A about their Tower-ing achievements. Tickets are $10 apiece and are on sale now via tickets.com.
For those who can't make it to the Crest this weekend, Art Gods is also available on DVD here. Meanwhile, check out the screening's Facebook page for more details, and let the movie trailer's blasts from the past warm you with the classic, colorful glow of Krylon and nostalgia.
Check out the trailer here.