Fine Diming
The bigger-than-life former chef of The Kitchen launches Capital Dime in midtown, combining high-end quality with low-range prices. And he's just getting warmed up.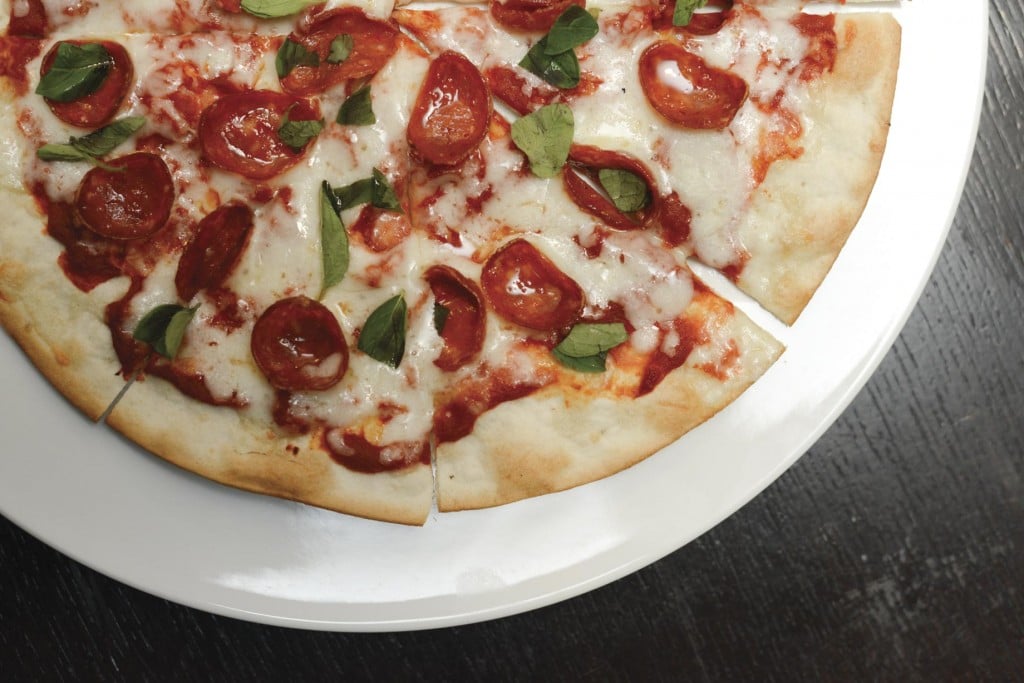 Capital Dime
1801 L St.
443-1010
capitaldime.com
R
IIn hip-hop parlance, a dime is a hot chick. Ask for one on certain
street corners, and you'll get 10 bucks worth of weed. You can drop one if you're an old-school snitch, turn on one if you're a skilled driver, bet dollars against them if you're sure you're right.
But none of those slang meanings for our thinnest coin is what inspired local celebrity chef Noah Zonca and his partner Rick Lobley to name their first endeavor together the Capital Dime after the skinny bit of silver. "Basically, a dime is a perfect 10," says Zonca, who is best known around town as the chef-performer from Randall Selland's The Kitchen Restaurant, widely considered one of the best restaurants in Sacramento, and the place where he began his career as a dishwasher before working his way up to the top toque spot.
For Zonca and Lobley, the dime represents consummate excellence—an elevated menu, a lively vibe, casually sophisticated service and a bill at the end of the meal that doesn't cause wallet shock.
Until late last year, the effusive Italian chef was the ringmaster at Selland's ultra-high-end farm-to-fork establishment, lauded as much for its theatrics as its multicourse prix-fixe menu that can set patrons back the equivalent of a plane ticket to New York. Zonca's big personality made him the perfect fit for The Kitchen. Put him in front of a crowd, even a single table, and he's off with a flurry of surprisingly delicate hand gestures punctuating a friendly patois. Still, he knows his stuff, from culinary technique to exactly where his heirloom lettuce was grown.
But he's hardly the kid with his hands in the suds anymore. Growing older, the 37-year-old Zonca says, made him seriously consider the "scary" proposition of striking out on his own. "I knew that if I stayed until I was 40 I'd probably be there the rest of my life," he adds. So he quit. With no plan.
He headed out of town to visit his mom in Wisconsin, then did a culinary tour of cities such as Chicago, L.A. and San Francisco. He realized he had options, "worldwide options," he says. But he also has a son at Rio Americano High School, so he headed back to Sacramento, a place he describes as having "a small town kind of style because everybody knows everybody and I like that fact, but it's still enough city for me."
Soon after coming home, Lobley, who had been trying for the past eight years to get Zonca to partner with him, got in touch. He managed to grab Zonca's attention with The Dime (as insiders are abbreviating it) at 18th and L in the space formerly occupied by L Wine Lounge & Urban Kitchen, despite an offer from another restaurant group. At first, Zonca signed on as a consultant with a small ownership percentage, but quickly became a full partner and worked with Lobley to incorporate high-end foodie standards into a low-cost concept.
But while embracing locavore staples like handcrafted, house-cured and know-your-grower, The Dime is as much about being in the moment as the movement—a culinary club where the energy is as important as the eating. While farm-to-fork is currently as inescapable as summer heat in Sacramento, some feel that it's been weighted down with attitude, an elitism that is facing criticism for making a down-to-earth ideal too expensive and too precious. Talking tomatoes has become as involved as tasting wine. Isn't food supposed to be fun? And maybe even affordable?
At The Dime, music—from dance to classical harp—fills the room, lighting is dim, corners dark and conversation increasingly loud as the night progresses. On the interior second-level courtyard, surrounded by lucky condo dwellers who will one day get delivery service from the restaurant, the feel is laid-back and enjoyable, the perfect place to linger on a warm summer night while the oversized fountain puts off a soft trickling sound and candles twinkle on metal tables.
And dropping a single Alexander Hamilton will get you just about anything on the menu. Keeping the price point at around 10 dollars a plate while preserving quality was another key part of the concept created by Lobley, who also co-founded young-and-beautiful hangouts like Ink Eats & Drinks and Empire. The duo's long relationships with area farmers like Delta Islands Organic Farm in Walnut Grove, Watanabe Farms in West Sacramento and Madison Growers in Yolo County are pivotal to getting top-notch products at a low cost. "It's a neighborhood restaurant and that's what we want. We want it to be somewhere where people can eat once or twice a week, not a month or a year. It's approachable on price point and stylistically."
That translates to dishes like a slightly spicy watermelon and white prawn salad, where cubed bits of sweet, juicy melon are sprinkled with piquant bonito flakes, thin toasted almond slices, Thai basil and fish sauce, set off by the firm snap of the shrimp. The menu also includes slow-cooked Hawaiian kalua-style pulled pork (Zonca has spent time on the Big Island) with a sweet and smoky barbecue flavor that begs for another bite. Flatbreads, baked to the perfect mix of crisp and chewy, come with classic options like pepperoni or daily specials like peach and goat cheese. House-cured pastrami sliders on Village Bakery brioche rolls make flavorful mouthfuls and can come served with thin fries doused in a cheese sauce dappled with chunks of pork belly.
Matching those delectable dishes are drinks worthy of the best of lounges. Walk in the front door of The Dime and a long expanse of bar dominates the room. The craft cocktail menu, created with as much care as the food offerings, is under the stewardship of local spirit legend Rene Dominguez, who conjured the first White Linen (a mix of Leopold's American Small Batch gin, St-Germain elderflower liqueur, lemon juice, simple syrup and cucumber) while working at Ella Dining Room and Bar. Zonca knew that he wanted to hire Dominguez, but couldn't find him to offer the gig. He'd even heard the bartender had moved to the East Coast. He put the word on the street and in June, Dominguez wandered in the front door and said, "Here I am," recalls Zonca. That, he says, was the "last piece of the puzzle. He's an amazing craft bartender."
"Bartenders are taking on a role much like chefs these days where they're using real fruits and real handmade products and real flavors rather than something that's artificial in a bottle," says Zonca of the importance of having the right mixologist on board. "They're doing things much along the lines of what a chef would do but in the cocktail sense."
Dominguez's potions include the gin-based Boxers and Bobbysocks, in which lime juice, cherries and bitters combine in a Collins glass with an unexpected dose of rosemary cordial for a bright and botanic kick. In his black Manhattan, bourbon partners with the herbaceous Italian digestif amaro for a heavy punch that pairs well with the sweetness of the aforementioned pulled pork. There is also a "50/50" wine list that touts 50 bottles for less than 50 bucks.
Having been open only since July, the place is already promising to be a successful bet. But Lobley, who Zonca describes as an "excellent promoter" with a "genuine heart underneath it all," never intended to settle for a single Dime. Plans are already underway to expand into other locations, possibly as soon as next year.
That works for Zonca, who has no regrets about leaving his high-profile position at The Kitchen. "It feels better than working for other people. I don't ever want to work for anyone again," he says of being the boss. "I'm all in." S