Fire & Nice
Paying homage to Sacramento's original fire department, midtown's new Hook & Ladder lives up to its namesake as one of the hottest spots in town.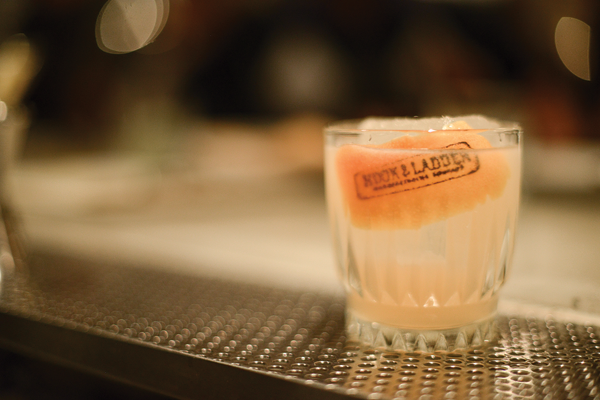 Hook & Ladder
1630 S St.
442-4885
hookandladder916.com
R
S
Some say the world will end in fire or ice, but—with apologies to Robert Frost—those two things just get the party started at Hook & Ladder Manufacturing Co., midtown's new hotspot for craft cocktails and seasonal New American fare. From the hand-hewn ice slabs in the highballs to pendant light fixtures made from antique fire-hose nozzles—not to mention the restaurant's name, which pays tribute to Sacramento's history by referencing its first fire corps, which was founded in 1850 by an all-volunteer team—"everything about this place is a nod to Sacramento's past, present and future," says Kimio Bazett, who co-owns Hook & Ladder with business partner Jon Modrow.
The new restaurant, in a transformed space formerly occupied by Hangar 17, is the second venture from the pair, who also own popular gastropub The Golden Bear. Their new restaurant is more ambitious, says Bazett: "We had reached this plateau at The Golden Bear, and we thought it would be interesting to open a place that wasn't as limited by size, especially in the kitchen." To give a fresh sheen to the expansive but bare and slightly awkward space—Hook & Ladder's building is an odd, semicircular Quonset hut dating back to the '50s—they brought in the local design team of Whitney Johnson (who also has Shady Lady to her credit) and Tina Ross, who worked with them at The Golden Bear.
Inspired by Sacramento's history for the name and concept, "they wanted to give it this Industrial Revolution, factory feel," says Bazett. "It's rough and masculine, but tempered with a natural feminine elegance as well." That concept translated into a mod, streamlined, poured-concrete bar (look for the stamped logo in its corners and the sleek ladder façade, a sly reference to the restaurant's name, hanging above it) alongside salvaged artifacts like ceiling lamps made with vintage hooks and antique fire extinguishers as accents. Handmade items also provide pop: Ross stenciled wooden crate tops with the California state flag for the bar back. (They serve as sliding covers for TVs, which are only brought out for major events, as when the Giants played in the World Series.) In another "ode to California statehood" (as Bazett calls it), an antique-looking U.S. flag with 31 stars (California was the 31st state) hangs by the front door. "We looked on eBay and [flags from that time] were, like, $2,000, $5,000," says Bazett. So bar manager Chris Tucker's girlfriend "sewed that flag and then she dipped it in iced tea and coffee to give it that weathered look, then threw it out in the sun all summer."
That creativity and commitment to detail extends to the bar and food program, of course. Sacramento's cocktail scene has been getting national buzz lately (as when the city was named a top destination in Imbibe magazine's January/February issue), and Hook & Ladder's innovations take it to even greater heights. That logo stamped into the bar, for instance, also appears in your actual drink, courtesy of a sizzling branding iron used on citrus peel garnishes. And the restaurant not only has a great selection of local and regional beers and wines on tap, it also has dedicated cocktail taps. That's right, mixology mavens: the restaurant can literally dispense an endless stream of icy, flawless Manhattans, Negronis, and two other cocktails: the Jameson Stinger, a mint-whiskey concoction, and an original drink, the Norse by Northwest, which features crème de cacao, aquavit and a spicy West Indies spirit called St. Elizabeth Allspice Dram. Even Don Draper, who trained his child to mix the perfect cocktail, never thought of that.
Manhattans on tap may sound like a gimmick, but they're actually the practical solution to a problem, that of turning out high-quality drinks in large quantities—fast enough so you don't have to wait for your drink. "There are two main knocks on craft cocktails," says Tucker. The first, he says, is that bartenders serving them can be snooty; "the other is that they take too long. We work hard to be warm and friendly, and also to expedite the drinks." That means the bartenders will mix up anything you want—without judgment.
Bar manager (and Woodland native) Chris Tucker has a long history on the midtown cocktail scene. In 2000, he moved back to the Sacramento area from the Bay Area and began working at Centro Cocina Mexicana, which was ahead of its time in offering cocktails with fresh-squeezed juices "on a mass basis," Tucker says. "That was my first exposure to doing a handcrafted program on a large-scale basis." Tucker was sold on the fresh flavors, and as his tastes have evolved, he offers drinks and ingredients at Hook & Ladder that you'll see nowhere else in town, from the West Indies Sour—a spice-tinged, red wine-based cocktail again spiked with St. Elizabeth Allspice Dram—to the Averna Shrub, which combines Averna (an herbal Sicilian digestif) with house-made blackberry shrub (a type of cordial made with fruit and vinegar, with a history stretching back to American colonial days). Oh, and those hand-hewn ice slabs? Tucker cuts them himself from a longer slab with a special Japanese saw (he used to use a chainsaw, but after research into ice carving, he learned the handsaw is more precise).
As much as cocktail lovers can geek out over the behind-the-bar offerings at Hook & Ladder, the place is hardly just for drinkers. There's a serious, and seriously appealing, menu for both lunch and dinner, thanks to a kitchen helmed by local chef Brian Mizner, a veteran of such revered area kitchens as the erstwhile El Dorado Hills spot Masque Ristorante (where he was chef de cuisine under opening chef Angelo Auriana in 2004, when Esquire named Masque one of America's best new restaurants) and L Wine Lounge & Urban Kitchen.
Influences from his past are evident on the menu at Hook & Ladder, with a clear Italian strain that dates back to Mizner's Masque days: think handmade pastas ("I think it's a lost art," he says) like cavatelli with roasted-pepper pesto and crawfish; a trio of house-made sausages of different types (an appetizer that's so popular "we can't keep up," Mizner says with a smile); and thin-crust pizzas with toppings like burrata (a creamy mozzarella-like cheese) and fresh oregano, or rock shrimp and sardine bagna cauda. "The first job I had was making pizza," Mizner says (it was at a Papa John's in Cameron Park). "So everywhere I've gone I've tried to make it better and better."
Mindful of Hook & Ladder's welcoming vibe, Mizner designed everything on the inventive menu to be shareable and accessible, but made with handcrafted integrity. "I wanted to make it so you sit down at a table, you have an appetizer or salad or pizza, and you're just able to lounge around and have fun," he says. "But I'm still using fine ingredients." And there are plenty of dishes that are just plain fun, like the insanely good fried chicken sandwich for which the meat is buttermilk brined, fried crispy and layered with house-made potato chips and tangy red cabbage slaw on a soft roll. "All the guys in the kitchen, that's what they order for lunch," Mizner says.
Another hit item is the burger, which changes daily: "We not only vary the [topping] ingredients but we sometimes change up the meat as well," says Mizner. "So we'll have a lamb burger or pork or sausage burger. It's been quite popular. I just had a lady call me on the phone and ask what the burger's going to be next Tuesday. I was like, 'Whatever you want! If you have a suggestion, throw it at me and I'll make it.' "
Accommodating, friendly, easy to like: That's Hook & Ladder in a nutshell—and, not coincidentally, it's a pretty good description of Sacramento itself. Indeed, our city was Bazett and Modrow's ultimate inspiration for dreaming bigger in opening Hook & Ladder. "First and foremost, we opened this place because of our love for Sacramento," says Bazett. "We've made our lives here, and we strongly believe in Sacramento's potential. This is our time." No kidding—Hook & Ladder is clearly on fire.