First Bites: Drink in the nostalgia and mid-century cocktails at the Ten Ten Room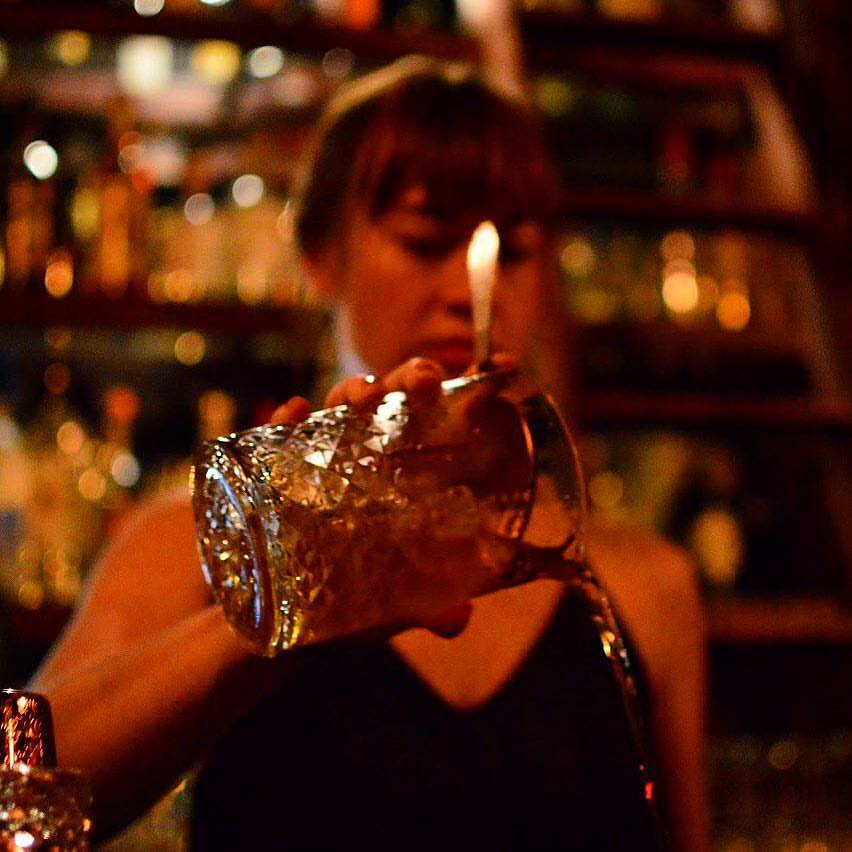 With its practically hidden location and under-the-radar opening, it would have been easy to miss the Sept. 7 launch of the downtown bar and restaurant Ten Ten Room.
The new offering from Tyler and Melissa Williams—the husband-and-wife team behind Tank House and The Jungle Bird—is a hat tip to the small neighborhood haunts of the 1950s and '60s, where folks could sidle up to the bar and order up a Harvey Wallbanger or a shaken Manhattan.
"Post-Prohibition cocktails have been done wonderfully [in Sacramento]," Tyler Williams says. "We wanted to do the next generation. We wanted a nicer place where a guy in a suit can come in after work and pop his collar and have a beer, sit next to a guy in a baseball cap and have a good conversation."
Nestled in a small cranny next to Grange Restaurant & Bar that previously housed Japanese restaurant Megami Bento-Ya, the 49-seat spot lends itself to elegant unwinding over one of the aforementioned cocktails, with its deep teal-colored walls, rich mahogany bar, leather-backed booths and moody lighting.
"We wanted something similar to places we love in San Francisco and New York that are tiny, dark, narrow little bars," Melissa Williams says. "And we kind of wanted to be middle ground—not super high-end and not a dive bar."
The Ten Ten Room takes its name from its location at 1010 10th Street (although, coincidentally, in the 1950s, the space housed a political hangout called the Tan Tan Cafe). It's as non-divey as it gets, starting with the cocktail menu, which boasts an array of mid-century go-tos like the Grand-Dad's Old Fashioned (this version has soda; the post-Prohibition style does not) and the Grasshopper (a favorite of Melissa's mom and grandmother, the beverage borders on dessert with its main ingredients of crème de menthe and crème de cacao).
Don't miss the frozen drinks—the frosé might be all the rage, but we liked the refreshing and tart White Linen Slush made with gin, elderflower liqueur and cucumber—and the selection of shaker cocktails, which are served with mini shakers containing whatever didn't make it into the glass. Tyler says guests can expect a lineup of warm drinks (think hot toddies and buttered rums) come winter.
While the bar is shaking things up Rat Pack style, the kitchen—helmed by chef Greg Pilapil, formerly of Hook & Ladder and the erstwhile L Wine Lounge—is serving up morsels of classic Americana with a modern twist.
The fried ravioli are well stuffed with more spinach than cheese and lightly fried to a crunchy crisp for an almost-healthy starter. The Scotch deviled egg—Pilapil's version of the choice passed app of World War II gatherings—more than passes muster, with gently spiced house-made sausage cupping the petite half-egg bite, making it a hearty pre-dinner snack.
Pilapil also brings '50s-era TV dinners into the new millennium with his unfussy roast chicken, served with an elevated green bean casserole—house-made cream of mushroom soup, al dente green beans and salty fried shaved onions. And his interpretation of shrimp and grits (a dish he revived from his L Wine Lounge days) is stellar, pairing silky sautéed prawns and chunks of smoky chorizo with light, airy polenta and earthy romesco sauce. He also recommends the popular steak sandwich, a tenderized New York cut served on garlic bread with hand-cut fries on the side.
"Nothing on there is too experimental," Tyler says, "but Greg has taken old classics and added his own flair. At the end of the day, it's comfort food."
With its nod to nostalgia, snug quarters and a menu that hipsters and their grandparents would feel equally comfortable ordering from, this ode to a bygone era is sure to become an instant classic.
1010 10th St. 272-2888. tentenroom.com
You Might Also Like
Welcome to the Jungle: midtown's new tiki lounge
Bike Dog opens taproom on Broadway
New cart-service restaurant and bar to open downtown this spring